'Tis the season and if you really want to feel the Christmas spirit, head to Vienna, which is decked out in all its festive glory. More than a dozen Christmas markets dot the city, some spectacularly flamboyant, others cosily intimate. So, go market-hopping with our handy guide! Most of the markets run from mid-November until Christmas day, although a couple of them continue until New Year's Day.
1. Viennese Christmas Market on Rathausplatz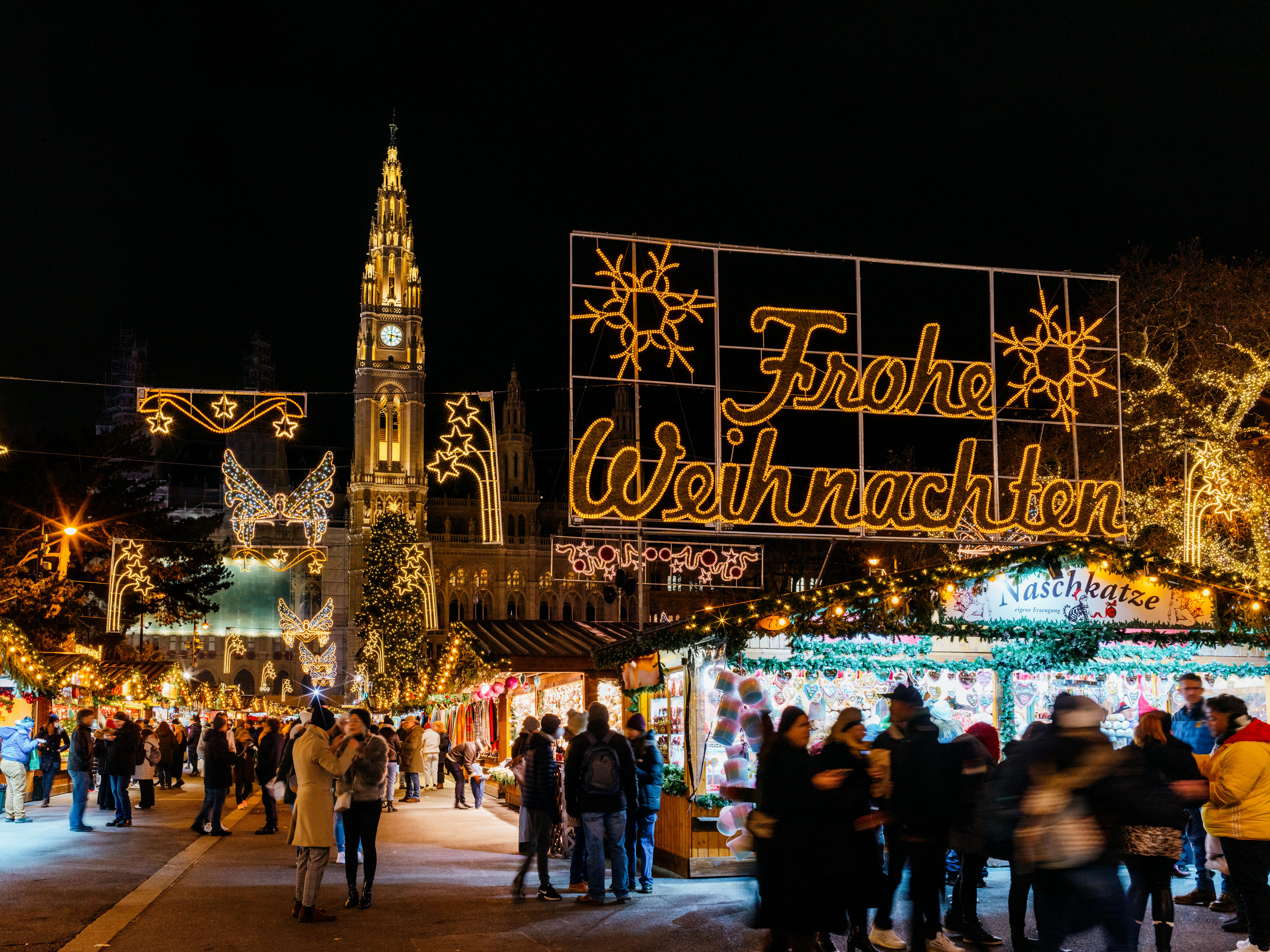 The city's biggest and most popular Christmas market is held on Rathausplatz in front of the imposing, neo-Gothic Rathaus or City Hall. It is also home to the tallest Christmas tree in the city, often standing over 30 feet tall. With more than 100 stalls to choose from — selling upcycled hats, novelty jumpers, gourmet honey and Christmas decorations — you will truly be spoilt for choice. The highlight of the market is the Vienna Ice Dream, a festively illuminated skating rink. Kids have their own ice rink at Christmas World, along with a carousel, a crib walk, and much more.
2. Christmas and New Year's Market Schloss Schönbrunn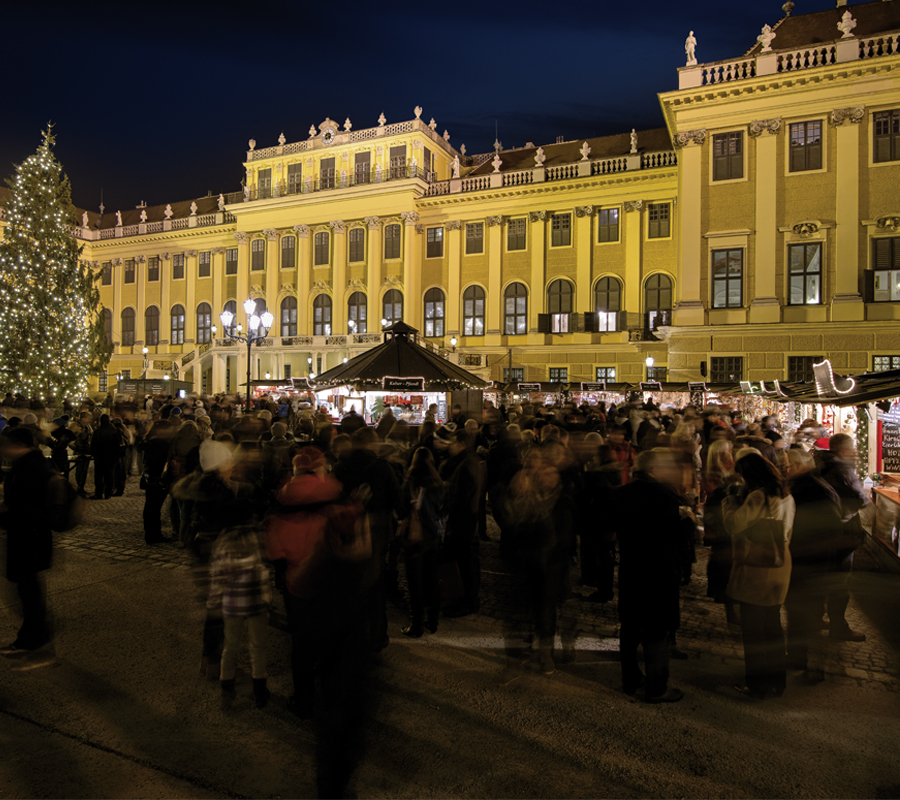 About 10 km outside the city (easily accessible by the U-bahn), Schloss Schönbrunn, the Imperial Hapsburg family's summer palace, is a must-visit at any time, but it pulls out all stops at Christmas. A tall tree stands in the main square in front of the palace as about 80 stalls selling hand-made Christmas decorations, nativity sets, and other handicrafts sprawl around it, and the aroma of roasted chestnuts, freshly baked vanillekipferl (shortcrust biscuits) and hot punsch (punch) fills the air. There are special workshops for the kids where they can make marzipan, gingerbread, and other Christmas goodies.
3. Christmas Village at Belvedere Palace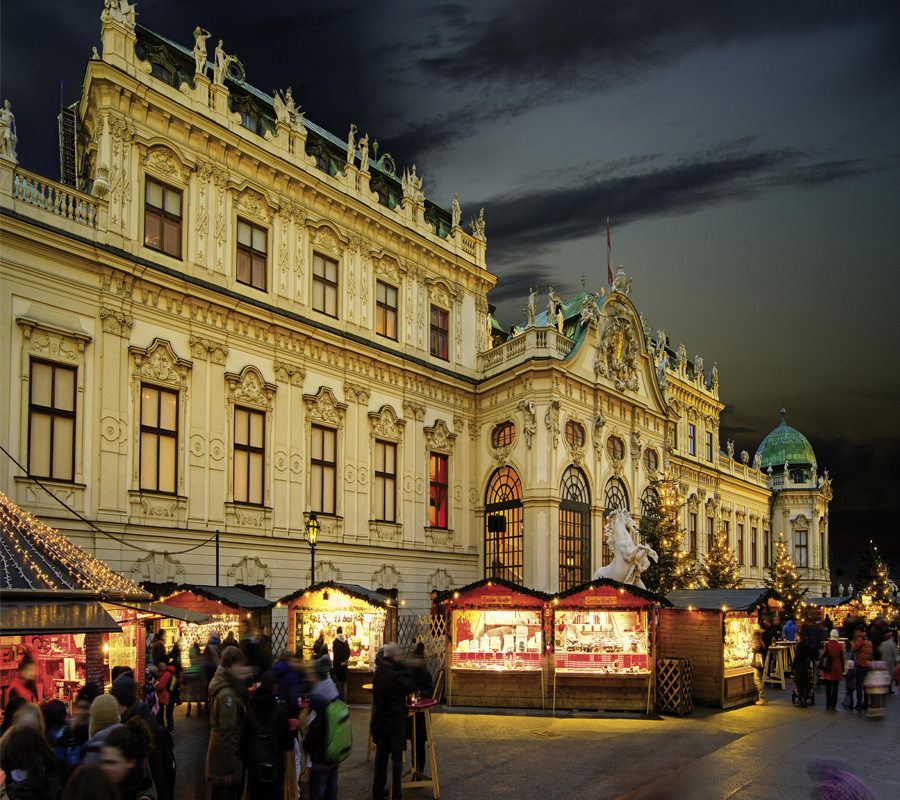 Set against the glorious backdrop of the Baroque Belvedere Palace, this Christmas Village is a fairy tale come to life. The market is smaller than some of the others in the city but it's a great place to pick up some unique souvenirs like wooden toys, drinking horns made from real horns, and more. Gourmet offerings lean towards traditional Austrian fare like leberkäse (meatloaf sandwich) and kaiserschmarren (shredded pancake with jam). Plus the palatial setting makes for that Insta-perfect shot. Pro tip — stand at the tip of the lake to get the palace, market, and Christmas lights in one frame.
4. Old Viennese Christmas Market at Freyung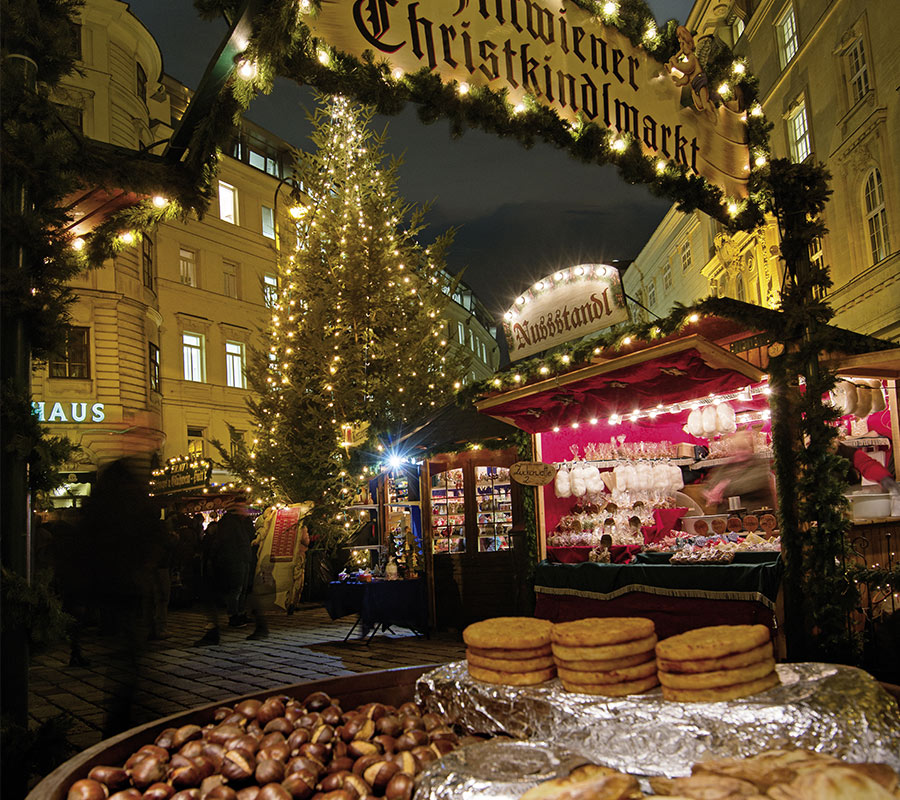 The historical Altwiener Christkindlmarkt at Freyung is hands-down my favourite Christmas market in Vienna. It is said to be the oldest market in the city, and it certainly lives up to tradition, with its cobbled streets, stalls selling old-school Christmas decorations, craftspeople demonstrating their skills and a puppet theatre — it's all rather atmospheric. Many of the stalls donate a percentage of their profits to charity. A multi-coloured woolly cap that I picked up from here remains one of my most cherished (and useful) souvenirs.
5. Spittelberg Christmas Market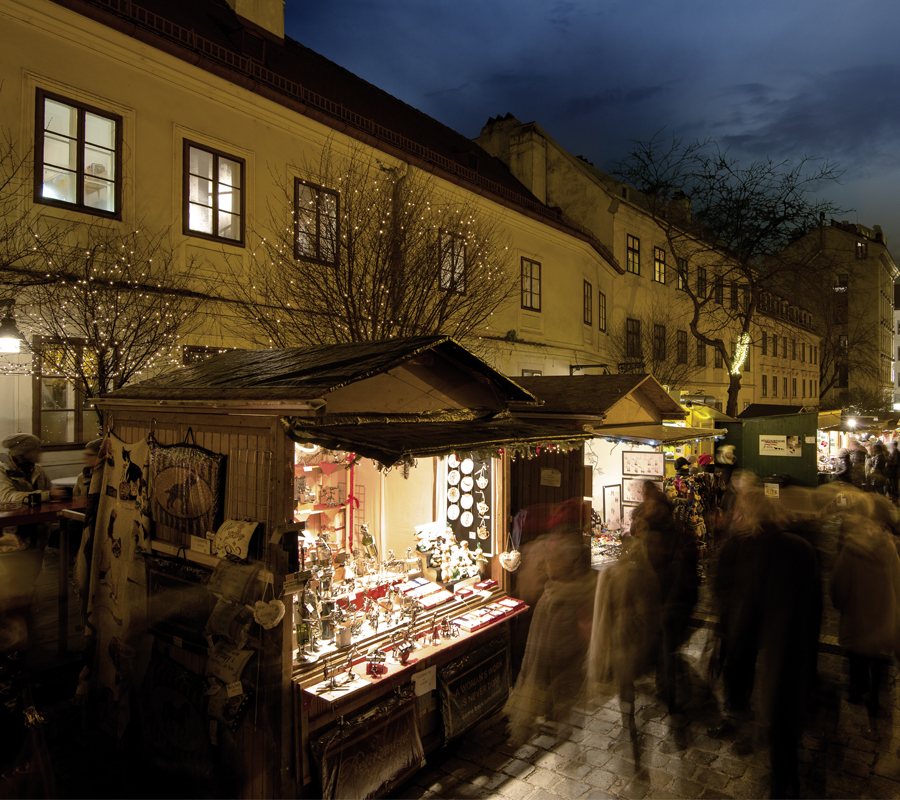 Spittelberg is a bit of a hipster neighbourhood in Vienna, a collection of narrow streets lined with Biedermeier-style buildings. There are chic galleries and art stores, cool bars and restaurants, and organic grocers, so the Christmas market here is quite eclectic. This year, the market is also focusing heavily on going green, so expect fair trade, local, regional, and organic products, vegetarian and vegan food, and upcycled and sustainable crafts.
6. Art Advent on Karlsplatz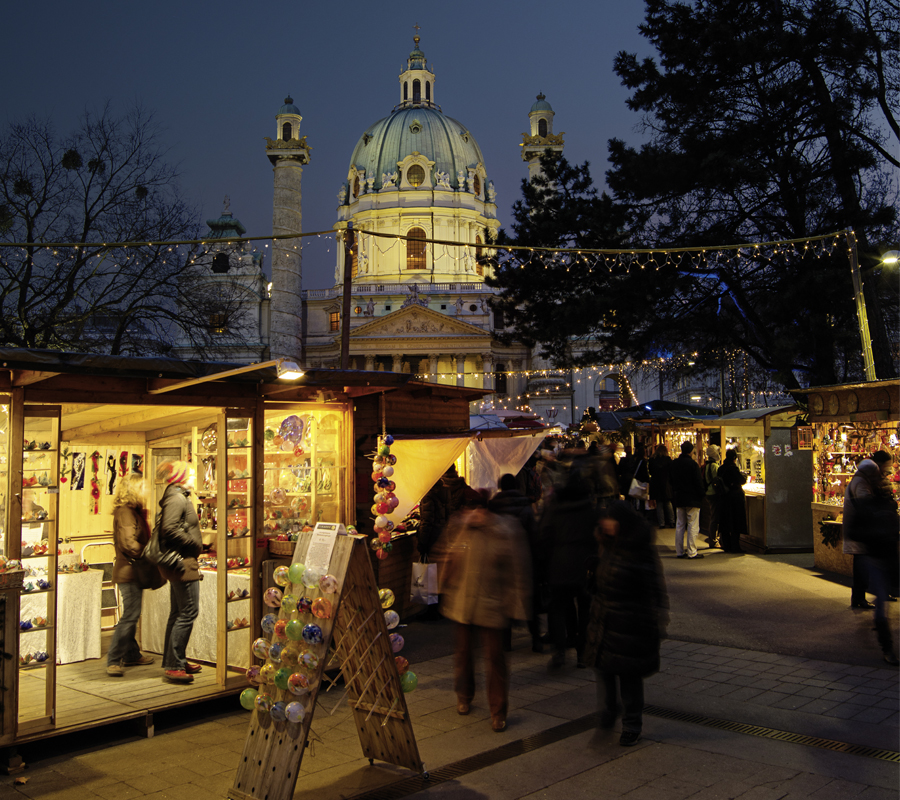 As the name suggests, the Christmas market at Karsplatz offers visitors many creative arts and crafts, so it's the perfect place to buy high-quality and unique clothing, jewellery, ceramics and, fine art, etc. Its location in front of the imposing baroque Karlskirche church is also spectacular. The market has an extensive children's programme with crafts workshops, storytelling, straw landscape, trolley express, carousel of found objects, barrel organ music, and more. This is also the only market in all of Austria where the gastronomy is fully certified organic, ranging from fladenbrot (flatbread) and kiachl (a flat doughnut) to buckwheat crepes, potato goulash, and of course, glühwein (mulled wine).
7. Christmas Village on Stephansplatz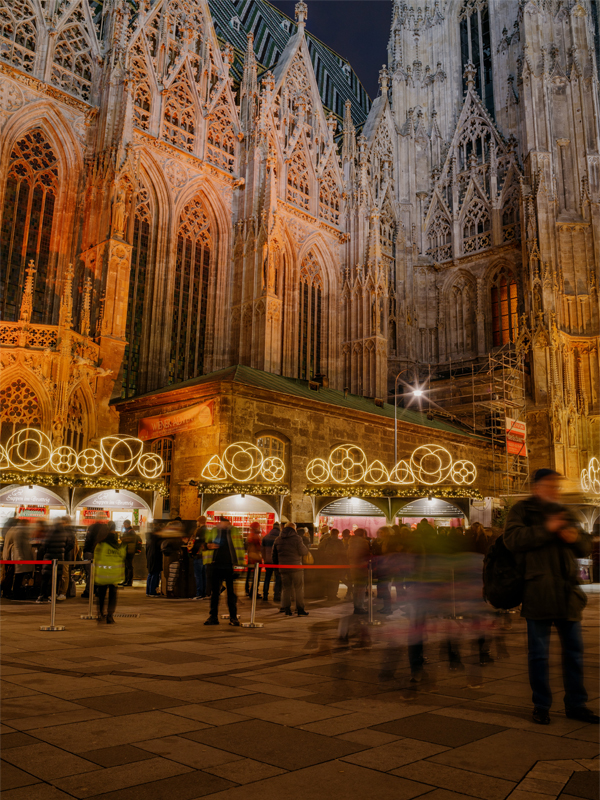 In the shadow of Vienna's most iconic sight — the mosaic-roofed St. Stephen's Cathedral, — the Christmas Village at the geographical centre of the city is a relatively new market. With its wooden stalls, gothic lights, and horse-drawn carriages, the market has a medieval feel to it. Get your hands on hand-painted decorations made of wood, tin, or glass, snow globes, and wooden toys, interspersed with bites of lebkuchen (a kind of gingerbread) and baumkuchen (spit cake) as well as sips of Weihnachtspunsch (Christmas punch).
8. MQ Wintergarten at the MuseumsQuartier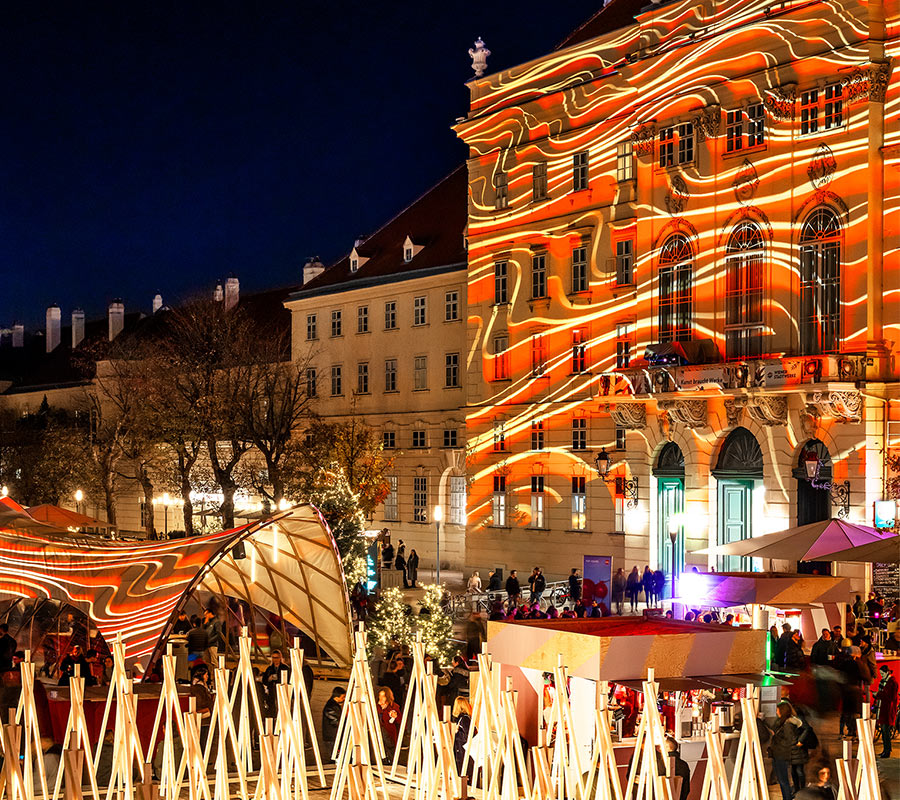 For a less traditional feel, head to the courtyard of MuseumsQuartier where you will find spectacular art and light projections accompanied by live concerts on some days and a DJ spinning funky beats on others. In keeping with the alternative vibe, there's even a curling lane and remote-controlled car racing! Of course, there are sausages and glühwein, all sold from jagged, geometric, coloured "bars" lit up by LED lights.
9. Advent Market at Liechtenstein Garten Palace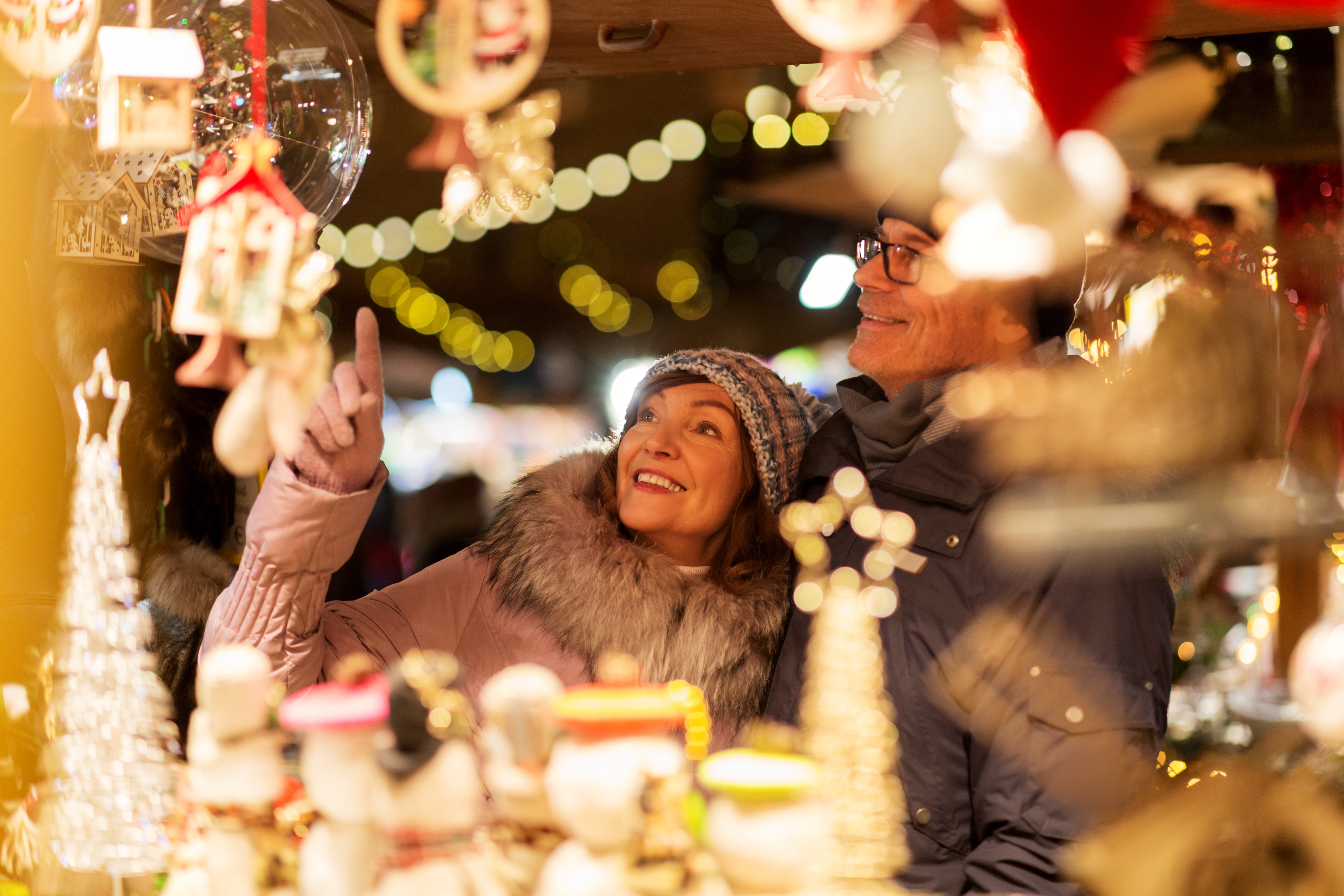 This is Vienna's newest Christmas market (2022 will be its second time around), with the Baroque Liechtenstein Garden Palace providing a magnificent backdrop. It's also smaller than other markets with around 25 stalls selling Christmas decorations, handicrafts, and more; one of its most popular attractions is the historic horse-drawn carousel for children. 
Photo: © Wien Tourismus Julius Hirtzberger