1. Olive Bar & Kitchen
Nestled amidst ancient havelis and Mughal ruins, in a burgeoning fashion district, Olive Bar & Kitchen, New Delhi has been a hot favourite for years—where good food, laughter, culture, and conversation come together in a delightful melting pot. The white-pebbled courtyard under a vast canopy of an age-old Banyan tree, with dappled sunlight on armchairs or glittering lanterns enlightening the evenings, has seen many Sunday Wine Picnic Brunches, Chef's Tables, Farm to Fork dinners, and constantly evolving seasonal menus.
This Valentine's Day, Chef Dhruv Oberoi is presenting a Scent of Love. "It is an ode to the old school Al Pacino classic, Scent Of A Woman, where a blind guy wants to commit suicide, but before that he wants to relish luxurious meals and fine living. On this journey, every time he goes out, he falls for a woman who wears a beautiful fragrance and then the romance carries on," he explains. Scent of Love is a specially curated meal inspired by the scent notes of the perfumery that they are collaborating with. The fragrance-inspired menu will traverse fruity, woody, and floral aromas. Start with a cocktail with canapé, followed by an appetizer, sorbet, entree with sides, and finish off with dessert and coffee with petits fours.
2. Kakapo
Celebrate this Valentine's Day at Kakapo's ethereal, soothing, and romantic ambience—thanks to their intricately crafted set-ups decorated with flowers, aromatic candles, and delicious food and wine.
Not only is Kakapo going out of the way to make Valentine's Day special, but they are also running exclusive offers throughout Valentine's week from the 7th-13th February with an exclusive menu. Their V-Day special menu includes dishes like a pink rose, delicious cream cheese and truffle dumplings, fierce better half, which is a harissa spiced roast chicken, and sweet crush which is heavenly cheesecake. The grand finale comes as Liquid Love: strawberry dust, chocolate fondant, ruby chocolate, and Stracciatella ice cream.      
The picture-perfect fine-dine restaurant is leaving no stone unturned to offer you ultimate luxury, where you can choose a special dining experience. They have two exclusively curated offers: a meal for two starting at Rs 8,495 includes a bottle of sparkling wine, cocktails, and food from a fixed Valentine's Day special menu. There is also an alternative package that includes fabulous food and cocktails and is priced at Rs 6,495. Both offers include magnificent table decorations of beautiful flowers and candles.
3. Rooh 
Housed in a refurbished haveli, Rooh boasts one of the best views of the Qutub Minar. The well-appointed tables on the terrace and inside the restaurant are set to create a romantic ambience, with the soft pink decor, flowers, and abundance of candles. A specially curated chef's tasting menu by chef Sujan Sarkar is designed to be shared to celebrate Valentine's Day. The 11-course tasting menu includes some of the chefs' favourites and is theatrical in the way it stimulates one's brain despite its clean and minimalist plating. The cryptic description of dishes on the menu enhances the drama of anticipation. Yes, this is a fine-dine experience that has an element of fun. While some of the dishes take you on a nostalgic journey, there are many that celebrate the progressive Indian palate. The menu for a couple is priced at Rs 5,800, exclusive of taxes and service charge, includes a glass of sparkling wine for each. Private dining rooms and a private terrace are also available.
4. Ditas
Ditas has a gorgeous al fresco area surrounded by natural greenery and a spectacular view of the Qutub. Inside, a flower studded wall, stunning mirrored ceiling, and a state of the art bar are the highlights. As day melts into evening, pulsating music reverberates through the restaurant, amping up the vibe.
This is one of the few restaurants that offers world cuisine and does justice to the menu! Classic Bangkok rice bowls are as delicious as the Middle Eastern prawns with herbed rice. The winter menu includes savoury filo cups, melt-in-the-mouth wine-braised lamb shank, and baked Alaska. From the beautiful cocktail chandelier to the cheese fondue, this is the perfect spot where fine dining meets comfort food.
For Valentine's Day, Ditas is offering an indulgent three-course menu along with six"Love-ly" cocktails that include Let Me Propose, Melting Heart, Fortune Of Love, Unconditional Love, Be My Valentine, and Let's Take A Long Drive. The special Valentine's Day menu is priced at Rs 6,000 plus taxes per couple.
5. The Grammar Room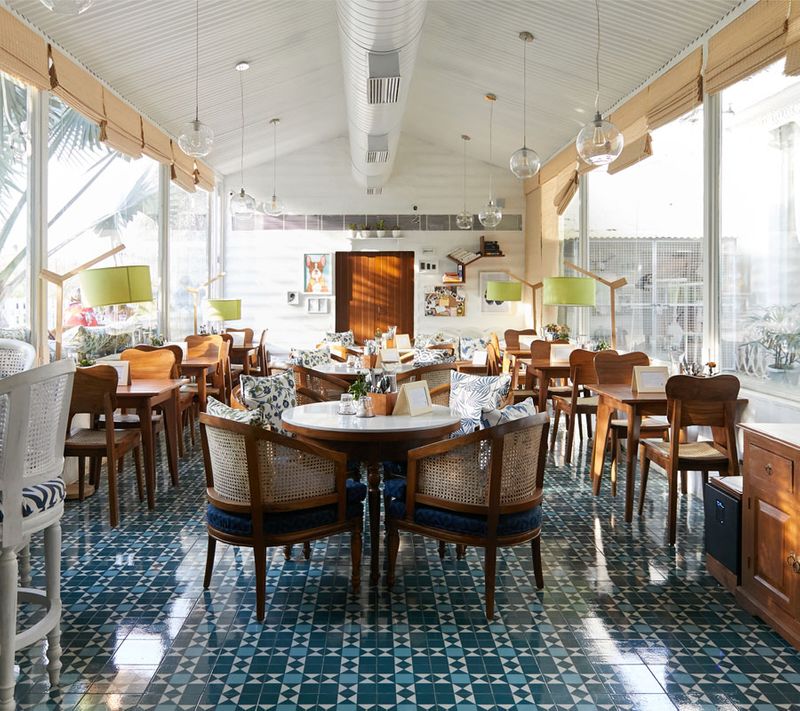 As you walk past the white-pebbled courtyard of Olive Bar & Kitchen, you'll enter a café that is flooded with natural night, stacked with books, games ,and even blankets to make you comfortable. The outdoor deck is even more beautiful as you step up close to the gorgeous green ridge of Mehrauli. While this spot is ideal for sundowners too, The Grammar Room, with its laid-back vibe is the it-spot for a slightly younger demographic who don't need to wait for the evening to celebrate with their loved ones.
The highlights here include fabulous all-day breakfast dishes, succulent burgers, and the crispiest fish and chips that you'll find in this city. Shrimp Benedict brioche is the perfect example of how the food on offer is comforting, yet far from predictable—the chilli prawns, in this case, uplifting the eggs Benedict to a gourmet level. Besides the regular menu, do look up the day's specials that are displayed on a blackboard and promise to celebrate fresh produce. Their choice of artisanal coffees, G&T's, and TGR special sangria are on point too.
While you can stick to signature desserts, including the perfect parfait with millet granola, strawberries, and kiwis with vanilla yogurt (that can be a breakfast of champions) or the comforting cookie and milk (a freshly baked choco-chip cookie dunked in vanilla-infused milk), a special V-Day treat is being created too. Do try the delectable strawberry cheesecake with chocolate wafer crust accompanied by chocolate-covered strawberries.
6. Swan
A sprawling terrace amidst Mehrauli's greenery, a view of the Qutab Minar, a combination of Japanese and Italian dishes, and beautiful cocktails makes Swan a hit with Delhi's glitterati.
The restaurant is abuzz with forthcoming V-Day preparations. A special set menu includes starters with an assorted lettuce salad, with fresh mozzarella and puffed barley balsamic dressing, Tuscan bean soup, a choice of appetisers including herbs marinated chargrilled prawns, spicy grilled chicken tsukune, avocado sushi with beetroot rice and Swan bruschetta. This will be followed with a delicious thin-crust pizza, grilled river sole, chickpea stew, fettuccini alfredo con pollo, teppanyaki soba noodle, and hibachi garlic rice. Finish off this indulgent meal with luscious red velvet gateaux. And when at Swan, have a cocktail or two. Cosplay Collins, Tekira Tea Punch, and Shibuya Crossing are a delight to taste as well as a feast for the eyes.
7. Bo Tai
Bo Tai introduced the city to modern Thai food. Bo Tai is actually a playful pun on 'Bow Tie', and 'Tai' is also a colloquial pronunciation of 'Thai'. With two terraces overlooking the lush Mehrauli greenery surrounding the iconic Qutub Minar, Bo Tai offers a fine ambience.
Be prepared to indulge in the colour of the season with the menu that has been finalised for Valentine's Day. Yes, Som Tam Salad gets a "Valentine Special" treatment, as do the dumplings—you can choose from carrot or chicken dumplings with Thai chilli oil. The appetisers include a medley of frangible mushroom and "Paint Me Red" corn cake or chicken sliders. Mains include green curry vegetables or seafood and diced chicken sambal oelek or exotic Thai vegetables tossed in black bean coriander sauce. Round it off with some red velvet cake.
If you're in the mood to try some cocktails, we'd recommend the Full Moon Festival, an ode to Loi Krathong—a festival celebrated under the full moon of the 12th month, when the village folk flock to the rivers with colourful, handmade baskets filled with herbs and flowers, and set them afloat with a lit candle. In keeping with the name, this gin-based cocktail is served in a glass sphere filled with bright-coloured flowers. The aromatic drink releases a plethora of flavours with strawberry and rose syrup, house-made spiced vermouth, grapefruit, spiced orange syrup, lime, and pandan tincture.
8. Miso Sexy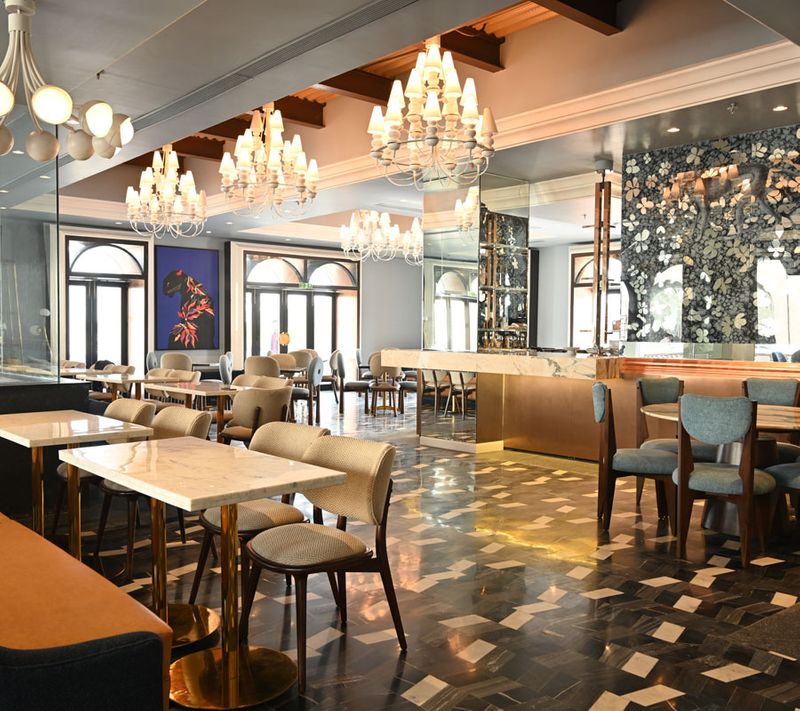 Miso Sexy is one of the latest and sexiest party spaces in this area with breathtaking views of the Qutub. In keeping with the name, the terrace flaunts a gorgeous bar, called the Sexiest Bar, that showcases a feature wall with water swirl designs and flooring inspired by the outside of Taj Mahal. Intending to be the only source of illumination on the terrace, it has been designed like a glass cube. This is the place to head to for a sundowner and stay on till much later.
The cocktail menu comes with a twist. It has been divided into four sections as per the taste—Sweet, Sour, Savoury, and Umami. The cuisine includes Southeast Asian dishes, with a focus on Japan, Singapore, and Malaysia. Keeping in line with the pop and sexy theme, over 80 dishes have been carefully selected to be a part of the food menu. Amongst these, the star Miso dishes are Glitter Chicken, Scallop Curry Leaf, Pork Loin and Lamb Chops.
9. Bougie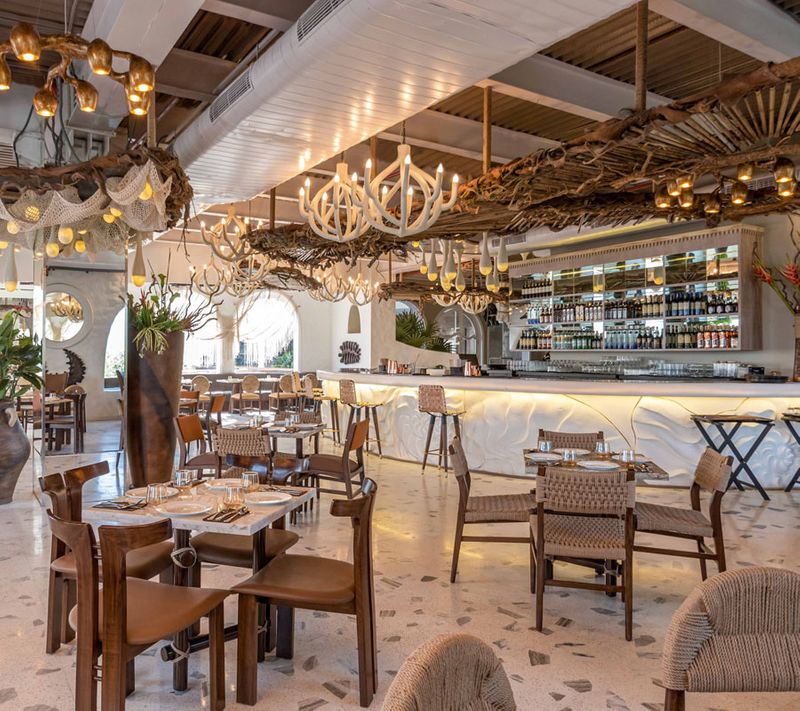 Bougie, a Mediterranean European restaurant, combines the four elements of fire, earth, air, and water, and offers a more boho vibe. Fire is reflected in the lava-like patterns in the bar countertops; earth, reflected in the use of tree barks, driftwood, rope, and handcrafted wooden furniture; water, reflected in the swirling seashell designs of the bar and the makeshift rafts on the ceiling; and air, reflected through the terrace space and the cool terrazzo mosaic flooring running throughout the outlet. African totem poles, Greek wall textures, South European boho vibes, and tribal carpets are some of the nuances of the decor here. The recently opened restaurant is already the talk of the town for the best sundowners and the most gorgeous views of the Qutub Minar.
The extensive menu is designed by award-winning chef Priyam Chatterjee. The Mediterranean European menu is divided it into 'All Day At Bougie', Bougie's all-day breakfast menu, and 'Midi Et Soir'—Bougie's lunch and dinner menu. Some of the bestsellers include the signature roast chicken, prepared for 3 days, cauliflower roast, raviolo, duck sourced directly from the farms, tuna tartar, and in-house gelato.
AlsoRead2
10. CHÔ
Nestled in a 160-year-old haveli overlooking the city's revered Qutub Minar, CHÔ is a Vietnamese kitchen and bar. CHÔ, derivative of the word 'CHÔ nhà', means a cottage or a home in Vietnamese. Chef Vaibhav Bhargav presents a healthy mix of traditional and avant-garde dishes featuring vibrant street food and regional favourites of the Mekong Delta and Nguyen Dynasty.
Some of the chef's specials are truffled edamame dumplings,truffle-scented, fresh soybean mixture in wheat starch skin; Belgium pork gyoza; chilli oil, salad leaves, and herbs, Katsu tofu and avocado; rice paper roll stuffed with the goodness of Vietnamese herbs, vermicelli noodles, edible flowers and served with peanut sauce; Pho Hoang tenderloin, tenderloin noodle soup made with sliced sirloin, meatballs, rice noodles, onions, cilantro, and 18-hour simmered roasted marrow and oxtail bone broth. These are just a few among an array of authentic Vietnamese flavours.
The cocktails too have been given much thought. A few amongst the specials are the Odd Fashioned, burnt jasmine rice blended whisky, bitters, and rice cracker; Vietnamese Highball—vodka, Vietnamese coffee, condensed milk, caramel, and acid balance; Elder G&T—elderflower, gin, cucumber, lime, and tonic; smoked milk punch—white rum, avocado, and pandan milk, roasted pineapple, smoked pandan integrate each ingredient to concoct perfectly blended tipples.
---
Photo: Misosexy; Featured Brands