Set inside a 160-year-old haveli—complete with shady trees, colonial arches and grand staircases—CHÔ rubs shoulders with some of the hippest restaurants in Delhi. Punctuated with bay windows, wicker furniture, bamboo lights, local trinkets, and many plants, the place is warm and inviting, and borrows elements from typical Vietnamese homes it is named after.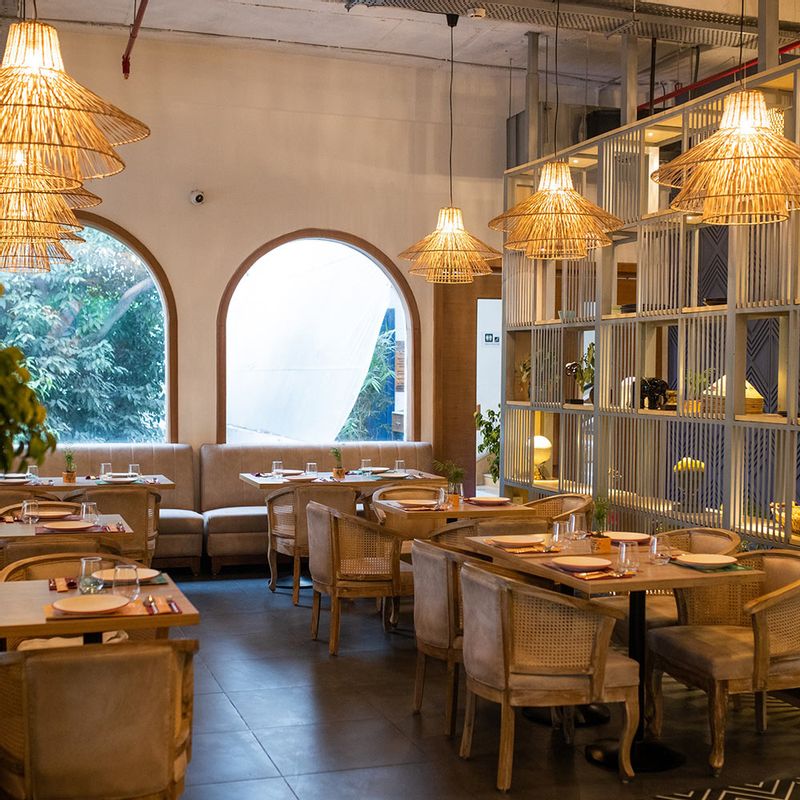 It is a chilly December evening when we reach CHÔ. The place has been open barely a week and it is already abuzz with guests and diners. We are greeted by the ever-smiling Chef Vaibhav Bhargava and his team. Chef Bhargava is known for his work with brands like Tian, Noma, Ai, Guppy by Ai, and Viet Nom—apart from stints in Dubai and Europe. Vietnamese cuisine, says Bhargava, had intrigued him for a long time and the restaurant is the fruition of his desire to bring authentic flavours from the country to the capital, also his home city. We settle on a cosy table right next to the bar with vibrant views of the Ambawatta complex and the bright mural wall. The chef joins us for a chat.
Traditional Vietnamese food with a twist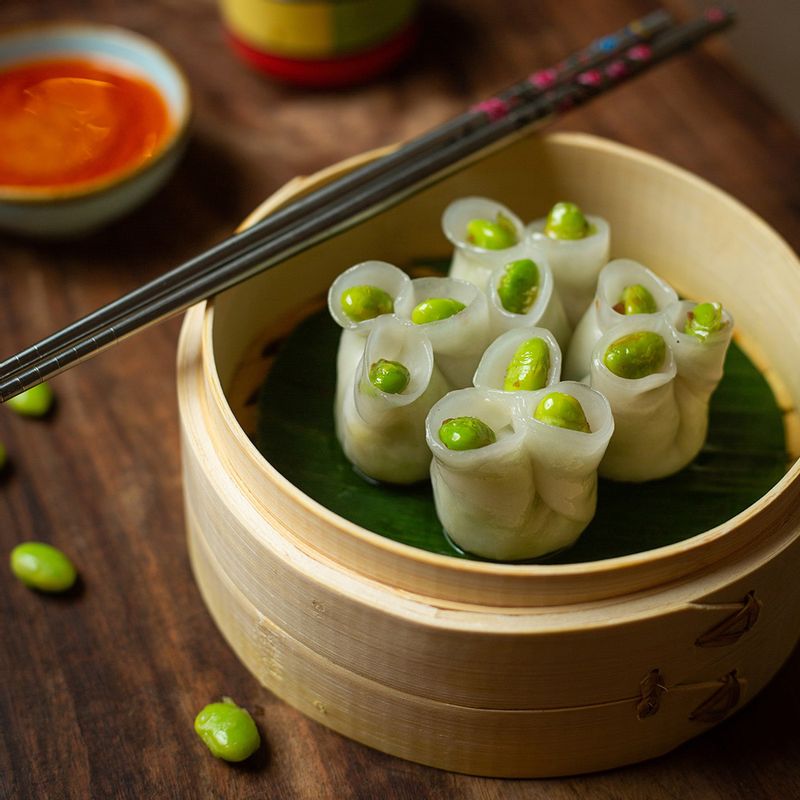 "With CHÔ I wanted to create an ingredient forward place," informs Bhargava as we glance through the place and warm ourselves with mulled wine. Bhargava has been working with farmers across the globe for a few years but realised the importance of eating fresh and healthy most during the pandemic, which he says, he wanted to bring to his menu. The menu, adds Bhargava, is his interpretation of Vietnamese cuisine, and a result of extensive research that included a three-month-long trip to Vietnam.
We begin to chip and dip—the light flavourful dip of edamame and avocado with bits of edible charcoal, served with homemade root vegetable chips is light and addictive. Pomelo and grapefruit salad and Katso Tofu and Avocado rolls are next. The salad is crunchy, tangy, umami, sweet, and sour at the same time. The rolls are light with the freshness of vegetables clearly shining through. The accompanying sauces—a sweet, spicy dip of chilli and lemon, a lemongrass mayo, and a green onion dip—pack a punch.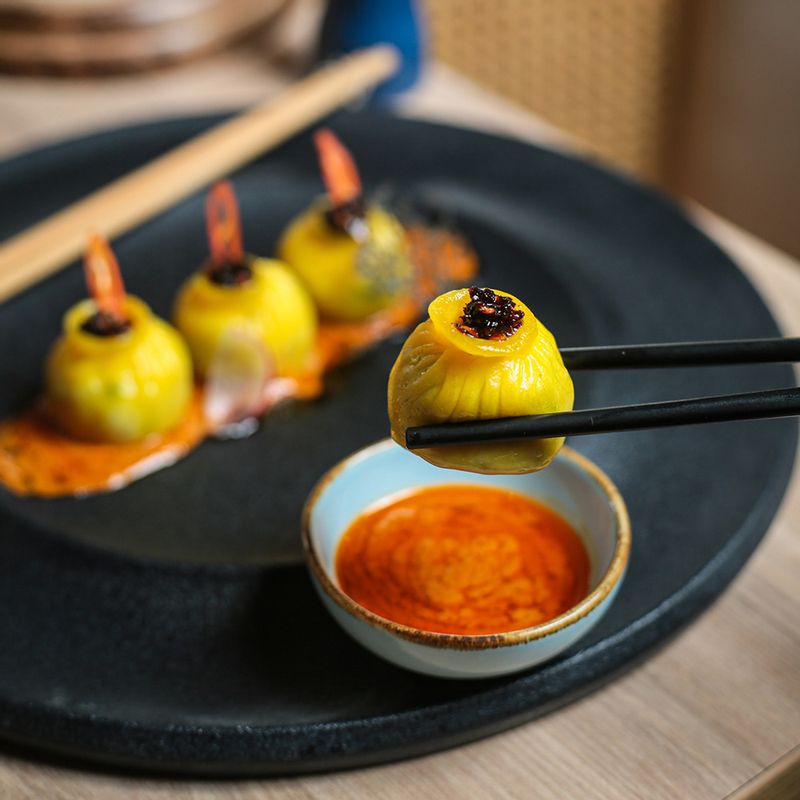 "My idea is to incorporate diverse influences on Vietnamese food in my menu," adds Bhargava, "so the menu does have classics, like pho, pizza, and dumpling, that come from Chinese and French influence on the Vietnamese cuisine, but also has my versions of the food." The bitter melon shrimp, a beautiful dish that plays with the bitterness of bitter melon and sweetness of the shrimp, is an example of this, as is turmeric chicken. While I am sceptical about having karela at first, the dish works nicely: the bitterness is not overpowering and the accompanying flavours create a delicious symphony along with the bitterness. We try the tapioca dumplings next. Served at room temperature, they are light, sticky, and hit the right spot. Shrimp on sugarcane skewers is juicy and tender, and the ceviche—even though served without the sauce—is nice. Everything served to us is accompanied by fresh salad and microgreens, and is light both on the palate and the stomach.
Hits and misses at CHÔ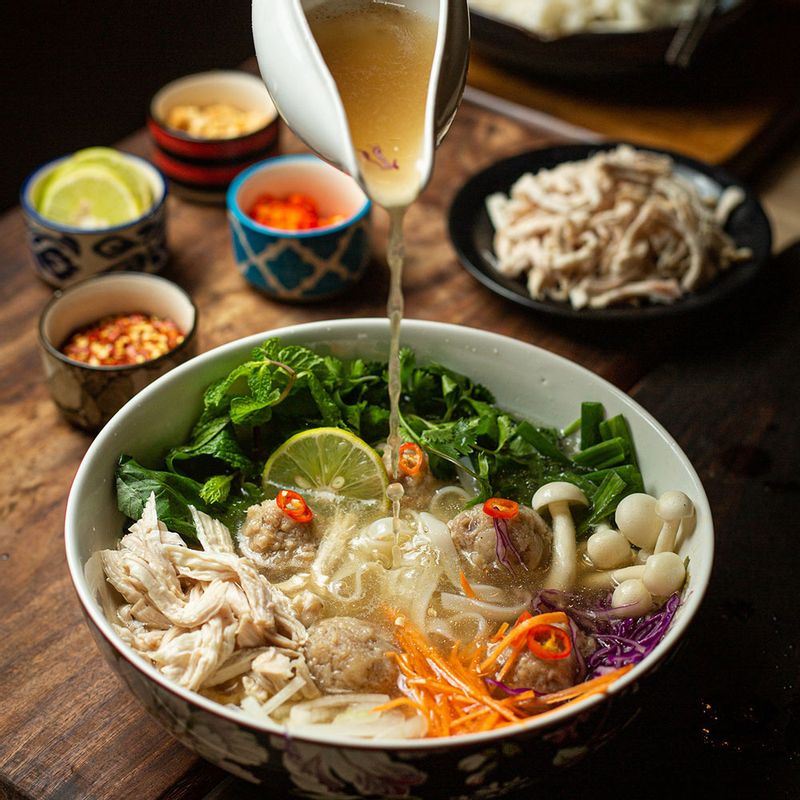 The menu at CHÔ is exhaustive and while it has some familiar names, we stick to small plates and tasting portions. What comes out clearly is the focus on the quality of produce and ingredients. Some ingredients, Bhargava tells us, are brought in from Vietnam but most of them are sourced locally. We are intrigued by the mains but decide to try just the pho. The pho (I try the mushroom and my partner gets pork) is nourishing and lukewarm. The flavours of my mushroom broth are subtle and the mushrooms are nice and meaty. The pork, my partner tells me, is perfectly cooked.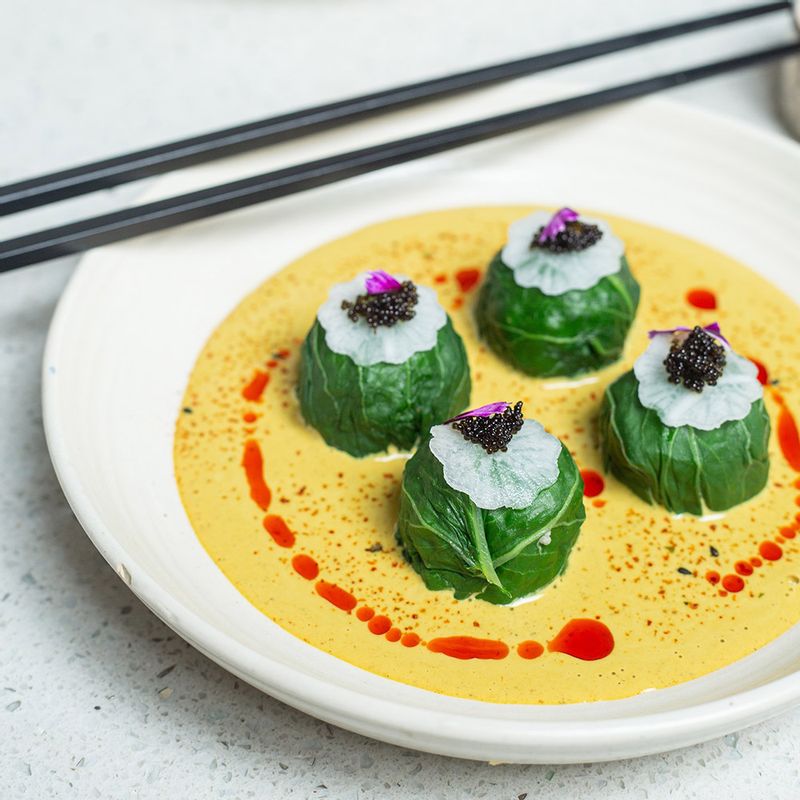 As with any cuisine and its interpretation, not everything always works. The warm eggplant with caramel is great in form and texture but turns out a tad too sweet for the palate. The mock meat stir fry with tso chili sauce is nice but predictable, and the pizza, topped with essentially chorizo over a thin rice crisp, is avoidable. The technique and skill of Bhargava's team however are on display with every dish—the katafi prawns are perfectly fried in their delicate casing, the bun cha pork patty is soft and flavourful, and the rice vermicelli is perfectly cooked.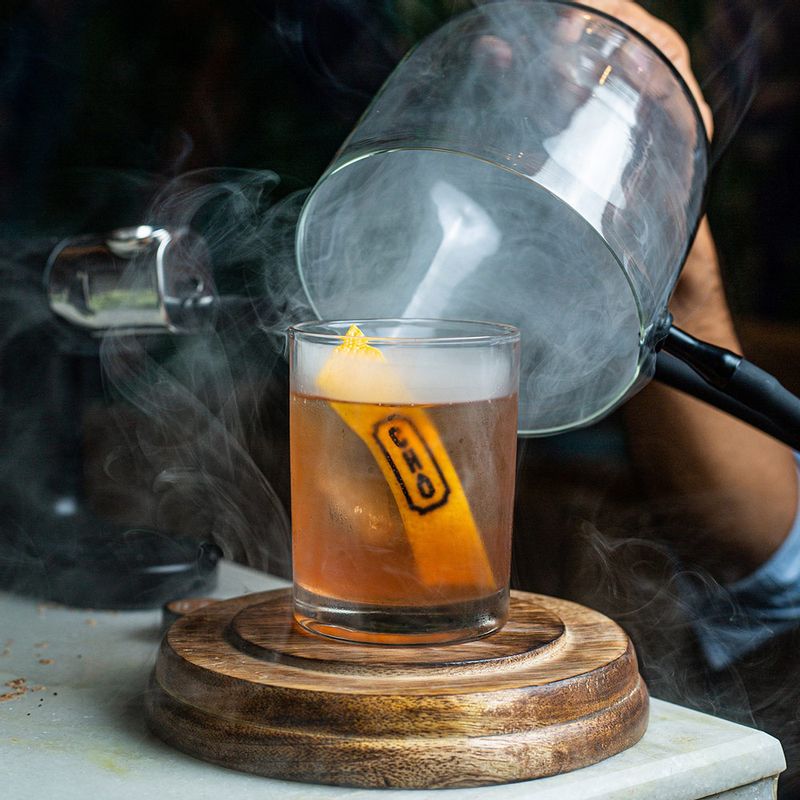 Besides food, CHÔ also has an extensive cocktail and coffee menu, both inspired by Vietnamese ingredients. Unfortunately it's too cold for cocktails and we have no time for coffee. As a parting shot, we try choux buns and hot toffee pudding. While the buns are subtle and delicate, the pudding is an intense medley of flavours and textures. In that sense, it is much like the place itself—a heady mix of flavours and textures, both intense and subtle, which has something for everyone.
Address: Ambawatta One, H5/1, Kalkadass Marg, Mehrauli, New Delhi, Delhi 110030 Ph: +91 93119-02818
---
Photo: CHÔ