One of the most talented chefs of the current generation, a social media star and a role model for many — there are many ways to introduce chef Megha Kohli, but for now, she is the executive chef at Cafe Mez. Well-known for her take on Mediterranean and Middle Eastern cuisine since her days at Olive, Olive Beach and Lavash by Saby, Chef Megha Kohli takes her game a notch higher with Cafe Mez.
Mediterranean inspired decor 
It is a bright and breezy winter afternoon in the capital when we reach Cafe Mez. The space has technically been open for just a week, but such is the craze of Chef Megha's food that getting a reservation has taken us four days. Thankfully, we have a table today but only post the busy lunch hour.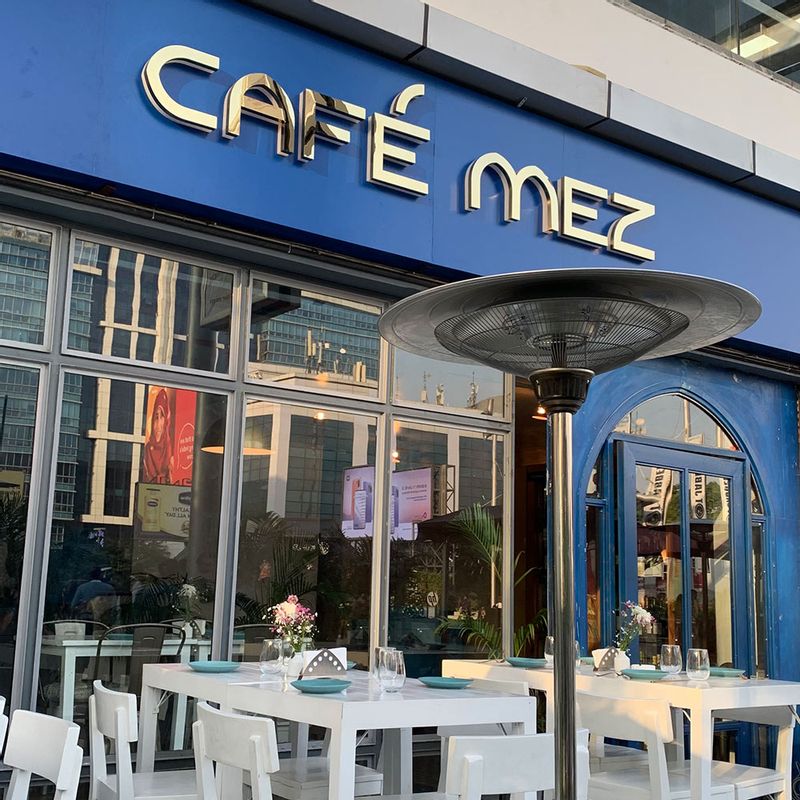 A refreshing change from the dark and dim restaurants of the area, the cafe is bright and cheerful. Whitewashed walls, large mirrors, pink bougainvillaeas and lush palms instantly remind you of the middle eastern cafes of Europe. Large bay windows bring in light; white tables, easy chairs and cushions add charm and comfort in equal measure. Fresh baby's breath and carnations on the tables indicate Meghna's personal involvement in every little detail. "Honestly, the place is not complete in terms of the interiors," informs Chef Megha, "we barely announced the opening and the cafe has been packed; we did not even have a door on opening day," she chuckles. The door has since been installed, but some finishing touches, she says, are yet to be done. To us outsiders though the place looks not only complete but also cheerful, happy and inviting.
Influences and stories from the Middle East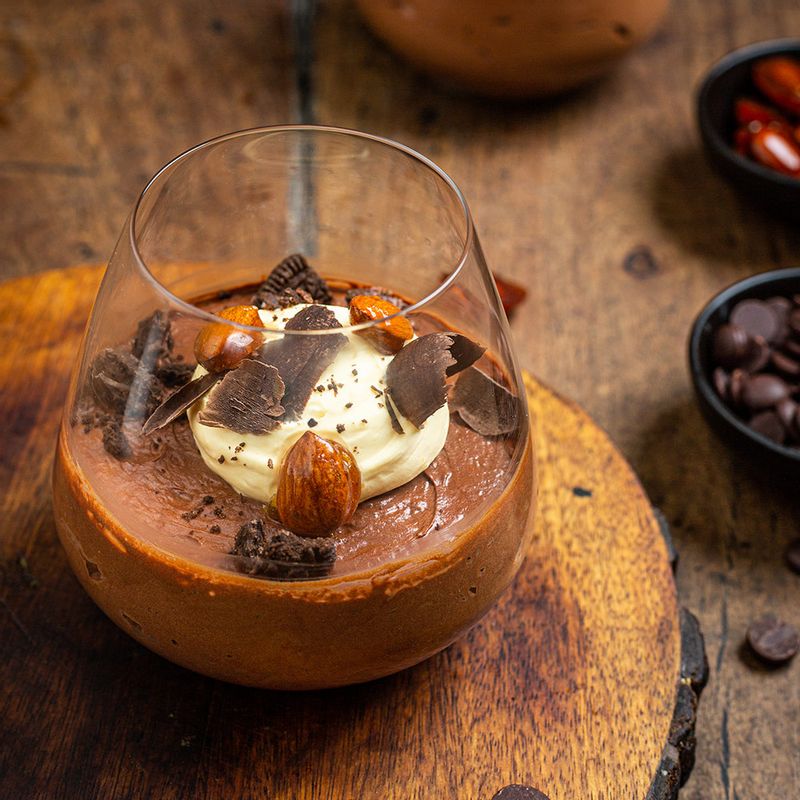 Delhi is not known to love subtle flavours, why then, did you choose to return to Mediterranean and Middle Eastern food? "Both Ashish sir and I felt there was a huge gap in Delhi as far as flavours of the Middle East and the Mediterranean are concerned. The idea was to create a space where people can relax with a drink and meet friends and family over fresh and wholesome food—cold mezze, freshly baked pita, refreshing salads and smoothies, even wine," she says. Chef Megha Kohli was initially onboarded as a consultant for the project but later she decided to join as the executive chef. She, explains the decision: "Ashish sir was sure that he wanted this place to be focussed on food. Both he and Joydeep sir (co-owners and partners of Cafe Mez) gave me a free hand to do that."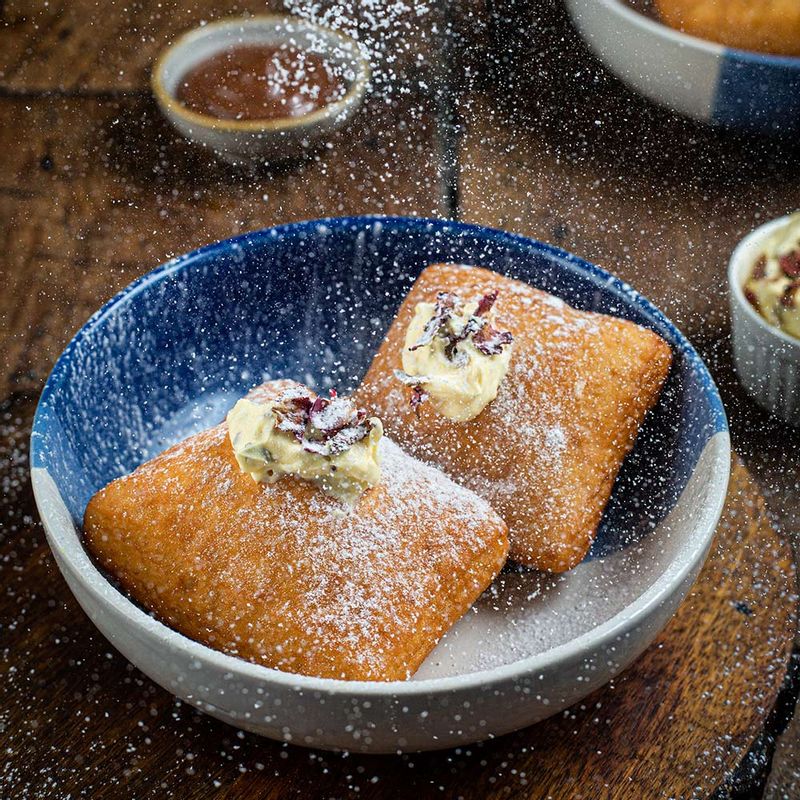 Being a student of history and an avid reader, chef Megha has weaved stories and references from middle eastern history into her food at Café Mez. Lebanon, Beirut, Iran, Palestine, Turkey—the menu borrows from multiple countries, cultures, and cuisines. The Gaza Guac, for example, is inspired by a story she had read in a cookbook called Zaitoon. "It's called Gazan spiced avocados in the cookbook. I tweaked it and put it as a Gazan Guac on my menu," she tells us. The Pide, meanwhile, is her take on the Georgian bread boat filled with egg, cheese, bacon and butter that is made with masala dough to lend a unique and distinct flavour. Many other dishes have similar stories attached to them.
Mediterranean at heart, Indian in soul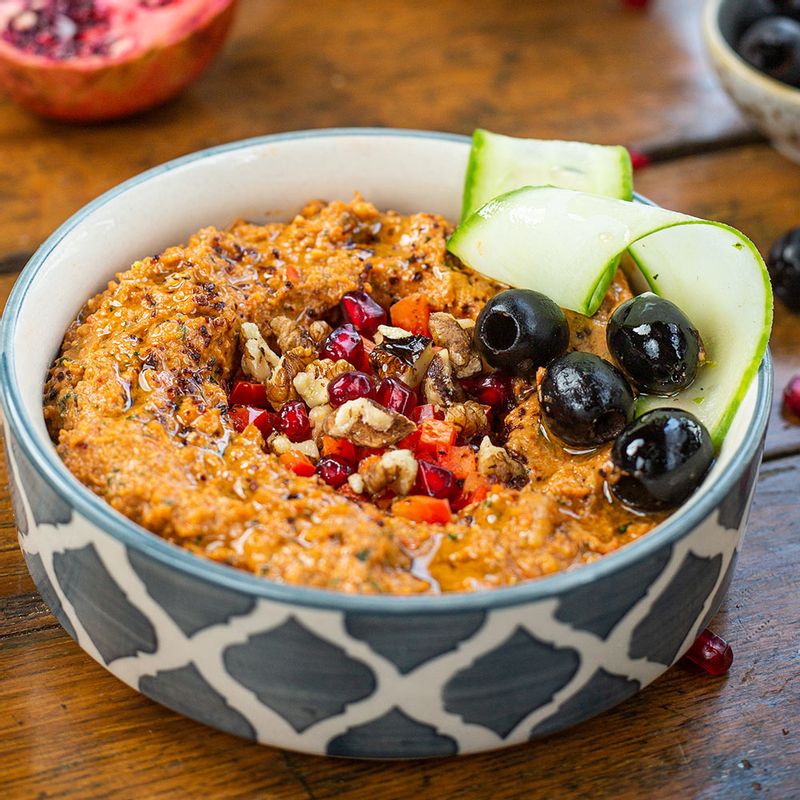 We begin our gustatory sojourn with a warm cup of Turkish tea. Offered to every guest in a dainty Turkish cup, it is fragrant and light and sets the tone for the meal. Next comes the mezze platter with freshly made pita and lavash. The Beiruti Hummus, made with chilli and parsley, Gazan Guac, made of avocado, greek yoghurt and sesame, and Muhamarrah, a dip of fresh pepper, walnuts and pomegranate, are all distinct, light, and rich in flavour. However, it is the smoked Labneh that stands out the most with its kalaunji (Nigella) seeds, blistered cherry tomatoes and the smokiness of charcoal. The fragrance, informs chef Megha, comes from Dhungar technique (an ancient Indian technique of smoking) that she uses in her version of labneh. The pita, made fresh to order, is soft and fluffy and acts as the perfect foil for the assortment of mezze.
While the menu is inspired by, and representative of, the Middle East, there are distinct Indian elements to it. It could be the cooking technique, like Dhungar, or ingredients such as Kalimpong cheese, Coorgi avocados, Madras beans, Kodo millet, Sona moong dal or khoya, every dish is made in a way that it caters to the Indian palate and uses Indian ingredients. Having worked extensively with native grains, produce, even meat, fish and poultry, using local produce is second nature to Megha. Her hummus, for example, is not made with chickpea but with Madras beans, her Jewish Pilav meanwhile uses Bengali sona moong and the Turkish pizzas have Kalimpong Cheese.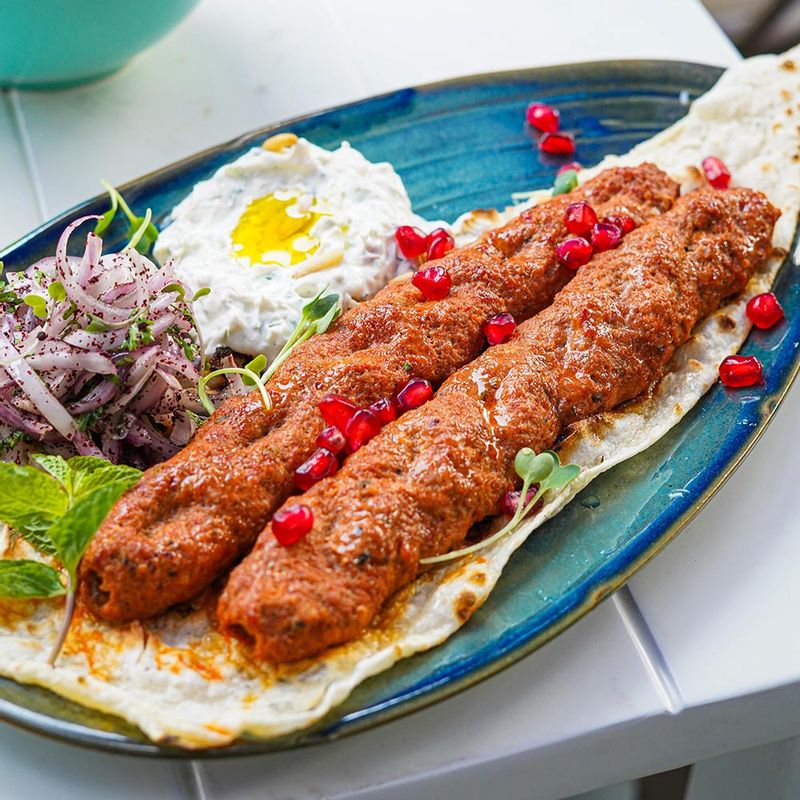 The mains, we tried quite a few, include Iranian Lamb Koobideh, white wine and garlic prawns, Harissa marinated chargrilled sweet potato, saffron marinated cottage cheese kebabs with freekeh and pide. With so many dishes, it is easy to mix up flavours but every dish that Meghna presents stands out on its own. The sweet potato, for example, is beautifully charred and smoky, the cottage cheese kebab is soft and fragrant, the freekeh is refreshing and lends a bite to the cheese, while the lamb is exceptionally soft and melts in the mouth. A refreshing accompaniment of salads and pickles lend texture. It is hard to pick one over other but for the bread loving Indian in me, the clear winner is the pide. The masala dough encasing a soft gooey egg and topped with cheese, or bacon if you please, is an out and out crowd pleaser and is already selling out.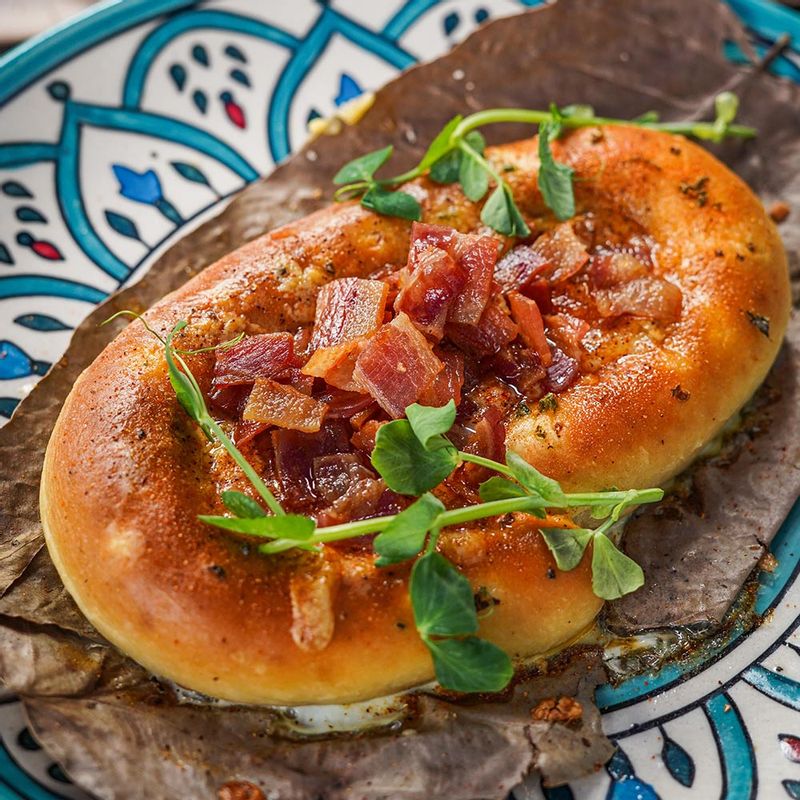 Another recipe which we predict will please everyone is gata. A large puff pastry filled with khoya or mawa, served with homemade cinnamon syrup and berry ice cream, it is a take on the original gata of Armenia. While the Armenian gata is filled with cheese, Meghna stuffs hers with khoya. Puff pastry, berry ice cream and khoya — who would think such distinct flavours will work well together? But they do. Like most of the other things on the menu. The only thing that does not work for me is Ponchiki, a doughnut filled with rose-scented custard. The thick casing overpowers the delicate custard and the rose scent on the custard feels a bit odd.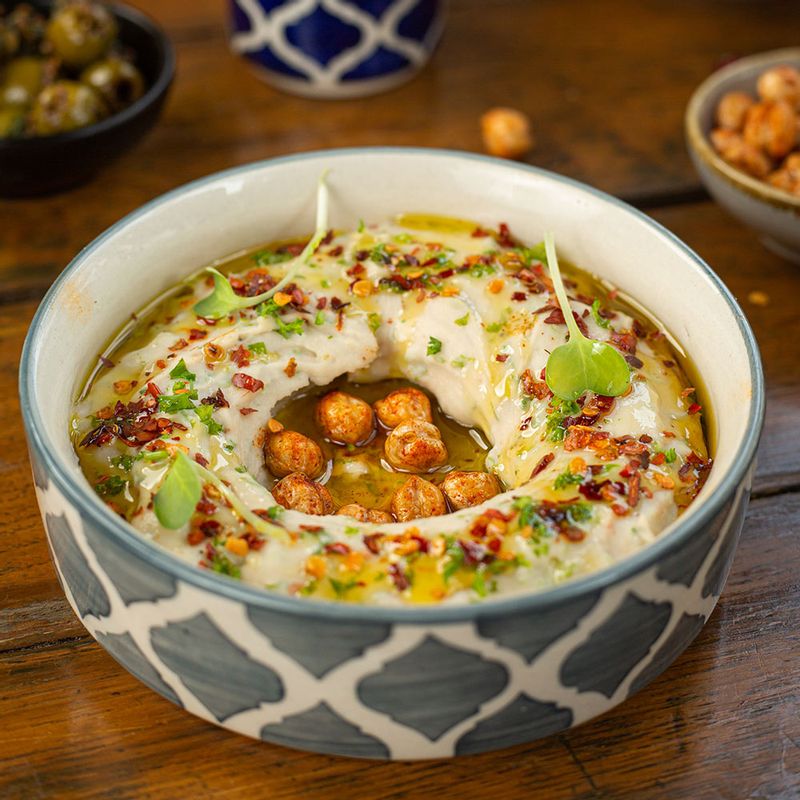 The menu at Cafe Mez is vast and consists of many breakfast options like Turkish eggs, skillet pancakes, yoghurt bowls, waffles, smoothies and shakes. The all-day breakfast opens at 9:00 in the morning and can be ordered until 6:00 in the evening. The beverage menu is extensive too and offers elements of the cuisine – think rose-scented gin, mint flavoured tequila, za'atar white rum, and walnut whiskey. While the beverages hadn't launched when we visited, the options I hear have already given me an excuse to revisit.
Address: Ground Floor, DLF Cyber Hub, Gurgaon. Ph: 07827256556
---
Photo: Cafe Mez