Good pizza is no joke! It's the holy trinity of a great pie with the perfect balance of crust and chew, honest sauce and just the right amount of toppings. If you're constantly on the lookout for the best pizza slices in your city, here's the list. From traditional Neapolitan-style pies to pizzerias that put an Italian-American twist on the classics, these are the absolute best pizza spots when you're itching for a slice.
MUMBAI
1. 1441 Pizzeria 
For a true Italian experience, try the wood-fired pizzas from 1441 Pizzeria that uses 00 flour and San Marzano tomatoes imported from Italy. The tandoori paneer pizza is one of their bestsellers, as is the meat cravers pizza. If you are in the mood for some indulgence the new truffle menu is apt. Garden Truffle Pizza comes laden with parmesan along with mushrooms, rocket leaves, tomatoes, and black olives. A generous drizzle of white truffle oil gives it a delicious umami kick
Visit or order through the website.  
2. Gustoso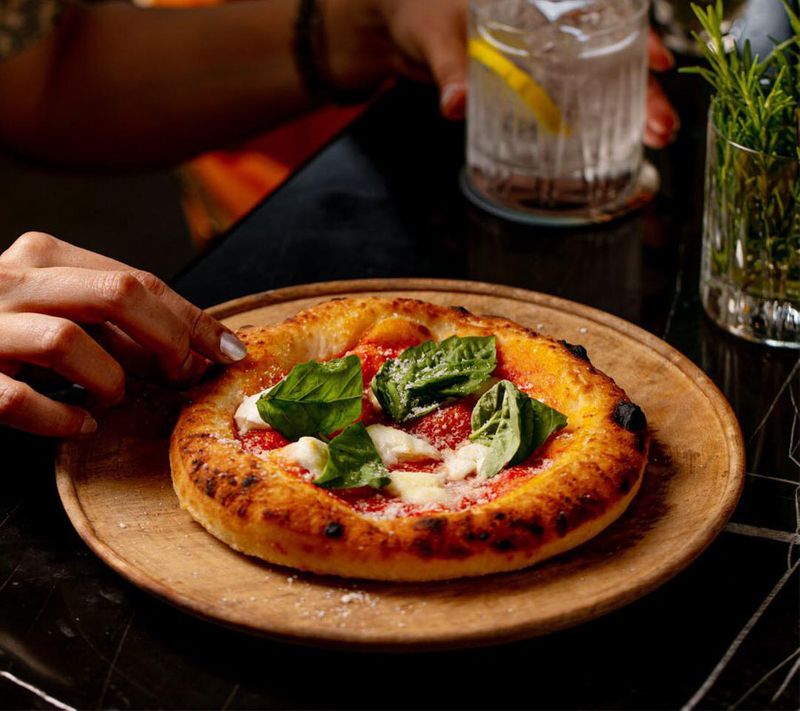 It's the simplicity of the pizzas here that win you over. Take the Pane Pizza with just three ingredients - garlic, olive oil and herbs or the delightfully freshViva L'Italiapizza made using basil pesto, San Marzano tomato sauce and mozzarella. If you are looking for a starter the Giulio's Montanara a lightly fried pizza crust, is the perfect companion to cocktails. The vibe is glamourous and the service is down to earth. 
Visit or Call: 070450 00010
3. Lil Gamby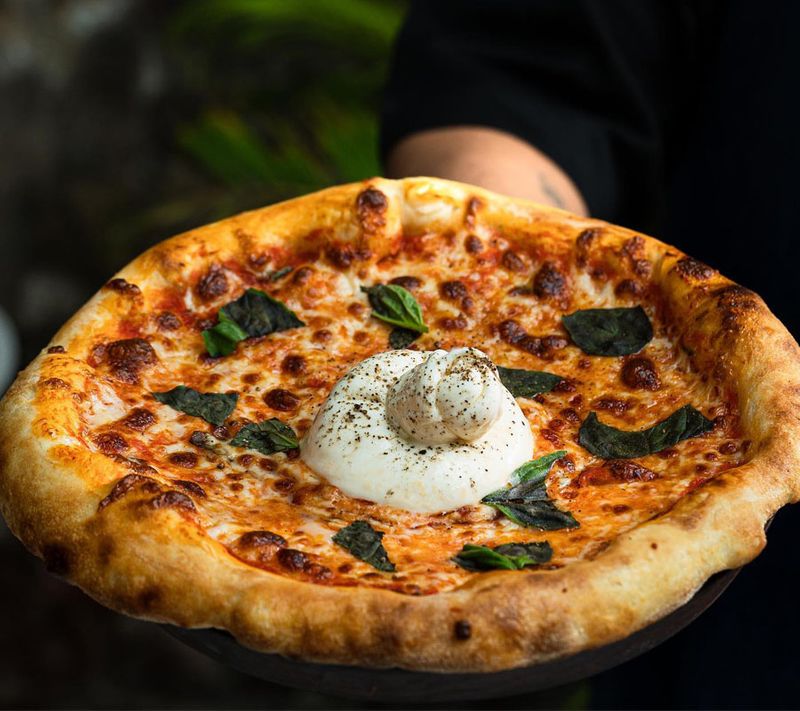 This pizza cloud kitchen by entrepreneur Sohel Lalvani (Café Panama owner) specialises in sourdough pizzas. What that means is a pie that's supremely tasty and fluffy. Try the Buratta Margarita; the slow-fermented pizza bread is smeared with the yummiest tomato sauce before being crowned by a cute, creamy burrata. Meat lovers can go for Belgian Ham, Lamb Ragu, Jerk Chicken and more. But the real deal is the pepperoni pizza which comes loaded with 25 slices of pepperoni! (yes I counted).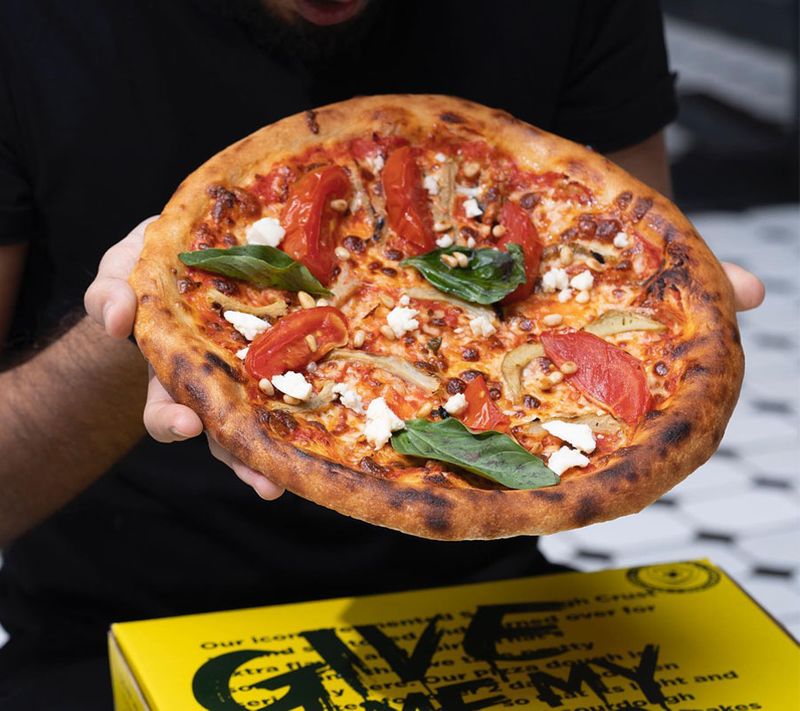 To Order Call: 099882 14444
4. The Dough Therapy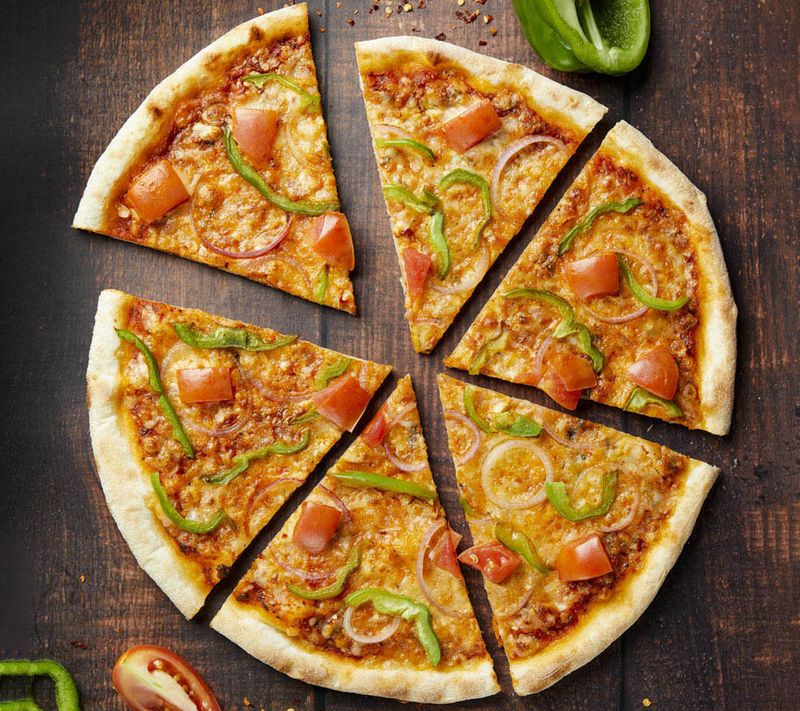 This cloud kitchen born during the pandemic is known for its hand-tossed pizzas that come with a unique blend of oils for the leftover crust dipping. Look no further than the fresh burrata pizza topped with crunchy rocket leaves, burrata cheese, and cherry tomatoes. The Maltija featuring goat cheese, caramelised onions and sundried tomatoes is another compelling choice. Those looking for some heat will love the Speziato starring chilli sauce, jalapenos, red paprika, and bird's eye chilli. Don't say, we didn't warn you. There are options for vegans too. If you are looking for some sides the fries and onion rings are excellent. 
To Order call: 9066875875/ 9856072072/ 8278415415
5. 63 Bylane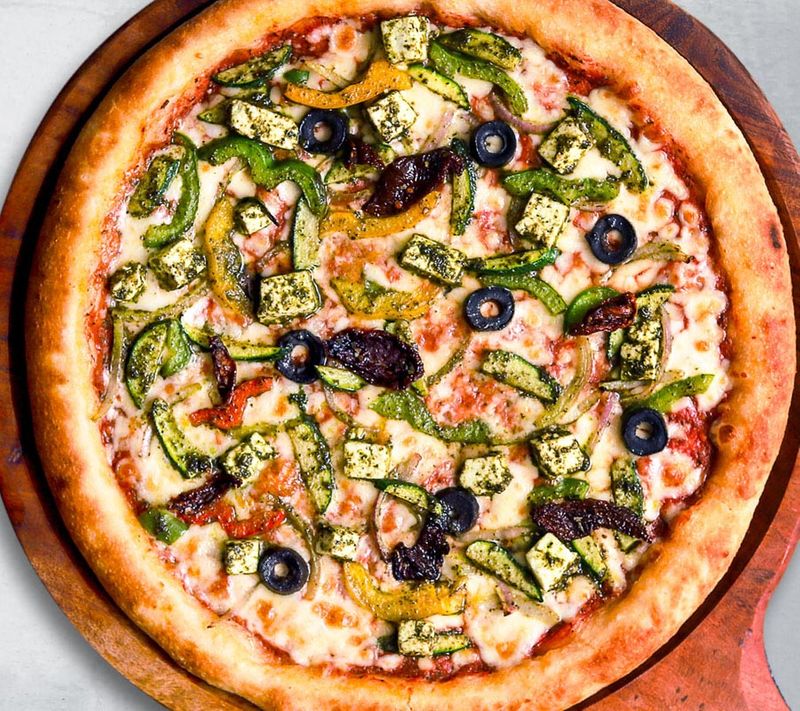 These perfectly blistered pizzas are comforting and value for money. Try the four cheese and paneer tikka pizza showered with chilli garlic-infused olive oil. The pie has the right balance of floppy and crunchy crust and the tikka flavoured spicy sauce is delicious. The Italian delight pizza is like summer on pizza bread. The nearly weightless slice offers a satisfying crackle as you fold it to consume. The toasted garlic bread with creamy mushrooms makes a smashing accompaniment. Vegan and Jain options are also available.
To order call: +91 7710027363 / +91 7710027263
6. Kaasas Pizza
Looking for Indo-Italian pizzas? Kaasas is your spot. The butter chicken pizza is a crowd-pleaser. The chicken creamy basil pesto with bell pepper, onion and olives just melt in the mouth. Veggie lovers should bookmark Extravaganza that comes loaded with jalapenos, black olives, mushroom, corn and twice the amount of cheese for that dramatic stretchy pull. Whatever you do, don't skip ordering the side of spicy chicken kheema on fluffy cheesy, garlic bread. It's comforting and delicious. They are open till 5 am. 
To order call:9833688118 / 9821197243
DELHI
7. Leo's Artisan Pizza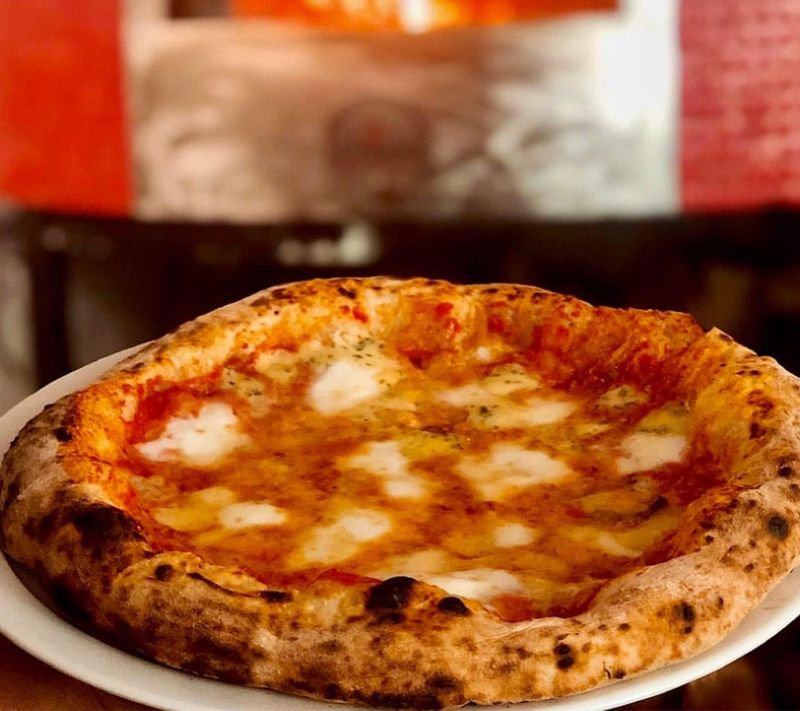 It's difficult to control your drool when you see the Proscuitto di Parma e Rucola pizza arrive bubbling with cheese from the brick oven at Leo's. This is where Delhiites head to for the most authentic Italian pizzas. The pizzaiolos here have trained and apprenticed in Italy, so they know their stuff. Other popular pizzas on the menu include the Margherita and the plain cheese pizza. The vibe is welcoming and easy-going. Bring a few friends, grab a table and have yourselves an old-school pizza party. Extra points for being pet-friendly. 
To Order Call: 098212 77236/ 9999893957. Outlets in Gurgaon, Vasant Vihar and Amar Colony.
8. Olive Bar & Kitchen
Who can deny the charm and romance of a leisurely lunch under a banyan tree? This gorgeous hideaway by restaurateur AD Singh brings the heartiness of the Mediterranean to Delhi with all the favours intact. The handmade pastas and wood-fired thin-crust pizzas here command a loyal following. The truffle mushroom and goat cheese pizza is a perennial favourite, so is the Chorizo and pepperoni with Goan chorizo and mozarella. The cocktails are fantastic if you need something potent to wash the pizza down.  
Visit or call: +91 9810 235 472
9. Jamie's Pizzeria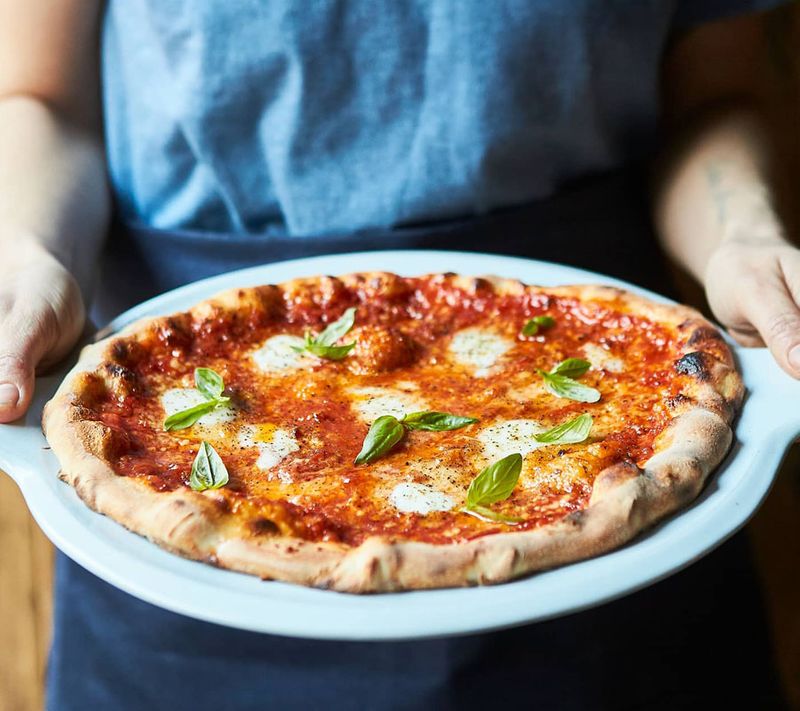 Spread across three outlets across Gurgaon this pizzeria by British chef and restaurateur Jamie Oliver does traditional, hand-stretched Neapolitan pizzas. Chicken Alla Diavola, Jamie's Super Greens, Verdure, and Buffalo Margherita are among the classic ones on the menu. But do try their Funghi pizza topped with gorgeous wild mushrooms, pickled red onions, creamy smoked mozzarella, and fresh parsley. 
Visit or Call: 095991 80116
10. Baking Bad
This pizza place has been serving delicious woodfired pies since 2014. Some of the most popular ones include Avocado Therapy, Spinach to Win It, and Wild Veg. But the classics such as Margherita, Melting Pot, Shroom Fest are just as wonderful. Vegans can choose from any of the pizzas and simply ask for it to be vegan. Their exclusively sourced vegan cheese made from coconut oil and potato starch is to die for! Make sure you keep a bottle of wine ready to complete the experience.
To Order Call:011 4905 2050. Outlets in New Delhi, Gurgaon & Noida
BENGALURU
11. Brik Oven 
It's impossible to resist the perfectly charred pizzas from Brik Oven. The light and crunchy crust are thin in the centre and thick and charred around the edges. Just be sure to eat your pizza quickly, because the crust won't stay crispy forever. Always order the OG a bacon-heavy pizza oozing with deliciousness. The Anna with jalapeno, feta, Mozzarella and sun-dried tomatoes is just about as noteworthy. The perfectly seasoned garlic bread shouldn't be missed.
To Order Call: 091481 00119 or Swiggy
12. Chianti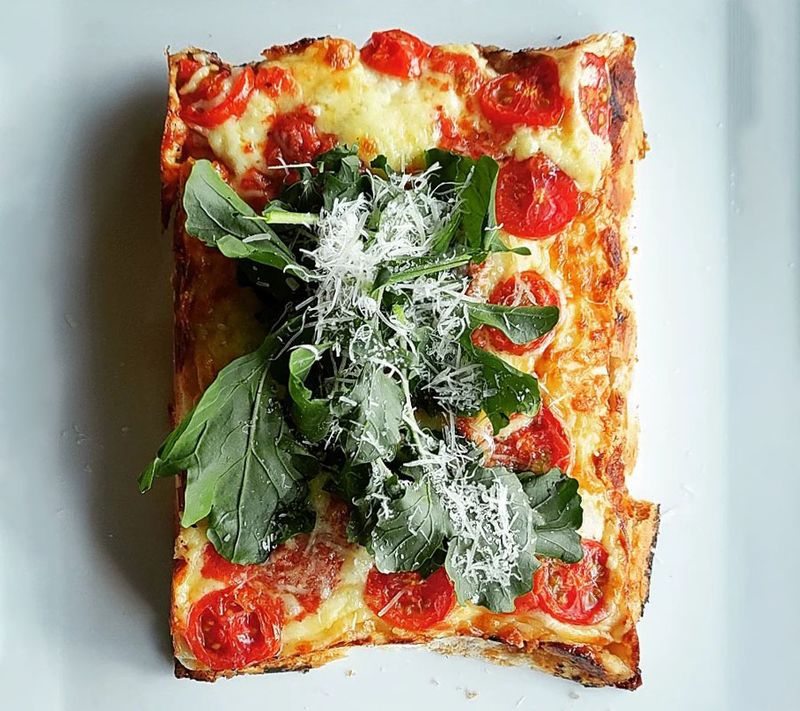 With four outposts in Koramangala, Indiranagar, MG Road and Bellandur Chianti do some amazing hand-rolled pizzas that are equal parts chewy and crispy. Start with the PPZ pizza with pesto, prawn and fried zucchini. For something out of the box try the Caeser Pizza which is basically Caesar's salad on their signature Naple's style pizza. Meat lovers should look out for Amanti di Maiale. This juicy Neapolitan-style pizza has pepperoni, bacon, roasted pork, and rib meat showered with parmesan and a light drizzle of olive oil. Not for the faint-hearted. 
Visit or Call:080 4126 4000/080 4113 2021
13. Eating Love
This vegetarian pizza place in Kasavanahalli and Bannerghatta may convert all meat-craving pizza lovers with their Neapolitan sourdough pizza. The spot-on oven temperature ensures that a layer of rich mozzarella stays perfectly in place, while a proper stream of orange grease drips down your wrist when you fold a slice. The signature pizza Verdure Pesto which comes topped with fresh veggies and finished with caramalised onions, ricotta cheese and arugula has won many hearts. Pizza paradise with eight types of cheeses is another fascinating choice. 
Visit or call: 91 9739587654/ +91 6360608045
14. The Pizza Bakery 
The burrata pizza from The Pizza Bakery is one of the finest things in Bengaluru. The best thing about the pizza here is the superbly crusty and perfectly charred base. It's thin in the middle with a puffy outer edge. Looking for some heat? Go for the Hellboy with pepperoni, crispy bacon and fermented chili. Don't miss the garlic bread stuffed with a duet of caramelised onion and mozzarella. They are served with homemade garlic aioli. Vegan pizza with homemade coconut cheese is also available. 
Visit or call: 049652860/ 25202225. There are four outlets and three delivery kitchens 
---
Photo: Shutterstock; Respective Brands