You have recently seen him as the RAW chief in the Akshay Kumar starrer Bell Bottom. A consummate theatre artiste, a faculty at NSD, and now, among the most loved character actors in Hindi movies, Adil Hussain is on a roll. His accolades include two National Film Awards, a Norwegian National Film Award, staging Shakespeare's Othello: A Play in Black and White, and Goodbye Desdemona in the UK. He has starred in Hindi, Assamese, Bengali, Tamil, Marathi, Malayalam, Norwegian, French and mainstream Hollywood films like The Reluctant Fundamentalist and Life of Pi. 
But today we are not talking films, we are talking about the culinary journey of Adil Hussain, the eternal foodie, and the passionate chef. Zee Zest caught up with him in Gangtok where he hosted a special lunch at the Korean restaurant Mu Kimchi recently. Excerpts from the interview.
1. Why did you decide to travel all the way to Gangtok to do your signature cooking pop-up?
Binita Chamling, my dear friend, is also a good friend of news anchor Dibang. We have known each other since 2010. Binita's younger brother Nitesh has a lovely Korean restaurant called Mu Kimchi in the heart of Gangtok. I wanted to visit Sikkim and they thought it would be wonderful if I came and cooked something in their restaurant. So, here I am. I have brought my 10-year-old son Kabir along, and we have spent three blissful days exploring the splendours of Sikkim.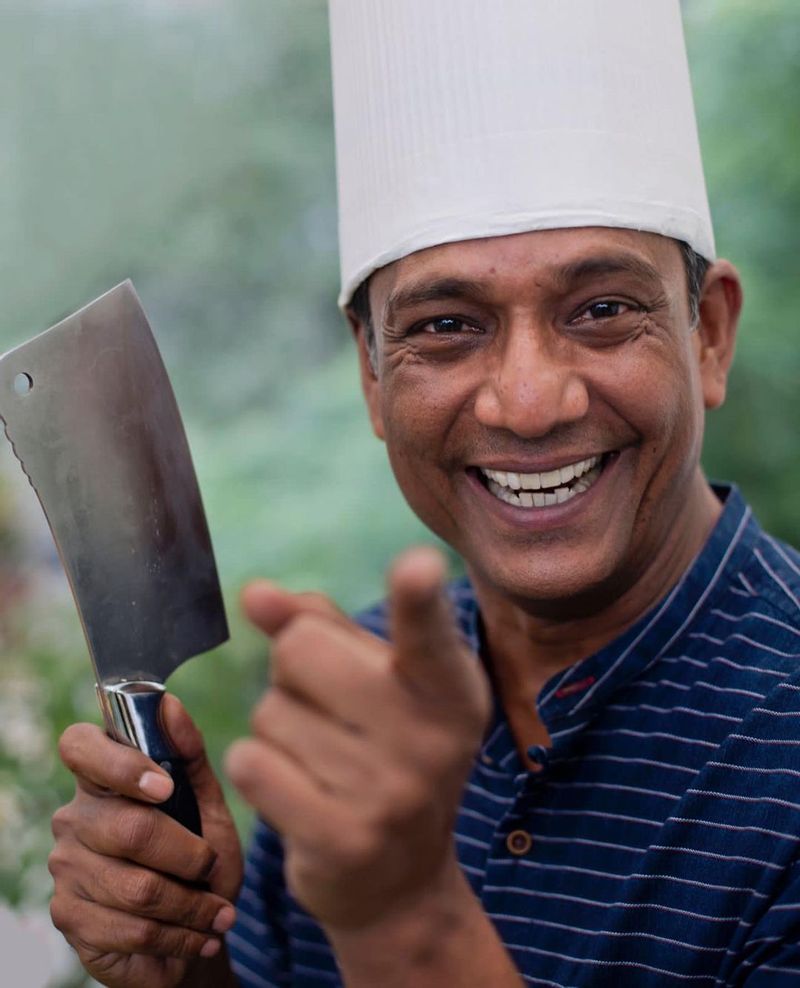 2. The menu had an eclectic mix of different cuisines and some Adil Hussain favourites like the chicken jal pyaazi. How did you draw it up?
The menu is from among the things I like to cook, the dishes I cook at friend's parties, which Dibang and Binita have tried before. So, they requested me to make certain dishes like chicken jal/jhal pyaazi, which is my mom's recipe and I have been eating since childhood. Only recently, about two-three years ago, I got close to the taste my mom's dish would have. She would especially make it during Eid. And I love Kerala dishes; so, included them as I wanted pan-India cuisine. I chose what I know from Kashmiri to Assamese, to Bengali food.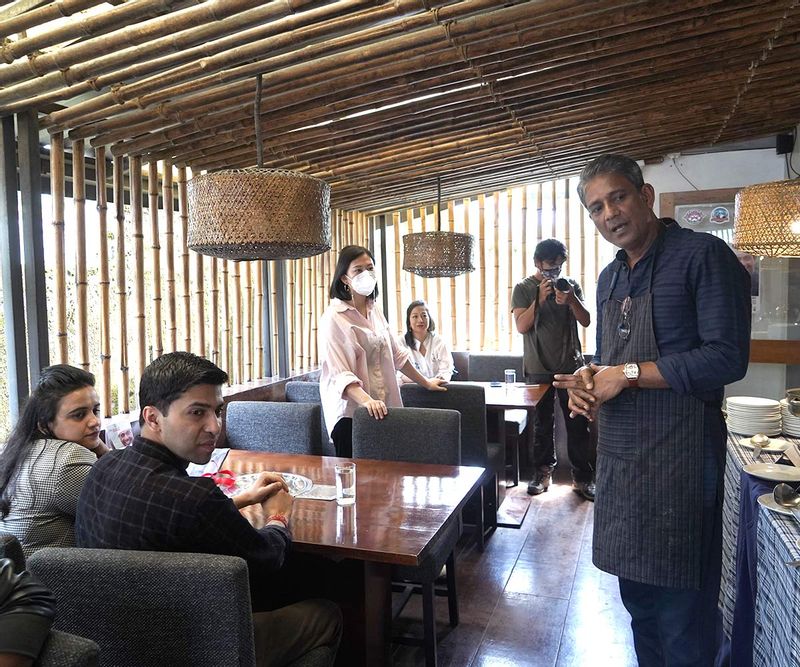 3. Did you take up cooking in your growing up years in Goalpara and then in New Delhi or is it a more recent phenomenon?
I have been cooking since I was 16 years old when I went to Guwahati for my graduation and I missed my mom's food. Those days we didn't have phones, so when I visited home, I would sit with my mom in the kitchen and ask her how she cooked a particular dish and write down some details or secrets she would share. I learned the nuances of cooking through my chats with my mother. It has been a long journey. Over the years, whenever I cooked, my friends loved it. I slowly realised that I had a knack for cooking and I continued cooking consistently throughout my life.
4. Can you explain how cooking and feeding people give you creative satisfaction?
Initially, I liked to just eat good food. By good food, I don't mean rich or elaborate food. Even simple food like dal that is cooked well, with love and care. I realised it is very deep, almost like creating a piece of art. When I act, if I am in a peaceful state, things come out differently than when I am rushed or stressed. It's the same with cooking. When you feed someone, the food goes to the stomach then gets distributed through the physical body, and it affects your emotional health. So, the cook's action indirectly participates in a person's biological and emotional state of being. I start taking care of my emotions or state of mind when I cook. When I cook with a lot of love, affection, and peace within, the food tastes much better and people feel good.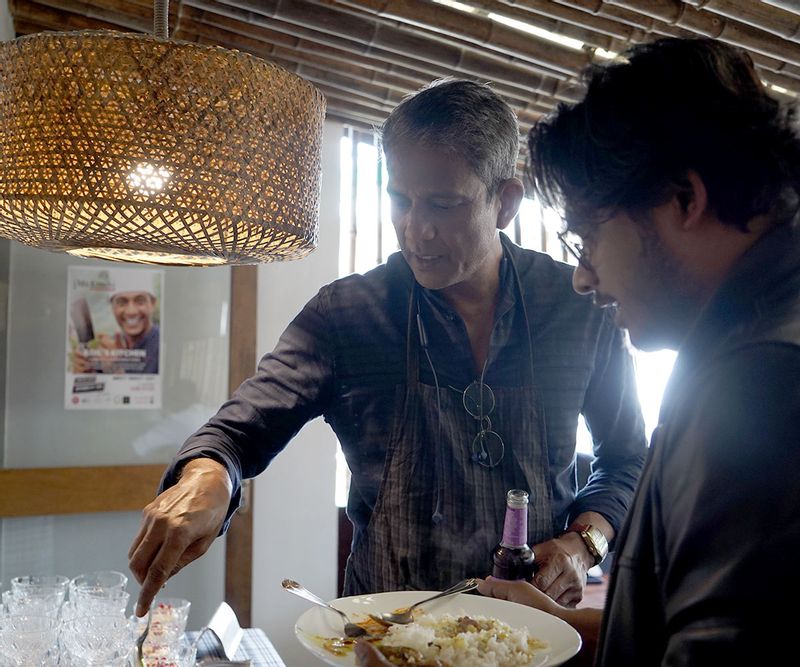 5. Do you experiment with food when you travel around the world?
We have a tendency to find our comfort food wherever we go. The first time I experimented with food was when I travelled to the tribal belts of the Bastar district (then in Madhya Pradesh, now in Chhattisgarh). Food was different and mesmerising. When I look back, I think it is because it was so raw and pure. I remember reaching a village after walking uphill for almost two days, a village so remote that people had never seen an automobile. They eat what they grow; rice, greens, and wild berries. Not even potatoes. And a red ant chutney. I was not experimental or bold with trying out new dishes, but I tasted it and it was out of the world.
The second time I experimented with a new cuisine was when I went to Kerala for the first time. Initially, I had a lot of problems with the use of grated coconut or coconut oil in almost every dish they make. But when I came back to Delhi, I started craving for it. Now I am very fond of Kerala cuisine. Fish, chicken, mutton, greens, the Nair dishes, the Muslim dishes, the Christian dishes.
When I went to the UK for the first time I was introduced to salads and salmon, which I never ate before. They were light and delicious, and I loved them. I have to admit that I am still not very adventurous with seafood. I still can't eat crabs or a specialty like a sea cucumber. I have to educate myself to do that.
6. Name three new cuisines you have discovered during your travels and crave.
I love Moroccan cuisine, Polish village food including the sour cabbage (not an easy thing to like) and sausages, Naga cuisine…their fish and green leafy vegetables.  
---
Rapid Fire with Adil Hussain
1. Favourite Cuisine
Assamese
2. Favourite Dish
Moong dal dhekia and rice, aloo bharta
3. Favourite Restaurant
Indian Accent in Delhi, and Mahesh Lunch Home in Mumbai
4. Favourite Chef
My mother
5. A dinner you splurged on...
Eating salmon in Mathallen, Oslo, Norway.
---
Photo: Adil Hussain