Winter calls for bowlfuls of steamy, indulgent halwa – the type where all you see is a generous amount of desi ghee floating on top.  
Restaurants usually shy away from serving the classic halwa/sheera besides the exception of the much-loved gajar and moong dal ka halwa. If you want a sweet treat before, after or during a meal, you'll have to pick between loaded milkshakes, pancakes, and slices of cakes. While we have no complaints about those treats, one can't deny the fact that a good ol' halwa – no matter what kind - never disappoints. Make some of that ultimate hug-in-a-bowl with this delicious variety of halwa recipes shared by chefs from across India. 
1. Urad dal halwa recipe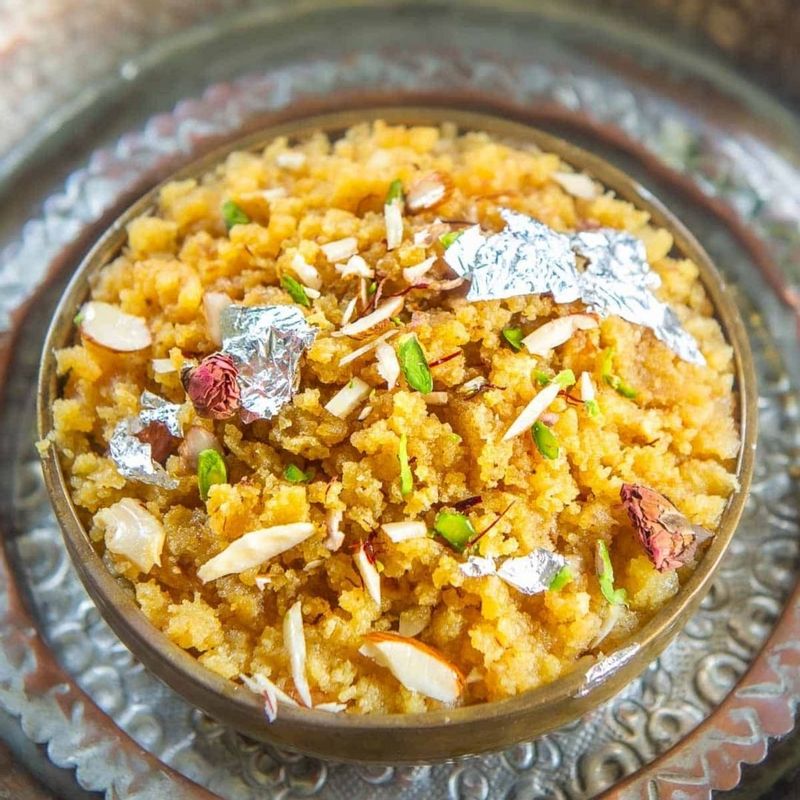 Ingredients
1. 128 gm urad dal
2. 256 ml milk
3. 64 gm sugar
4. 64 gm ghee
5. 50 gm dry fruits
6. A pinch of cardamom powder
Method
Soak a cup of urad dal (split husked yellow urad) in water overnight or for 4-5 hours. 

Once soaked, drain, and grind the urad dal to a smooth paste with some water.

Melt 9-10 tbsp of ghee in a kadai and add the ground urad dal to it.

Mix well and let the dal cook on low to medium flame until it starts to break down and release fat from the sides. Stir the dal constantly to ensure it is cooked evenly.

In a separate pan, take a cup of full fat milk, two cups of water and a cup or 1¼ cup of sugar. Keep this pan on the stove top and cook until the sugar dissolves and the mixture comes to a boil. 

Meanwhile once the urad dal has separated, it will have a granular consistency. 

Add the milk mixture to the dal and mix well. Keep the stove on simmer and stir occasionally.

The liquid should get absorbed and once again you will see the ghee getting separated. It usually takes about an hour to make urad dal ka halwa on the stove top. 

Once done, add cardamom powder, chopped unsalted pistachios, and a tbsp of golden raisins. Serve hot. 
Recipe courtesy chef Tanvi Goswami, Saga, Gurgaon
2. Makhandi halwa recipe
Ingredients
1. 1 cup ghee
2. 1 cup sugar
3. Water, as required
4. 1 tsp cardamom powder
5. 2 tsp almonds, chopped
6. 2 tsp pistachios, chopped
7. 2 tsp almond, slivers
8. 1 cup semolina, soaked in water for an hour
Method: 
In a kadai, melt ghee and add a cup of sugar into it. 

Cook the sugar until it caramelises and add water as required. 

Add the soaked semolina and mix well. 

Cook until the mixture changes colour from white to golden, and releases ghee from the sides. 

Once done, garnish with chopped almonds and pistachios, and serve hot. 
Recipe courtesy chef Harpal Singh Sokhi, host, Grand Trunk Rasoi Season 1
3. Black gajar halwa recipe
Ingredients
For pressure cooking:
1. 8-10 black carrots, peeled and grated
2. 2 ½ cups milk
3. 3 tbsp ghee
For frying: 
1. 10-15 almonds, slivered
2. 10-15 pistachios, slivered
3. 2 tbsp ghee
For sauteing: 
1. ¼ cup ghee
2. Pressure cooked black carrot
3. ½ cup sugar
4. A pinch of salt
5. 1 tbsp honey
6. A drop of vinegar
7. ½ tsp green cardamom and dry ginger powder
For garnish: 
1. Silver vark
2. Fried nuts
3. Pomegranate pearls
4. Mint leaves
Method: 
In a pressure cooker, add grated black carrot, milk, and mix well. 

Add ghee and cover and pressure cook until it turns soft. 
Recipe courtesy chef Ranveer Brar 
4. Winter dry fruit halwa recipe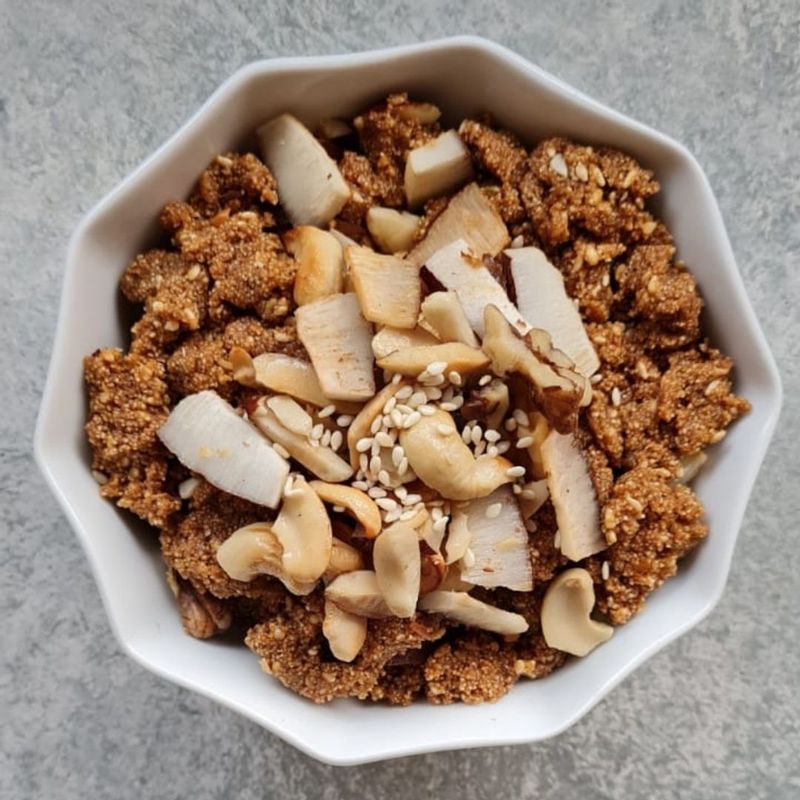 Ingredients
1. ½ cup semolina
2. 3 tbsp white sesame seeds, dry roasted
3. ½ cup palm jaggery, crumbled/grated
4. ½ cup gram flour, roasted
5. ½ cup mixed dry fruits
6. ¾ tsp green cardamom powder
7. 2-3 tbsp ghee
Method
Warm 2 tbsp of ghee in a pan.

Add the dry fruits and roast it for few seconds and keep aside.

In the same pan add and warm the remaining ghee.

Once warm, add semolina to the ghee and roast it until it changes colour to a light beige and it has a nice roasted fragrance.

Add roasted sesame seeds and stir fry for few minutes.

Now add roasted gram flour and mix it in well.

Add cardamom powder and mix well.

Then add jaggery to the pan and mix well (if the jaggery is solid add 2-3 tbsp water on the jaggery so that it melts faster).

Garnish with roasted dry fruits and serve hot.
Recipe Courtesy Simrun Chopra, Deep Health Coach and Founder, Nourish With Sim 
5. Gud ka halwa recipe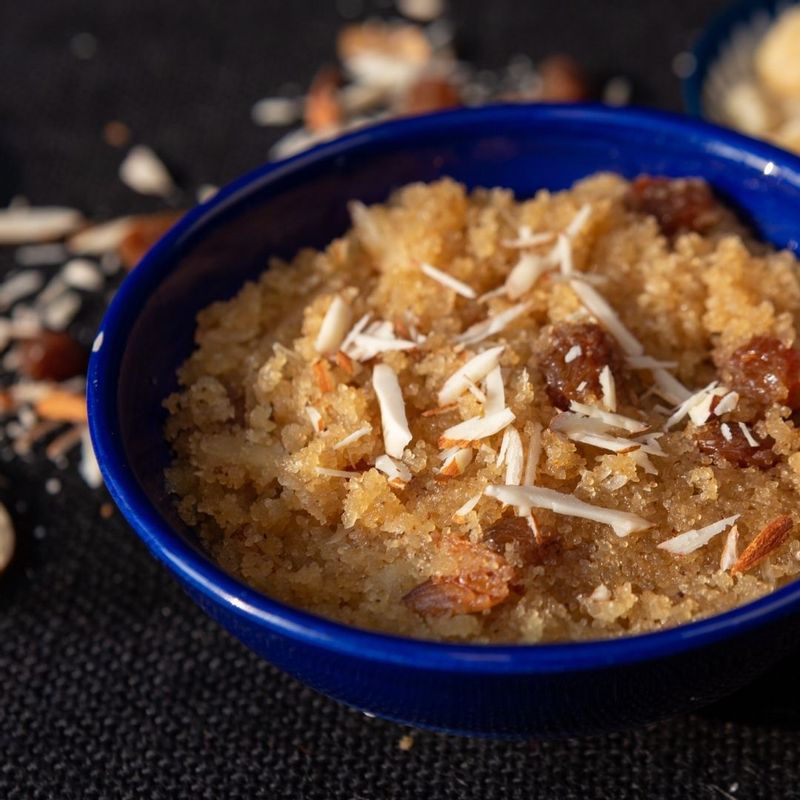 Ingredients
1. 100 gm ghee
2. 180 gm semolina
3. 2 tbsp whole wheat flour
4. 2 tbsp almond, slivered
5. 2 tbsp raisins
6. 800 ml water
Method
Add water and jaggery in a pan, and warm it on a medium flame to make mixture.

Add raisins in the jaggery-water mixture to soak.

Heat ghee in a kadai, add semolina and cook on medium flame until golden brown.

Add whole wheat flour and cook further for a couple of minutes till the mixture turns to dark brown in colour.

Add the warm jaggery-water mixture along with raisins to the semolina mixture and cook, stirring continuously, until halwa consistency is achieved.

Cover it with a lid and take it off the flame. Let it rest for 20 minutes, so the semolina blooms.

Garnish with almond slivers and enjoy hot.
Recipe courtesy Chef Vikas Seth, Culinary Director, Hopshaus, Embassy Leisure
6. Beetroot halwa recipe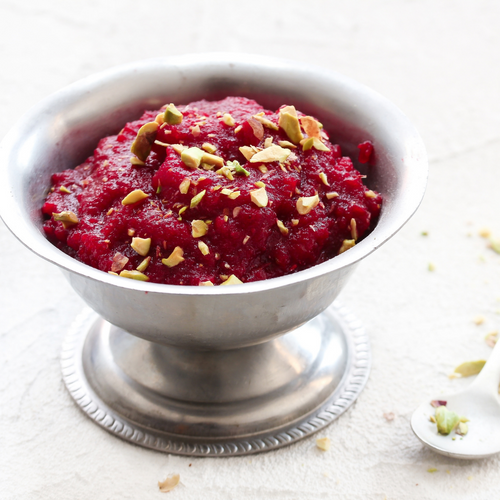 Ingredients
1. 1kg beet root, grated
2. 200g Sugar
3. 200g Khoya
4. 1/2 cup Milk
5. 1tsp Cardamom powder
6. 2tbsp Desi Ghee
7. 1tbsp chopped nuts
8. 2 leaves silver foil (optional)
Method
Peel and grate the beetroot.

Heat the milk and the grated beetroots in a pan.

When it comes to a boil, reduce to a simmer.

When the beetroot begins to soften, add the sugar and cook over low heat till the sugar is dissolved and beet roots acquire a glazed look.

Cook on a low flame till most of the moisture is evaporated.

Add ¾ of the khoya, the cardamom powder, mix well and cook for another 3-4 minutes.

Heat the oil in a pan and lightly fry the nuts.

Crumble the remaining khoya with your fingertips.

Serve hot garnished with crumbled khoya, nuts and silver foil.
Recipe courtesy chef Pankaj Bhadouria
7. Gajar ka halwa recipe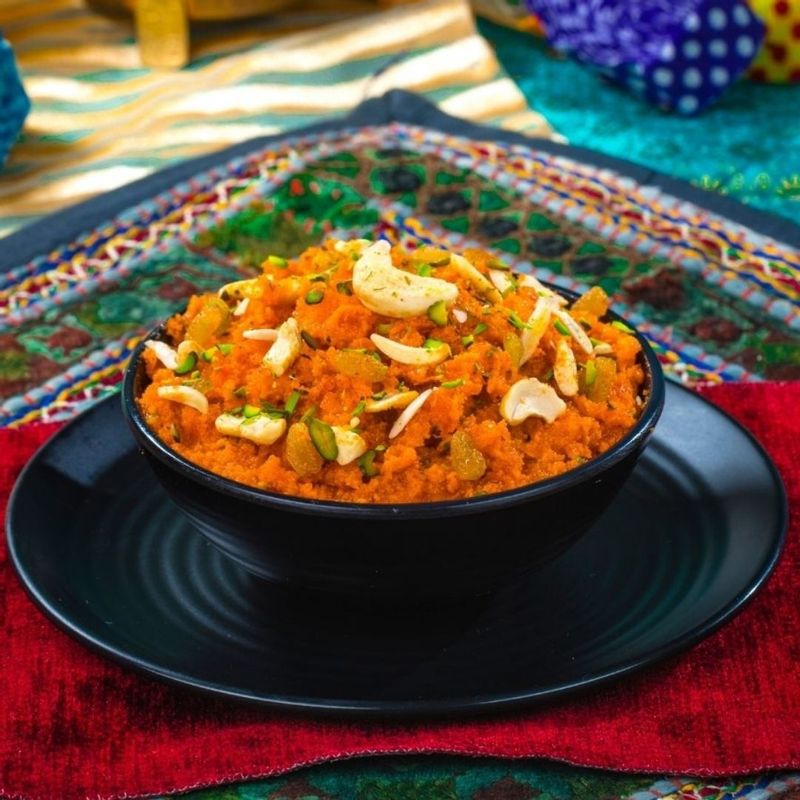 Ingredients
1. 2 tbsp ghee
2. 1 cup carrot, grated
3. ¼ cup condensed milk
4. Few strands of saffron
5. ½ tsp cardamom powder
6. ½ tsp nutmeg powder
7. Toasted pistachio, for garnish
Method
In a pan, heat the ghee and toast the grated carrot till half cooked.

Add the condensed milk, saffron, cardamom and nutmeg and cook till the carrots are done.

Cool the halwa.

Now drop a spoon full of cool halwa on top of the panna cotta or make a quenelle and place it on it, garnish with chopped toasted pistachio and serve.
Recipe courtesy chef and TV host Amrita Raichand 
8. Shakarkandi ka halwa recipe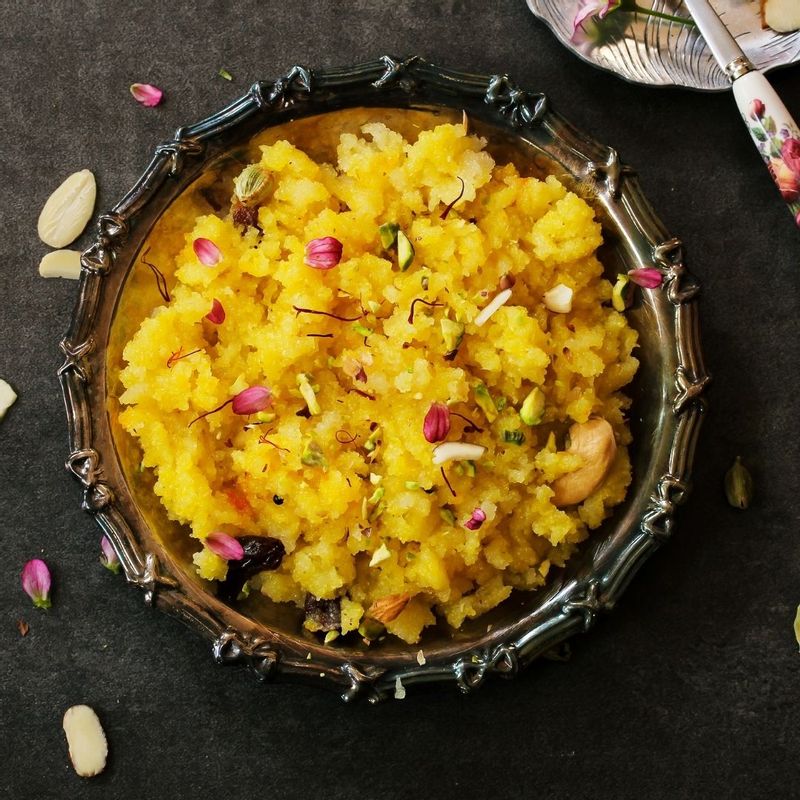 Ingredients
1. 1 ½ cup shakarkandi (sweet potato), boiled, peeled and mashed
2. 1 tsp cardamom powder
3. 1 tsp saunf powder (fennel seed powder)
4. 2 tbsp almonds, chopped
5. 2 tbsp walnuts, chopped
6. 3 tbsp oil
7. 3 tbsp sugar
8. Few drops vanilla essence
9. 400 ml milk (low fat)
10. 1 tbsp pistachio, chopped
Method
In thick bottomed pan heat oil and on a slow flame lightly brown all the 3 nuts. Once they turn brown add the mashed sweet potato.

Quickly saute it for 3 minutes. Then pour in the milk and cook on a slow flame for 10 mins. Add the sugar, vanilla essence, cardamom powder and saunf powder.

Keep stirring it till it becomes thick like a suji halwa.

Serve hot.
Recipe courtesy Chef Kunal Kapur 
---
Photo: Canva and featured chefs/brands