The winter months may bring extreme cold and toxic smog, but it also brings nature's seasonal bounty. Many of these local seasonal veggies and herbs get lost amongst their hep counterparts that may their way onto the supermarket aisles. But if you are bored of your kale smootie and avo sandwich—step out of your city-bred comfort zone and take a look at the greengrocer (aka bhajiwala and sabziwala) outside your building, selling fresh winter produce.
One such winter special is green garlic or spring garlic. As the name suggests, green garlic is the youngling of the allium before the cloves begin to mature. Also, known as garlic chives, green garlic is similar to spring onion, and has a gentler flavour profile compared to its matured counterpart. One of the most popular and easy ways to incorporate green garlic in your culinary repertoire is to make chutney or as Chef Saransh Goila shows in his IG Reel, eggs with green garlic oil!
But if you're looking to up the ante, here are five green garlic recipes for you to get started with this winter:
1. Sai thoum jo dodo (Sindhi green garlic flatbread made from jowar)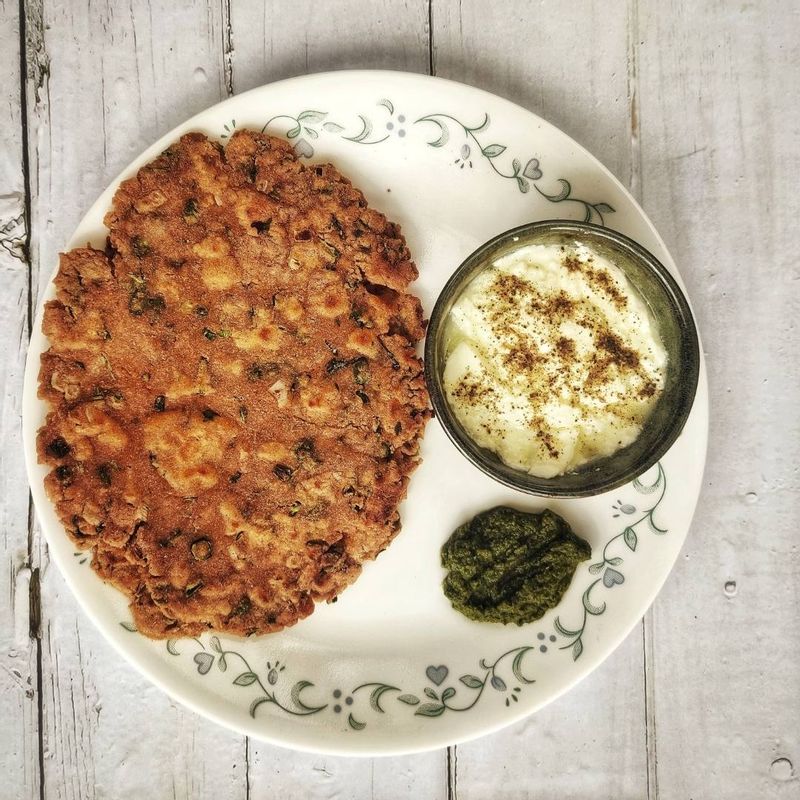 Ingredients:
3 cups Jowar flour 

½ cup fresh Coriander Leaves, Washed and chopped

3 finely chopped green chillies (as per taste)

½ cup finely chopped spring garlic (white bulb and the greens)

Salt to taste

4 tbsp ghee
Method:
In a deep kneading bowl, sieve the jowar flour, add all the ingredients and 1 tbsp of ghee and mix well.

Now slowly add water to knead the flour into a soft and pliable dough.

Cover the dough with a kitchen towel and let it sit for 20 mins.

Portion the dough into 4 equal parts (approximately 80 gms each).

Line the rolling board with a clean plastic sheet and rub a few drops of ghee on it.

Now put the portioned dough on the rolling board and pat it down till it gets the thickness of a paratha.

On a hot tawa, add half a teaspoon of ghee and transfer the rolled dough on it. Ideally, the dodo (Sindhi flatbread) should be cooked on a low flame for it to become uniformly crisp and cooked from within. 

Let this cook for 2-3 minutes on each side, Make sure to not flip it too soon and to add some ghee on top before flipping it.

Serve the hot dodo with a side of curd and the ubiquitous Sindhi papad. You can also serve sai thoum jo dodo with dal, sai bhajii and just as a snack with tea also.
Recipe courtesy Kusum Rohra, Khado By Kusum, Bengaluru
2. Green garlic feta and olive cheese log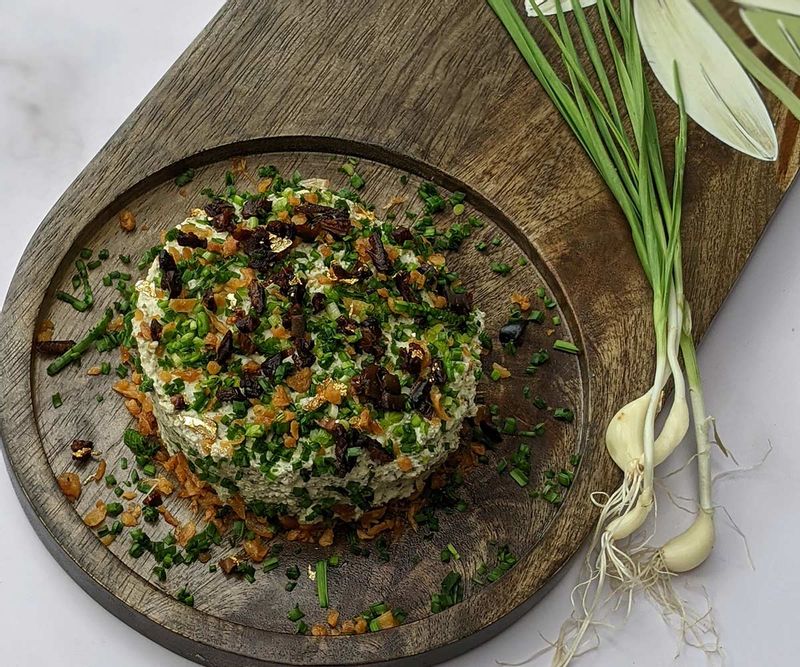 Ingredients
50 gms feta cheese 

50 gms cream cheese 

45 gms of green garlic bulb finely chopped 

15 gms of green garlic greens finely chopped 

15 gms of black olives finely chopped 

Cracked black pepper to taste 

10-15 ml lime juice 

10g honey to taste 

Oil for frying garlic bulb 

Gold varq for garnish
Method:
In a deep bottom pan heat oil and fry the finely chopped garlic bulb on low heat for 20 mins until it turns light golden brown in colour. Remove from heat, drain the excess oil and allow the garlic to cool down.

In a bowl, mix feta cheese, cream cheese, olives, fried green garlic, chopped garlic greens, chopped olives, honey and cracked pepper, lime juice together.

Chill the mixture for 30 mins.

Shape the cheese into a round or log and garnish with more chopped olives, fried garlic, garlic greens and gold varq.

Serve the cheese with some pita crisps, lettuce, olives, grapes and much more. This cheese can be used for delicious grilled sandwiches or as a base spread for salad wraps.
Recipe courtesy Manpreet Dhody, co-founder at I'M Wholesome, Mumbai
3. Burratina with green garlic infusion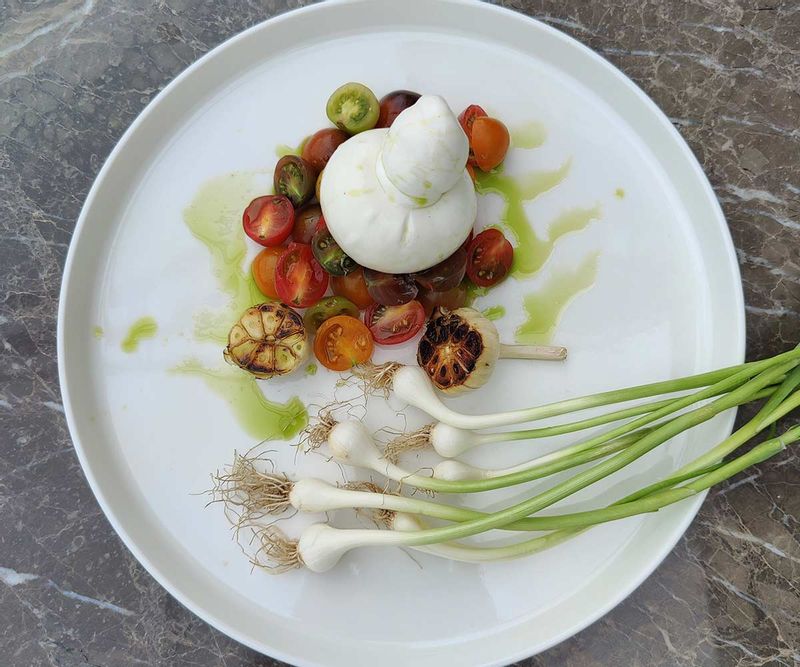 Ingredients 
150 gm Burratina cheese

80 gm Heirloom Tomato

1 Whole Garlic

20 gm Green Garlic

10m Olive Oil

5 gm Maldon Sea Salt (Or regular salt)

3 gm Pepper
Method
Infuse the olive oil with green garlic.

Cut the Heirloom Tomatoes into halves and marinate with salt, pepper and the infused green garlic oil.

Grill the confit garlic.

Place the marinated Heirloom Tomatoes on a plate and place the Burratina Cheese on top.

Drizzle the garlic oil and sprinkle with Maldon Sea Salt flakes.   
Recipe courtesy Chef Akhilesh Menon – Chef de Cuisine, Radisson Blu Hotel & Spa, Nashik.
4. Green garlic hummus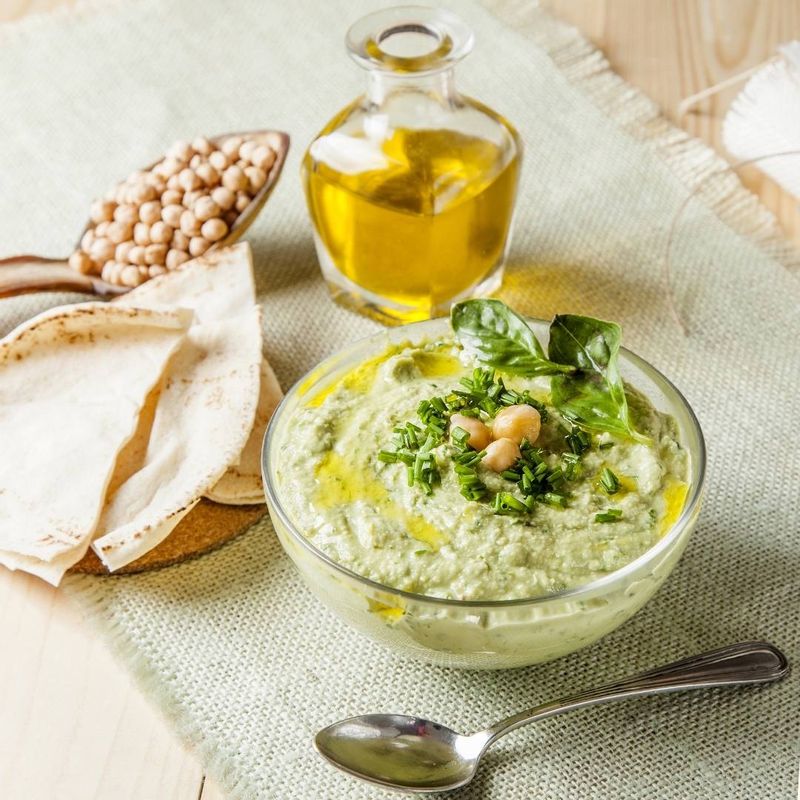 Ingredients
100 gms chickpeas (soaked overnight)

30 ml Olive Oil

30 gm Tahini 

2 tsp Lemon juice

1 clove Garlic

30 ml Retained Water

Salt To Taste

50 gm Green Garlic Chopped with green leaves

2 tbsp Olive Oil
Method
Soak the chickpeas overnight and then boil them till soft. Retain the water. 

Heat the olive oil and then turn off the heat. Sautee the chopped green garlic and keep it aside.

Blend the chickpeas, olive oil, tahini, lemon juice and garlic along with the sauteed green garlic and adjust the consistency with the retained water to form a smooth thick paste. 

Transfer to a bowl and garnish with lemon slices. 
Recipe courtesy Chef Harsh Shodhan, Hola Humm_us
5. Green garlic stracciatella on sourdough
Ingredients: 
700 gm 00 flour

600 ml water

20 gm salt

120 gm burrata

120 gm green garlic

20 gm Bourguignonne mustard

20 ml olive oil

20 gm shallot

15 ml white wine

40 gm baby arugula

20 gm microgreens

3 gm Maldon sea salt

5 gm green peppercorn
Method:
Prepare a dough using flour, water and salt and a sourdough starter. Rest for at least 3 hours. Portion.

Heat the olive oil in a pan and sauté the chopped green garlic.

Sauté shallots and deglaze the pan with a splash of white wine. Season with Maldon salt.

Prepare the dough for the pizza and stretch it out. 

Apply the green garlic sauce. Spread the Bourguignonne mustard in blobs at random places.

Bake the pizza in a pre-heated oven at 300 degrees for 7 to 9 minutes.

Once the pizza is well cooked cut it into 8 pieces and then top it with the arugula and the microgreens. 

Sprinkle the Maldon salt and crushed green peppercorns and a good helping of olive oil.

Place the burrata in the centre and open it up. Spread the stracciatella around.  
Recipe courtesy Chef Shailendra Kekade, Sante Khar, Mumbai
---
Photo: Shutterstock