Winters are all about comfy sweater weather, mild sunny days, blooms and seasonal fruits and vegetables, and piping hot bowls of soup to warm the body and soul. Whether it is a sudden bout of chill or a niggling cold brought about by seasonal change, only a hot bowl of nourishing soup can alleviate. Add a piece of cheesy garlic bread or a crunchy breadstick (or two) on the side and you're all set to brave the cold.
If you're looking for inspiration for nourishing soups for the chilly weather, look no further. We got chefs and nutritionists from across India to share their favourite soup recipes for you to find comfort in this winter. 
1. Paya soup with tomato recipe
This divine soup that chef Ajay Chopra prepares on India's 50 Best Dishes packs a flavour punch courtesy of the paya/trotters and aromatic spices that go in it, including green cardamom, cinnamon, and tej patta (bay leaf). 
Ingredients:
1. Trotters/Paya (of lamb 1)
2. 1 onion, chopped in chunks
3. Garlic, roughly chopped
4. Ginger, roughly chopped
5. 4-5 green chilli
Potli:
1. 1 tsp black peppercorns
2. 2 green cardamom
3. 1 cinnamon
4. 1 tsp coriander seeds 
5. 1 tej patta
6. 1 tsp sesame seeds 
7. 2 pcs star anise
8. 1 tsp fennel seeds
9. 2-3 tbsp ghee
10.  1 tsp shahi jeera
11. 6-7 ginger julienned 
12.  4-5 green chilli julienned
13.  1 cup onions, sliced 
14.  1 tsp turmeric powder
15. Salt to taste 
16.  1 tsp red chilli powder
17. ½ cup tomato puree
Tadka:
1. 2 tbsp mutton fat
2. Atta-Besan slurry
3. Ajwain
Method:
Boil paya in water twice.

Once boiled, drain out water.

Now put the paya in a pan and add onions.

Crush garlic, ginger, and green chilli, and add to the pan.

Now add water and let it boil.

In a muslin cloth, add coriander seeds, cardamom, cloves, sesame seeds fennel seeds, star anise, cinnamon sticks, bay leaf; tie it and put in the pan.
Recipe courtesy chef Ajay Chopra, India's 50 Best Dishes 
2. Hearty winter coconut broth recipe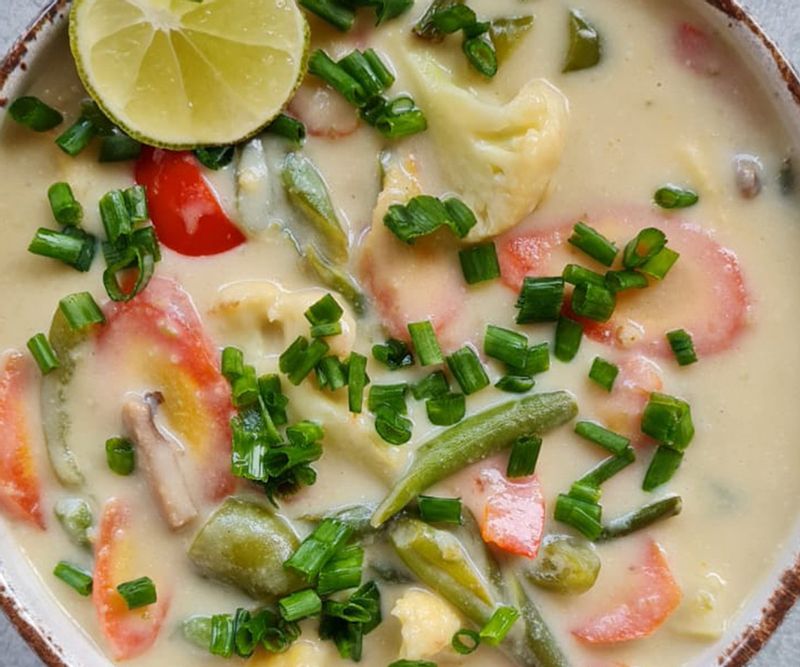 A variety of stir-fried vegetables are simmered in a rich coconut broth seasoned with ginger, garlic, green chilli and lemon, to make this hearty winter coconut broth. 
Ingredients:
For stir-fried vegetables: 
1. 7-8 mushrooms, cut into 4 halves 
2. 2 medium-sized winter carrots, cut in oval shapes 
3. 1 green capsicum, cut in slant pieces 
4. 1 red capsicum, cut in slant pieces 
5. 12-15 pieces French beans, cut in a slant of an inch each 
6. 1/2 medium-sized cauliflower/broccoli florets 
For soup: 
1. 1/2 cup roasted besan (gram flour)
2. 2 cups curd (yoghurt) 
3. 1 onion, ground to a paste 
4. 10-12 garlic pods, ground to a paste 
5. 5-8 green chillies, ground to a paste (or as per taste)
6. An inch of ginger, ground to a paste  
7. 2 cups thick coconut milk  
8. 3 cups vegetable stock or hot water
9. Salt to taste 
10.  ¼ cup spring onions, chopped
11. Lime juice for garnish 
12. 2 tbsp oil
Method
For stir-fried vegetables:
Stir fry all of the above vegetables in 1 tbsp of oil or ghee and keep aside.

Ensure the vegetables remain crunchy.
For soup: 
In a kadhai or wok warm the oil

Once the oil is warm add the onion and garlic paste (ensure you step back as this might splatter) and saute till it becomes a nice beige brown.

Add the ginger and green chillies paste and saute till the raw smell of the ginger is gone. Now add the vegetable stock and bring it to a boil.

Mix the besan in about ½ cup water and mix till you get a smooth paste with no lumps.

Once the soup starts to bubble add 1 to 2 tbsp of the besan paste to a sieve and slowly push it through the sieve directly into the soup.

Ensure you stir the broth continuously so that no lumps are formed.

Whip the curd in a bowl to get a smooth consistency and add to the soup broth

Add salt to taste, mix well and let it soup come to a boil

When the broth starts rising (like tea rises), lower the flame, and add coconut milk.

Stir it all nicely and add the stir-fried vegetables and let it cook for a few minutes.

Taste the soup for salt and adjust based on personal preference.

Add more broth or water depending on how soupy you want your soup.

Serve with noodles and a slice of lime.

Garnish with chopped spring onions.
How to make a quick vegetable stock: 
Start collecting the peels and stems of your daily vegetables and store them in the fridge.

Or use the peels and stems of the vegetable in this recipe.

Add the peels and stems of the vegetables in a pot of water, along with it put a few pods of garlic, one small piece of ginger and little salt.

Bring this to a boil.

Once it comes to a boil, lower the flame, and cook for 20-30 minutes.

Strain and use the broth.
Recipe courtesy Simrun Chopra, deep health coach and founder, Nourish With Sim
3. Clay oven smoked orange pumpkin soup recipe
Sunshine in a bowl is what we'd like to call this oven smoked orange and pumpkin soup. Loaded with winter special ingredients, this recipe by the chef at Gawky Goose makes for a wholesome and warming winter lunch. 
Ingredients
1. 200 gm Red Pumpkin
2. 20 gm onion
3. 1 gm bay leaf
4. 2 gm cinnamon
5. 2 salt
6. 3 gm salt
7. 60 gm water
8. 10 gm celery
9. 5 gm garlic
10. 30 gm coconut milk
11. 5 gm ginger
12. 1 gm black pepper powder
13. 1 gm red chilli powder
14. 1 gm coriander powder
15. 1 gm jeera powder
16. 5 gm salted butter
Method
• Make a bag out of foil, place all the ingredients and half the quantity of butter inside. Don't put the coconut milk.
• seal the bag and roast in the oven at 180deg C, for 30min
• Remove from bag and make a puree and sieve the mixture.
• Heat remaining butter, pour the puree. To smoke, light a piece of charcoal, place it in a steel bowl and place it inside the saucepan, should not be immersed or touch the pumpkin puree. 
• Pour some butter on it and seal the saucepan, keep in simmer for 5 minutes. Check the seasoning. 
• Drizzle with little coconut milk and serve. Can be served with toasted bread.
Recipe courtesy Anthony Tamang, executive chef, Gawky Goose
4. Oven roasted tomato soup with olives, basil, and parmesan recipe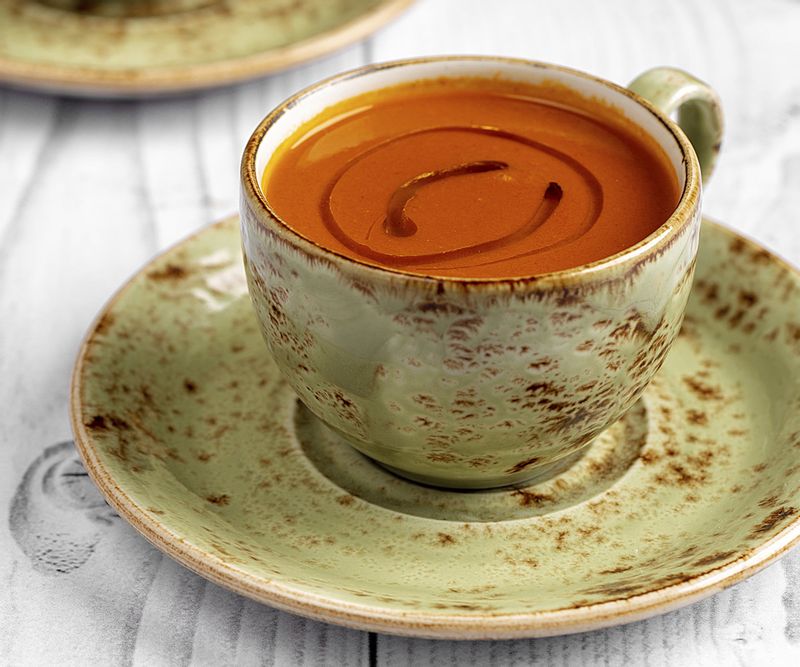 Simple yet lip-smacking, this oven-roasted tomato soup packed with Italian flavours makes for a good staple recipe to pack in a thermos and take to work on hectic days. If you've got the time, we'd suggest you enjoy this with some toasted garlic bread. 
Ingredients
1. 4 tomatoes
2. 1 medium-sized onion
3. 2-3 garlic cloves
4. 1 stalk celery
5. 8-10 nos black olives, pitted
6. 2 tbsp olive oil
7. Few sprigs of basil
8. 1 tbsp (optional) tomato puree
9. 1 tbsp red wine vinegar
10. 3 tbsp parmesan cheese
11. 3 cups vegetable stock
12. sugar to taste
13. salt to taste
14. black pepper to taste
Method
Take nice ripe tomatoes and wash them well, cut them into quarters.

Peel onion, garlic and cut roughly, wash celery and cut into pieces.

In a roasting tray, mix tomatoes, onion, garlic, olives, celery, basil stems and olive oil.

Spread it evenly and roast it in a preheated oven at 160 C for 15 minutes. Toss it to get even colour and roast for another 15 minutes.

Once done remove it from the oven and cool the mixture. Blend this mixture in batches along with parmesan cheese and basil leaves.

Pass it through a sieve to get a smooth puree.

Now take a saucepan and heat a little olive oil and sauté the tomato paste, now add the vegetable stock and blended tomato mixture.

Bring it to a boil, add red wine vinegar and check for seasoning.

Serve in a soup bowl, garnish with olive oil and grated parmesan cheese.
Recipe courtesy Chef Malcolm Pereira, Brand Chef, The Sassy Spoon
5. Oaxacan-style tortilla soup recipe
Here's a mouth-watering chicken soup for your stomach and soul. Made using pulled chicken (recipe below) that is further cooked in chicken stock with onion, garlic, and tomato, this recipe is amped up with 
Ingredients
For the pulled chicken: 
1. 100 gm chicken leg, boneless
2. 1 tbsp onion, sliced
3. 1 tsp garlic, mashed
4. 1/2 tsp cumin powder
5. 1/2 tsp fresh jalapeno, chopped
6. 1 tbsp chipotle in adobo sauce
7. 1 tbsp tomato puree
8. A pinch of salt
9. 1 tbsp oil
10. Chicken stock or water as required
For soup:
1. 50 gm onion, sliced
2. 1 tsp garlic, chopped
3. 200 gm tomato, chopped
4. 1-litre chicken stock
5. 2 tbsp oil
6. 1 pc jalapeno; seeded, deveined and chopped
7. 2 tbsp chipotle in adobo sauce
8. **4 tbsp pulled chicken
9. 4 tsp sour cream
10. 1/4 pc avocado, peeled and sliced
11. 40 gm fried corn tortilla triangles
12. 1 tsp cilantro, chopped
13. 4 tbsp fried corn tortilla strips
14. Salt to taste
Method
For the pulled chicken: 
Heat oil in a pot, sauté all ingredients together. Add just enough water to cover the chicken.

Bring to a slow boil, cover, lower heat to maintain a simmer and cook until the chicken starts to shred on the touch of a fork, about 30 - 40 minutes.

Remove chicken from pot, let cool and shred.
For soup: 
Heat oil in a pan, add the garlic and onion, cook until both are golden brown.

Add in the jalapeno, half of the chipotle in adobo sauce and tomatoes to it and cook over low heat until almost tender.

Add chicken broth at this time and bring the mix to boil and reduce heat, simmer for about 15minutes.

Now add the pulled chicken to the soup simmer further for 5 minutes.

Finish with adding fried tortilla triangles, simmer for 5 minutes, add cilantro and salt to taste.

Ladle soup into bowls, top it up with fried tortilla strips, a quenelle of sour cream, chipotle, and sliced avocado. Serve hot.
Recipe courtesy Chef Vikas Seth, Culinary Director, Sanchez, Embassy Leisure
6. Nalli ka ark recipe
A delicious lamb shank bone broth spiced with green cardamom, cinnamon, clove, bay leaves, pepper, and garlic, Nalli ka ark is best served with a tuille and cooked mutton cubes. 
Ingredients
1. 2 kg lamb shank bone
2. 30 gm green cardamom
3. 40 gm clove
4. 5 gm cinnamon stick
5. 3 bay leaves
6. 5 gm black peppercorn
7. 5 garlic pods
8. 0.1-litre milk cream
9. 5 gm lamb boti
Method
Thoroughly clean the mutton and set it aside.

In a stockpot add washed mutton bones, cover the bones with water. Bring water to boil strain bones and drain water.

Now again put bones into the stock pan and fill with water, water level should be double the bones, let the stock boil, and slow the flame, keep the stock simmering.

While simmering add bay leaf, cinnamon, cardamom, and cloves. Let it simmer for 10 hours.

After 10 hours, heat oil in a pan and add garlic cloves and fry till golden brown.

Strain the garlic and add it into stock and keep simmering for 30 minutes.

At last strain stock in a saucepan and add lamb boti cut into small cubes, add salt, cream, and black pepper powder.

Serve it in a glass or bowl, garnish with tuille and cooked mutton cubes.
Recipe courtesy Sheriyar Rustom Dotivala, executive chef, Della Adventure and Resorts 
7. Jujube and lotus seed soup with truffle oil recipe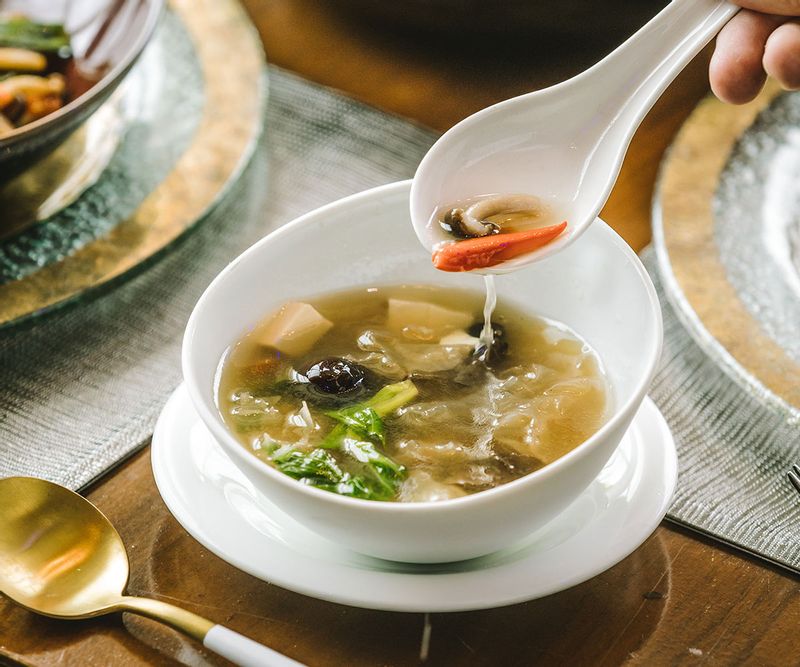 Jujube, lotus seeds, and truffle oil come together to create a combination of sour, crunchy, and earthy flavours in this soup. Chef Paul Kinny says that needs to ensure they don't overcook the jujube as the flavours may get intense and may affect the balance of flavours in the soup.
Ingredients 
20 gm ginger, sliced
20 gm garlic, sliced
15 gm bird's eye chilli, diced
600 ml vegetable stock
30 gm tofu, small cubes
25 gm white fungus
25 gm shimeji
16 nos. lotus seeds
30 gm bok choy
16 nos. jujube
16 nos. wolfberries
15 ml truffle oil
10 gm salt
15 gm aromat
Method 
Sauté ginger, garlic and Thai chilli in truffle oil, and add veg stock.
Bring to boil, and add bok choy, lotus seeds, jujube and wolfberries.
Season with salt and veg aromat.
Finish with drops of truffle oil.
Recipe courtesy Chef Paul Kinny, Culinary Director, The St. Regis Mumbai
8. Quinoa and Corn Chowder Recipe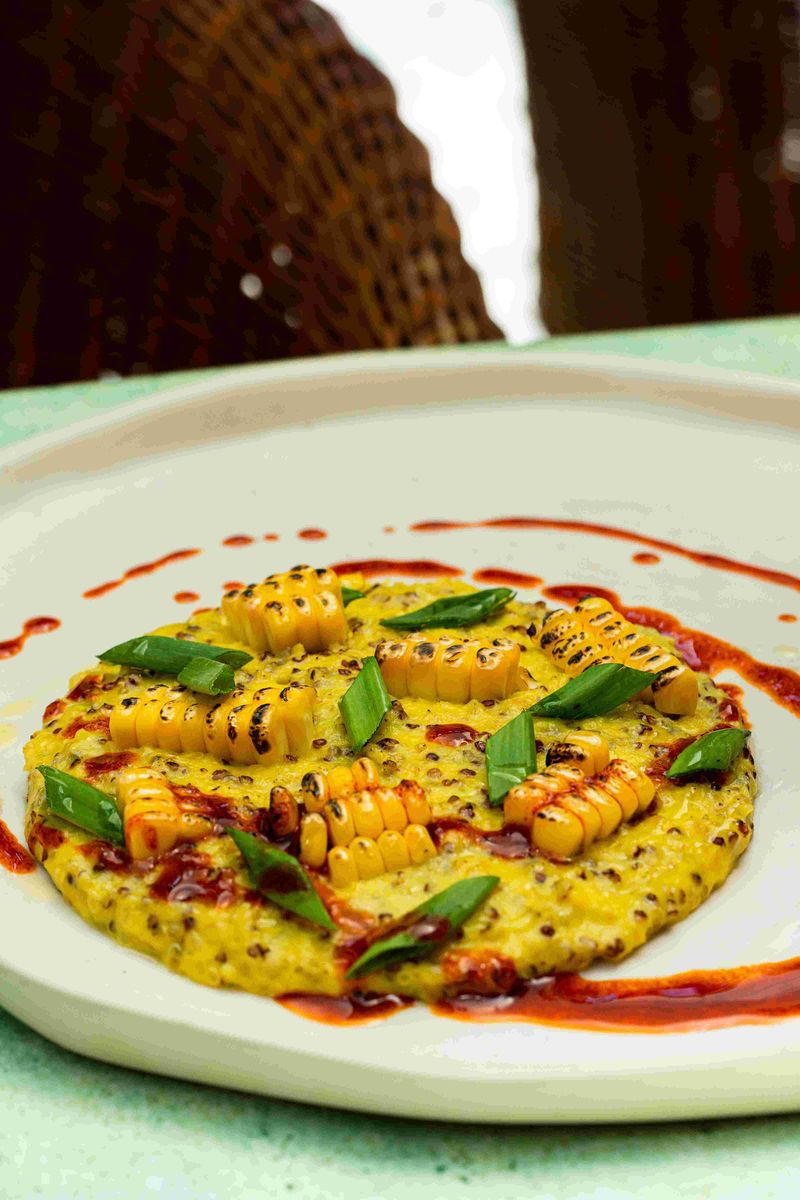 Ingredients
For corn puree
1. 75 gm raw corn
For chilli dressing: 
1. 1 tbsp paprika powder 
2. 4 tbsp olive oil  
3. 1 tbsp lemon juice 
4. 1 gm salt
For quinoa base  
1. 2 tsp oil 
2. 1 tsp garlic 
3. 15 gm white quinoa 
4. 15 gm black quinoa 
5. 100 gm corn puree 
6. 10 gm butter 
7. 15 gm parmesan  
8. 0.5 gm black pepper 
9. 1 gm salt 
10. 4-5 leaves of basil 
11. Spring onion for garnish 
12. 1/2 tbsp chilli dressing 
Method
Boil corn in water and puree in a mixer grinder until smooth.
Make the chilli dressing by mixing all ingredients.
Boil both the types of quinoa separately in lightly salted water until done.
Take a pan and add butter and heat the pan. Saute garlic for a minute and add corn puree.
Mix well and let it simmer for 30 seconds.
Add both boiled quinoa to the corn puree and finish with parmesan.
Add little water to adjust the consistency.
Add basil, salt and black pepper powder
Serve hot, garnished with spring onion and some boiled corn kernels.
Recipe courtesy Chef Sushil Multani, executive chef, Cafe Panama
9. White Tea Bouillon 
For those in the mood for something unique and experimental, here's a delish soup infused with white tea leaves. The white tea bouillon is part of Gateway Coonor's Tea Gastronomy, a progressive cuisine that features tea-infused masterpieces - from starters to main course and even desserts.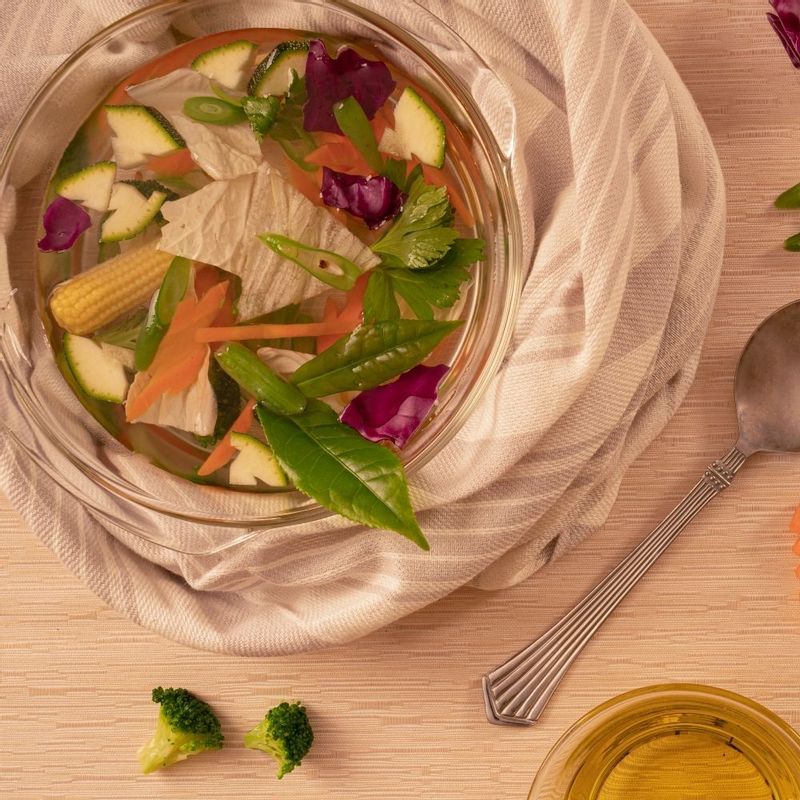 Ingredients: 
1. 2 gm Chamraj white tea
2. 20 gm carrot
3. 20 gm beans
4. 20 gm broccoli
5. 20 gm red cabbage
6. 5 gm green tea leaf
7. 5 gm pepper powder
8. 5 gm celery
9. 20 gm baby corn
10. 200 ml vegetable stock
11. 30 gm cabbage
12. 50 gm chicken or prawn (optional)
13. Salt to taste 
Method:
• Add broccoli, carrot, cabbage, baby corn, celery leaf, red cabbage and beans in water and bring to boil.  
• In the case of the non-vegetarian soup add the meat in stock.   
• Add salt and pepper for seasoning add tea.   
• Dip the white tea leaves just to infuse the decoction to bring in the flavours of Nilgiri's local tea.  
• Garnish with young tea buds to give an eye appeal.
Recipe courtesy chef Ramalingam, executive chef, Gateway Coonor
10. Pahadi jakhiya aur kaccha kela ka shorba recipe
A tasty medicinal herb, jakhiya, is cooked with fibrous raw bananas to make this warm and filling shorba - that will transport you to the mountains, one slurp at a time.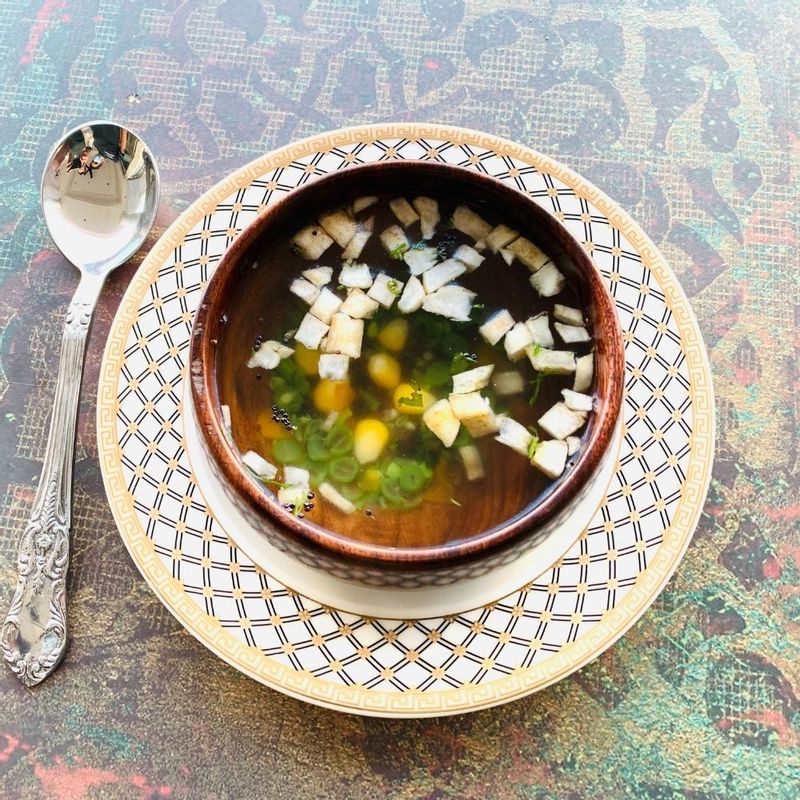 Ingredients: 
100 gm raw banana
20 gm corn
10 gm beans
2 gm jakhiya
5 gm green chilli
1 gm crushed peppercorn
1 gm asafoetida
2 pcs bay leaf
5 gm garlic
10 gm green coriander
Method: 
Boil and chop the raw banana.
Add ghee in a pan and once hot, add crushed garlic and jakhiya, and saute.
After that, add boiled cron, beans, green chilli, crushed peppercorn, asafoetida and salt (as per taste).
Cook until the ingredients release thier flavours.
Garnish with green coriander.
Recipe courtesy Bhanu Shekhawat, executive chef, Pilibhit House, Haridwar, IHCL Seleqtions
---
Photo: Shutterstock and Featured Restaurants and chefs