Each part of India has its own unique way of celebr-eating winter produce. In Gujarat, winter is incomplete without a generous portion of undhiyu and fluffy puris (wheat flour flatbreads) fresh out of the kadhai. "With over 20 ingredients, the undhiyu recipe is the ultimate celebration of Gujarat's winter produce," says Nimu Kanojiya, a homemaker from Viramgam, Gujarat.
Listing the traditional ingredients used for the undhiyu recipe in Gujarat, she says, "We use Surti papdi (an Indian bean grown in Surat), purple yam, sweet potatoes, raw bananas, fresh pigeon peas, baby potatoes, baby brinjals and muthiyas (fried fenugreek and flour balls). The ingredients are slow-cooked in a flavourful mixture of grated fresh coconut, green garlic, green chillies and coriander leaves."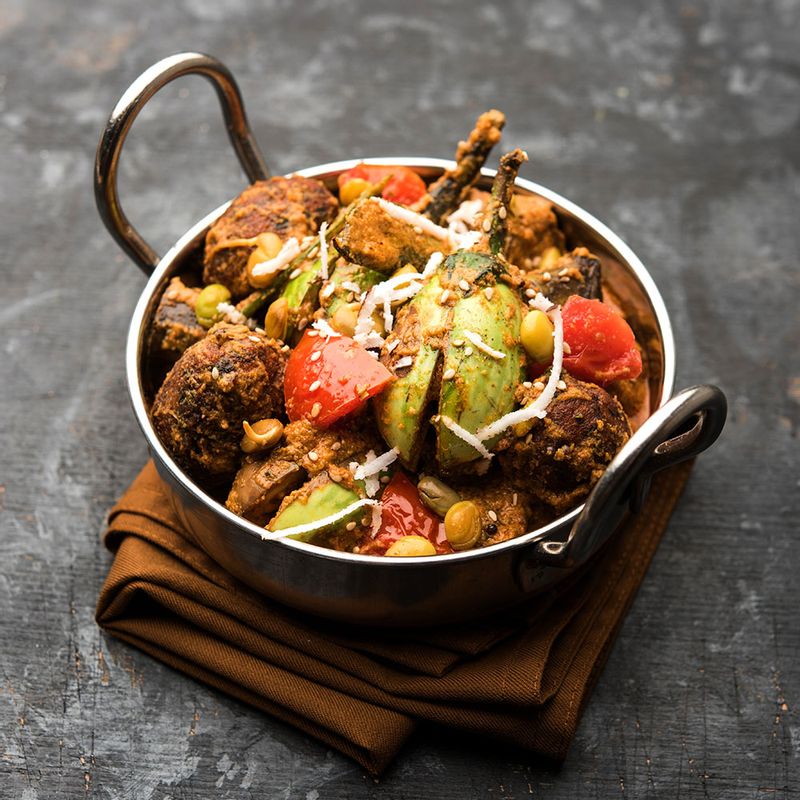 Undhiyu may not have travelled far and wide like its other Gujarati culinary counterparts such as dhokla or thepla, but the winter treat invokes a plethora of emotions among those who've grown up eating it. "Pardon me for being dramatic but undhiyu isn't just a delicacy, it is an emotion," says Kanojiya. Undhiyu is a particular favourite on Makar Sankranti or Gujarat's annual kite-flying festival Uttarayan.
On National Undhiyu Day, celebrated annually on January 14, we trace the origins of this hidden gem and find out other versions that the regional speciality has inspired. Here's honouring undhiyu, a dish that deserves nationwide applause!
A brief history of undhiyu
This one-pot winter warmer originated in southern Gujarat in pre-industrial India, says Maharaj Jodharam Choudhary, corporate chef at Khandani Rajdhani. "Traditionally, chunks of seasonal vegetables and a masala mix were put together in an earthenware pot without any water," explains the chef. "The pot was then coated with mud, buried upside-down in a pit and covered with a layer of lighted charcoal from above. The vegetable mix was left to cook in its own juices for three to four hours," he adds.
The dish derives its name from this method of cooking. "In Gujarati, 'undhu' means 'upside-down' and that's probably how the dish got its name," says Chef Choudhary. Today, people make undhiyu on gas stoves, and the earthen pots have been replaced by large metal pots and pressure cookers but the name remains.
Meet its different versions
As you travel across Gujarat, the flavours and forms of undhiyu change depending on the availability of ingredients. "The undhiyu made in the coastal regions of Gujarat such as Surat and Navsari – which is the most popular version of the dish and easily available – has coconut in its masala mix and is more chatpata (sweet and sour) in taste," explains Chef Choudhary. "However, the undhiyu recipe prepared in the north-west of Gujarat doesn't contain coconut and is spicier."
Meanwhile, Valsad has its own undhiyu-like dish called umbadiyu. "Umbadiyu is smokier in flavour," says Vishal Shetty, a restaurateur from the district. "Mainly because it is still cooked in an earthen pot buried in the ground, and not in pressure cookers. The pot is then covered with hay and cow dung cakes and set on fire. It also uses fewer spices than undhiyu," adds Shetty.
Undhiyu's non-vegetarian cousin
It may come as a surprise but undhiyu has a non-vegetarian version too! "It all happened when the Bohri community, which originated in Yemen, migrated to Surat," informs Munaf Kapadia, founder of The Bohri Kitchen. "We [Bohris] have an inherent talent of taking a regular recipe, adding meat to it and making a Bohri version out of it." The non-vegetarian undhiyu is a result of the cultural exchange between Gujaratis and Bohris.
"The Bohri undhiyu recipe is the same as the original but we replace the muthiyas for mutton," says Baroda-based Manzoor Anwari, Director, MJ Foods. "We also don't add brinjal and yam to our undhiyu recipe." Unlike Anwari, Nafisa Kapadia, who mans the kitchen at The Bohri Kitchen, uses muthiyas in her mutton undhiyu recipe. However, the muthiyas used by Kapadia are different from the traditional ones. "I make the muthiyas with jowar atta. This trick, that I picked up from my mother-in-law, helps make the muthiyas softer."
So, if you haven't tried undhiyu yet, you're in for a real treat. This winter special from Gujarat boasts the potential to turn first-timers into instant fans!
---
Photo: Shutterstock