We love the snap and slurp sounds of biting into a juicy jamun aka java plum. Oh, and the beauty of its dark purple (nearly black) skin and a purple-pink flesh that's unveiled when we bite into the fruit. And when its sweet-tart juice starts to run down from our face – ah! It's such a delightful experience. 
Simple yet sublime, the humble summer-monsoon berry, jamun, boasts the power to seduce all of our senses at once. Now that we've established that this berry is our favourite fruit, we present to you a tasty compilation of sweet and savoury recipes that make the most of these succulent in-season berries. 
But first, you need to know, jamun does much more than just treat us to a myriad of flavours. The purple-black fruit is rich in vitamin C, antioxidants and flavonoids. Nutrition experts swear by jamun because they not only play a role in improving digestion but also immunity. All parts of the jamun plant, including the berries, play a role in treating diabetes. The berry and the seeds (when dried and powdered) can help maintain blood sugar levels. For more on the health benefits of jamun, click here. 
1) Jamun Lassi Popsicles
By Surabhi Sehgal, food stylist and recipe developer
Gurgaon-based Surabhi is known for leaving her followers spellbound with her innovative approach towards Indian and international dishes, both, in terms of presentation as well as the combination of flavours and ingredients. These jamun lassi popsicles are just an example of that. On her blog, Surabhi writes that vegans can make this recipe by using coconut yoghurt.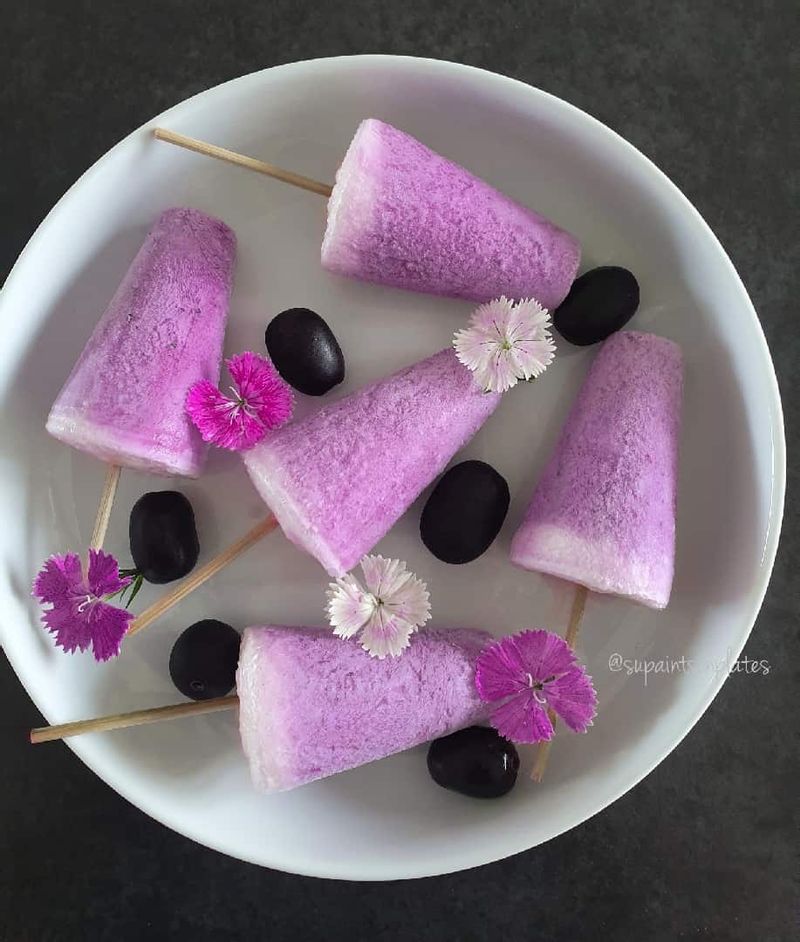 Ingredients:
2 cups Greek yoghurt/hung curd
3 tbsp honey/any sweetener of choice
15-20 jamun/java plum
1/4 tsp cardamom powder (optional)
Method:
Wash, dry and deseed the jamun.
Blend the deseeded jamun in a blender and run in through a sieve. Your jamun pulp is ready.
To a bowl add yoghurt, honey, cardamom powder and strained jamun pulp.
Mix well with a light hand until everything is well incorporated.
Transfer this mixture to a popsicle mould and freeze for 7-8 hours.
Remove from the freezer. Dip the mould in warm water and unmould the popsicle.
Your popsicles are ready to enjoy! 
2) Jamun Chia Jam
By home chef Vaishali Chhabra
Scouring through the internet one day, home chef Vaishali came across a recipe for chia jam. A fan of jamun, she thought why not combine this unique jam with her favourite fruit, and the result is this jamun chia jam recipe.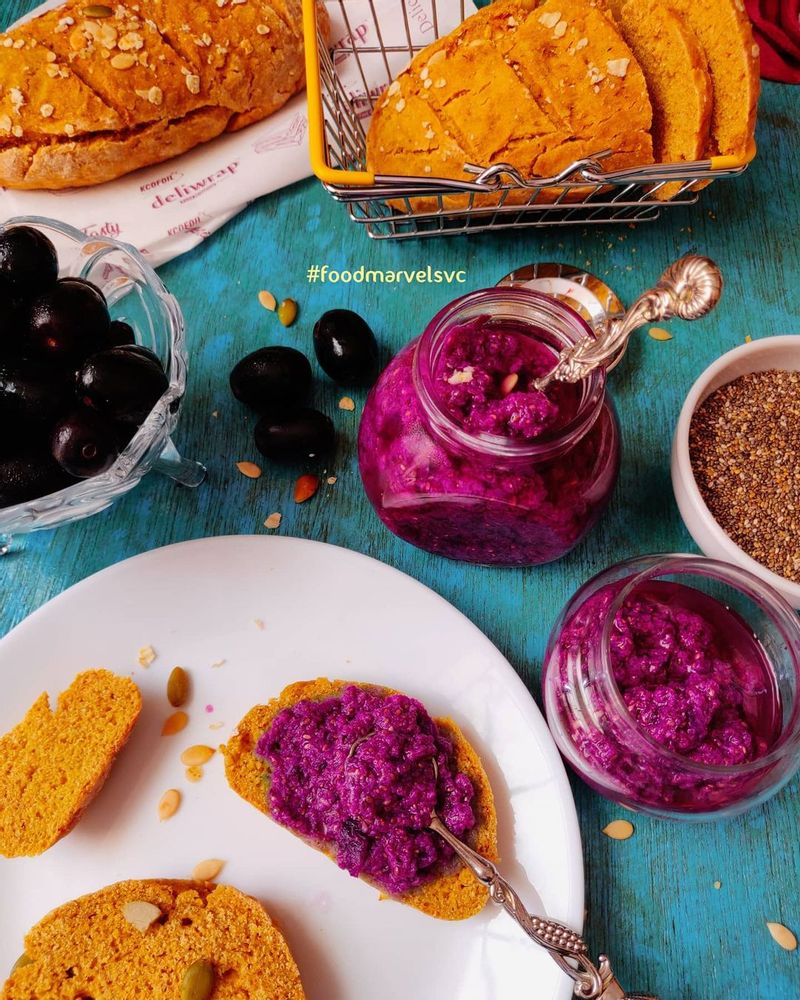 Ingredients:
2 tbsp chia seeds,
1 cup water
1 cup jamun pulp
2 tbsp sugar
Method:
Soak chia seeds in a cup of water, and let it sit for about 10 to15 minutes or until the chia seeds have swollen up.
In a pan, jamun pulp in a pan. Turn on the flame and let the pulp simmer until it thickens.
Add raw sugar – 2 tbsp or as per taste – and mix while it simmers.
Switch off the flame, mix in the soaked chia seeds and let it cool.
It will thicken further as it cools. Once it reaches room temperature, pop it in the fridge and serve chilled with slices of bread.
3) Jamun Cheesecake Bites
By Tanishqa Vaish, food blogger
Kanpur-based food blogger Tanishqa uses jamun jam to make a mouth-watering cheesecake. Think creamy cheese, buttery biscuit base and sweet-slight tart jamun jam – sounds like a flavour bomb, doesn't it?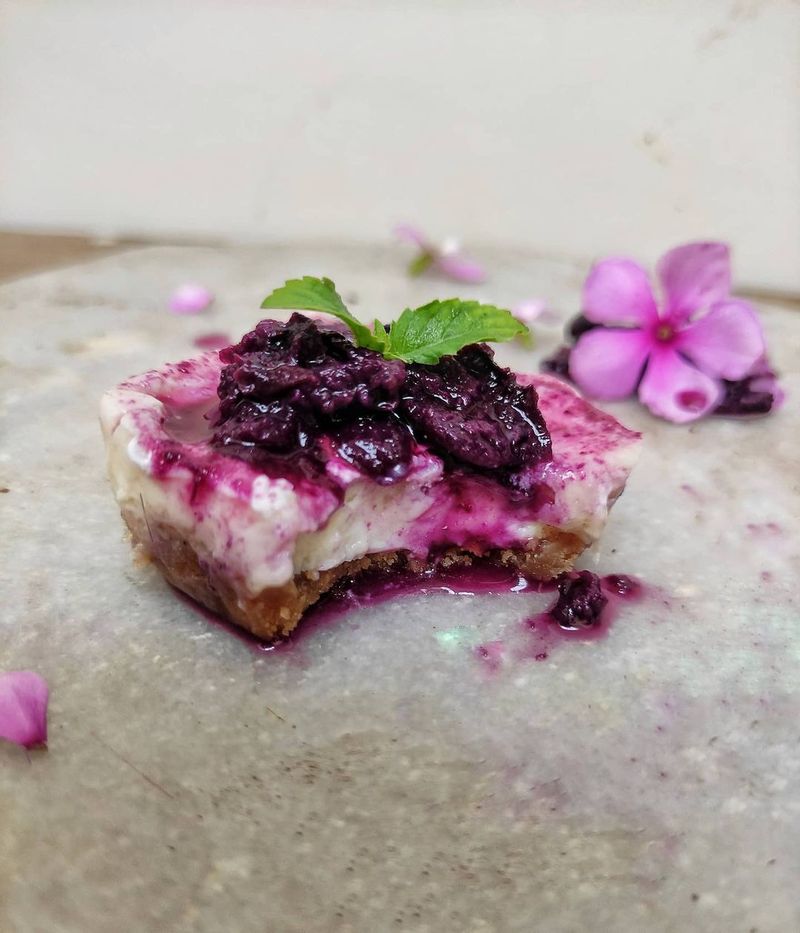 Ingredients:
For crust
1 cup (100g) crushed Marie biscuits
¼ cup (57g) butter, melted
For filling
¾ cup (170g) softened cream cheese
¼ cup (60mL) heavy cream/ whipping cream
½ cup (150g) sweetened condensed milk
2 teaspoons (10mL) vanilla extract
¾ (10g) tablespoons corn flour
Jamunjam, to decorate the cheesecake
Method:
Line the cupcake pan with cupcake liners.
Combine crushed digestive biscuits and melted butter in a mixing bowl.
Transfer the biscuit mixture into the cupcake pan and press it down into the base of each cupcake mould.
Refrigerate the crust for 10 minutes.
Preheat the oven at 160 degrees.
For the filling, whip together the cream cheese and heavy cream, using either an electric mixer or a hand whisk, only until the mixture is smooth.
Gradually add sweetened condensed milk, vanilla extract and cornflour, whisking till everything is smooth and well combined.
Pour this mixture over the cooled crust and gently tap to remove any air bubbles.
Place the cupcake tray in a deeper tray filled with hot water upto one inch, to create a water bath. This will ensure that the cheesecake bakes slowly and evenly.
Bake the cheesecake at 160 degree Celsius for 35 to40 minutes or until the filling starts to set. The centre might seem wobbly but it will continue to cook as the cheesecake cools.
Once the cheesecake is baked, allow it to come to room temperature.
Refrigerate the cheesecake for at least two hours or preferably overnight before unmolding.
Unmould and top it with some whipped cream and jamun jam! 
4) Jamun mousse
By Neetha Venkatesh, home chef and food blogger
A sweet and satisfying treat, Neetha's jamun mousse recipe involves gently folding jamun puree into whipped cream. The dessert is further flavoured with some vanilla extract too.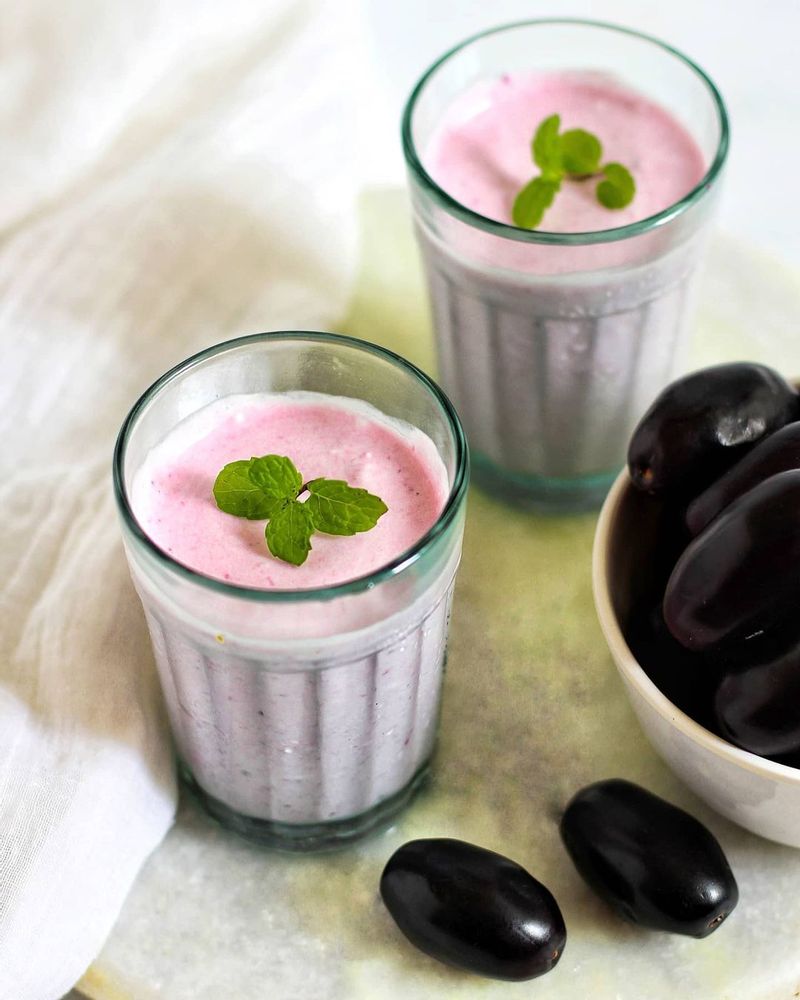 Ingredients:
1 cup jamun
1/4 cup sugar
1tsp vanilla extract
1 tbsp gelatin
1 cup whipping cream
Method:
Deseed the jamuns and make a puree out of it.
Add sugar and combine well.
Combine gelatin with 2tbsp of water and after five mins, heat it in the microwave for 30-40 secs or until completely dissolved. Allow it to cool.
Add the gelatin to the jamun puree and combine well.
Whip the cream with vanilla extract until a stiff peak is created.
Combine whipped cream and jamun mixture and your mousse is ready.
Pour the mousse into piping bag and pipe it into shot glasses.
Chill the mousse in the fridge for four hours or overnight.
5) Jamun Sheera
By Barsha Priyadarshini, recipe developer and food blogger
A delicious twist to the traditional sheera, this Bangalore-based recipe developer and food blogger's recipe involves the addition of jamun pulp. The tartness of the berries cuts through the sweetness of the dessert to give a distinct sweet and savoury flavour. 
Ingredients:
½ cup semolina, roasted
½ cup sugar
2 tbsp ghee
¼ cup jamun pulp
½ tsp cardamom powder
A pinch of salt
1 cup water
For garnish
Almonds, chopped
Raisins
Method:
In a pan, add ghee and shallow fry the raisins for a minute.
Transfer the raisins in a bowl and add the jamun pulp to the pan.
Add water and when it comes to a boil, add the semolina and mix well.
Add a pinch of salt, cardamom powder, almonds and raisins to the semolina and jamun mixture.
Add sugar to the sheera, mix it again and let it cooked for until the sugar melts. 
Your jamun sheera is ready. 
6) Jamun Gin 
by Chef Priyankha Balaji
Uttar Pradesh-based chef Priyankha Balaji, who has worked with the who's who of the hospitality industry in the past, combines her love for gin and jamun in this fun cocktail recipe.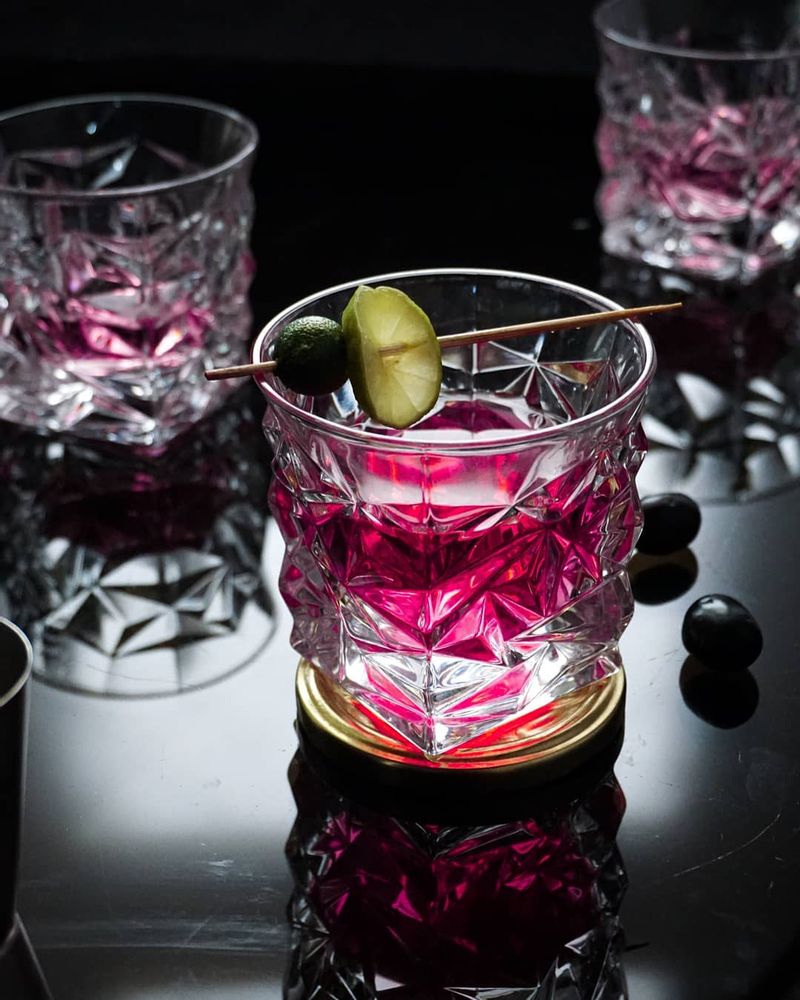 Ingredients: 
60 ml Gin
20 ml jamun syrup
15 ml lemon juice
Top with club soda
Method: 
Pour the gin, jamun syrup and lemon juice in a jug and stir. 
Pour the jamun-gin mix into a glass and top it up with club soda. 
7) Kala Khatta
By Chef Kunal Kapur
A nostalgic drink from chef KunalKapur's kitchen is this kalakhatta sherbet aka instant jamun sherbet. It is a sweet, tangy and refreshing drink that is made using fresh jamuns cooked in water, and seasoned with black pepper, black salt, sugar, roasted cumin and lemon juice.
Ingredients:
500 gm jamun
2 litre water
½ cup sugar
Salt to taste
¼ tsp black pepper
½ tsp black salt
1 ½ tbsp roasted cumin, crushed
¼ cup lemon juice
A handful of mint leaves
Ice cubes, optional
Method:
Wash and place the jamuns in a pan. Add water and bring them to a boil. Now simmer and add salt, black salt, crushed roasted cumin, black pepper powder and sugar.
Allow to simmer for 15 minutes or until the pulp leaves the seeds.
Take the pan off the heat and allow it to cool. Use a potato masher to mash all the jamuns, and then squeeze and strain the juice out of it.
Make sure you don't crush the seeds as it will make the drink bitter.
Pour and mix in the lemon juice.
Check again for sweetness and salt, and correct accordingly.
Put ice cubes in glasses, drop in mint sprigs and pour the jamun sherbet on top and serve.
---
Photo: Shutterstock, and featured chefs and bloggers