Welcome to the City of Nawabs - Lucknow, where the air is filled with the aroma of spices and the streets are bustling with foodies. Lucknow's street food culture is famous across the globe for its unique blend of flavours and spices. From the mouth-watering kebabs to the sweet and spicy chaat, here are some of the best street food places in Lucknow that will leave you craving more.
If you ever walk down the streets of Lucknow, you can't help but notice the array of vendors serving delicious and affordable Lucknow street food that will make you want to forget your diet. The city's love for food is evident in every bite you take, and every dish is a celebration of its rich culinary heritage. So, come along and explore the top seven must-try street foods in Lucknow.
Lucknow demands a Nawabi appetite to indulge in its extravagant culinary culture. If you can handle it, the gastronomic journey of Lucknow will leave you feeling more satisfied than any other place. So gear up for an unforgettable food exploration journey as we uncover the top seven must-try famous street foods in Lucknow. These are some of Lucknow's famous foods, and they are a testament to the city's unique flavours and spices that will tantalise your taste buds like never before.
Here are 7 famous street foods in Lucknow that you must try:
1. Kebab
When it comes to Lucknow's famous food, the undisputed king of them all is the delectable kebab. It's a culinary delight ruling the city's streets for ages and is integral to Lucknow's food culture. The mere mention of kebabs is enough to make your mouth water, and rightly so! These crispy delicacies with a soft filling are cooked to perfection and will leave you wanting more. No trip to Lucknow is complete without savouring the city's famous kebabs. From the famous galouti kebabs to the vegetarian shami kebabs, there's something for everyone to relish. And don't forget to pair this best street food in Lucknow with a freshly made rumali roti!
Where to have it: Tunday Kababi (original), Akbari Gate Chowk, Lucknow
Timings: 10 am - 11:30 pm
Approximate price: Rs 300 for two people
2. Khasta kachori
Looking for a delicious breakfast that is easy on your pocket? Look no further than the khasta kachoris, easily one of the best street foods in Lucknow! These little bites of heaven are a must-try for all street food lovers visiting the city. The crispy exterior of the kachori gives way to a delicious filling that will leave you craving more. The combination of deep-fried aloo sabzi and white chickpea sabzi perfectly accompanies these crunchy delights. Go to Rattilal's in Aminabad to taste the best Khasta Kachoris in Lucknow.
Where to have it: Rattilal's, Jadunath Sanyal Road, Shivaji Marg, Rattilal crossing, Lucknow
Timings: 5:30 am - 10 pm
Approximate price: Rs 200 for two people
3. Basket chaat
Welcome to the world of basket chaat, the city's ingenious creation and one of the best street foods in Lucknow. First served at Royal Cafe in 1992, it has become a staple street food in Lucknow. The crispy potato basket is filled with a delicious mix of mashed potatoes, tangy chutney, fresh vegetables and peas, creating flavour in every bite. While you may find basket chaat in other places, nothing compares to the original taste of Lucknow. Don't miss out on this must-try famous street food in Lucknow during your visit!
Where to have it: Royal Cafe 9/7, Shahnajaf Road, Hazratganj, Lucknow
Timings: 11 am - 11 pm
Approximate price: Rs 650 for two people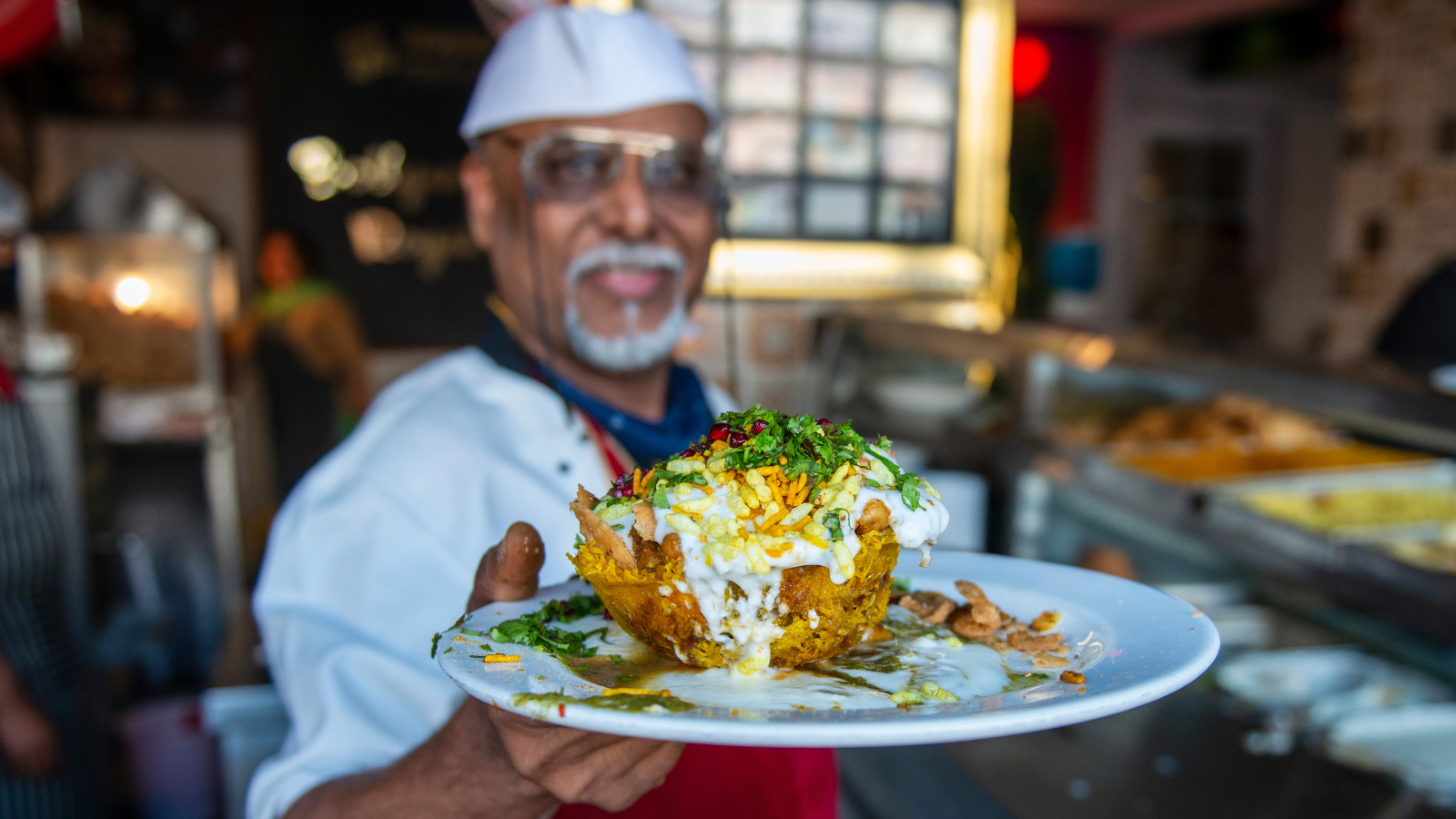 4. Sheermal 
There is no better spot than Lucknow to try Sheermal if you have never had it before. Additionally, the Lucknowi Sheermal will leave you craving for more if you've previously sampled this Awadhi cuisine. Sheermal is an example of the Awadhi delicacies that Lucknow is renowned for. The Lucknowi Sheermal is just a traditional Sheermal with a slight variation. Milk or sheer is used to knead the sweet naan, giving it a crunchy, juicy texture. To achieve the ideal balance, spicy curries are served with sweet Sheermal, enhancing the dish's flavour. To fully express the authentic taste of Awadh, a Sheermal is cooked in a tandoor and lavishly dusted with cardamom or saffron milk.
Where to have it: Ali Hussain Sheermal, Chawalwali Gali, Old Nakkhas, Lucknow
Timings: 10 am - 11 pm
Approximate price: Sheermal starts at Rs 60
5. Biryani
Now, Lucknow might not be the city that comes to mind when you think about biryani, but if you're looking for biryani prepared in the Nawabi manner, Lucknow is the place to go. Lucknowi Biryani is rich and distinctive, just like the culture here. The result is simply divine when the spices and flavorful rice are combined with slow-cooked chunks of meat. If you're a biryani fan, you should try the Lucknowi Biryani because the recipe has been handed down through the centuries. You may get spellbinding biryani made with mutton, chicken, eggs, and vegetables. Famous street food in Lucknow doesn't get any better than this!
Where to have it: Wahid Biryani, Old Nazirabad Road, Mohan Market, Aminabad, Lucknow
Timings: 11 am - 11 pm, closed on Thursdays
Approximate price: Rs 300 for two people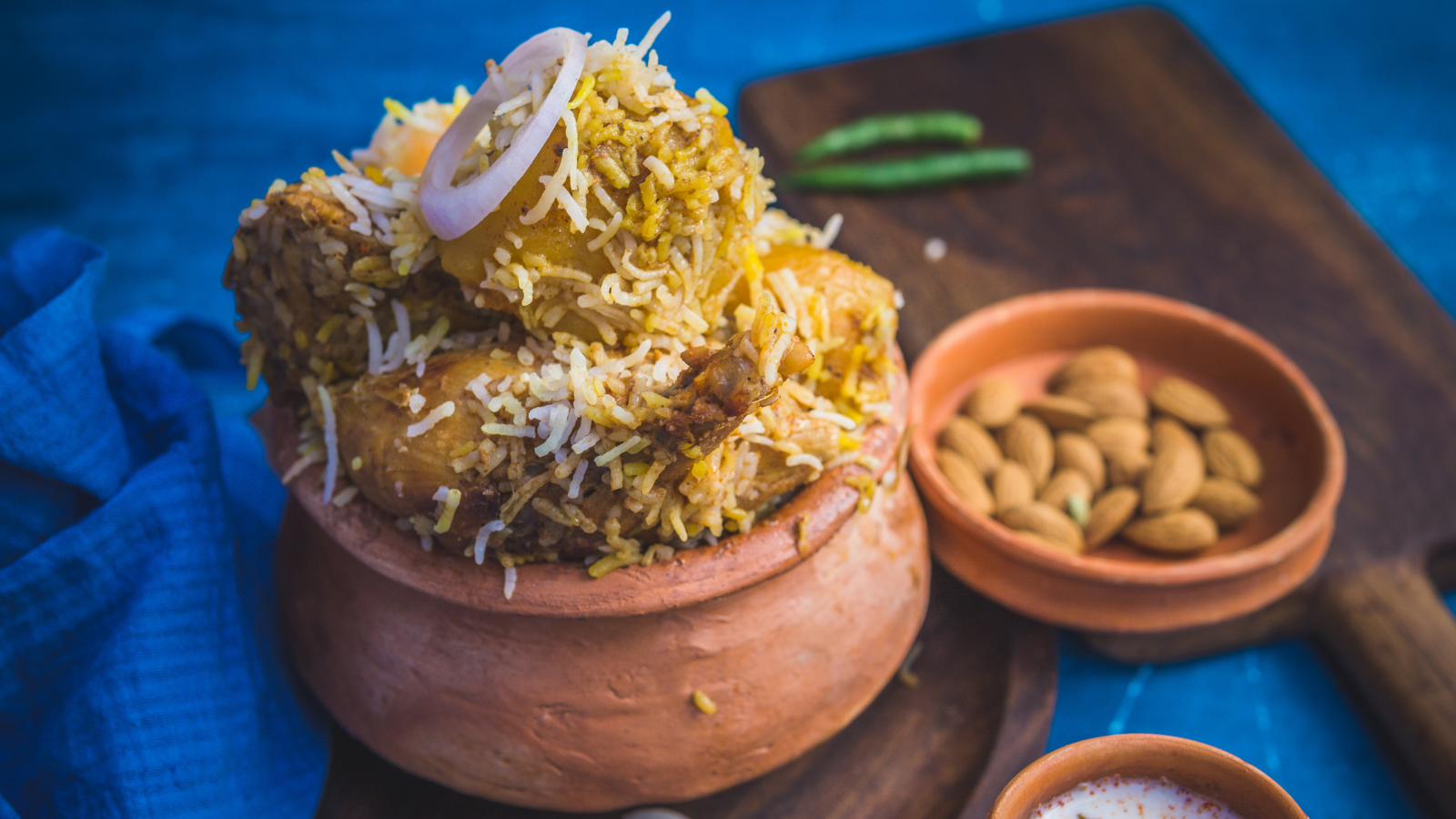 6. Makhan Malai 
Would you like to taste a unique winter dessert? Here is makhan malai, the famous street dish of Lucknow. The name conveys the dish's essence, which is rather fundamental. But don't mistake it for being pure butter. Cardamom enhances the flavour of this sweet, frothy, and creamy dessert. To create this dessert's airy, creamy texture, unsalted butter is hung in a bucket overnight and then whipped. It is so light that it melts on your tongue, and the moment it stops, you'll find yourself ordering another serving. Make sure to visit Lucknow in the winter to try makhan malai, as it is only accessible during the colder months. You'll find makhan malai sold on almost every corner of the Lucknow streets.
Where to have it: Ram Asrey - The Mithai Shop, Nawal Kishore Road, Hazratganj, Lucknow
Timings: 7:45 am - 10 pm
Approximate price: Rs 360/kg
7. Falooda kulfi
After discussing a winter sweet dish, let's talk about a summertime staple, falooda kulfi. In the summer, a hawker selling falooda kulfi can be seen on every corner of the Lucknow streets. Falooda kulfi is the preferred dessert among Lucknow residents, and it may be giving the wildly popular ice cream some serious competition. Once you take a bite of this mouthwateringly sweet, creamy, nutty delight, you'll understand why. If you want to end your Lucknow food tour on a sweet note, you must eat the city's speciality dessert, the falooda kulfi.
Where to have it: Prakash ki Mashoor Kulfi, Bhishambhar mansion, Main Chowk Circle, Lalji Tandon Marg, Lucknow
Timings: 12 pm - 11:30 pm
Approximate price: Rs 200 for two people
In a city known for its rich history and cultural heritage, these seven famous street foods in Lucknow stand out as a testament to its culinary prowess. Whether it's the spicy chaat at Royal Café or the succulent kebabs at Tunday Kababi, these best street food places in Lucknow offer an array of irresistible flavours and aromas. The delectable treats are affordable and of the highest quality, ensuring that every penny spent is well worth it. Whether you're a hardcore foodie or simply looking for a quick snack, Lucknow's streets are teeming with options that will surely leave your taste buds tingling. So, come and explore the city's vibrant street food scene and experience the Nawabi flavours that have made Lucknow a foodie's paradise!
If you are a vegetarian and have doubts about finding suitable food options in Lucknow, look at the best vegetarian places in Lucknow for a selection of delicious vegetarian cuisine. For a complete shopping experience in the city, click here to access a comprehensive Lucknow shopping guide. And if you're still in the Eid spirit, discover where you can indulge in the best Eid meals to celebrate the festival with mouth-watering food.
Photo: Shutterstock