Mumbai and Delhi may be famous for their chaats but Mysore's Churumuri can easily give their Ragda Pattice and Sev Puri a run for their money. Mumbaikars and Delhi-ites can continue bragging all they want about whose chaat is better but few of us know that the small city of Mysore has had its own chaat for ages. True blue Mysoreans would contest that if there's any food that is quintessentially Mysore, it's the city's chaat—Churumuri.
Mysore in a paper cone
Move over Mysore Masala Dosa and Mysore Pak, Churumuri has Mysore in a paper cone—a little spicy, a little sour and very, very nutty. Churumuri is the star of Mysore's street food culture. Not only is it a filling snack, but it also comes without the calories of other chaats.
Traditionally served in a large paper cone, puffed rice dominates the show here. Grated carrots, finely chopped onions, cucumbers, tomatoes and a good helping of chopped coriander leaves add to the drama. Topped with a generous drizzle of freshly squeezed lemon juice, Churumuri is a heady blend of several tastes—tangy, spicy and salty with a hint of sweetness from the carrots.
Adding to Churumuri's distinct taste are roasted and spiced split peanuts that are hilariously called Congress Kadlekai (peanuts). Legend has it that a split in the Congress party in 1969 inspired somebody to create this masterpiece and name it after the political party.
The art of making Churmuri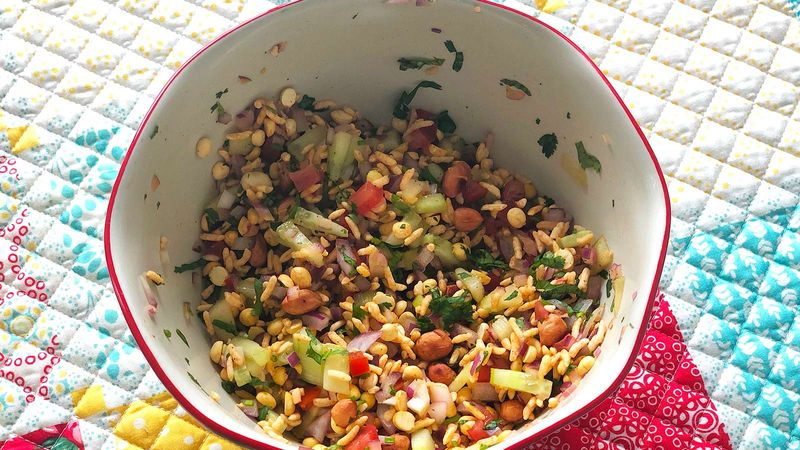 Creating Churumuri from scratch is an art itself, one that deserves to be watched. With swift chopping motions of a finely sharpened knife, the vendor chops the vegetables with artistic dexterity. At any point, you're free to stop him and reassess your choice of ingredients. Don't like the taste of raw onions? Ask the vendor to go easy on them. The same goes for the other ingredients too.
A Churumuri vendor takes care of your taste completely. At every stage of the snack's creation, the vendor lets you taste them and adjusts them by your orders. He even reads your facial expressions and makes thoughtful tweaks to his creation.
Churumuri is also the most rustic chaat. Its humility is only matched by the no-spoons approach of its patrons. Things that are made with bare hands have to be had with them! Every Mysorean will swear by their favourite Churumuri vendor. And as we speak, the jury is still out on who tosses up the best Churumuri in this heritage city.
---
Photo: Shutterstock