The spirit of Eid-al-azha finds roots in sacrifice and community service. "Bakrid can be traced back to the Prophet Ibraham, who was instructed by God in a dream to sacrifice his most beloved thing. He decided to give up his only son," informs author Sadaf Hussain. "Just when he was about to sacrifice his son, an angel appeared and replaced the boy with a lamb, and this marked the beginning of the festival." Today Eid-al-azha is marked not only by sacrifice but also the sense of community service where two-thirds of your sacrifice has to be shared with others. And yet there is always enough for everyone to share, distribute and feast on.
Breaking fast with kaleji and chaap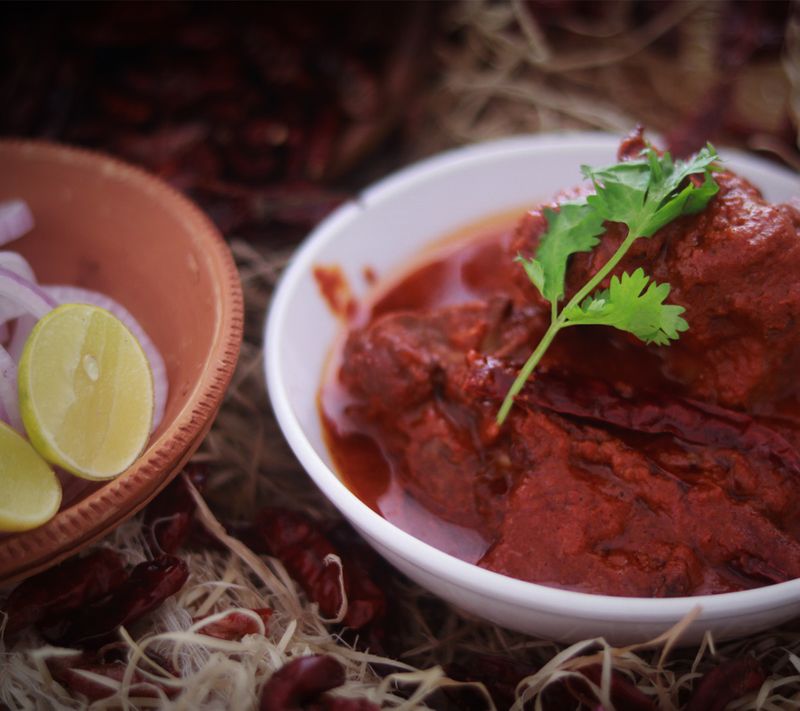 Kaleji is one of the signature dishes of Bakrid or Id-al-aza and there is good reason for it. Kaleji, or liver, is the first part of the goat available post sacrifice and is usually brought home by the men of the house after their morning prayers. The women quickly turn it into a light yet flavourful stir fry with the basic onion, ginger, garlic masala. "In most home across the city kaleji-gurda is served with roti for breakfast," informs Sheeba Iqbal, a home chef and a veteran in Lucknowi and Awadhi cuisine. "It is quickest to be made, needs least preparation time and is loved by all for its novelty," she adds.
The evenings are reserved for chaap. The spareribs that are made in Awadhi style with little or no spice, are served as a starter for the evening feat. In some families, these are coated with egg and shallow fried and in others they are cooked in light masala but every home in Lucknow eats chaap in the evening of Bakrid. "It is like an unwritten rule, you can say," says chef Mohsin Qureshi, executive chef at Lebua, Lucknow who comes from a family of khansamas and continues to cook and preserve age-old Lucknowi recipes. "The evening dastarkhan at Eid always starts with chaap and then moves on to kormas, kalias, biryani, and whatever else you can manage to cook.
The Awadhi love for korma and gosht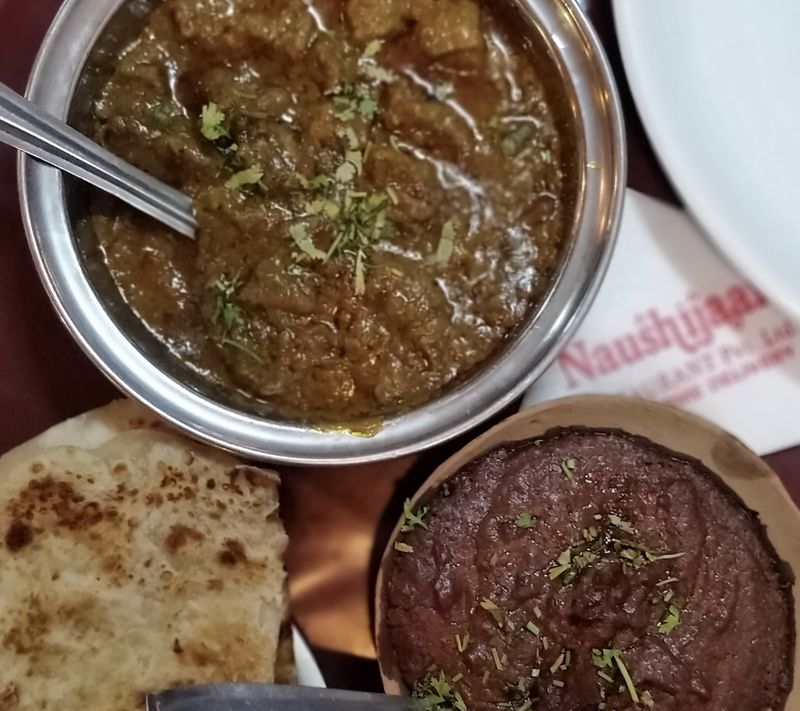 The most important tenet of Bakrid is sharing. Over time though while the share of the underprivileged is still distributed to the poor, most families have started to host special daawats or feats at home for their friends and family. "On Bakrid, the kitchen is perpetually busy," says Iqbal. "We start with the kaleji and by the time that is ready the preparation of the korma and kalia is done. The raan is then marinated and put in the freezer and preparations for the evening biryani begins. "You see there is so much meat that you have to quickly work with it to utilise it in all ways possible." 
While korma and boti can be found in many cities on Bakrid, it is the dal gosht and alu gosht here that set the Lucknowi Bakrid feasts apart from the rest. "Our dal gosht is made with green moong dal and not chana dal like Hyderabad," informs Qureshi. "The recipe, like all others, needs a lot of skill and practice, what we call nafasat and nazakat in Lucknow. We use very few spices which are sifted multiple times before use. So, when you eat dal gosht you don't notice the masala at all, but the taste lingers on your palate for days." There is Alu Gosht too, the only form of vegetable you'd see on a Bakrid table groaning under meat dishes and another dish made only in Lucknowi homes.
In Lucknow, biryani is always on the menu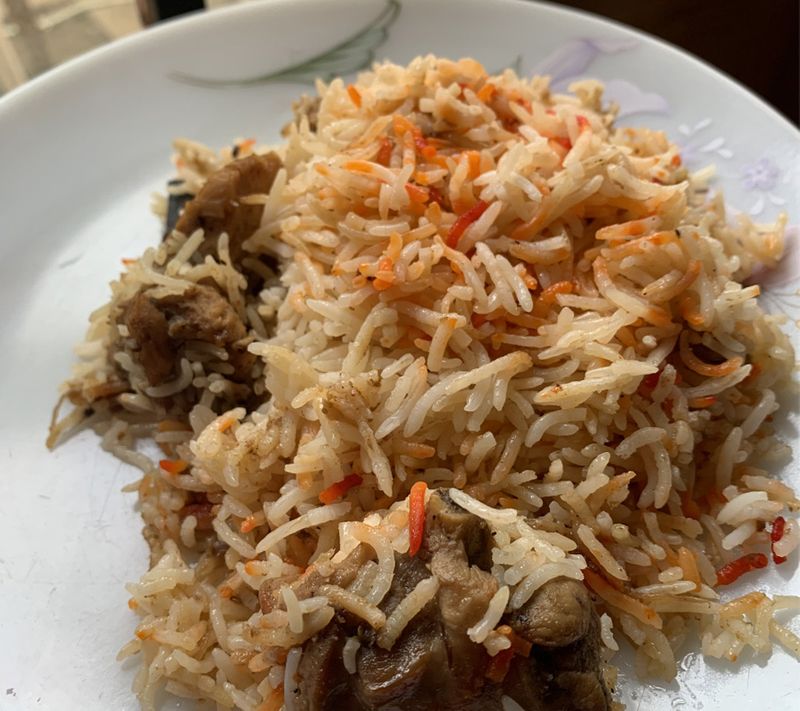 Biryani is forever in Lucknow and on Bakrid it is one of the essentials to be cooked in every home. No matter how much biryani you've eaten through the year, the Eid biryani is always special. All families have their signature biryani recipes and sharing it with each other is an unwritten rule here. There was however another dish that was the signature of Bakrid festivities in Lucknow which most of the city has long forgotten about now.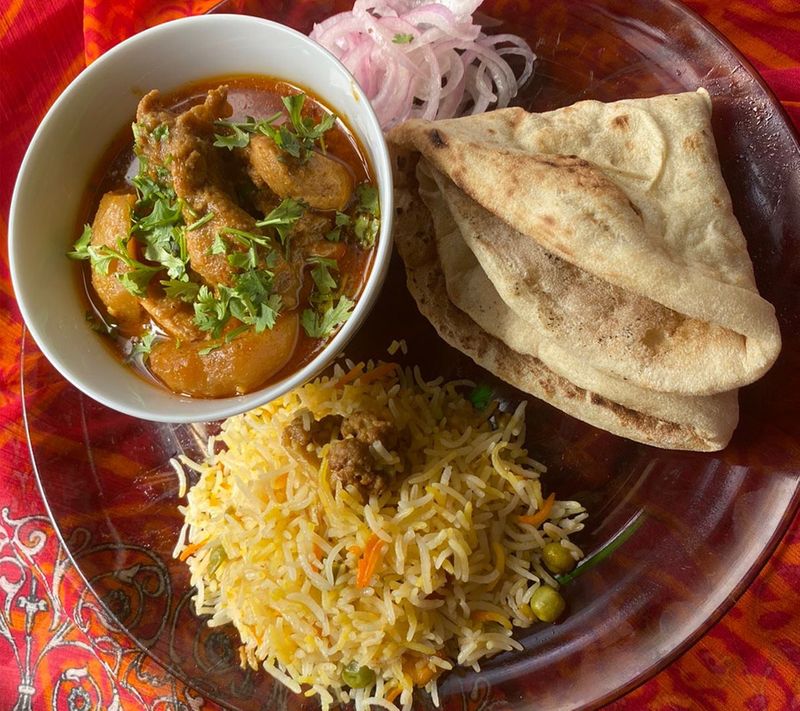 "Until not very long ago Mutanjan was the most coveted dish of Bakrid," says Qureshi. "Mutanjan is unique to Lucknow and is made with a combination of sweet and salted rice and small pieces of mutton or boti." Mutanjan, explains Qureshi, is not dessert, and does not taste or look like either zarda or meethe chawal, also made in Lucknow homes regularly. It is a distinct dish eaten in the main course with kormas and curries. "Unfortunately, few people make it now, but we still make it at home every Bakrid," adds Qureshi who also offers it in his restaurant, Azrak, in his Bakrid special menu.
Sweet endings
There are no special desserts reserved only for Bakrid in Lucknow but there are always seviyan on the menu. "Qimami seviyan is a staple Lucknowi dessert, another less popular dish is sevai ki barfi, where roasted sevai mixed with khoya, sugar or jaggery and set in a tray," says Sadaf, who likes his version with a bit of orange juice. OJ in seviyan? But then in Lucknow everything has its own quirk. 
---
Photo: Shutterstock; Anubhuti Krishna