Summer is all about sweltering hot days when one runs for the shade or to an AC room and gulps down glasses of water. Summer is also about those repeated and boring meals with potatoes and tomatoes. But summer in India is certainly not a time of boring desserts. Because the king of fruits — mango — makes its annual grand appearance during these months. And what's better than a delicious mango dessert? Mango is not just a yellow, juicy, sweet and sour fruit but also a core part of many childhood memories that we all made during our summer vacations. And the various mango desserts were nothing short of a treat for our taste buds that left our hearts with an unexplainable sense of satisfaction.
A ripe, juicy mango is best devoured with bare hands and wide giggles. But the next best way is to experiment with mango dessert recipes. Make your summer more exciting with these five ripe mango dessert recipes.
1. Mango ice cream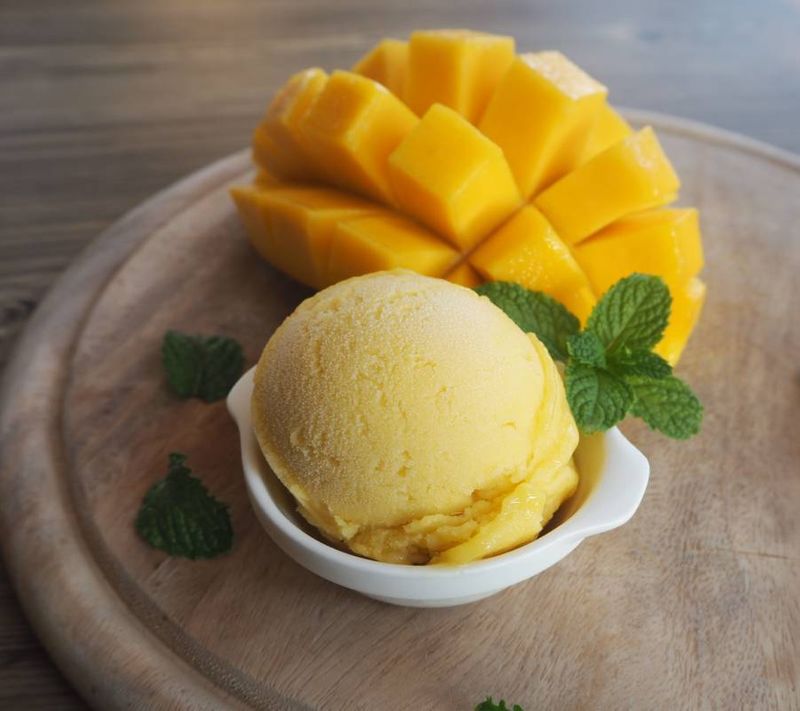 What's the first image to come to mind when you think of summer? Most probably, out of many things, you may have also imagined an ice cream stall. Mango ice cream is undoubtedly an evergreen flavour that is relished all year round. Everyone's favourite mango dessert consists of the right amount of sour and sweet, quickly melting in your mouth to give you a brain freeze. There are many ways to make the perfect scoop of creamy mango ice cream. But whatever method you choose, mango ice cream on a hot summer day can never be the wrong choice.  
2. Mango and mint kheer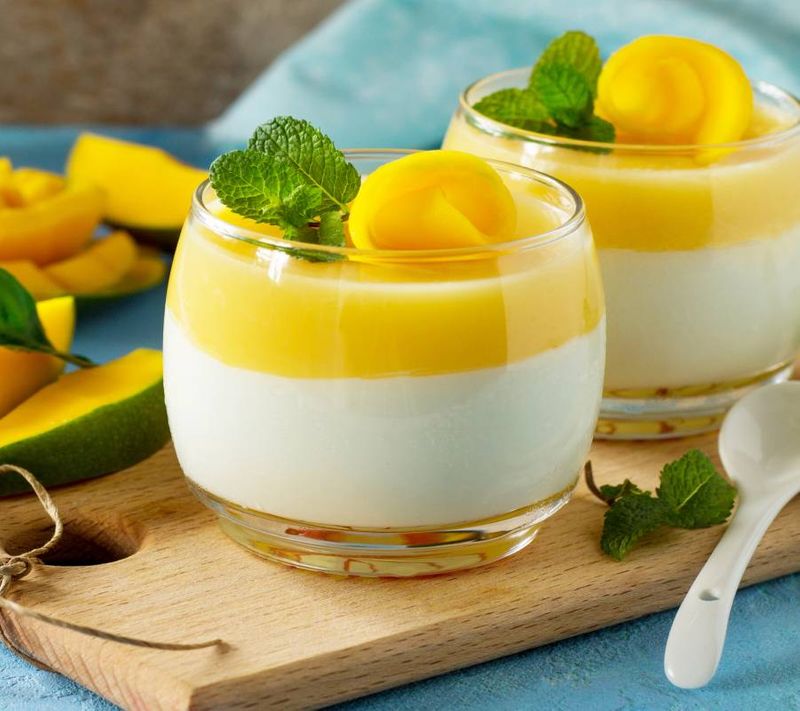 Phirni, popularly known as kheer, is a bowl of rice cooked in milk, sweetened with sugar and garnished with nuts. This is one of the easiest Indian dessert recipes to prepare at home, which is devoured equally by all age groups. During the summer, you can give the good ol' kheer an exciting mango twist. Simply add some mango puree and mint to your kheer recipe. Mango and mint kheer makes for a unique combination of flavours that will certainly be a new experience for you.
3. Mango matcha pudding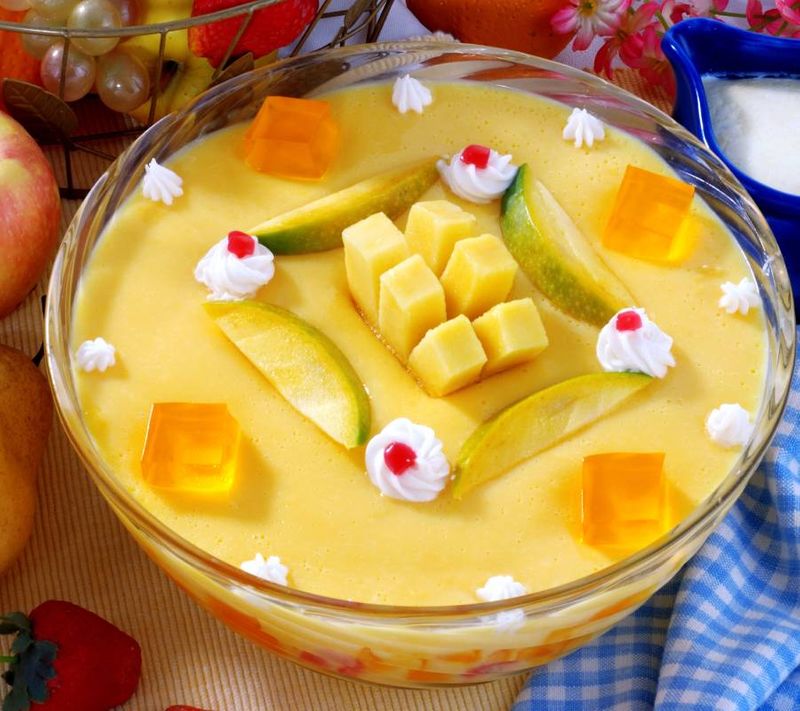 Mango can make all of us a little sinful. Some of us may grab more than our share or forget our diet, all for the sake of mango. The same goes for pudding. You can make your usual summer pudding even more luscious and sinful with a twist of mango, matcha, chia seeds and literally everything good and wholesome. This mango dessert recipe is truly everything that you need to make your summers even better.
4. Mango amrakhand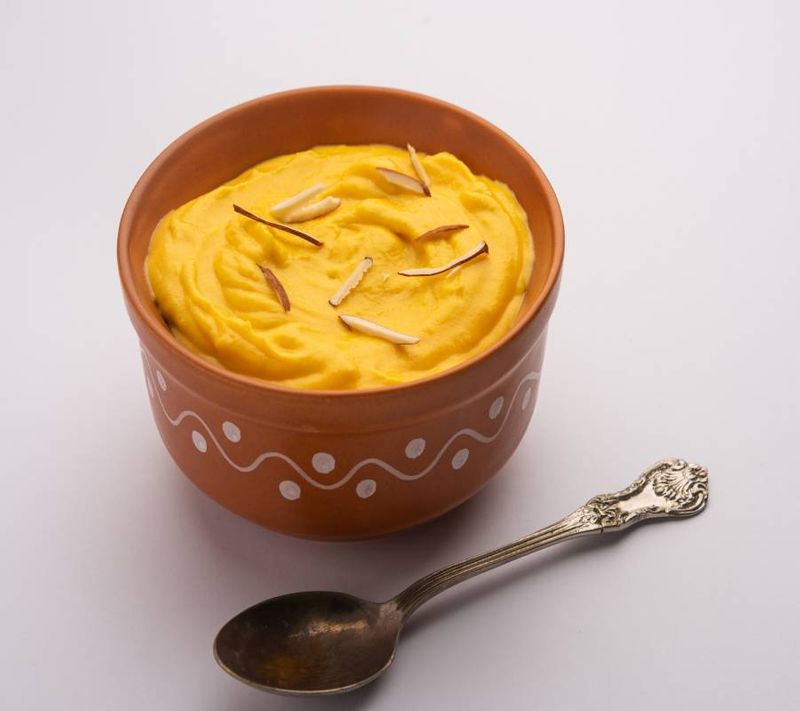 Amarkhand or amrakhand, also known as mango shrikhand, is a refreshing yoghurt-based dish. Mango amarkhand is made with fresh sweet mango pulp or mango puree. The delicate blend of yoghurt, mango pulp or puree, and the right amount of sugar makes this the perfect mango dessert for almost any time of the day in summer. Make sure the yoghurt is creamy and fresh to enjoy a delectably smooth mango shrikhand.
5. Mango kalakand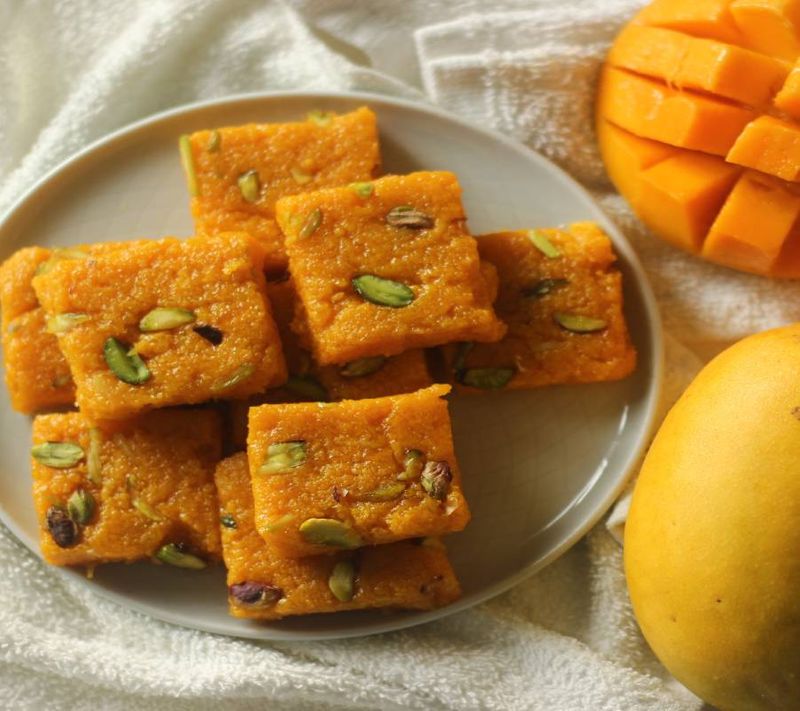 Kalakand is a famous Indian dessert from Rajasthan. It is prepared by reducing sugar and milk to a grainy texture. It is slightly soft and melts in the mouth like butter. Mango kalakand is made by adding mango to the traditional kalakand, giving it more summer-like vibes and richer taste. This mango dessert is perfect for all festivals special occasions. You can garnish it with different types of nuts and dry fruits to make it even more flavourful.
---
Photo: Shutterstock