Those who've watched Finding Nemo know the line, "Fish are friends, not food." However, many people around the world rely on fish for protein. In fact, from a nutritional perspective, white-fleshed fish are lower in fat than any other source of animal protein. Oily fish are high in omega-3 fatty acids which help maintain cardiovascular health.
Fishing is also one of the oldest professions and for centuries, rivers, seas and oceans have been a limitless source of food. But in the last 50 years alone, unsustainable fishing practices are depleting the fish population and damaging their ecosystem. According to the World Wildlife Fund, more than 30 per cent of the world's fisheries have been pushed beyond their limit and are in dire need of strict measures to restore them.
Of the 600 marine fish stocks which are monitored by the Food and Agriculture Organization, 52 per cent are fully exploited, 17 per cent are depleted while 1 per cent are recovering from depletion. If we're smart about how we eat—for instance sticking to eating locally-sourced fish and avoiding consumption during the monsoon which is their breeding season—just being conscientious and informed can help a great deal.
Here's a list of some of the country's popular choices, when to eat and when to refuse them:
Hilsa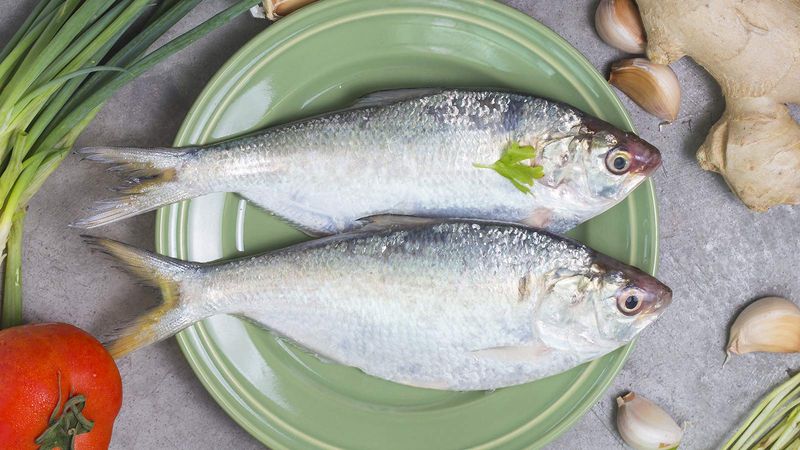 From: West Bengal and Andhra Pradesh
Why: One of the most popular choices, especially in West Bengal, hilsa is rich in amino acids, mineral and lipids and has a low level of low-density lipoprotein in PUFA that reduces the risk of heart disease and diabetes.
An oily fish, hilsa is rich in omega-3 fatty acids. Studies reveal that the nutritional composition of hilsa from the Godavari river is better than the marine hilsa from the Bay of Bengal.
When: They breed from May to August so it's ideal to avoid hilsa during this time so as to not tamper with the population. In order to raise awareness, West Bengal has training programmes for fishermen on fish conservation and conservation of lakes and wetlands.
Tip: The flavour of hilsa is best brought out with mustard in dishes such as Bhapa Ilish.
Rawas (Indian Salmon)
From: Maharashtra
Why: Rawas is also known as one of the healthiest fish. It's rich in nutrients, offering essential omega-3 fatty acids which promote healthy joints and reduce the risk of heart disease. This freshwater fish is packed with protein which supports a healthy digestive system, vitamins from the B family, A and D, and minerals such as phosphorous, potassium and selenium.
Studies show that its benefits range from maintaining bone health, preventing cancers and tumours, weight control, and healthy skin. It's also recommended for expectant mothers and young children because of its low mercury content.
Tip: Known to be flavourful, rawas, a high-oil fish, is best consumed grilled, braised or baked.
Preservation: Since the 1990s, Maharashtra has seen a huge spike in overfishing which is a cause for concern. To safeguard fishlings and fish eggs, as of January 2017, purse seine nets that stretch from 500 metres to 1 kilometre have been banned in the region to prevent the destruction of fish biodiversity.
Bombay Duck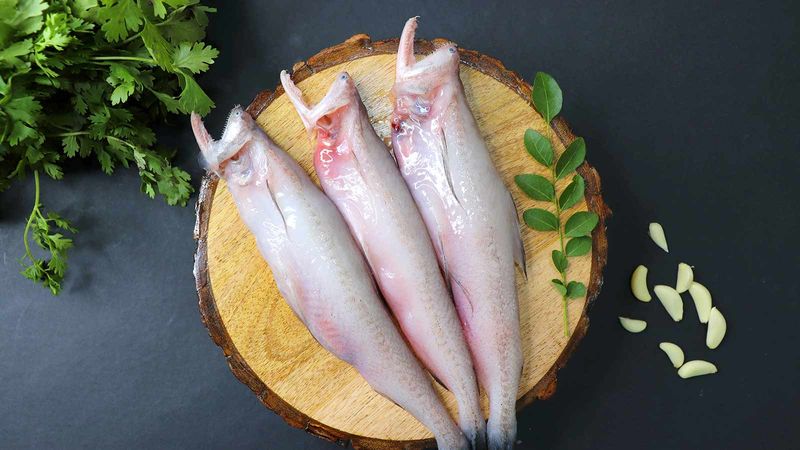 From: Maharashtra and Kutch region
Why: Also known as Bombil, it's popular on the west coast of India. It is a lizardfish that is traditionally served fried. The Bombay Duck, like other types of fish, is high in protein. It is also heart-friendly as it helps decrease blood triglyceride levels.
The high calcium content in the fish is responsible for controlling blood pressure. In fact, studies reveal that people who consume Bombay Duck in its dried form have lower blood pressure levels than those who don't.
When: The best time to consume the Bombay Duck is from April to September. Avoid eating from January to December as it's their spawning time.
Trivia: Its rather curious name comes from the times of British India and is said to be anglicised from the Marathi cry in fish markets 'bombil tak'.
Another story is that the British couldn't stand the pungent odour of the fish as it reminded them of the smell of the wooden railroad cards of the Bombay Mail train. The Hindi word for mail is daak—which is how the name Bombay Duck came to be. Served as a starter—the dish is popularly known as Bombil Fry in the western coastal areas.
Declining: Native to the Arabian Sea, over the years the fish has unfortunately been disappearing from coastal waters. According to a study by the Central Marine Fisheries Research Institute, the fish population has declined by 25 per cent in the past decade because of overfishing and climate change.
Rainbow Trout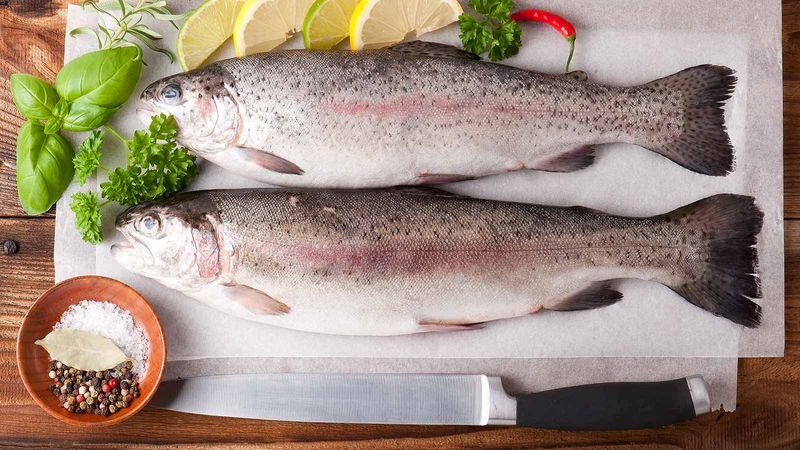 From: Beas, Sutlej, Ganga and Ravi rivers
Why: With roots that go back to Jammu and Kashmir, this large fish, found in hill stations, is highly recommended thanks to its high omega-3 content and low mercury. A versatile fish, it can be had pan-fried, grilled and even baked.
When: Breeding season varies from region to region and goes from November to December—Sikkim (November to January), Himachal Pradesh (December to February), Jammu & Kashmir (December to February) and Uttarakhand (January to February).
Trivia: The fish prefers cool and clear rivers, streams and lakes. According to the National Bank for Agriculture and Rural Development, the British were the first to introduce trout to India from Europe, so that they could take up recreational fishing in the absence of indigenous fish in the Indian waters.
From the salmon family, this freshwater fish was taken to Jammu, Gilgit, Himachal Pradesh, North Bengal, Arunachal Pradesh, Meghalaya and Nagaland. Two species were brought—brown and rainbow trout.
Preservation: Over the years, recreational fishing and commercial fishing has posed a threat to the species. Himachal Pradesh, the prime producer, has set up trout farms. Trout fish are particularly prone to diseases during incubation which is why research has been done in trout farms for better quality water and dry feeds that are protected against contaminants.
A study by the Journal of Fisheries also called for a ban on destructive fishing methods such as the use of bleaching powder, dynamiting, use of electric current and the use of poisonous plant extracts which don't just affect the fish but the ecosystem as well.
---
Photo: Shutterstock