Lists of must-try foods in Mumbai are not complete without bombil. How could they? Not only is this fish a favourite with both locals and tourists, but it's also a beaming icon in the city's cultural identity. The island city is infamous for a peculiar stench that greets you as soon as you arrive in Mumbai, home to close to 30 fishing villages. This smell, which overwhelms your olfactory system from a distance, can be attributed to the rows of freshly caught bombil hung out to dry along the city's coast.
It's extremely unfortunate that the financial capital's citizens are opting out of this delicious sea creature. It's been reported that fishing communities along Mumbai's coasts are throwing dead Bombay Ducks back into the sea, as a result of poor demand and lack of sale. More exotic species such as Pomfret, Rawas and Surmai are winning demand and fetching exorbitant prices over the humble Bombay Duck.
However, as soon as the fish is presented to you in its crusty pan-fried avatar, Bombil Fry, with its crispy exterior and sink-your-teeth-in interior, you may find yourself forgiving its shortcomings.
The big deal about bombil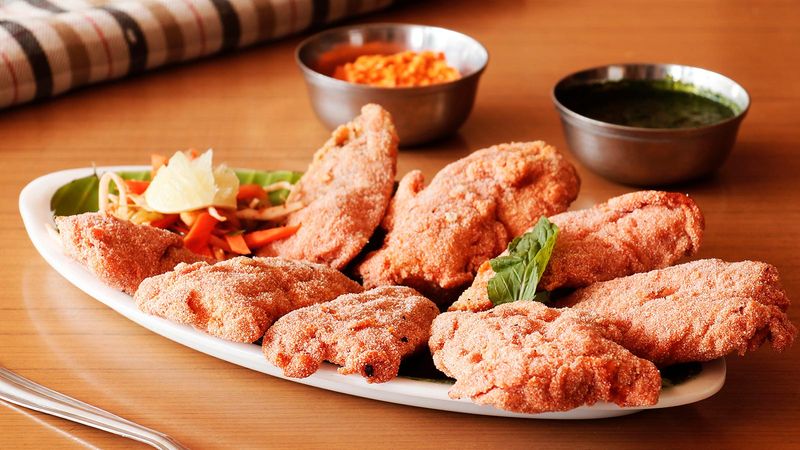 Marinated in a lip-smacking mix of local masalas before being rolled in a bed of semolina (suji) and then shallow-fried, Bombil Fry is one of the most popular preparations of this lizard-like fish. It's typically enjoyed with minty coriander chutney and a sprinkling of freshly squeezed lime.
Found in budget-friendly and fine dining restaurants alike, Bombil Fry is a favoured bar snack and appetiser. The rustic, butterflied version is found in eateries littered across the city and is usually devoured as it is or in a thali meal accompanied by gravy, curry, rice and chapatis. Meanwhile, restaurants like The Bombay Canteen, which promote local produce, fashion it in contemporary bite-sized balls.
The bombil's accolades extend to health benefits too. When 30-year-old Sushma Shrivastava, a Mumbai-based choreographer, experienced some complications during her pregnancy, her 82-year-old masseuse, Ganga bai, came to the rescue with the time-tested bombil. "I always recommend dry and fried bombil to pregnant women," says Ganga bai, as she talks of her 40-year-old journey as a masseuse to pregnant women and newborns.
Bombay Duck, is it a duck or fish?
Exclusively found in large numbers in the waters along the Western coast of the country, it's no surprise that the fish slithered its way into the cuisines of the region's early settlers. A favourite with Koli, Parsi, Malvani, Konkani and Goan communities, each community boasts its own distinct bombil preparation.
Word of bombil reached the fish-eating community on the other side of the country and of course, the Bengalis in the east wanted a taste too. It was imported from then Bombay to Calcutta via the mail train, Bombay Mail or Bombay Daak, which reeked of the fish. Local English speakers during the British Raj often used the phrase "You smell like Bombay Daak". 'Daak' seemed to have colloquially turned into 'duck', becoming one of the theories behind bombil's other name 'Bombay Duck'. It's a common prank to test the uninitiated on whether the Bombay Duck is a fish or a duck.
While its origins remain unclear, the Britishers made the term 'Bombay Duck' popular in common parlance after the dish featured on Indian restaurant menus restaurants across the UK. According to Wikipedia, there was a time when the UK consumed around 13 tonnes of Bombay Duck annually. One particular Briton was so taken by this fleshy fish that when the European Commission banned its import, he fought for four years to save the Bombay Duck and succeeded in having the ban reversed.
Penguins love bombil too!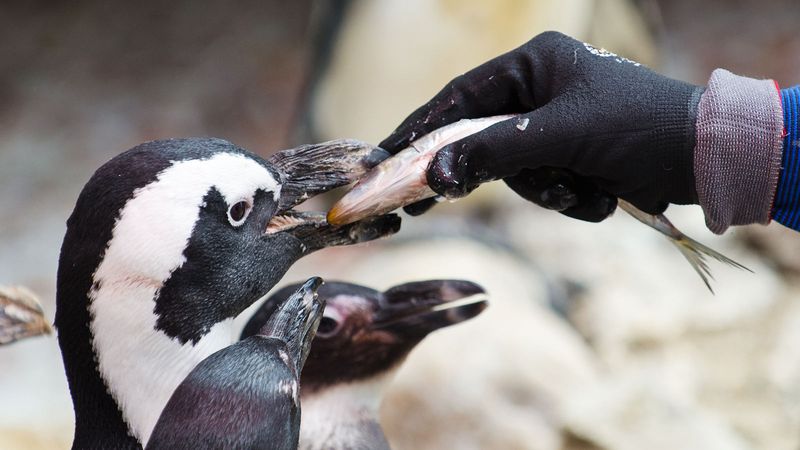 The Humboldt penguins in Mumbai's Byculla zoo salivate over bombil too. The South American breed of penguins, that made Byculla their home in July 2016, consume 5 to 6 kg of fish daily out of which 90 per cent is bombil. "We offered other fish varieties too but they have taken to Bombay Duck," Sanjay Tripathi, Byculla zoo director, told the media in April 2018.
But Lord Rama is not a fan
According to folklore, Lord Rama is responsible for bombil's concentrated population along the Western coast. Legend has it that when Lord Rama was building a bridge to Lanka on the eastern coast, he sought help from the marine world. All the fish were ready to give him a helping hand except for bombil. An enraged Lord Rama snapped the fish in his fist and flung it across to the western coast. This story also credits Lord Rama for the softness of bombil's bones.
While its barely-there-bones quality makes it conducive to cooking, its delicate frame also tends to prove a challenge to beginner cooks. Recipes of Bombil Fry are replete with tips on handling the fish so that it doesn't crumble while cooking.
Quick fix year-round snack
Owing to its mostly year-round availability, bombil is a favourite among seafood lovers. It becomes a "quick fix" when other seasonal varieties of fish are unavailable in the market, particularly during the monsoon months, between June to September.
However, Know Your Fish, an effort to encourage sustainable fishing and consumption practices, suggests avoiding fresh bombil from October to March as this is the time when the fish breeds.
Acquired taste
Consumed in fresh, dried and pickled forms, bombil, dried particularly, is known to be an acquired taste. The hate to love transition is a common culinary tale among foodies. Take for instance food blogger Bhavna who hated the fish while growing up thanks to the stench that emanated from her Maharashtrian neighbour's kitchen. That is until she married into a Marathi family.
"Much to my relief, my mother-in-law did not fry bombil. She used fresh bombil to make a delicious curry. Hence it was in my mother-in-law's very Marathi kitchen that I learned to appreciate the subtle flavours of this fish. Soft on the palate and bursting with flavours, the fish that I hated as a kid became my favourite as an adult," Bhavna writes on her blog The Modern Desi.
---
Photo: Shutterstock