Indian train stations immediately make you think of chai vendors, men with buckets selling water and a variety of fried food. Generally, train food is not synonymous with good street food. 
But, a unique aspect of India's cultural diversity is its street food and a lot of Indian railway stations can be the best place to introduce you to it. So the next time you think of saying no to a street food vendor at a railway station, come back to this article. This guide to the best food to eat at railway stations in India will change how you look at them forever. 
Best food to eat at railway stations in India
1. Tatanagar Junction's fish curry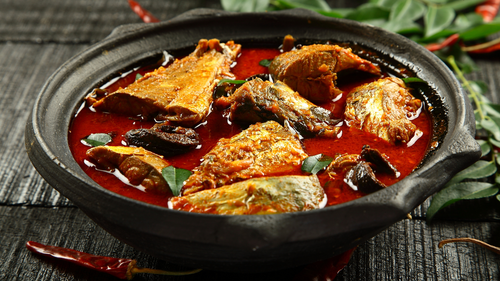 In Jharkhand, the small town of Jamshedpur is one place where you will find the best fish curry that you have ever eaten. The curry reflects the simple home-cooked version abundantly found throughout the state. You can get this street food near the railway station, or might find vendors inside the station selling it too. Whether or not you plan on getting down at this station, rest assured a steaming hot plate of fish curry and rice will find you.
2. Kozhikode railway station's halwa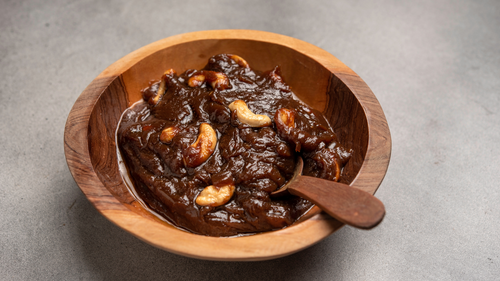 Of Kerala's many flavours, the obscure halwa will steal your heart. The city of Calicut (or Kozhikode) is renowned for its decadent halwas, and you can easily find some at the Kozhikode railway station. It's made with locally sourced coconut oil, flour, sugar and flavouring. The jelly-like dessert is a melt-in-the-mouth piece of goodness that will have you going back for more. Pick some up for yourself and for your loved ones because you might not want to share this one.
3. Chennai Central's rava dosa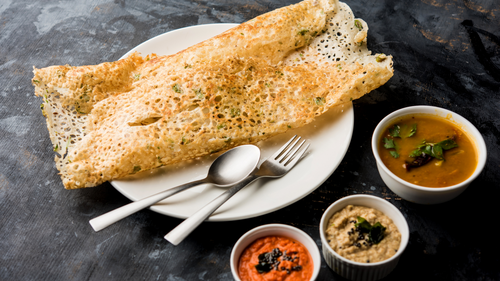 Chennai's dosas are incomparable. They are soft and laden with a thousand different unique and flavourful chutneys. If you are alighting at or passing through the Chennai Central Station, pick up a plate or two of dosa from the vendors there. You will get the whole deal with the potato masala, a couple of chutneys and vegetable kurma. You might want to get a second helping because you might just regret not doing it once your train leaves the station. You can get this street food near the railway station at affordable prices.
4. Guntakal Junction's ven pongal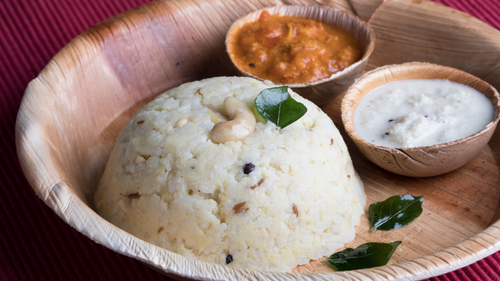 Guntakal Junction is a small station on the border, between Telangana and Karnataka. If your train stops here, be sure to hunt down a vendor selling ven pongal. It's a porridge made from semolina (rava) and traditionally prepared during the state's harvest festival (February-March). If you are lucky, you might also get to buy uttapams filled with delicious vegetables and doused in chutneys.
5. Mumbai CSMT's vada pav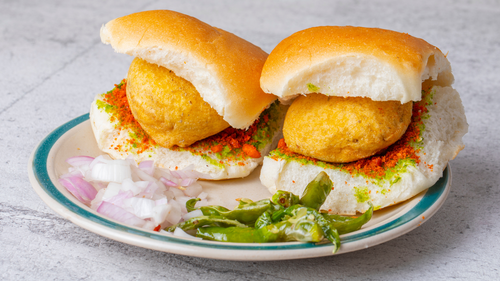 No matter how much the Goans ask the world to spell it as 'pao', Mumbai's vada pav will always be unique. These fritters filled with a spicy potato masala are what foodgasms are made of. The vendors generously top it with either dry red coconut chutney or green coriander chutney and add in some salted chillies too. You know you have to get a whole bunch because one Mumbai vada pav is never enough. While you are there, reward yourself with some Mumbai pav bhaji too.
6. Ratlam Junction's Indori poha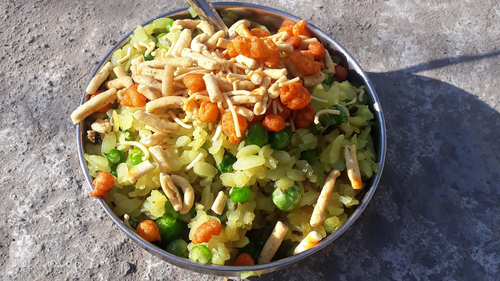 You walk into any station in Madhya Pradesh and the aromatic waft of jalebi poha will engulf you. The state has its own unique take on this local Indian speciality. Unlike Maharashtra's kanda poha, they steam it and don't add any vegetables. It's just a hot plate of steamed yellow poha with Ratlami sev sprinkled over it. Pair it with a hot cup of chai and some jalebis and your day has already been made. You can get all of this amazing street food near the railway station at affordable prices.
7. Surendranagar Junction's camel milk tea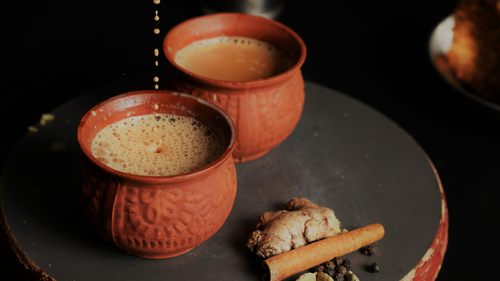 You've tried adrak wali chai (ginger tea) and gud chai (jaggery tea), but Gujarat's camel milk tea beats them all. It's a rich, creamy concoction particularly famous in Surendranagar. You can find a whole bunch of vendors selling it and it definitely beats the watery tea you get on the Indian trains. The milk is highly nutritious too, and you can boast about having tried something unique on your travels.
8. Ajmer Junction's kadhi kachori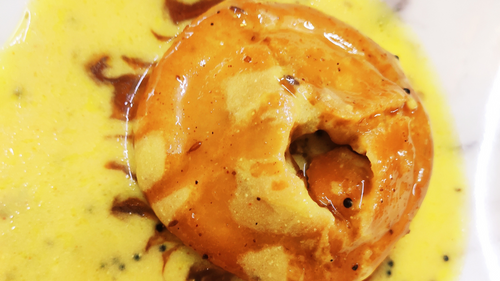 You can't go to Rajasthan and pass on the kachori. The Ajmer Junction's kadhi kachori is a tangy preparation and a party for your tastebuds. It's made with a locally prepared kadhi, garnished with spices and seasonal seeds. Kachoris in Rajasthan are available in a hundred different varieties, but the kadhi kachori is one that you will only find in Ajmer.
9. Jalandhar City Junction's chole bhature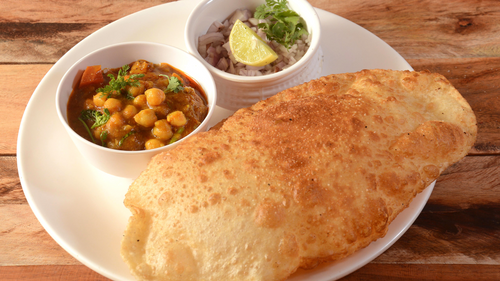 Chole bhature is the breakfast of kings and you deserve one. If your train is passing through Punjab, make sure to keep an eye out for Jalandhar's famous chole bhature. The vendors stack a couple of hot deep-fried bhature, steaming aromatic chole and some salad on the side. If you are lucky, they might have some pickles too. If the weather is cold, it's all the more reason to indulge in it. Instead of eating your cold packaged breakfast, treat yourself to this local delicacy. This is one type of railway food that will have you coming back for more.
10. Amritsar Junction's lassi
Everything tastes better with lassi. If you are passing through the state and halt at the Amritsar Junction in Punjab, get yourself some lassi. The creamy sweetened yoghurt is available in many flavours and perfectly balances the spiciness of a good plate of chole bhature. If you are there during the summer season, try your luck at getting your hands on the mango lassi. If not, the good old traditional thick Punjabi lassi will sway you just as easily. Of all the food to eat at India's railway stations, this one takes the crown. Since it is right around the corner, indulge in some food trails in Delhi too!
11. Bareilly Junction's moong dal pakoda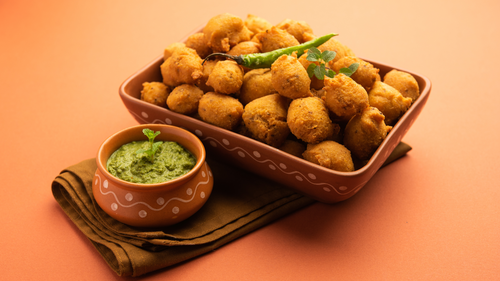 Not many know, but Uttar Pradesh is famous for its dal pakodas. These deep-fried fritters, made of locally-sourced pulses, are the perfect evening treat. Vendors at the Bareilly station sell them hot with a dollop of chutney. Train journeys are all about enjoying India's countryside views with the right train food and a cup of chai with dal pakodas in Bareilly promise you that. Don't stop at one plate because if you are just passing through this station you will want to stock up. You don't want to miss this street food near the railway station easily available at affordable prices. If you are travelling to Uttar Pradesh from here, you cannot miss out on the street food in Rishikesh.
12. Kharagpur station's aloo dom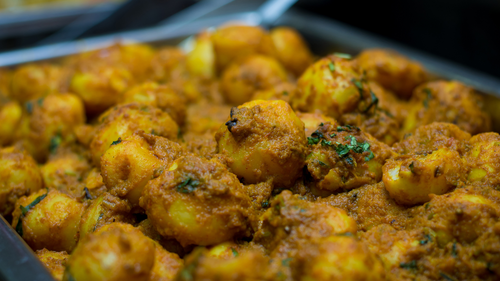 West Bengal's aloo dom has claimed its place in the list of heavenly street food in India. The simple combination of puri with rice gravy may not look like a million dollars, but it will definitely satisfy your mind, body and soul. It might come as a surprise but the best place to try a plate is at the Kharagpur Station in West Bengal. Not just tourists, but locals pause to savour it too. The vendors offer you a choice between a stuffed aloo puri or a plain puri and gravy with extra masala. Don't shy away from customising your plate just the way you like it. If you are travelling there, consider exploring all the street food in Kolkata too.
Excited about all the food to eat at India's railway stations? You get the choicest spreads at the most affordable prices. The mouthwatering delicacies might have you booking train tickets just to try them. If you like experiencing food when you travel, street food in Chandigarh, Delhi, Mumbai and Kolkata was made for you! All you have to do is hop on a train and start exploring.
Images used are for representational purposes only.
---
Photo: Shutterstock