The food you serve at your nuptials can tell a story: about your relationship, your family, or even your future. No wonder couples are increasingly prioritizing a well-crafted food experience within their wedding budget—ensuring their guests dine on food that's fun, interesting and above all, completely delicious.
However, a lot has changed post-pandemic and wedding menus are one of them. Traditional seated dinners and buffets are being sacrificed for unique food arrangements to cater to new safety and hygiene standards.
That's why we asked industry experts for wedding food ideas and trends to keep an eye (and some taste buds) out for this year and the years to come. These will make an incredible impression on your guests and create memories that will last a lifetime.
1. Small individual servings
Covid 19 has made wedding caterers reimagine wedding menus to cater to heightened hygiene standards. This has given rise to miniature eatables that not only look adorable but also let the guests relish more variety in fewer portions without having to worry about cross-contamination or other people coming into contact with their food."Think of your favourite foods packaged into a miniature version. That's what this trend is all about. Guests are able to select small bites from stations featuring ornately displayed foods in mini vessels. Some of these elaborate displays look like art and make for great conversation. Palak patta chaat in a martini glass, chole chawal in a glass jar, a small portion of biryani in a clay pot, mini tacos and pizzas, small pasta bowls and bite-sized desserts are some of the out-of-the-box food we serve at weddings," says Arjun Chadha, founder of Culinary Affaire, the company that has been catering to politicians and celebrities in New Delhi.
2. Personalised food stories 
More and more couples are using their wedding day menus to share their stories and connect with their guests. "Couples these days are unafraid to request food that reminds them of a certain holiday they took or the food they enjoyed on their first date, on their first anniversary, or comfort recipes from their families. It's all about incorporating their favourite foods into the wedding or foods that mean something to them and their loved ones," says Aditi Dugar, founder of Masque and Sage & Saffron. It's also how she recommends couples go about planning their menu—lead with dishes that mean something to you. Tell a story with your menu, take people on a journey. That means ditching the typical wedding menus and thinking outside of the box.
3. Hyper regional menu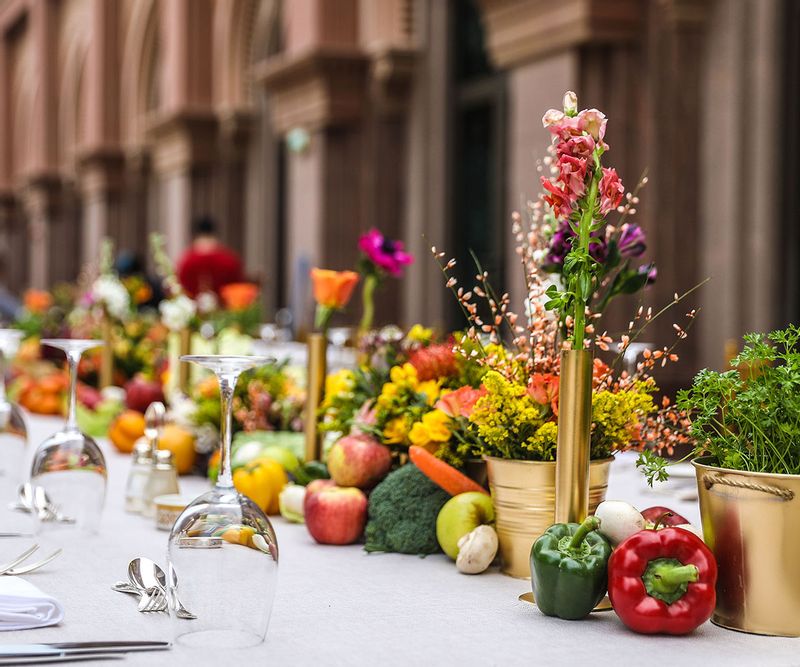 No matter how much you travel the world, the lure of comfort food never fades. Regional food that the bride and groom have grown up eating has a special place in wedding menus alongside exotic delicacies. "The Gujarati food at Ambani events are hyper-localised with Ahmedabadi, Surti and Rajput fare. For the Ruia family wedding, the focal point was Rajasthani food from Kolkata. For a diamond merchant's son's wedding in Thailand, we flew in chai wallahs and chat wallahs. For the Ranveer Singh-Deepika Padukone wedding, we created the perfect Sindhi food for Ranveer and organised a south Indian style sit down meal for Deepika. We carried 4,000 kilos of ingredients from India to Italy to keep the taste authentic. For Gautam Adani's family wedding we conducted extensive research on Jainism and Jain food before we proposed the menu. We have even gone as far as mobilizing local water from Jodhpur to recreate exact versions of Jodhpur's popular street food delicacies like pyaz ki kachori, mirchi bada, and kofta," says Sanjay Vazirani, chairman and managing director, Foodlink F&B Holdings India Pvt. Ltd—the company that has catered to some of the hottest weddings including Isha Ambani-Anand Piramal, Akash Ambani-Shloka Mehta, and the one that almost broke the internet i.e. actors Ranveer Singh and Deepika Padukone's wedding in Italy.
4. Grazing tables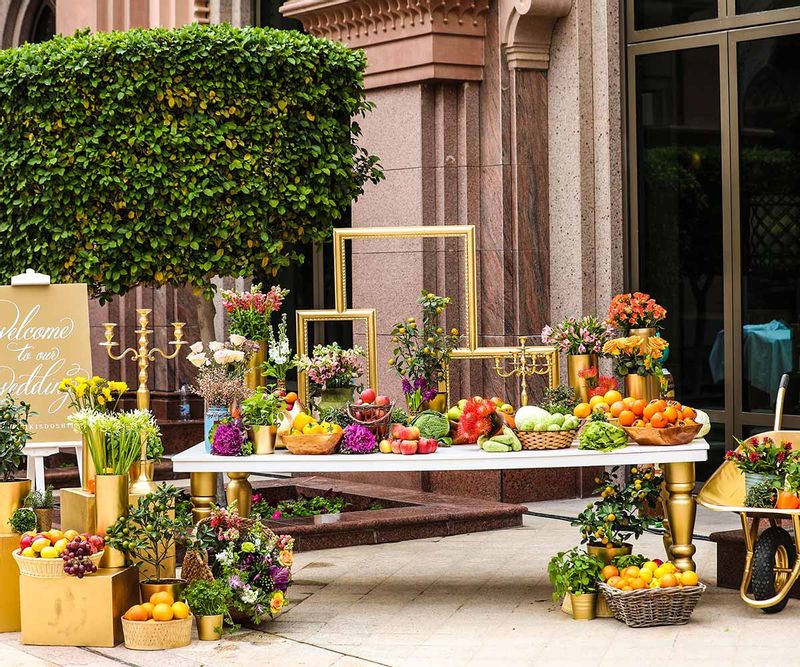 Grazing tables are elevating wedding receptions everywhere by providing a colourful spread to feast on and mingle over. There's no need for a ton of catering staff and guests can dive right into a grazing table whenever they please. "They're the perfect way to bring guests together between the wedding and reception, or even serve as the first course for dinner. Grazing tables often take shape as a massive charcuterie board or spread of antipasti laden with meats, cheeses, olives, and a selection of breads. Fresh fruits, dips, nuts, and crackers are also traditionally incorporated. But truly, a grazing table can be any type of spread you choose as long as it's filled with assorted flavours and textures," says Abhishek Basu, executive chef, JW Marriott Mumbai Juhu.
5. Focus on plant-based and healthy items
The renewed focus on health has made wedding caterers rethink their menus and boast it up with nourishing options. "Food menus at weddings have been slowly shifting towards healthier options. We are seeing a lot of demand for ingredient-based menus with lots of healthy superfoods. Popular ones include quinoa, asparagus, artichoke, oats, fresh berries, etc. People prefer grilled and baked dishes over fried ones which are cooked live. Gluten-free, sugar-free and vegan dishes are also gaining popularity," says Vazirani.
But mind you: healthy doesn't mean salads and roasted vegetables. There are so many exciting vegetarian and vegan food options to choose from, whether it's a jackfruit "pulled pork" sandwich or a fried "chicken" sandwich made of pea protein and soya bean—the options are endless. What's more, even carnivores and pescatarians can appreciate (and often seek out) an expertly-crafted dish where the vegetarian option is the star of the show.
6. Elevated comfort food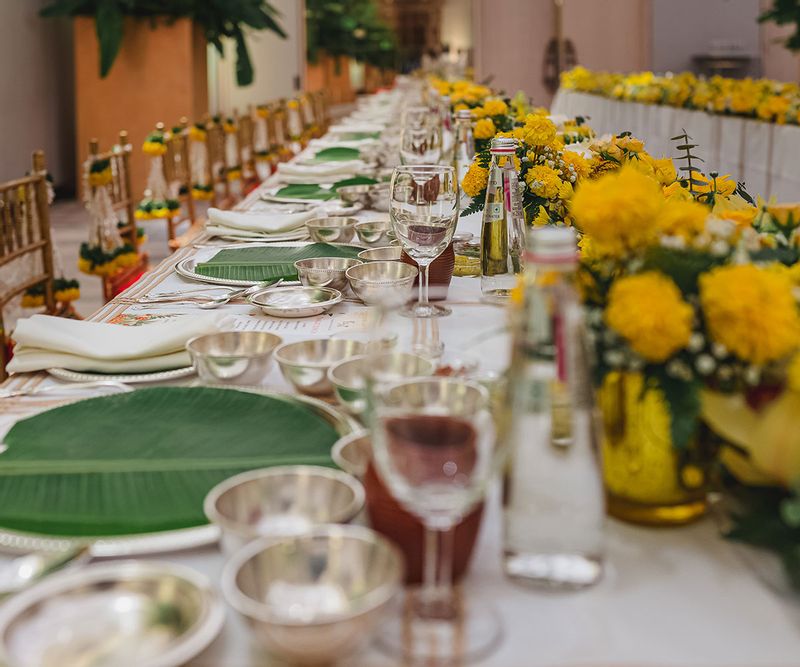 Yes, it's possible to elegantly serve comfort food at your wedding. Because who doesn't love comfort food? The cocktail hour is the perfect time to take your favourite comfort dishes and make them a little special. Think 'buttoned-up comfort foods'. Presentation is key here. Thinking of french fries? Forget the plates and serve them in monogram bags instead. Or fill a cocktail glass with ketchup or dipping sauce on the bottom and fries on top. It's easy for guests to carry around without making a mess. Mashed potatoes may not sound like the most elegant wedding item, but it can be when you serve roasted garlic mashed potatoes in martini glasses and top them up with chopped bacon and shredded cheddar cheese…
7. Bottled or canned cocktails
Cocktail bars will always be a staple at weddings. The trend now is of bottled drinks or canned cocktails. Bar experts are now creating a signature drink for the occasion and packing it in cute glasses or mason jars. Lidded shots are another option. Everything is pre-mixed so you never get a drink that tastes off. Plus they keep the party both sanitary and festive. Shorter waits at the bar may be the best reason to incorporate canned cocktails on your big day. But creative couples can go as far as including their monogram on the bottle or can. Cute, isn't it?
8. Bowl food 
Yes, even Prince Harry and Meghan Markle couldn't resist serving bowl food to the 600 guests at their wedding reception. Trendy and attractive bowls of food—often healthy and colourful—have been around for a while but it's really picking steam at weddings. The idea behind a bowl food menu is so guests can stay standing up and mingle while they eat. You can have a variety of food bowl options for your guests including Thai curry with rice bowls, burrito bowls, chicken, and sushi bowls or risotto.
9. Statement desserts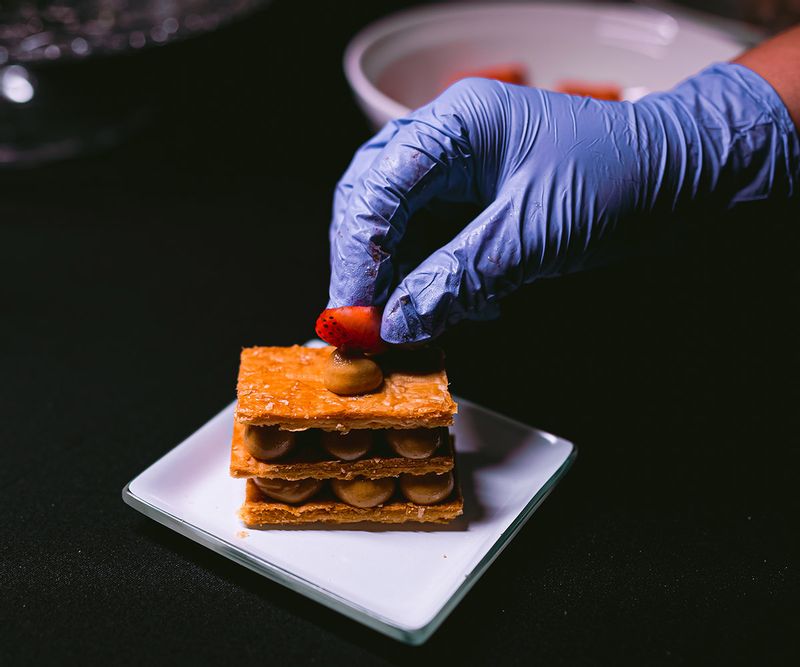 The dessert table usually ends up being the most frequented spot of the night (aside from the open bar, of course!). "Stylish desserts are a great way to inject personality into a wedding. We have been doing mini tarts, cake bites and petit fours in fascinating flavour pairings like yuzu and earl grey and strawberry balsamic to even luxe macaron towers. You can never go wrong with chocolate-dipped berries. The hottest ones right now are edible bouquets and brioche doughnuts. Fusion desserts such as gulab jamun cheesecakes, ras malai macarons, thandai entremets and kaju katli tarts are also extremely popular. It makes it especially easier for guests to grab these bite-sized morsels and have more fun mixing and matching their desserts," says Naimita Jagasia, chef and owner—An Ode to Gaia, a luxury plant-based patisserie. Desserts made using family recipes, referencing childhood flavours and honouring heritages, is also finding favour among couples.
10. Late-night snacks
One of the most recent wedding food trends is serving late-night snacks, after dinner. Couples love incorporating their favourite late-night snacks into their wedding party. After everybody's been fed, the couple will send out trays of fun food like pizza, tacos, or a sundae bar. This is generally for the younger crowd looking for a snack after dancing and drinking.
---
Photo: Shutterstock