After a keen observation that we have been making for the last few months or so with regards to viral culinary trends, we conclude that for whatever reason, food just seems more interesting when dished out in an easy and convenient bowl. It's perhaps got something to do with the fact that a meal-in-one bowl has a strong 'health food' connotation. Think Hawaiian poké and Japanese Chirashi bowls with fresh, often raw seafood components, as well as the very au courant and healthy, antioxidant-rich chia and acai bowls, along with the fibre-enriched, probiotic breakfast smoothie bowl and you'll get our drift.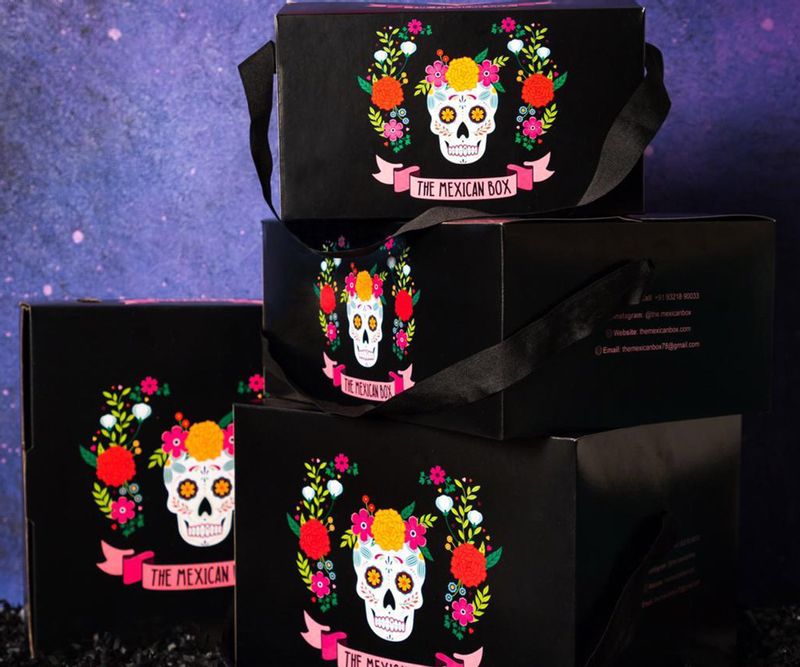 It is also, perhaps, the portion control and balance of components that are pre-set by the chefs when designing a bowl that makes them nutritionally well-rounded. Packed with just the right amount of proteins, fats, carbs, and calories, it is no wonder that meal-in-one bowls are a trend taking social media by storm in their various shapes, sizes, hues, and combinations.
And just in case you need a little more convincing to hop onto the bowl bandwagon, here is our pick of the six most interesting and healthy meal-in-one bowl options available in Mumbai—both sweet and savoury—to...well, bowl you over with!
1. Vegan Burrito Bowl from Mexibay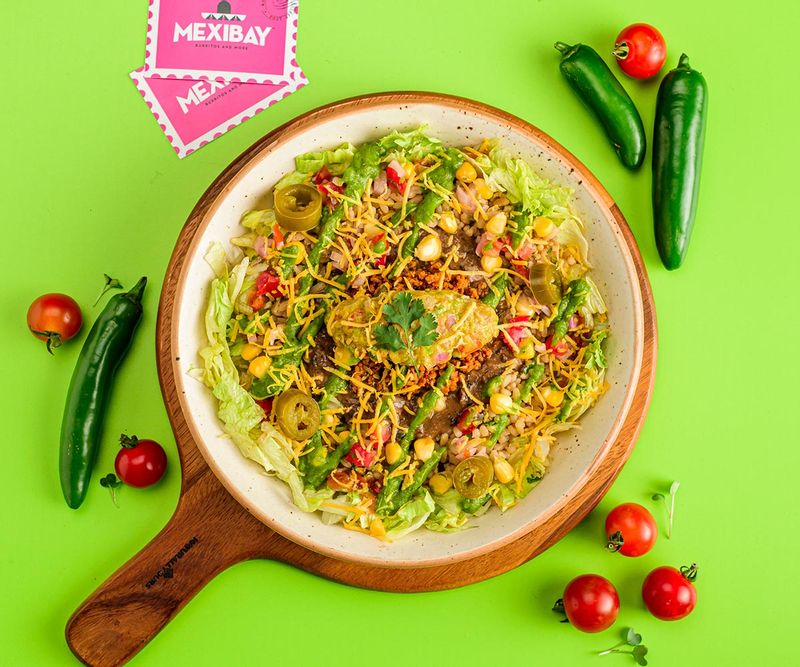 Don't let its 'vegan' tag fool you, for this fully customisable burrito bowl by Mexibay, a new Tardeo and Bandra East-based Tex-Mex cloud kitchen has all the flavours that you can possibly imagine inside one bowl. Here you'll get to choose from all your favourite fillings, perfect for anyone looking for a filling meal, sans the guilt. With each bowl containing just370 to 500 calories, you get about 16 to 28 grams of protein depending on your fillings. This means that you get to choose if you want the healthier whole black beans or the authentic refried beans. You can even choose between mild jalapeno salsa, tangy tomatilla salsa, spiced smoked chipotle salsa, and hot smoked chipotle salsa with matcha. Along with that, there is pico de gallo, corn, lettuce which adds freshness to your bowl. And while this vegan version of the burrito bowl has vegan cheese and soy 'chorizo', you can always "un-veganise" it with a host of proteins like grilled chicken, lamb barbacoa, chicken tinga, chicken chili con carne, mushroom al ajillo, veg chili con carne, and cajun paneer. And for those of us obsessed with brekkie, just add on scrambled eggs and hash browns and call it a breakfast burrito bowl.
Price: From Rs.229 to Rs.279 per bowl.
Where to order: Call on 9004733733
2. Overnight Oats and Espresso Glass from Kookie Cake Crumble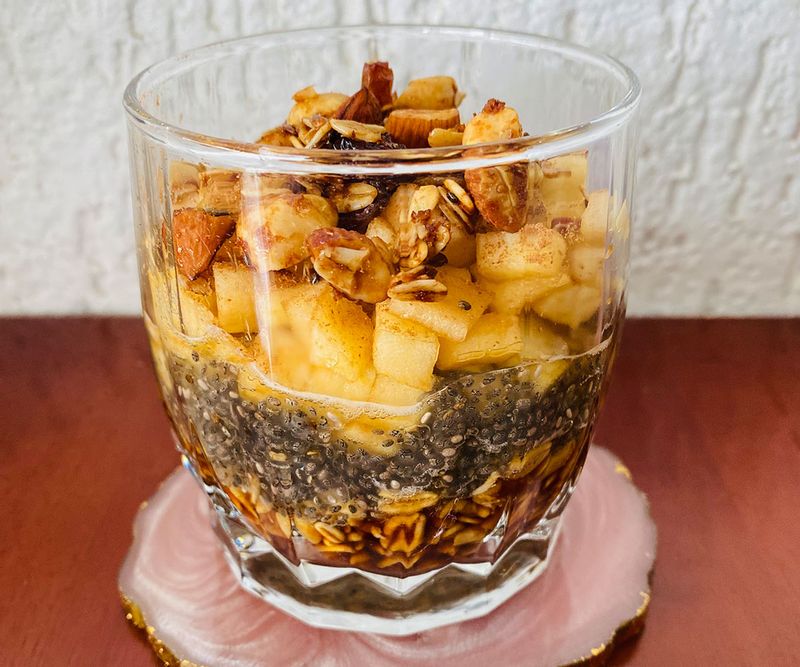 Dubbed 'meal-in-a-glass', this healthy new dessert/breakfast bowl option from the all-vegetarian food and confectionery cloud kitchen Kookie Cake Crumble in Napean Sea Road is an interesting riff on your good old oats porridge, but with a caffeine twist and sent off in a glass. Here overnight oats are soaked in a shot of espresso and topped with chia seeds and spiced apples. It is garnished with a sprinkling of their in-house made naturally sweetened (with date syrup) nutty granola for additional fibre. Besides other sweet meal-in-one bowls like a chocolate-banana post-workout smoothie bowl, they also have on offer everything from a healthy Thai curry with a brown rice bowl, a falafel bowl, and a no-guilt Mexican bowl as well.
Price: Rs.400 (other bowls range from Rs.400 to Rs.600 per bowl)
Where to order: Call on 9819844013 / 9967337818
3. Ocean Smoothie Bowl from Seeds of Life
Perhaps the most colourful looking bowl on this list, this vibrant aquamarine-hued ocean smoothie bowl looks as if a smurf and Marge Simpson have taken a joint dip into its depths! Available for home delivery and in-house dining at both the Bandra and brand new Juhu outposts of the all-vegetarian Seeds of life restaurant, this newly introduced vegan bowl is sure to take you on a refreshing tropical vacation. Here almond milk is blended with pineapple, banana, mint, and spirulina. It is then topped with granola, super seeds, and fresh fruits. They also have on offer the super trendy acai bowl blended with the healthy Brazilian acai berry, mixed berries, banana, almond milk, and also topped with granola, super seeds and fresh fruits. All these are said to help one balance their carb intake as the bowl is packed with electrolytes, iron, and potassium.
Price: Rs.425 (other bowls range from Rs.425 to Rs.550 per bowl)
Where to order: Call on 9653336089 (Bandra) and 8591882863 (Juhu)
4. Caribbean TunaPoké Bowl from Saiko Sushi House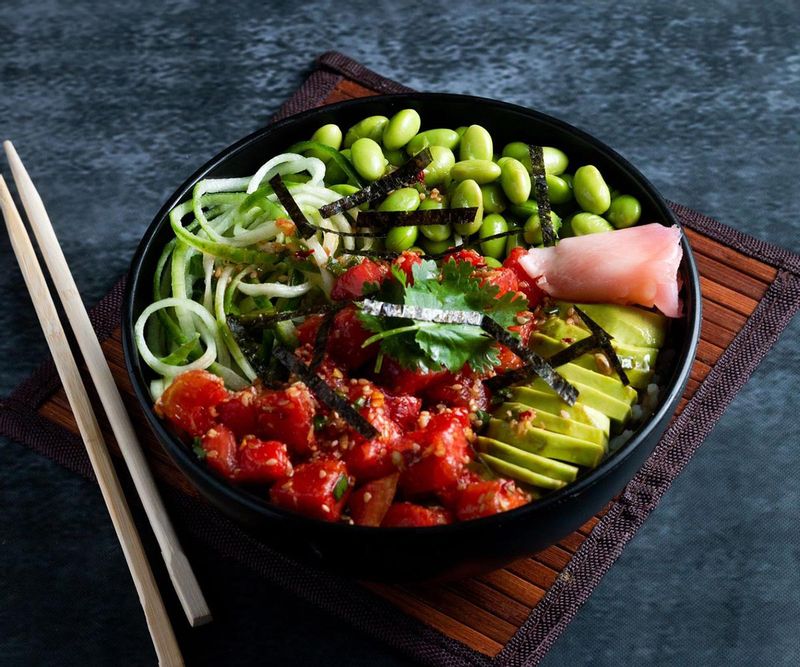 Launched in February 2020 in Bangalore by personal trainer and fitness enthusiast Siddharth Raj, Saiko Sushi House, is now in Mumbai with a cloud kitchen in Parel. Named after a hyperbolic Japanese expression similar to "super!", Saiko is all about unconventional iterations of sushi with a healthy spin on them with low-calorie, high protein options. Take for instance their Omega 3-rich tuna poké bowl that takes the Hawaiian meal-in-one raw seafood bowl and introduces it to zesty Caribbean flavours. Here one finds slices of cucumber, edamame, avocado, and spicy, raw tuna cubes topped with sriracha sauce, spicy mayo, and green onion. All this is set atop a bed of vinegared sushi rice. The menu also features other vegan, veg and non-veg bowls like the seafood Chirashi (scattered sushi) bowl and a katsu chicken donburi bowl among scores of others.
Price: Rs.489 (other bowls range from Rs.299 to Rs.529 per bowl)
Where to order: Call on 9019447987
5. Naked Burrito Bowl from The Mexican Box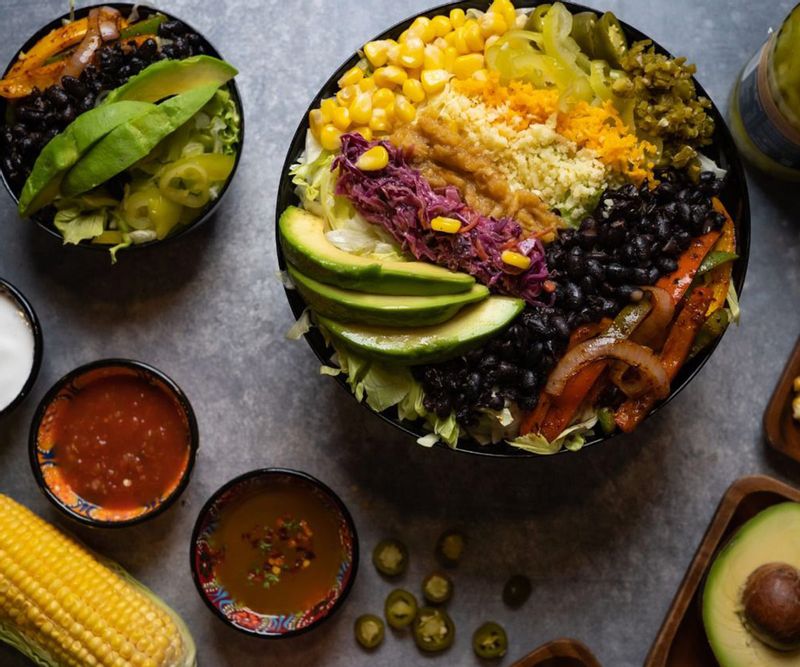 Known for their soul-satisfying, almost authentic Mexican fare, all attractively packed in Dia de Los Muertos-inspired black food boxes—The Mexican Box gets their basics spot on. This Worli-based delivery kitchen may be a new entrant on the block, but their quality and variety of dishes are something to talk about. Speaking of which, the naked burrito bowl is a customisable meal-in-one bowl with endless options and combinations thereof. Served on a bed of lettuce with avocado slices, black beans, grilled onions and peppers, and pickled banana peppers—one can continue building their burrito bowl with 17 interesting additional options like regular and vegan cheese, Mexican rice, shiitake mushrooms, charred pineapple, grilled chicken, prawns and even good ol' bacon among others.
Price: Rs.495(extra for non-veg toppings)
Where to order: Call on 9321890033
6. Green Glow All-Day Breakfast Bowl from Gourmet To Go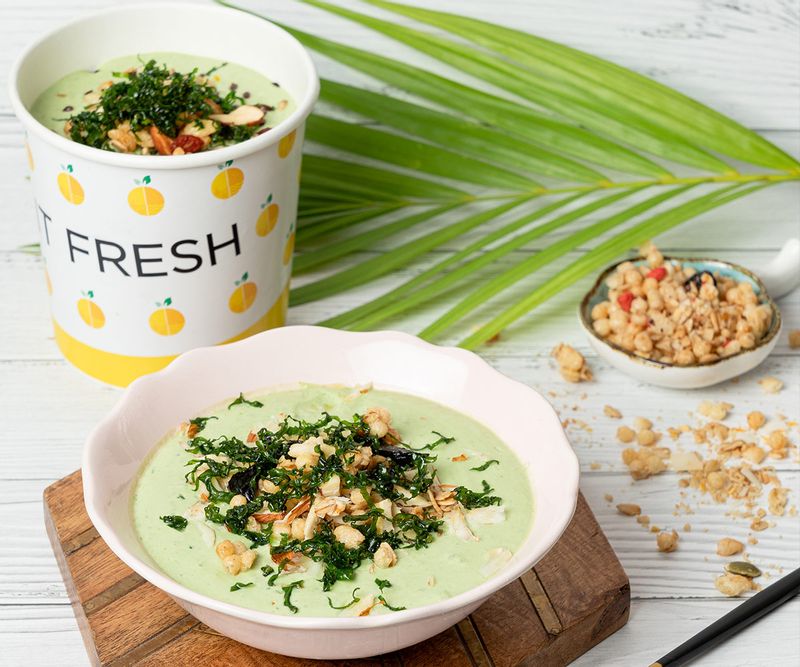 Located conveniently behind the popular New Kampala automobile service station and petrol pump along Pedder Road, the new takeaway only Gourmet To Go focuses primarily on meal-in-one bowls—both savoury and sweet that are available all through the day. Besides a range of Asian and North Indian bowls, their signature smoothie bowl, however, is the Green Glow Bowl. This pastel green bowl is the perfect wholesome blend of greens mixed with the crunchy topping of nuts, granola, and seeds to satisfy your sweet cravings the healthy way. All this is blended with spinach, kale, banana, organic honey/maple syrup, and yoghurt. If you prefer, plant-based almond, soy, and oat milks can be used in place of dairy for an additional healthy boost.
Price: Rs.400 (other bowls range from Rs.350 to Rs.400 per bowl)
Where to order: Call on 7208179996
---
Photo: Respective Brands