"Be careful, it's hot!" Mother's voice would trail into the room from the kitchen, but by then the first bite had been taken and a little 'oh god it's hot!" had happened. It's never easy to let a plate of hot cauliflower fritters just sit there, especially when the rain was doing its job outside and there's a cup of steaming hot chai (or coffee) right in front of you. 
There's something irreplaceable about monsoon snacks, especially the ones made at home. But with most of us living away from homes, memories of those rainy evenings filled with random banter with family or friends are often what we crave. And while it is quite difficult to replace the people, the snacks are not an impossibility.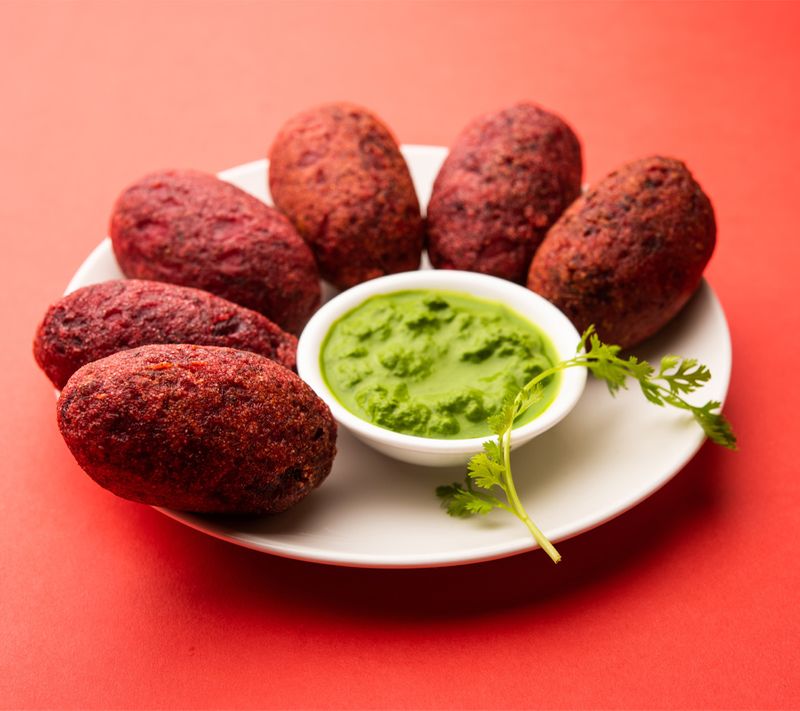 Zee Zest curates some of the best desi snacks for when it rains that can be easily made at home or if you're lucky, bought from a local store or kiosk. 
1. Jhal muri
A specialty of Kolkata streets, the jhal muri is not quite easy to find anywhere else outside of the city, or at least not in its true form. But you can whip it up at home easily. All you'll need, and this is fairly important, is access to short-grain puffed rice (if you don't have it however, any kind of puffed rice will do). As for the rest, chopped boiled potatoes, onions, tomatoes (dice them in small pieces), green chillies, bits of coconut, peanuts, salt, roasted spices (usually a combination of roasted cumin and dried red chilled blitzed in a blender), salt, a hint of lemon juice, and the crucial ingredient–mustard oil. The trick here is to add the puffed rice last and eat soon, lest it gets soggy. Some people also like to add diced cucumber to it, and it does add a sweet crunch for sure. If you've got sev at home, sprinkle some of that on top with chopped coriander leaves. Don't forget the tea with it. 
2. Samosas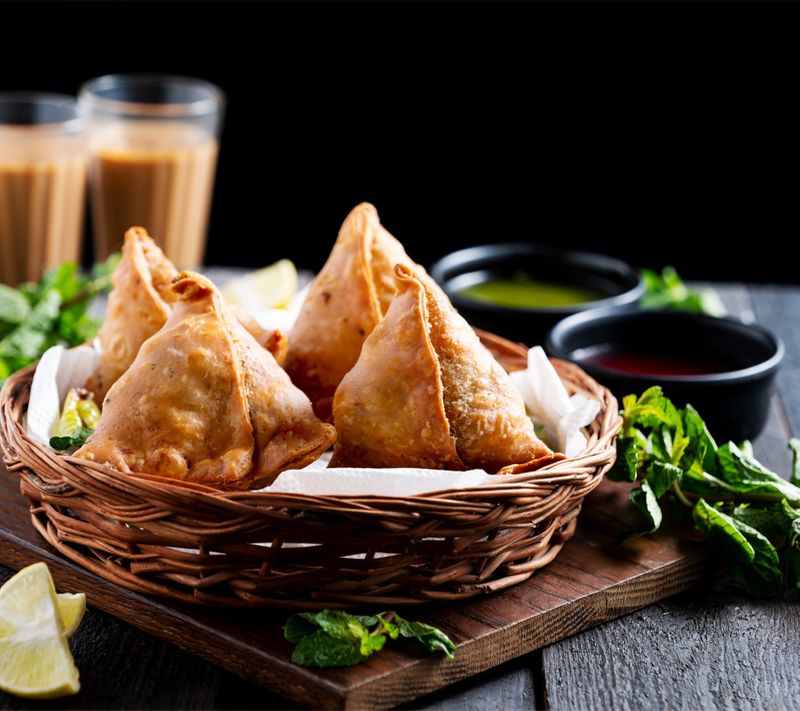 Samosas can get very regional. This anytime-snack really does not taste the same everywhere. The Punjabi version is perhaps one of the tastiest, mostly because it's packed with potatoes (it's also called the aloo samosa). Eaten hot and almost always with chai, it's the dough that does need a little attention. Made with maida, ghee, and salt, you can add slightly warm water to it and bring the dough together. 
A few things to remember when you're doing this: don't panic if the dough is not entirely smooth; in fact, don't overdo the kneading or else your samosa will become tough to the bite. Once it's ready, keep it aside for at least half an hour. For the filling, you'll need to roast dry spices (coriander seeds, methi seeds, and saunf) and then add in the garam masala, curry leaves, turmeric, ginger and garlic, and amchur. Sauté the whole thing and add mashed potatoes to make the delightful filling. Making the pastry requires practice (there are tons of Youtube videos on it)—just make sure when you roll the dough out, it's thin, so that when you fry it, the final result is crispy and not too doughy. 
3. Mathri 
One of the most favourite tea-time snacks from North India, the mathri's best friend is often the pickle. But if you're eating it with chai, we'd recommend a pudina chutney. Making mathri requires time, fortunately there are quite a few ready-to-eat brands that make fairly decent mathri. Some even come in flavoured varieties such as ajwain mathri, methi mathri, bajra mathri, and flaxseed mathri etc. 
4. Chilli bajji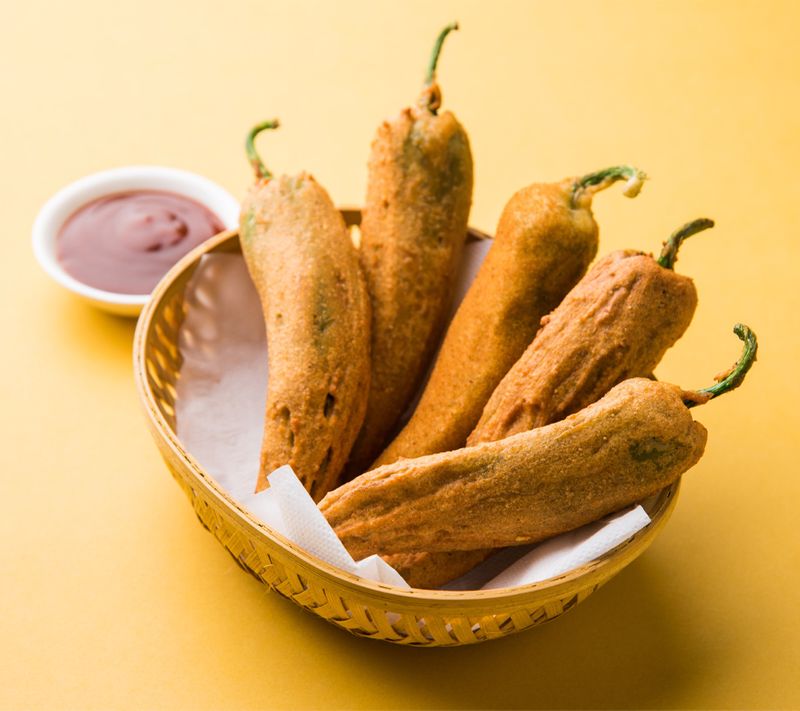 One of the tastiest snacks from the southern region of India, particularly Tamil Nadu, the chilli bajji is truly a treat. If you know where to get bajji milagaai or bajji chilli, the rest is simple. For the batter, you'll need gram flour, rice flour, red chilli powder, salt, and some hing. Mix them together and add some water to reach a thick batter (this is important, the batter cannot be runny). Slit the chillies along the length and remove the seeds. Ideally, chop off the stalk, make a small hole on top and core out the seeds. If you want a stuffing but don't want to work too hard, chopped onions mixed with coriander leaves, a bit of salt, and lemon juice can be very tasty. Fill the chillies, dip them into the batter and coat them completely, and deep-fry slowly. Leave the fried chillies onto a paper towel to drain the excess oil. It goes fabulously well with pudina and coriander chutney. 
5. Aloo Bonda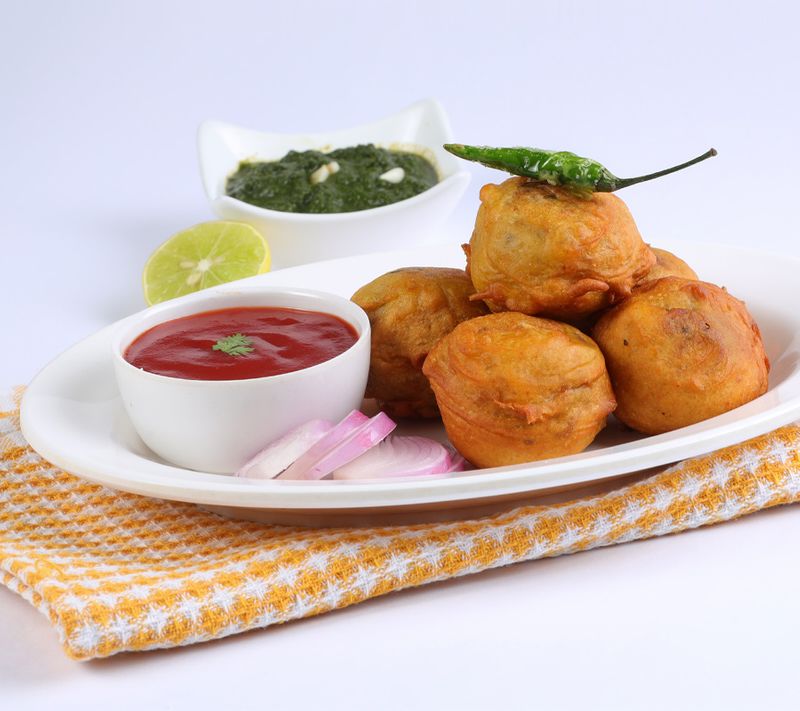 What's not to like about the aloo bonda? Call it aloo chop (Odisha and West Bengal) or batata vada (Maharashtra) there are very few states in India that do not sell the aloo bonda as a street-side snack. But if you want to make it at home, there are quite a few variations in recipes. If you want a South Indian version, you're likely to add rice flour to gram four to make batter. The filling is usually made by sautéing boiled and mashed potatoes in onions, ginger garlic paste, mustard seeds, urad dal, hing, curry leaves, green chillies, and lastly, coriander leaves and some salt. Sauté, cool it down, shape them into roundels, and dip them in batter to deep fry. Easy-peasy! Aloo bonda is usually served with pudina chutney or even coconut chutney in the southern States. But it tastes delicious even with good ol' ketchup. 
6. Chanajor garam 
Made from roasted flattened chickpea, this is one snack that is not only healthy (well more or less) but also hard to resist. Chanajor garam is available in ready-to-eat packs but you can always make them tastier by adding chopped onions, tomatoes, coriander leaves, salt, and lemon juice to get that typical street food flavour. Plus it's rich in protein and is gluten free. 
7. Onion pakoda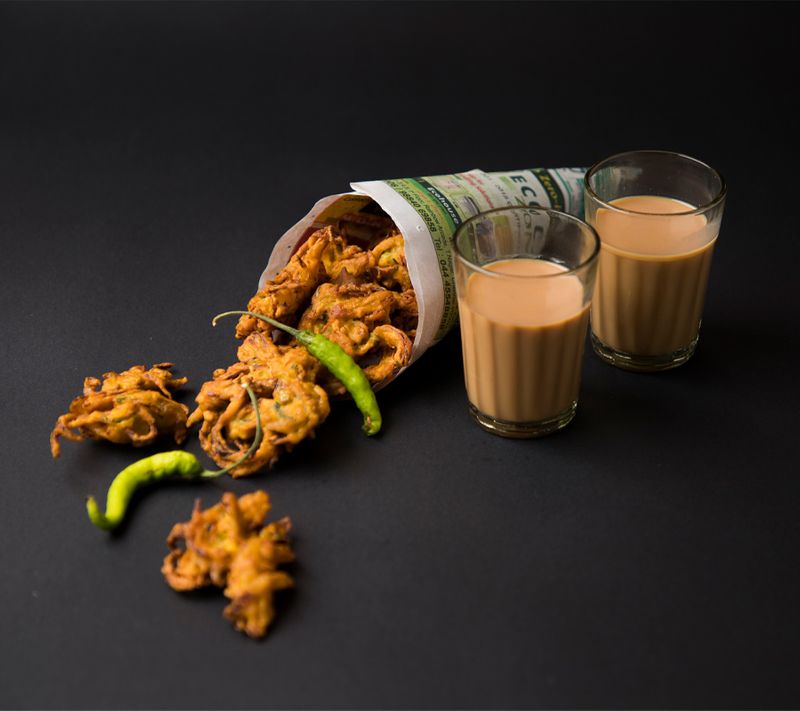 Pyaaz pakodas or onion pakodas are a common favourite across the country. It's something that reminds us of train journeys, old Hindi movies with chai, or a gossip session with old friends. Recreate those memories at home by making them right at home. What you need are onions, finely chopped green chillies, and a few curry leaves (I usually skip this one), coriander leaves, chilli powder (depends on how hot you want the snack to be), turmeric powder, cumin powder, ginger paste, ajwain (skip this if you don' have it), salt to taste, and besan. You can also add rice flour to besan for the batter but that method is not common outside of south India. Slice the onions into rings, add everything but the besan and mix well. The onion has its own water so you won't need any when you add the besan. Now fry them in hot oil but remember to keep the flame mid-high so as to not burn the pakodas. It's best had with mint chutney or ketchup, and is an ideal partner for chai. Also, sprinkling some chaat masala on top does wonders. 
8. Fuluri (cauliflower fritters)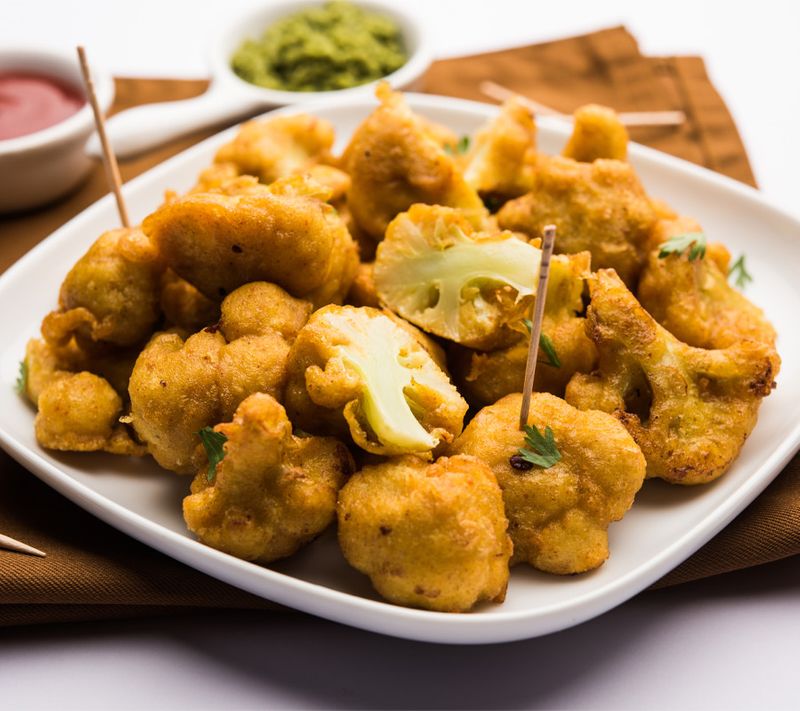 Fuluri or cauliflower fritters is as Bengali as it can get. You need small to medium-sized cauliflower florets, gram flour, egg (or water if you don't want to add egg), rice flour, turmeric, chilli powder, baking soda (optional), rock salt or plain salt, finely-chopped onions, and green chillies. Mix all the ingredients—the florets go last—and drop them into hot mustard oil to fry. The process is quite similar to that of making onion pakodas. If you have enough batter, you can use it to also make onion pakodas and beguni and make your own basket of fries. 
9. Beguni (brinjal fritters)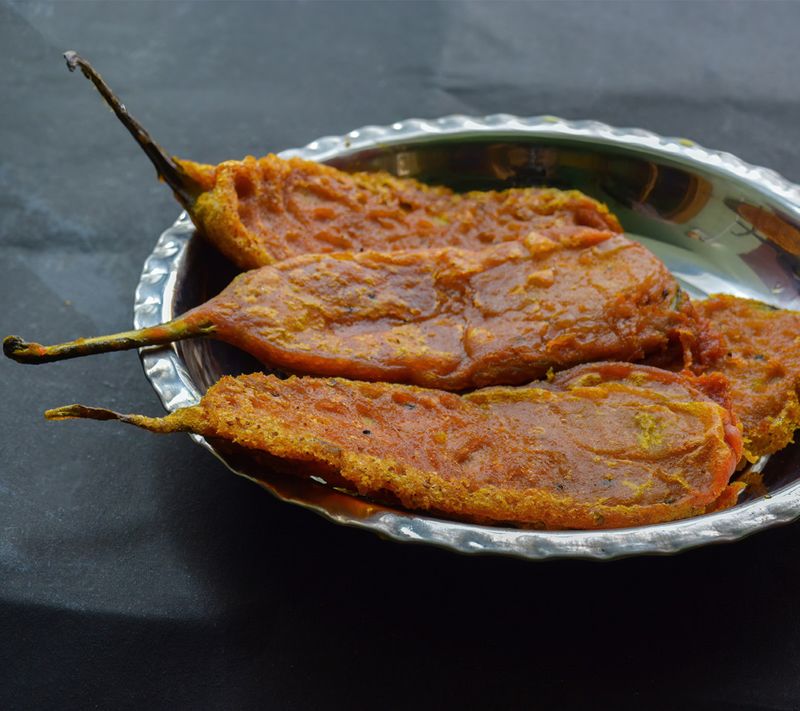 Thinly-sliced brinjals, dipped into batter, and fried—the beguni, a star snack from Bengal—beats most homemade snacks. The batter is usually a mix of besan and rice flour in which the round slivers of brinjal are dipped and deep fried. To make the batter, mix the flours and add turmeric powder, salt, sugar, red chilli powder (mostly for the colour), and mix it with water. Add the water slowly while you beat the batter to make sure it's smooth and not too runny. You also need to prep the brinjals by rubbing some salt over the slices and then spreading them over a paper towel to absorb excess moisture. Deep fry these slices in hot mustard oil, and enjoy. Again, a sprinkling of chaat masala or even rock salt on this is delicious.
10. Bhakadwadi
This addictive snack is popular in Maharashtra and Gujarat, but is not really as local as one might assume because you get pretty tasty Bhakadwadi online. Made from gram flour and shaped into spirals—it's stuffed with coconut, and poppy and sesame seeds, and then fried. Some brands also roast them (if you're counting calories). Delicious and served without any dip as such, it's perfect as an evening snack. 
Buy here
---
Photo: Shutterstock