Of all the Indian snacks that come from the western part of the country – kothimbir wadi, patra, vada pav, fafda-jalebi, khandvi – dhokla is one of the few that has earned itself a good reputation. Unlike other Indian snacks which are often tagged as unhealthy, calorie-laden and cholesterol-raising, the dhokla, especially homemade dhokla, is considered healthier.
To find out whether the claims of 'dhokla is good for weight loss and is a healthy snack' are true, we got in touch with Kavita Devgan, a nutritionist and author from Delhi. Read all about dhokla benefits here. 
How Dhokla Helps
"Dhokla is an extremely healthy snack, as long as it is made at home," says Devgan. "A single piece of homemade dhokla contains just 65 calories. The ones sold in the market often contain sugar syrup which is added to enhance the taste of the dhokla," adds Devgan. Basically, the market-bought dhokla has the potential to increase your daily calorie-intake and may lead to weight gain in the long run. So store-bought dhokla is good for weight loss may be a myth but dhokla benefits us. 
The dhokla recipe is made using a fermented batter of rice and split chickpeas. The healthy dhokla is then steamed and not shallow or deep-fried like most other Indian snacks. These two processes in the homemade dhokla recipe – fermenting and steaming – are what earn dhokla extra brownie points since they enhance the snack's nutrient content. So, should you eat dhokla for weight loss? Can't say yet. 
"Fermented foods like dhokla and idli show us that bacteria aren't all bad and they can be put to good use too. Such foods pave the way to a healthier gut and intestines by restoring a proper balance of bacteria in the gut. In addition, they also help us digest, absorb and make better use of all the nutrients we're consuming," explains Devgan. So, according to the expert, homemade dhokla benefits our digestion. 
The micro-organisms present in the dhokla batter break down the complex protein, fats and carbohydrates in our system into easily digestible molecules. So, considering all the health benefits such fermented foods are associated with, she suggests we include at least one such item in our daily diet.
According to Devgan, dhokla helps in normalising blood pressure levels. "The magnesium content of besan (gram flour) helps in maintaining vascular health and it also helps in the regulation of blood pressure," she explains. Lastly, the glycemic index (a figure representing the ability of a food to affect the blood glucose levels) of dhokla is low so it makes this food a diabetic-friendly snack. 
The Versatility of the Humble Dhokla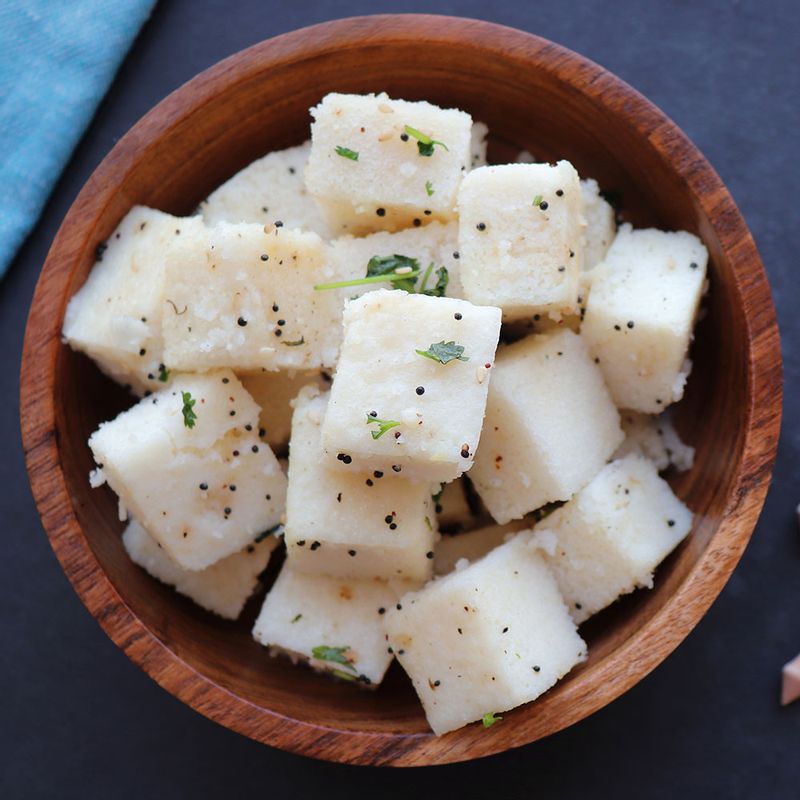 Another good thing about the healthy dhokla is its versatility. While there is always the classic bright yellow, fluffy dhokla made with gram flour, you can replace the base ingredient in the healthy dhokla recipe with rice, semolina or oats. In addition, you can even experiment with other ingredients in your dhokla recipe. Add spinach paste or grated beetroot to the batter or add different types of lentils to make healthy dhokla at home. 
This Gujarati staple can be enjoyed with a variety of mouth-watering chutneys. While the perfect and typical accompaniments for the dhokla are green chutney and sweet-sour tamarind chutney, one can also relish it with raw papaya chutney/salad, sweet-and-sour ginger chutney, pineapple-fennel-chilly seed chutney and basil-tamarind-fenugreek seed chutney.  
If you are thinking eating dhokla for weight loss, we'd suggest make a healthy dhokla at home, so you can have a control over the ingredients and process of cooking, to ensure it is healthy after all. 
---
Photo: Shutterstock