An array of colours, a burst of flavours and a sweet tinge – that's how we like to define one of Gujarat's most irresistible snacks, dhokla – nope, not khaman, just dhokla. The dhokla recipe can be made using the fermented batter of rice, split chickpeas or rava.
The batter is steamed and the bite-sized, spongy goodness is then garnished with a tempering of mustard seeds, sesame seeds and coriander leaves before serving. A plate full of dhokla is usually served with a curd-based dhania or coriander chutney. Dhokla can be eaten for breakfast or can be served as an appetiser during dinner or lunchtime.
You can always make your own dhokla at home but when you're in Mumbai, don't forget to check out these eight places for the best dhokla in town!
1. Foodspot
At their Worli outlet, we spotted the classic dhokla recipe presented in a variety of ways – from the rice flour dhokla to poha dhokla. The highlight for us was the fenugreek (methi) and moong dal dhokla. We just can't get over those green spongy savoury cakes. For us, it was the dhokla's fermented aftertaste that was appealing. Foodspot has an outlet in Ghatkopar too.
Where: Dr Annie Besant Road, Worli
2. Saurashtra Farsan Mart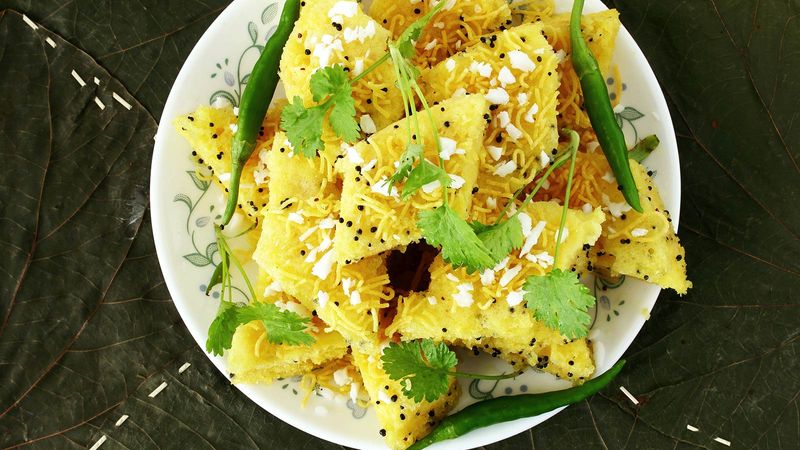 If you're ever in Dadar and have the time to treat yourself to some yummy food, you must visit the Saurashtra Farsan Mart, located just a few minutes away from Dadar station. Although the snacks shop is popular for its Amiri Khaman, which is khaman crumbles mixed with sesame seeds, sev and pomegranate; we'd suggest you try their soft and fluffy white dhoklas too. The dhoklas here come with their lip-smacking green chutney. The white dhokla recipe is usually made using rice batter.
Where: NC Kelkar Road, Dadar West
3. Soam
Ever tried Soam's farsan platter? If not, try it once and we're sure it will replace your favourite movie-time snack. The platter of snacks consists of palak cheese patti samosa, makai wada, ghughra and dhokla. While we're a fan of all the four snack items that are served on the platter, the dhokla, in particular, calls for most of the attention. The dhokla served at Soam is light and juicy with a sweet and tangy flavour. By the end of your meal, you'll be wanting Soam's dhokla recipe for yourself.
Where: Opposite Babulnath Temple, Chowpatty
4. Gaurav Sweets & Namkeen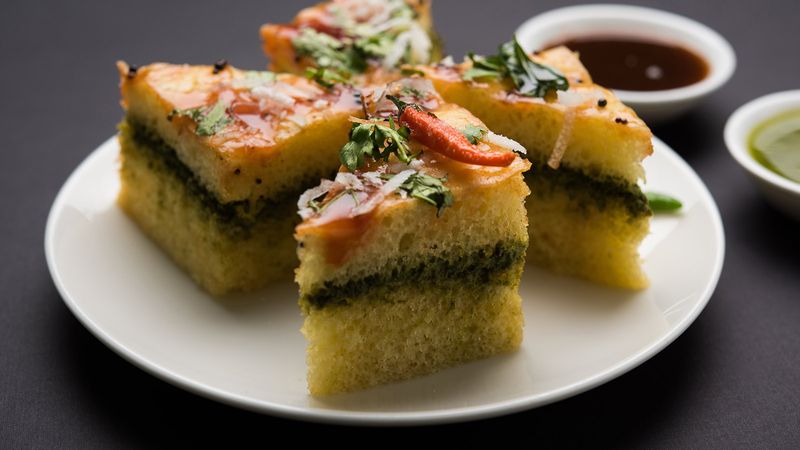 If you wish to relish the taste of Gujarat at affordable prices but don't want to compromise on the hygiene bit, then this is one of the places you need to visit. This is your typical mithai shop which also sells Gujarati and Maharashtrian snacks. Gaurav Sweets & Namkeen is known for its thinly-rolled khandvis (another famous Gujarati snack made with gram flour) and dhokla. This shop has four outlets across Thane, all of which are experts at the dhokla recipe.
Where: Hiranandani Estate, Thane West
5. Rajubhai Dhoklawala
If you're one of those who like variety in their food then Rajubhai Dhoklawala in Kandivali is your perfect destination. They have experimented with the classic dhokla recipe to come up with eight varieties of dhokla – from khaatta (rice flour) to the rava version. They are also famous for their Nylon Khaman, a type of khaman made with besan.
Where: Mahatma Gandhi Road, Kandivali West
6. Tewari Bros Mithaiwala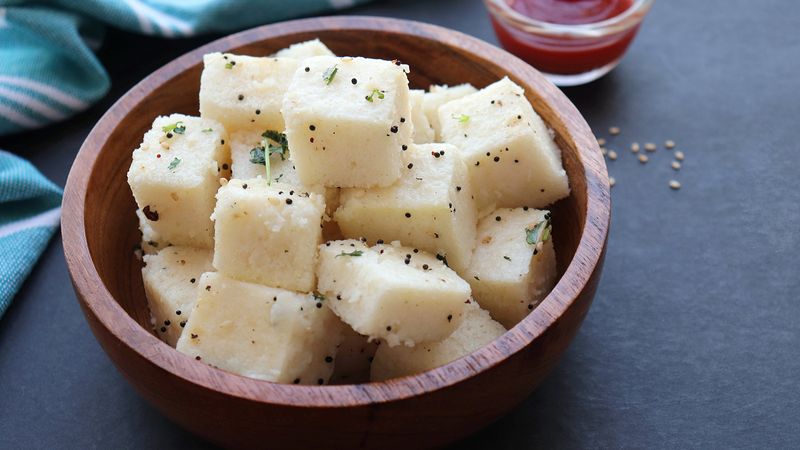 Tewari Bros has several outlets across the city and is one of our go-to places for desi ghee sweetmeats. It may be famous for its collection of Indian sweets but Tewari Bros Mithaiwala is also popular for the snacks and farsan it offers. Kachori, samosa, mixed chaat, papdi chaat and more - you will find your fill of snack options here. They have stuck to the classic dhokla recipe and offer two varieties - yellow dhokla and white dhokla. Thanks to their unique texture and flavour, you won't miss the other dhokla varieties.
Where: Near Sion Hospital, Sion West
7. MM Mithaiwala
Not everyone can perfect the dhokla texture. Of the few who have got it on point is MM Mithaiwala in Malad West. This place, a stone's throw away from Malad station, is always packed with people binge-eating from an amazing spread of snacks. In case you're thinking of buying some dhoklas, we'd suggest you go early in the morning as their dhokla stock gets over pretty quickly.
Where: Opposite Malad Station, Malad West
8. Bikaner
Have you ever tried the combination of jalebi and dhokla? In case you haven't, please do so at this snacks shop. The sweet taste of the jalebi goes perfectly well with the mildly tangy flavour of the dhokla. Bikaner has outlets across Mumbai that make dhokla, just search for the one nearest to you and try this interesting combo.
Where: Sector 7, Kharghar, Navi Mumbai
---
Photo: Shutterstock