The birth of Lord Ganesha is celebrated with immense pomp and show by his devotees around the world. One of the most widely celebrated festivals in India, it's time to gear up and welcome Lord Ganesha into our homes on the 31st of August. Beautiful pandals adorned with exotic flowers and gleaming lights are put up to welcome Lord Ganesha who resides on his throne for 10 days, blessing devotees. Every year we come up with Ganapati decorations ideas that range from extravagant to simple to appease the lord. If you are looking to get creative with your Ganesh Chaturthi decoration at home, this year we have some great ideas that will set the mood for this auspicious festival.
Ganpati decoration ideas for home
Flowers
Festivals in India are incomplete without flowers; rather, the more the better. An auspicious occasion like Ganpati calls for unique floral decor in attractive colours. If you're looking for Ganpati decoration ideas with flowers, start with the entrance. A pair of marigold strands strung as a toran will elevate your Ganpati home decor up a notch. For a more festive vibe, set up a corner of fresh flowers along with palm and banana leaves around the mandap. The colourful vibe of positivity and purity sets the perfect ambiance for Lord Ganesha to reside.
With decorations taken care of, take a peek Inside the Kitchen of Mumbai's Wealthiest Ganpati Pandal for cues on what offerings can be made at home.   
Dupatta Drapes  
A simple Ganpati decoration for your home, this DIY idea is cost-effective and gets your creative juices flowing. If you have colourful dupattas lying around, drape them around the mandap as a background for Lord Ganesha. A mix of bling, pastel, and embellished dupattas draped like canopies around the mandap is a trendy decor idea to try during Ganpati this year. 
Curtain of Lights  
Ganpati Utsav is a festival that brings families and friends together to celebrate a joyous occasion. Hosting large crowds at home can be an overwhelming experience, especially if you have decorations, food offerings, and puja to manage all by yourself. An easy idea for Ganpati decoration at home is to hang a sheer curtain as a backdrop for the mandap along with string LED lights. Stick a bunch of fresh and artificial flowers around the platform and voila, you have a beautiful setup ready to welcome the god. You can choose from a variety of options that range from staple yellow to colour-changing neon. Let your personality dictate your choice of colour.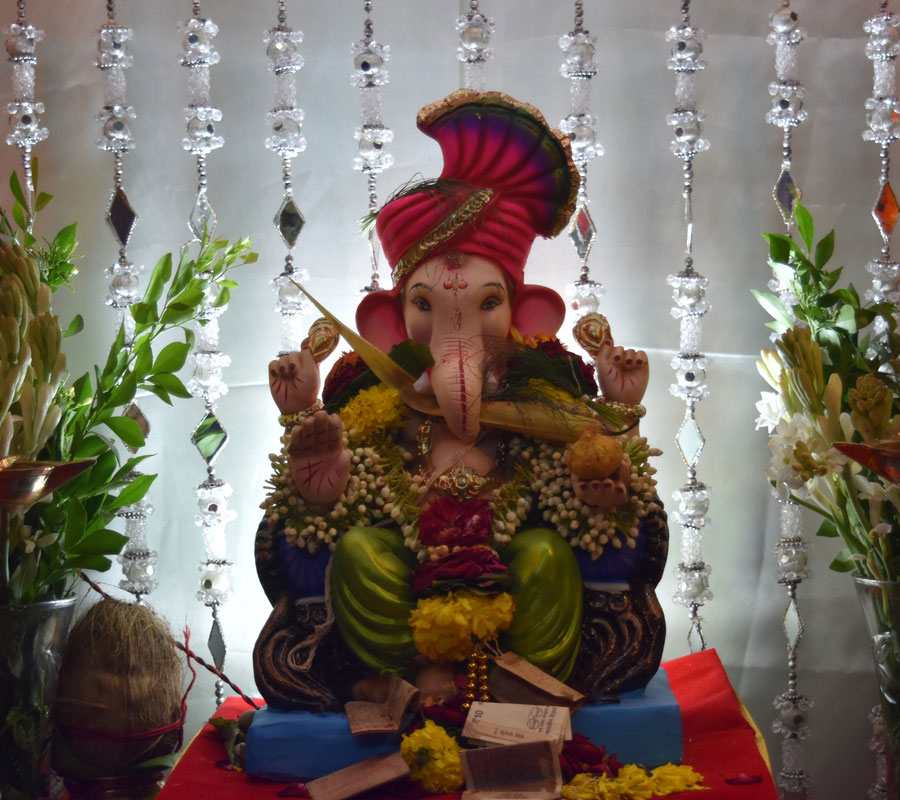 DIY Paper Flowers
Another simple Ganpati decoration idea is to make paper flowers out of colourful scraps. An inventive way to use materials you already have, paper flowers are easier to make than you think. If origami is not your cup of tea, just take a print-out of your choice of flowers, diyas, or stars and make cut-outs from it. Once you're done, stick them on a hoopla ring and create a makeshift mandap out of it. Add glitter to your cut-outs for a shimmery effect at night.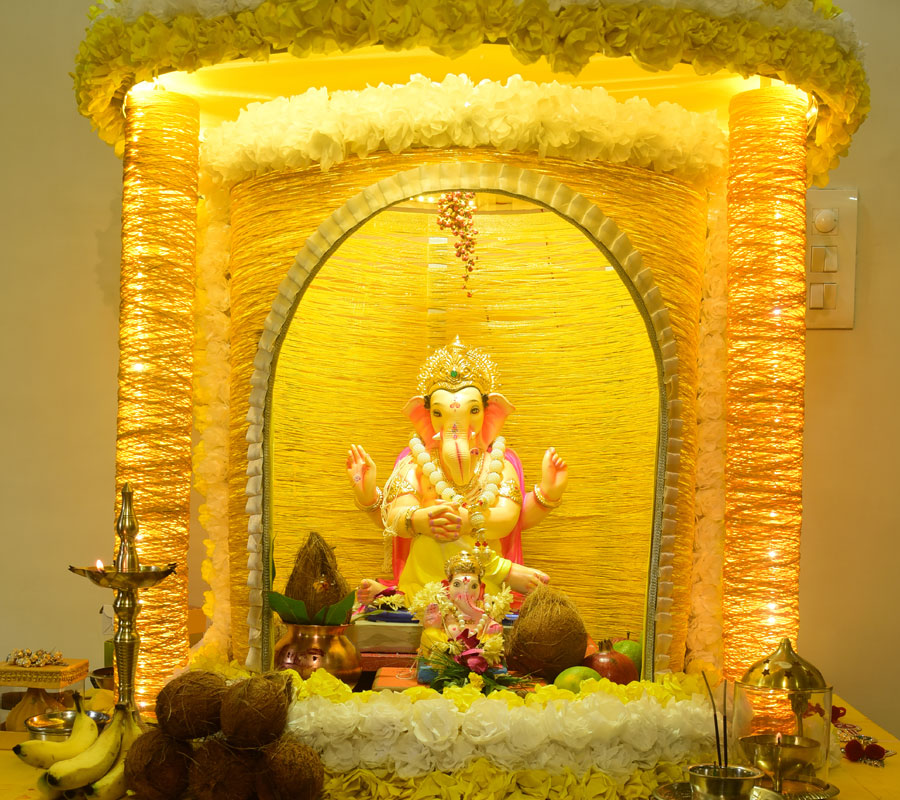 A Lit Affair  
Want to do your Ganesh Chaturthi decoration at home? Try our simple Ganpati decoration idea and watch your home transform into a glistening cosmos. Decorate your home mandap with a mix of colourful candles and diyas innovatively placed around the house for an enchanting appeal. Use candle stands to place pillar candles on the floor around the mandap. A brass or silver urli filled with water, rose petals, and floating diyas will further enhance the ethereal decorations at your home.
You can also use LED string lights inside glass candle holders as a safety measure if you have little ones running around the house.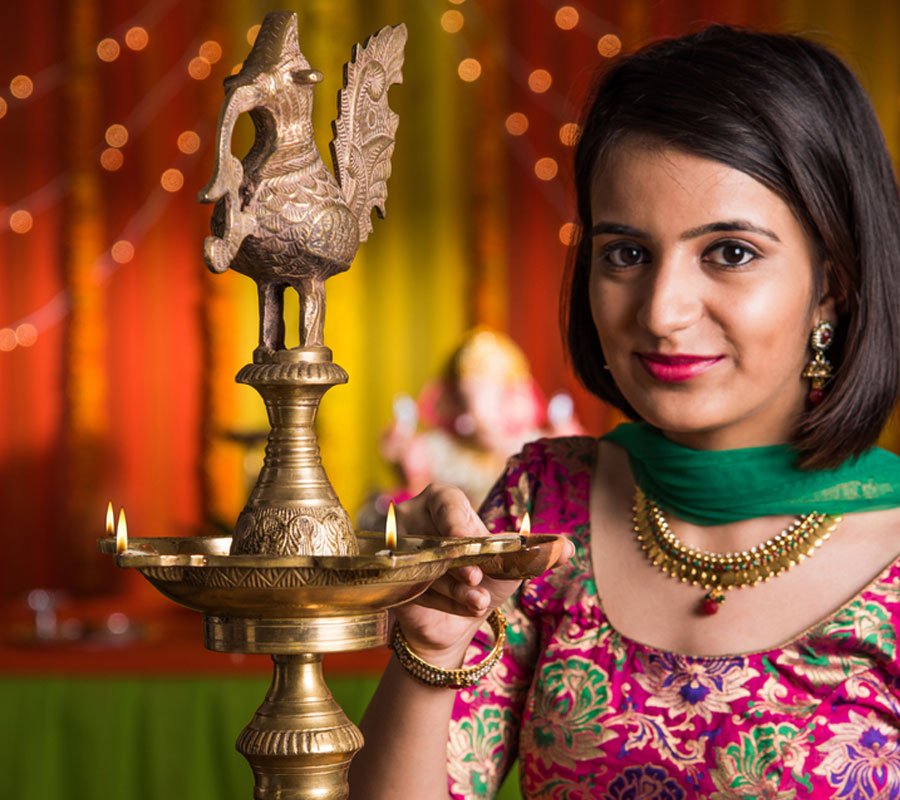 Pick a Theme
A trending decor idea for festivals these days is to pick a theme and work around it. For Ganpati decoration themes you can choose a colour scheme like yellow, believed to be very auspicious during this period. Or you can go the eco-friendly route, where everything from the idol to decor is reusable and generates zero waste.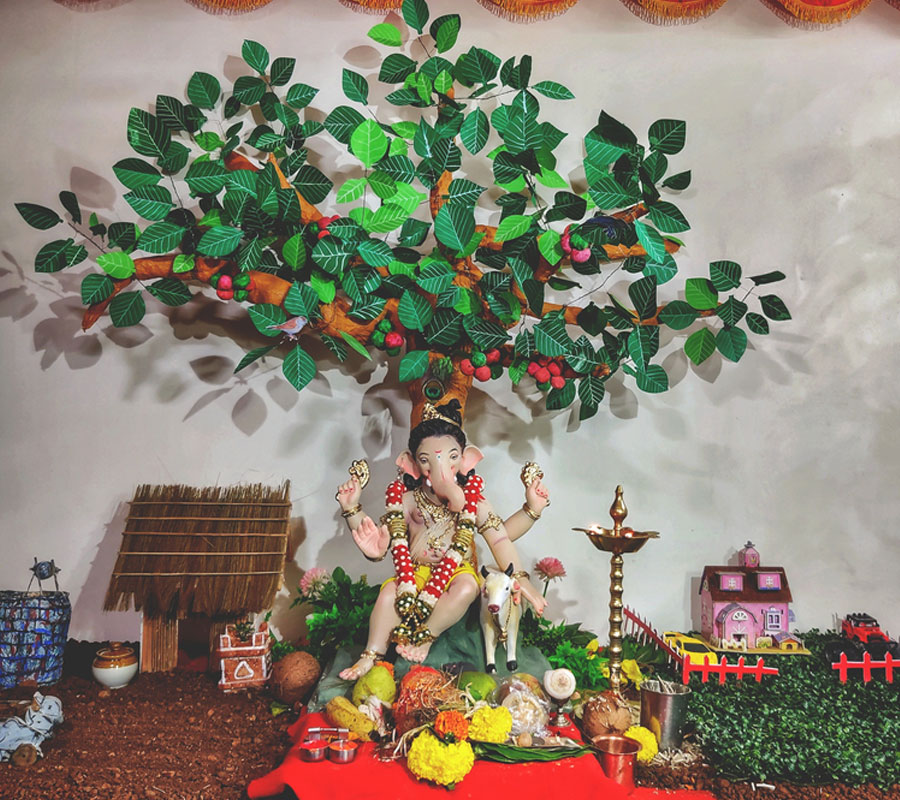 Our six Ganesh Chaturthi decoration ideas are designed to ease the process and ensure you have a fun time welcoming Lord Ganesha into your homes and hearts. Your devotion is not defined by the size of your idol or the variety of flowers; even a simple Ganpati decoration done wholeheartedly will evoke blessings from above. For food offering ideas, you can check out ideas from Ganesh Chaturthi 2021: What Lord Ganesha Eats Around The Country.
Photo: Shutterstock