The famous Lathmar Holi in Mathura doesn't need an introduction; it is the first destination that pops in our head when it comes to Holi. Said to be the birthplace of Lord Krishna, thousands of devotees throng the Radha Rani temple here in Barsana every year to celebrate Lathmar Holi that falls few days before the main Holi celebration in Mathura. As per the Hindu calendar, Lathmar Holi falls on full moon day or purnima of the Phalgun month, when women dress up as gopis and hit the men playfully with stick or lathis when they try to throw colour. The tradition dates to the mythological era of Radha and Krishna, the ideal couple believed to be the symbol of love; where the latter was beaten by the former when he and his friends tried to throw colour at her.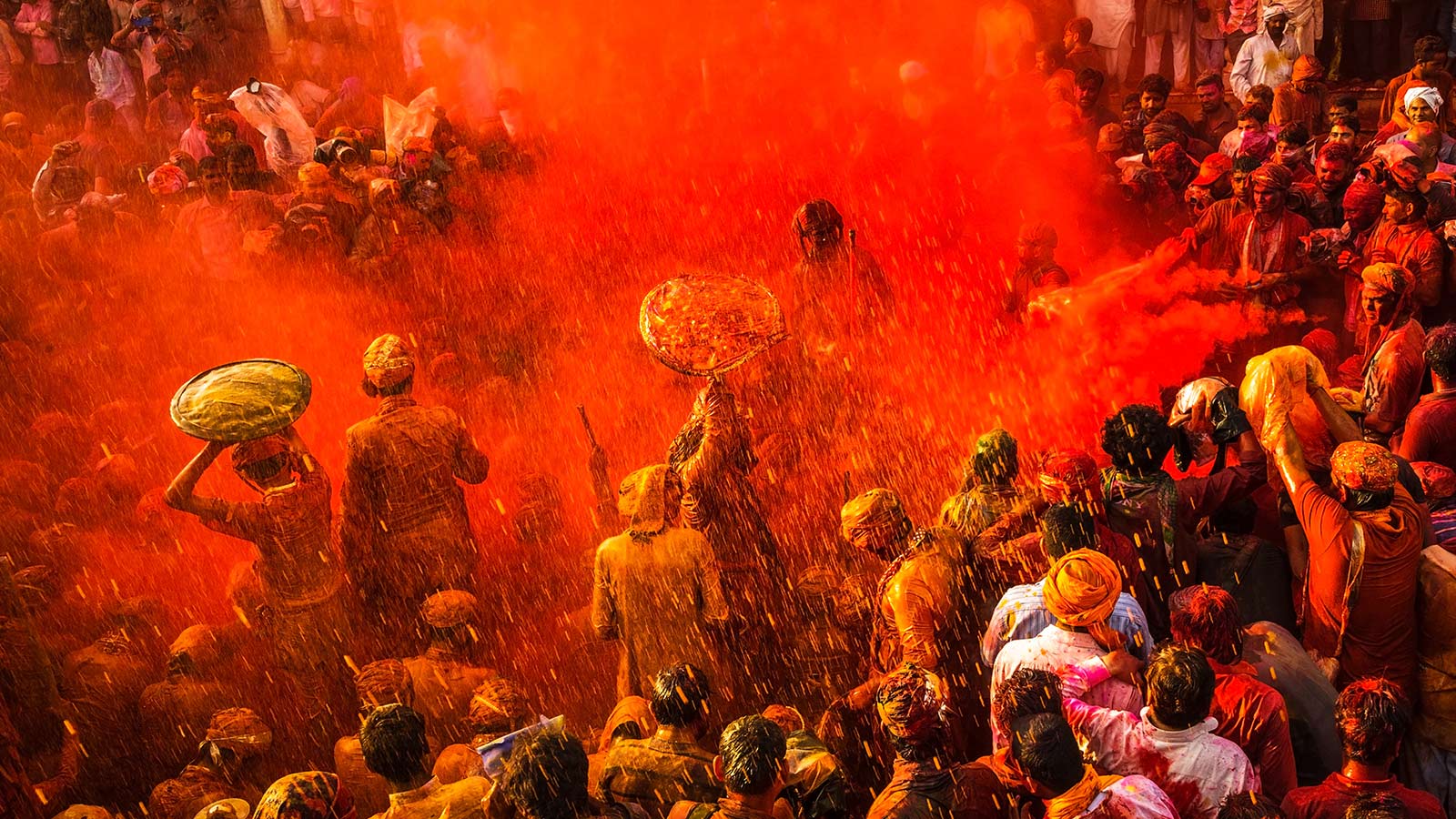 A day before Lathmar Holi celebration in Mathura falls Laddu Mar Holi, where devotees gathered at temples sing, dance and throw laddus at each other, only to be consumed as prasad later. 
A week-long affair, the pomp and show of Barsana's Lathmar Holi is witnessed in Nandgaon as well, and is also celebrated as Phoolon Ki Holi, Gokul Holi and Widow's Holi across Vrindavan. The whole celebration period is marked by dance and music, till the day of Holika Dahan, which falls a day prior to the main festival, also known as the Dhulandi Holi in Brij.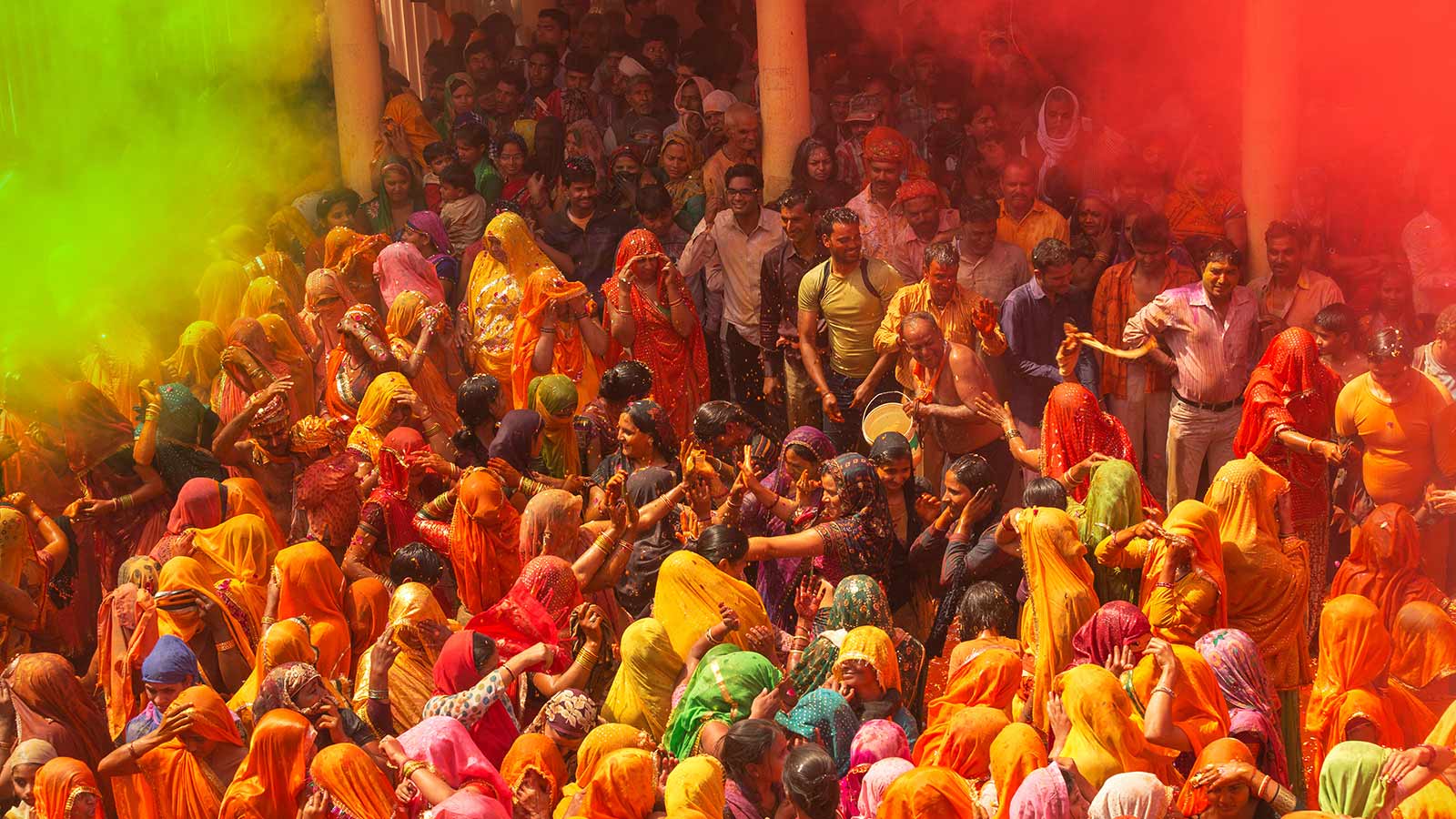 Tourists not just from India, but from all over the world gather to be a part of the whole festive frenzy of Mathura Holi festival, and if you want to experience the same, here are five Airbnbs you can check out on your next trip to Mathura and enjoy Holi in Mathura. 
1. Clean, Green and sunny minimalist modern house
While you are obviously visiting Mathura for the Holi celebrations, if you are also looking to spend some quality time with your family in the quiet, then clean, green and sunny minimalist modern house is the perfect neighbourhood accommodation, from where you can also explore places such as, Khurja, Ferozabad, and Moradabad. 
2. Cozy Room For 2 People. Near Janmabhoomi & Railway Station
However, if you want to be where all the action is, then this cosy room for two, near Janmabhoomi and Railway Station, is the place for you. Not just comfortable rooms, it also offers a lounge, restaurant area and daily housekeeping. 
3. Room For 2-Opposite Prem Mandir-Vrindavan
Those of you who have visited the iconic Prem Mandir must know of its scenic beauty. Therefore, if you want to relive the same, then this room for two, opposite Prem Mandir, Vrindavan is where you get to enjoy the sightseeing. The place also lies close to popular sites such as Banke Bihari and Iskcon temple. 
4. Vrindavan Cottages By Sheosante 
Well, if you are seeking more privacy, you can easily have an entire apartment to yourself at Vrindavan Cottages By Sheosante. 
5. Brij View - Premium Serviced Apartments & Suites
Another apartment again close to the famous Prem Mandir is the Brij View - Premium Serviced Apartments & Suites, which offers a complete view of the city and is also well furnished. 
Photo: Shutterstock