If I had to introduce Serbia in a few words, I'd simply say that Serbia is an undiscovered gem—especially among Indians. Bordering countries like Hungary, Romania, Bulgaria, North Macedonia, Croatia, Montenegro, Bosnia, and Herzegovina, the landlocked country is situated in the heart of the Balkans. It's no wonder then Serbia is a heady cocktail of multicultural influences, history, nature, fantastic local food, art, music, science, and everything in between. Moreover, the compact country is one of the most affordable destinations in Europe. With attractions ranging from pre-historic ruins, medieval monasteries, and stunning national parks with emerald-turquoise rivers to wine regions, thermal spas, and a famed party scene—Serbia is a bang for your buck. 
After spending a week in Serbia, I have a million reasons why you must plan a trip to this boisterous country that is Europe's best-kept secret. 
Let's stick to the unmissable ones for now
1. Storied history, architecture, and culture of Belgrade
Serbia's capital city is special and I am saying this for a reason. Belgrade has been conquered as many as 60 times by Celts, Romans, Huns, and Avars, and then fought over by the Ottoman and Austro-Hungarian Empires. The onslaught continued right through the twentieth century when the city suffered heavy shelling during World War II and in 1999 withstood 78 days of NATO airstrikes. However, Belgrade has always managed to bounce back and rebuild itself. This strong spirit of the city reflects in its architecture, landmarks, people, and overall way of life. Moreover, Belgrade has ample secrets—more than one hundred caves, canals, tunnels, and passages that tell the story of its connection to various empires.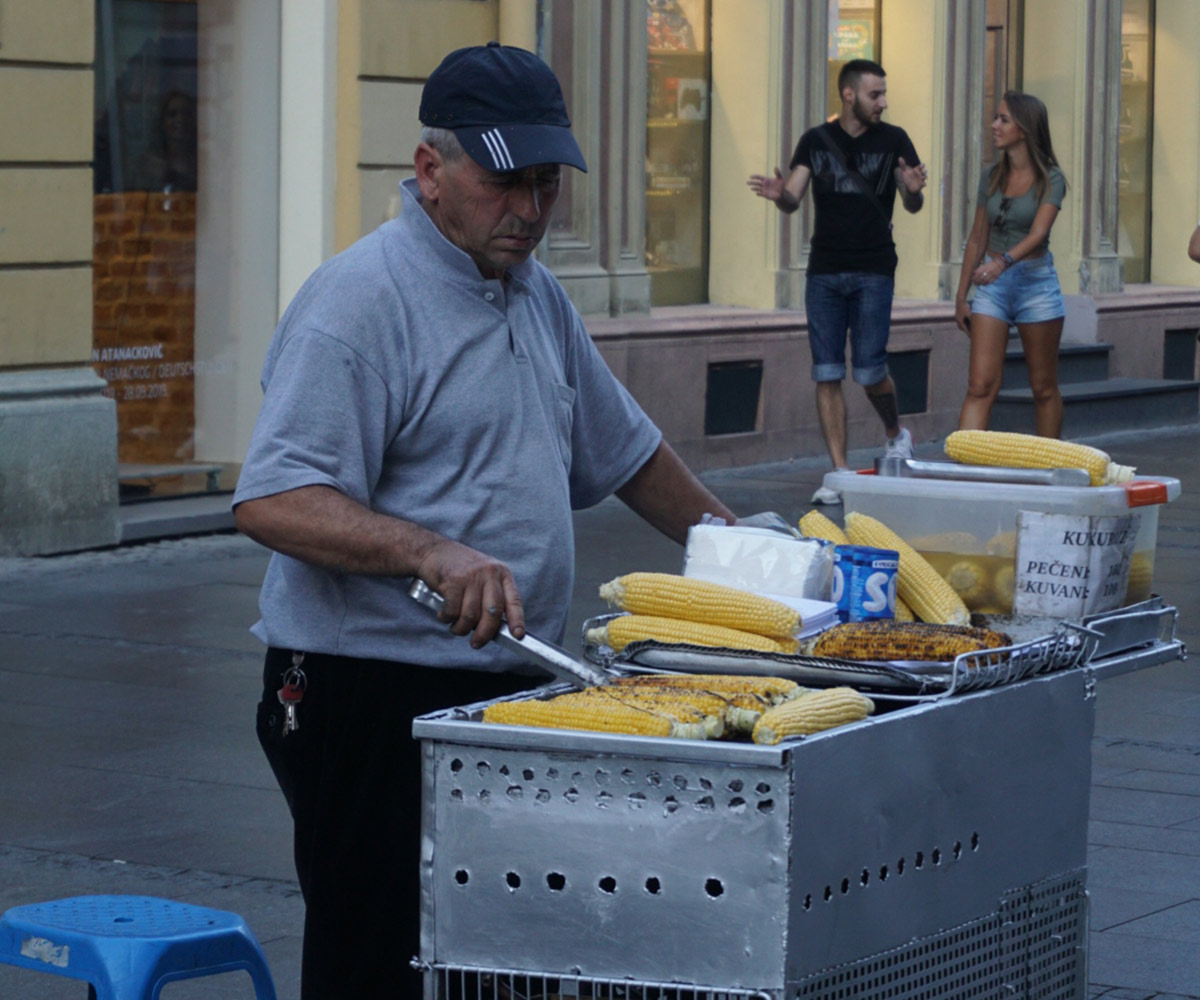 Sunset at Kalemegdan Park
A Monument of Culture of Exceptional Importance, Belgrade Fortress, Kalemegdan Park is the perfect starting point for your exploration of Belgrade. The city once nestled inside its walls. The Upper Town includes the Military Museum, Clock Tower, Damad Ali-Paša's Turbeh, Roman Well, and Victor Monument. The Lower Town, which slopes down towards the river, encompasses the Big Gunpowder Magazine, Ružica, and Sveta Petka Churches, Old Turkish Bath (Hamam), and Nebojša Tower. Take in the scenic view of the confluence of the Danube and Sava rivers from one of the shaded benches at the park. If you make it here at sunset, brace yourself for an other-worldly experience. 
Umpteen choices for a museum lover
When it comes to museums, Serbia leaves you spoilt for choice. Dedicated to the life and work of Serbia's most prominent inventor and scientist, Nikola Tesla Museum is housed in an ex-residential villa and offers a mix of education and science. Tesla's ashes are kept here in a glowing golden orb. Your next stop could be the Museum of Yugoslavia and the neighbouring House of Flowers where Josip Broz Tito, lifetime president of the Social Federative Republic of Yugoslavia, is laid to rest. A must-see is a display of several priceless gifts Tito received in his lifetime such as his portrait painted on half a grain of rice, a flag of Yugoslavia that has travelled to the moon, and a desert rose from Libya. 
The impressive underground crypt of St Sava Temple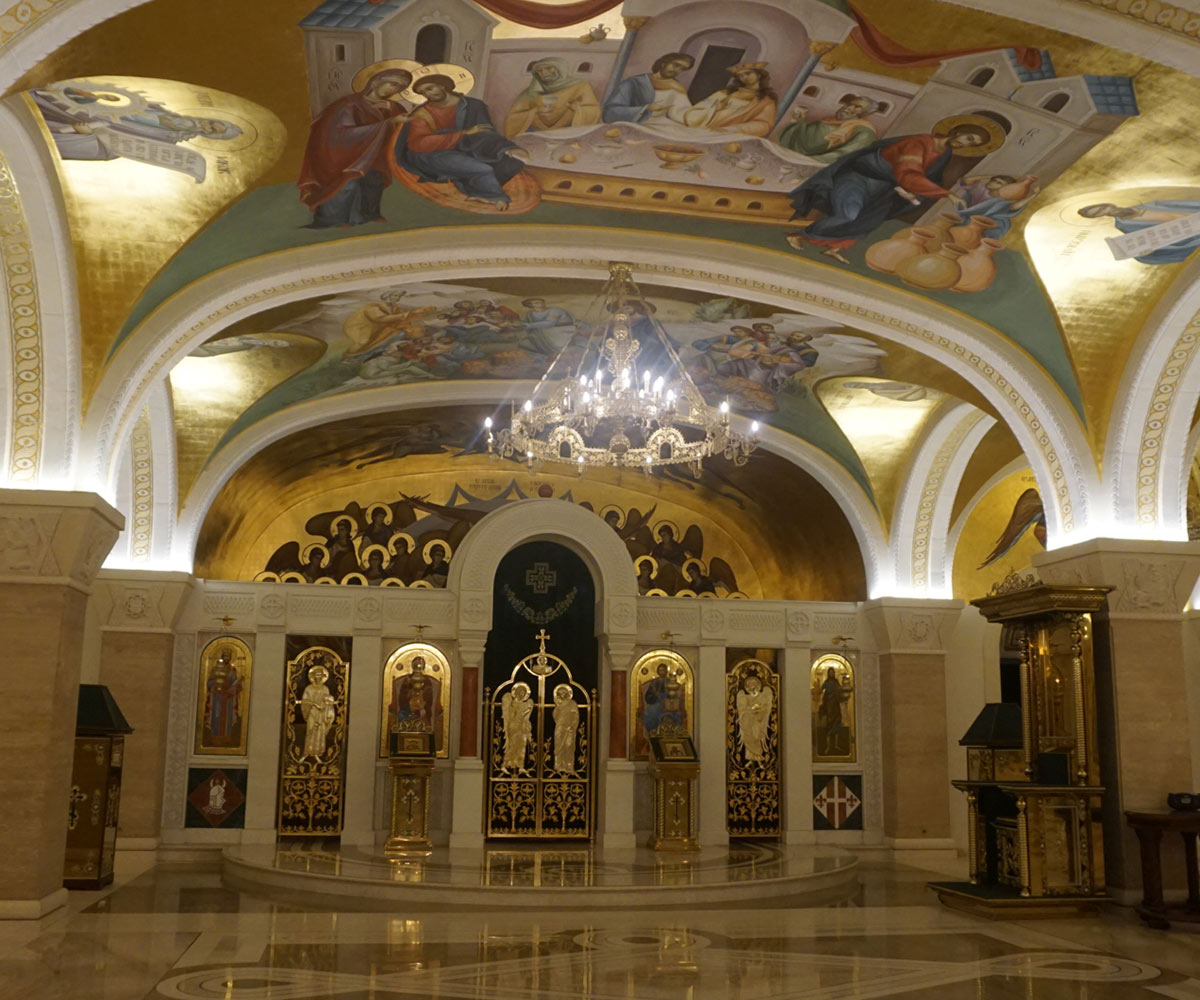 The crowning jewel of Belgrade, St Sava Temple is the second largest Orthodox temple in the world. With a story that rivals that of Barcelona's famously incomplete Sagrada Família, this temple has been a work-in-progress for more than 100 years. However, its underground crypt is something that will blow you away. The massive archway-accented room with ornate gold chandeliers, Murano glass mosaics, and stunning frescoes is a sight to behold. 
"Let's meet by the horse"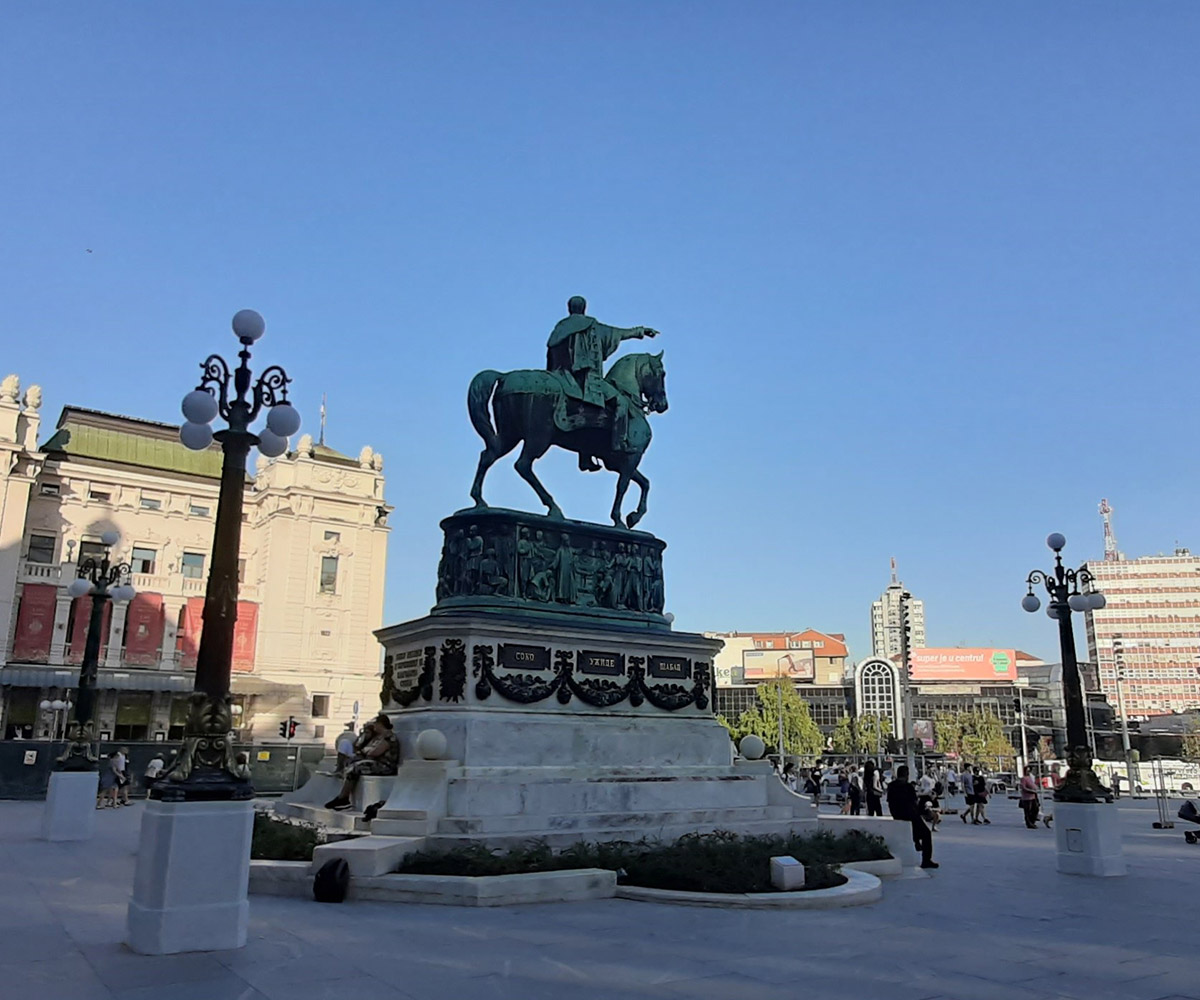 When you hear a local saying the above, you must know that they are referring to the equestrian statue of Prince Mihailo Obrenović III in the main Republic Square. He was the famous ruler who released Serbia from the Ottomans. Make sure to witness the monument during the day and at night. It looks marvellous under the moon-lit sky!
2. World-famous, seven-days-a-week nightlife
Serbs certainly know how to celebrate life and party hard. According to English actor and comedian Michael Palin, Belgrade has so many nightclubs 'they can't fit them all on land'. Thus, splavs or splavovi came into being. Splavs are unique "floating river clubs"—mainly disco clubs on water, and revellers flock to the White City from around the globe to party on the many splavs on the Sava and Danube rivers. Each splav tends to have a distinctive vibe and personality. At most clubs, the action begins around 11 pm and usually lasts until around 4 am. 
Belgrade has endless places where you can drink and be merry. The barges on the one-kilometre strip of the Danube are sophisticated—many are restaurants that morph into drinking dens later in the evening. The once dilapidated, now stylish Savamala district, with its hip and artsy joints, is the crowning jewel of fun outings. Beton Hala district too has a cluster of floating nightclubs.
It's difficult to avoid putting Dorćol on the list when it comes to Belgrade's amusing neighbourhoods. The restaurants, cafes, and bars here don't just play foot-stomping music but also serve a variety of international cuisines. While sauntering down Dorćol, don't miss the colourful murals. 
Boasting a huge student population, Novi Sad and Niš are home to an invigorating mix of pubs, bars, and clubs packed with a younger crowd bubbling with energy. 
For an artsy soul:
After a long day of walking around Belgrade, consider unwinding in an exquisite atmosphere of a kafana (traditional Serbian restaurant with a charming, old-school atmosphere) in the bohemian quarter. Less than 400 metres long, Skadarlija Street is renowned for its traditional 19th-century charm preserved in old-style taverns and restaurants, art galleries, antique and souvenir shops. A stroll down this lively cobbled street will take you back to the time when this area was a meeting point for prominent Serbian and Yugoslav artists, poets, and writers. Gorge on local delicacies as well as domestic wines, brandy, and beer while swaying to live traditional Serbian music
3. Local cuisine and rakija 
Serbia is a true paradise for you if you're someone who finds pleasure in good food, more so if you're a meat-eater. Since it is located centrally in the Balkan peninsula, people from different parts of Europe settled here over a period of time—bringing their own culture, customs, food, tastes, and influences. Hence, the country serves highly-diverse, spicy food that's an amalgamation of Greek, Bulgarian, Turkish, and Hungarian cuisines. 
Sample these local specialities 
Traditionally, the Serbs have been well-supplied with dairy products like milk and cheese as well as meat, honey, and wax. These ingredients are predominant in local dishes even today. Here are some dishes you must certainly try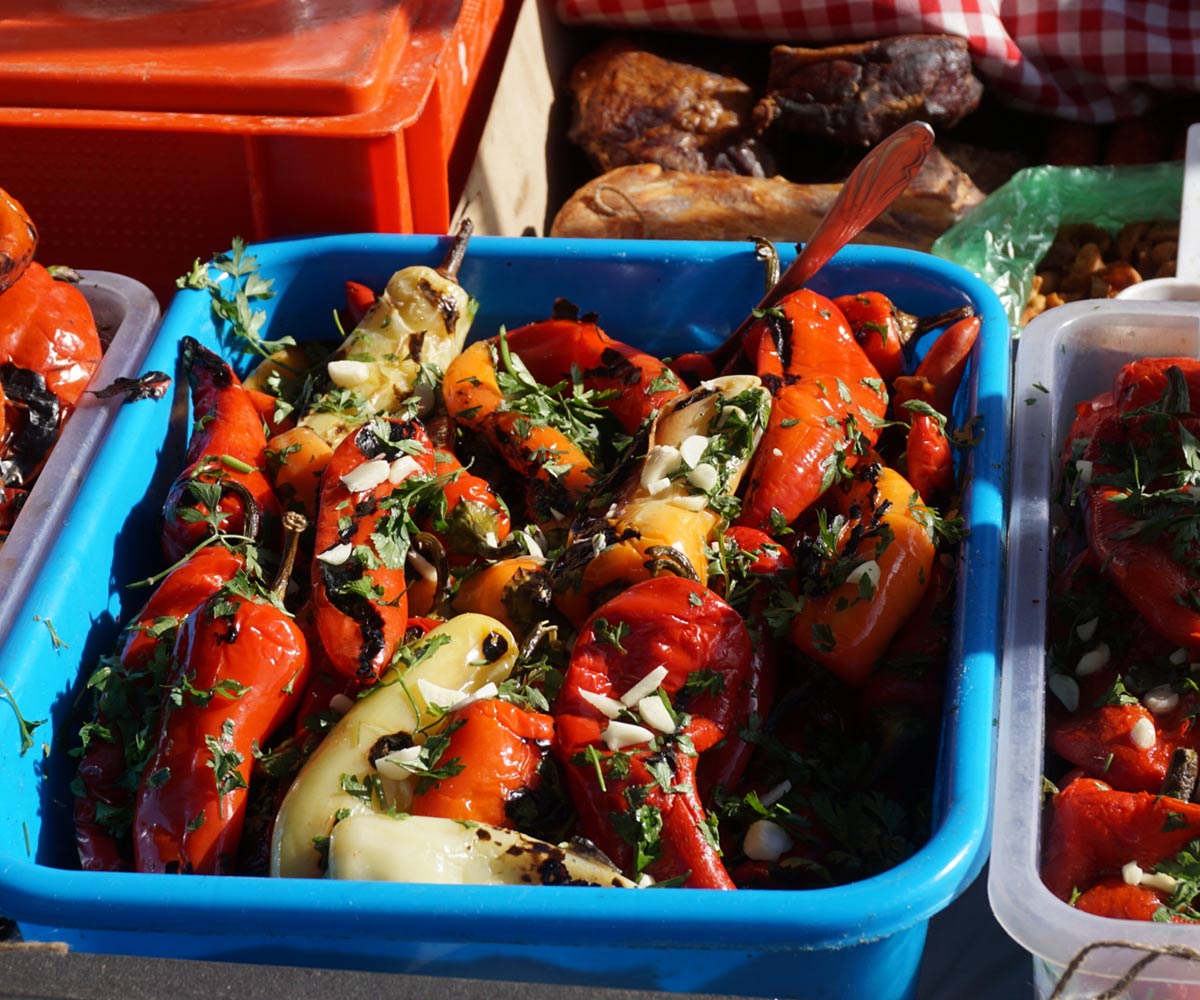 KAJMAK - Traditional Balkan salty milk cream
BUREK - Thin dough sheets stuffed with cheese, minced meat, or spinach. 
CEVAPI AND PLJESKAVICA – Spiced, ground meat (beef, pork, lamb, or a combination of these) shaped into a traditional sausage-like stick and grilled to perfection. Pljeskavica (pless-kah-vee-tsah) is similar to cevapi but comes in the form of a patty in a flavourful and juicy Serbian hamburger.
GIBANICA - Serbian cheese pie, eaten for breakfast or dinner food in Serbia. Try one with meat, spinach, or pickled cabbage fillings. 
SARMA - Serbian stuffed cabbage cooked in a clay pot 
RAKIJA - Serbians make many of their foods from scratch and rakija is an example of the same. Each family has its secret recipes for a special blend. As plum is considered a national fruit in Serbia, it is used to brew Slivovitz which is a kind of rakija. However, tread lightly as it is high in alcohol content. 
Tip: If you're looking at bringing back a bottle of rakija, make sure you buy it through a local, trusted friend rather than buying it from a supermarket. This way, you're likely to get high-quality rakija at a lower price. 
MUST VISIT: Don't miss the Kalinic Pijaca Green Market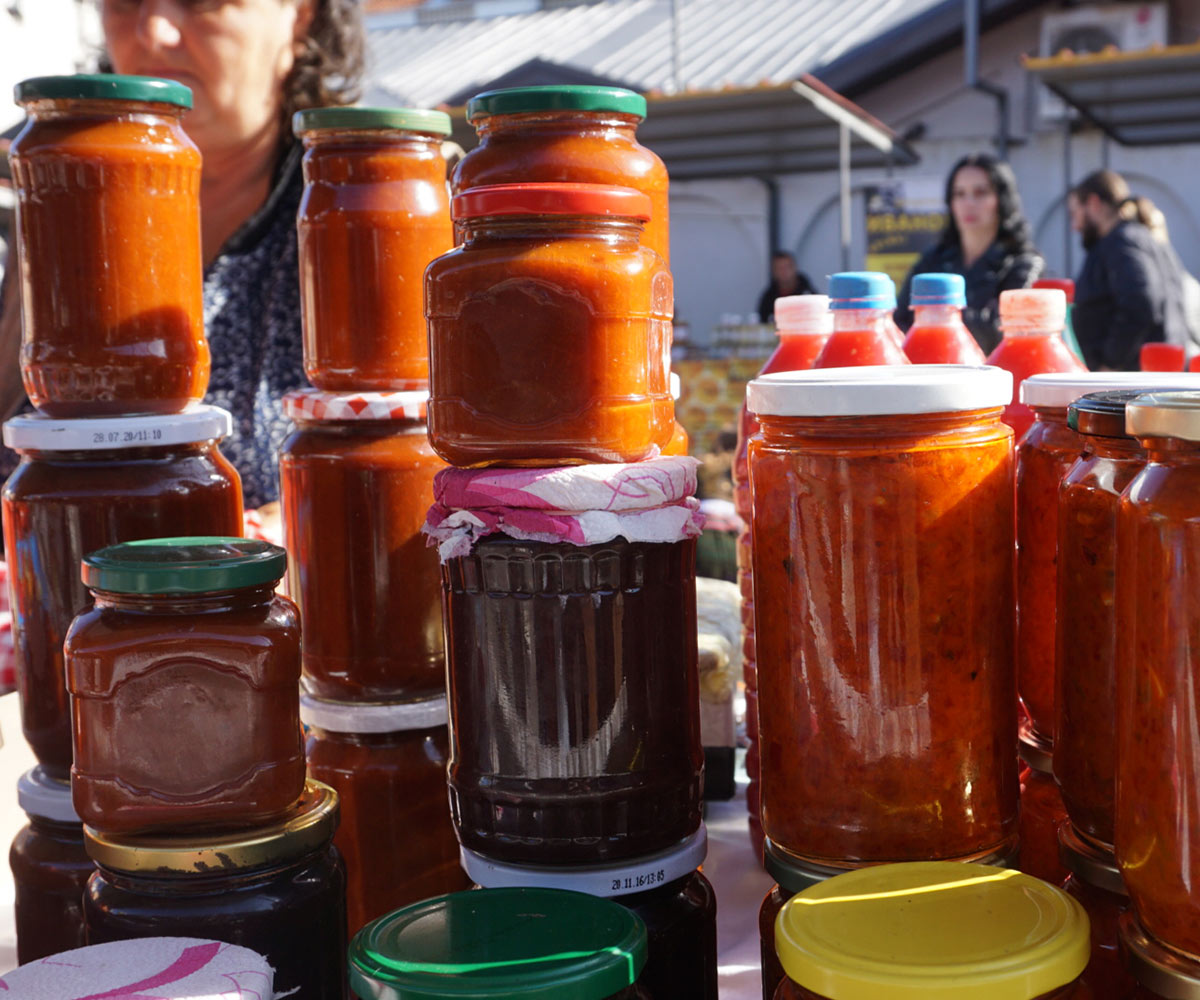 In the heart of the refined Vračar neighbourhood, near the famed Sava Temple, Kalinic Pijaca is a bustling open-air market with stalls selling culinary delights from all over Serbia. Take in the fragrance of fresh flowers, chat with local vendors who readily offer free samples of homemade ajvar, jams, honey, local cookies, olive oil, nuts, seeds etc, or browse the bric-a-brac section. You're likely to find stalls selling wooden chopping and cheese boards in funky shapes as well as local craftsmen working with various materials like clay, cane, bamboo, and more. 
4. Beauty of Vojvodina 
Serbia's northernmost region, Vojvodina, is where you come across elegant towns, indulge in delicious wine and honey, and delve into intriguing history, classical architecture, and culture. Despite being part of empires and nations as diverse as Roman, Ottoman, Austro-Hungarian, and Yugoslavian—Vojvodina has maintained a unique identity of its own. 
Honey and wine tasting, baroque architecture in Sremski Karlovci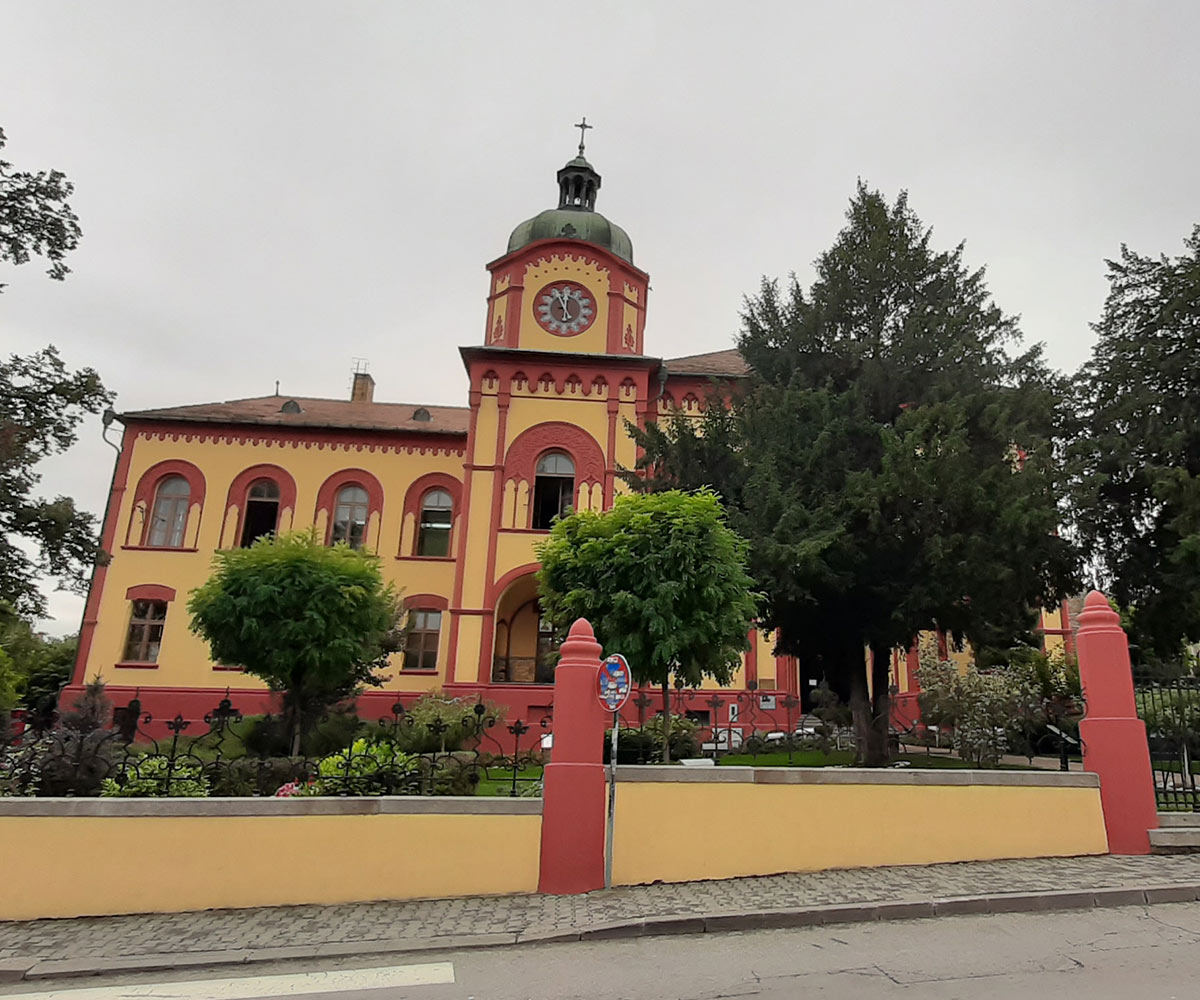 Less than 80 km from Belgrade, Sremski Karlovci is the prettiest little town in Serbia. Part of Fruška Gora, the town has everything revolving around the main square which is named after the town's greatest poet Branko Radičević. The square is home to a rose marble baroque fountain made in 1799, St Nicholas Orthodox Church, Patriarch's Palace, city museum, and the Chapel of Peace where the Treaty of Karlowitz was signed. Sremski Karlovci is also home to Serbia's first high school and the ultra-Instagrammable red and yellow Karlovci Gymnasium. 
Make sure to visit the Museum of Beekeeping and Winery Živanović, one of the oldest wineries in Vojvodina. When here, you get to learn how the production of grapes and wine was started by Teodor Zivanovic back in 1770. Today, the seventh generation in the family is producing wines. Take a tour of the spacious yard with over 200 hives and a wine cellar with barrels made in 1910. The wine degustation here includes seven different wines and three types of honey (all flowers, royal jelly, and sesame seeds). A favourite among many, their bermet—a special dessert wine—comes with more than 27 different spices, fruits and herbs. It is often enjoyed with kuglof which is a traditional Serbian cake.  
A tour of the Petrovoradin Fortress  
Your next stop should be the Petrovaradin Fortress that is seen towering over the river on a 40m-high volcanic slab. This mighty citadel is dubbed "Gibraltar on the Danube" due to its imposing presence. It is no surprise that it took 88 years to build this fortress with its complex network of subterranean passages. The fortress lost its military role after WWI, and is now a cultural centre. Consider a guided tour of the fortresses' underground passages or take a walk around the former arsenal building that now houses the main part of the City Museum of Novi Sad. The Fortress's dungeons have held notable prisoners like Yugoslav president Tito. 
Austro-Hungarian influences in Novi Sad 
The biggest town in Vojvodina and the second biggest in the entire country, Novi Sad is unique in its feel and architecture. The buildings here resemble those you'd find in Vienna, Budapest, and other places in Central Europe. The colourful tiled rooftop of Novi Sad's distinctive cathedral is reminiscent of Austro-Hungarian architectural styles. Pastel-coloured townhouses soothe your eyes, popcorn vendors and bubble makers enliven the streets, and beautifully-lit restaurants, cafes, and pubs invite you for a meal accompanied by rakija. Albert Einstein and his wife Serbian scientist Mileva Marić lived in Novi Sad for a while. 
Finish with a meal at a salaš 
A salaš is mainly a traditional farmhouse built out of local materials. Since Vojvodina has rich, highly cultivable soil, they are spread all over the region. Today's contemporary Serbian salaš has many amenities like lodging facilities, a kitchen where the family can host a homemade meal experience, a barn, some stables, and a dedicated space to store excess food. A visit to a salaš is a great way to witness the simple Balkan way of life as opposed to the busyness of cities like Belgrade. The food served at a salaš is prepared from freshest, locally-sourced ingredients, using simple cooking methods.
5. Untouched wilderness at Tara National Park
If you're planning to visit western Serbia, it is worth spending a day exploring Tara National Park and the surrounding area. From the magnificent viewpoints and rich flora and fauna to fairy-tale lakes and many wonders of nature, Tara has it all. While the national park is the key habitat of the brown bear in Serbia, it is home to more than 135 varieties of birds and a wealth of plant species. Choose one of the marked trails that take you to viewpoints offering impressive views of the colossal Drina River Canyon that touches the border of Bosnia and Herzegovina. A sunset here is a tranquil spectacle of nature. The best part about Tara National Park is that 83.5%of the area is forested. For the same reason, it is also known as the lungs of Serbia.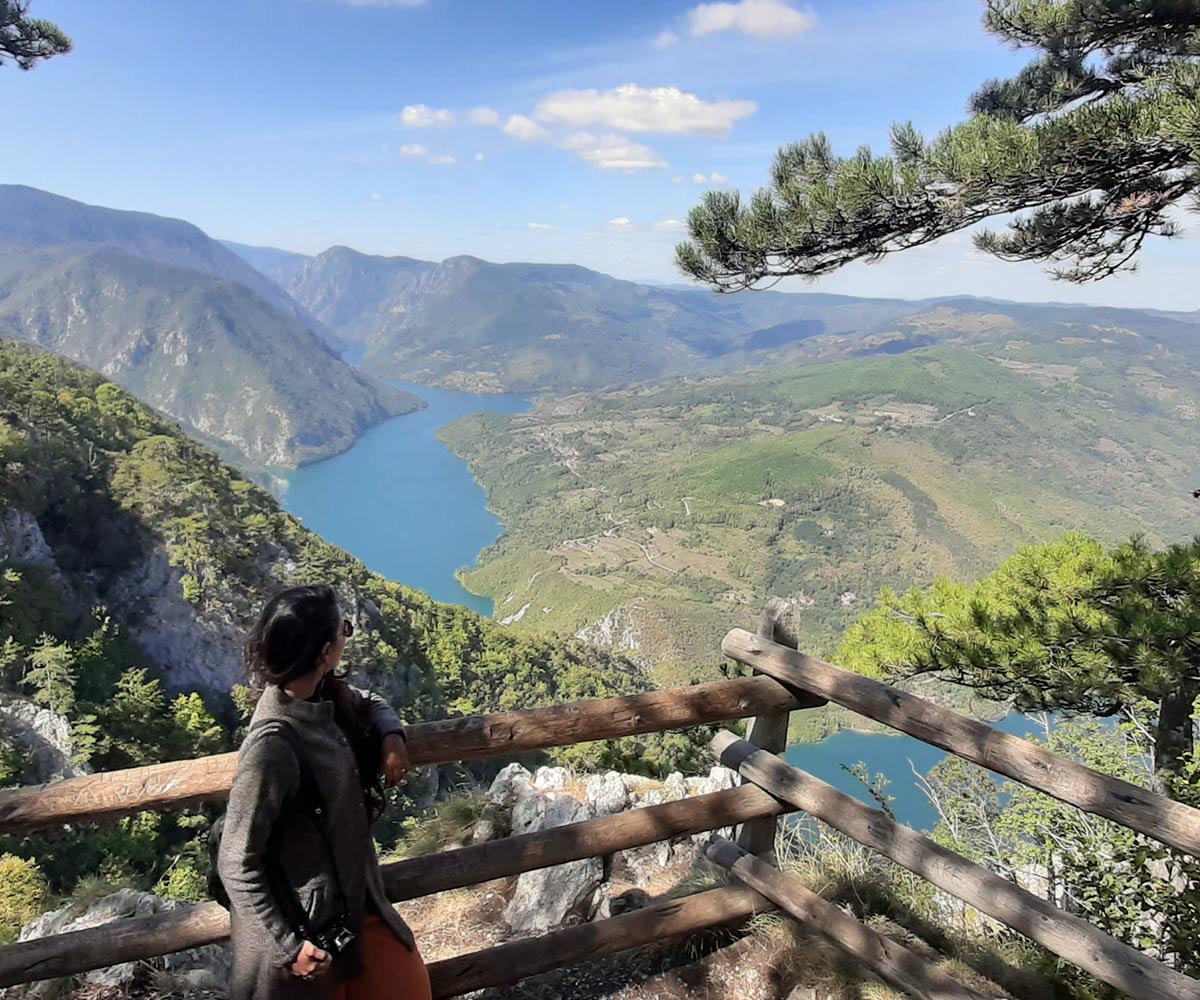 The four to five-hour drive from Belgrade to Tara National Park will take you past farmlands and rolling hills. Before entering the park, make a quick stop in the town of Bajina Basta to photograph the Drina River House – a small wooden structure perched atop a rocky outcrop. The Drina River house was built in 1969 after a group of youth realised that the rocky island is an ideal location for swimming and tanning. 
Created in 1966 by the damming of the Drina, Lake Perućac is dotted with houseboats, pontoons, and paddleboats. It's a fantastic place for swimming, sunbathing, kayaking, and canoeing. On the other hand, if you are not the adventurous type, you can take a boat ride and soak in the calmness of the emerald lake at a slower pace.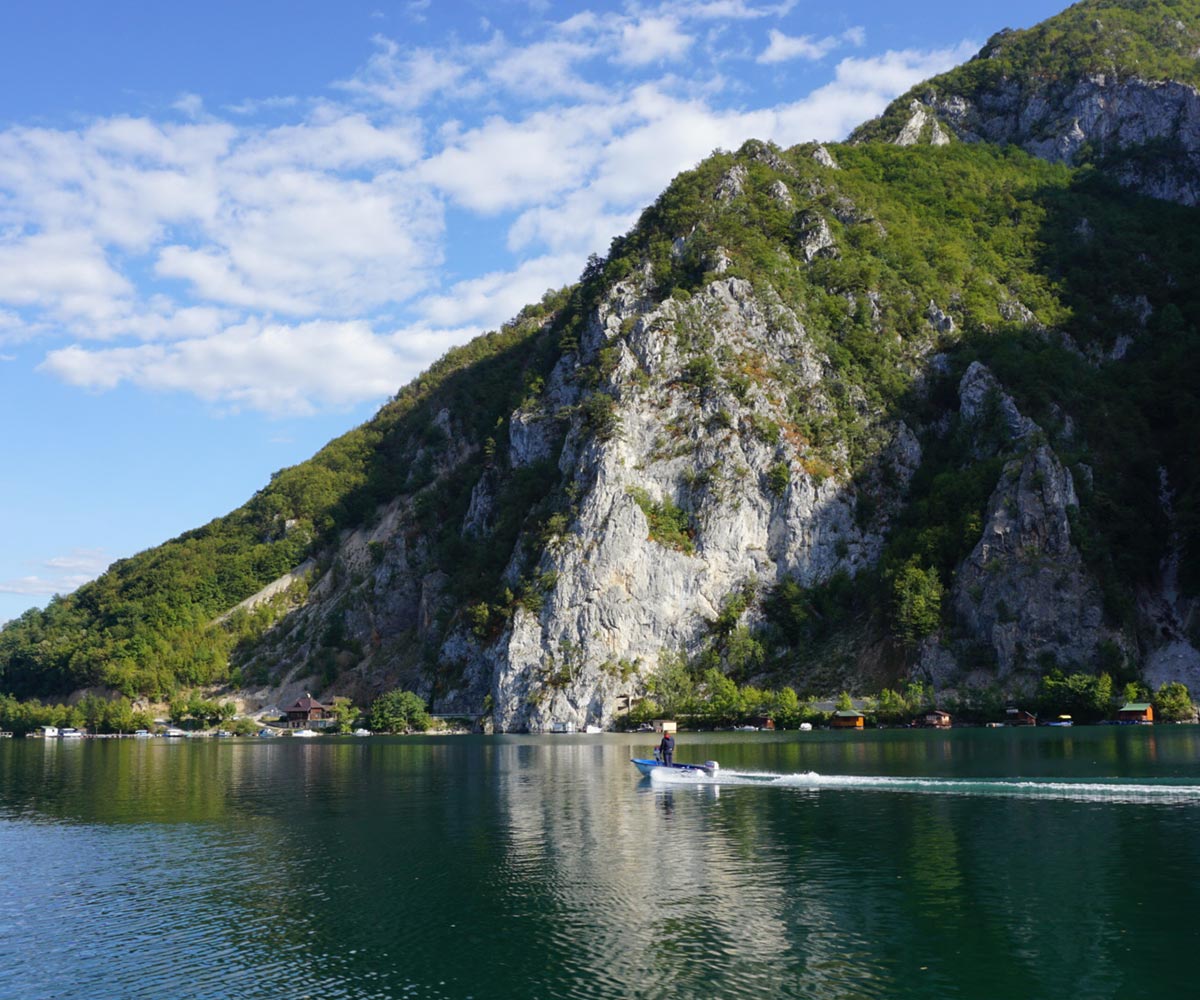 How about a Christmas in Serbia? 
Serbian Christmas is aligned to the Julian calendar rather than the Gregorian one, meaning the key date for festivities is January 7. However, the festive season starts in December and you can enjoy a prolonged holiday atmosphere. Expect enchanting Christmas markets, mulled wine, festive street treats and more.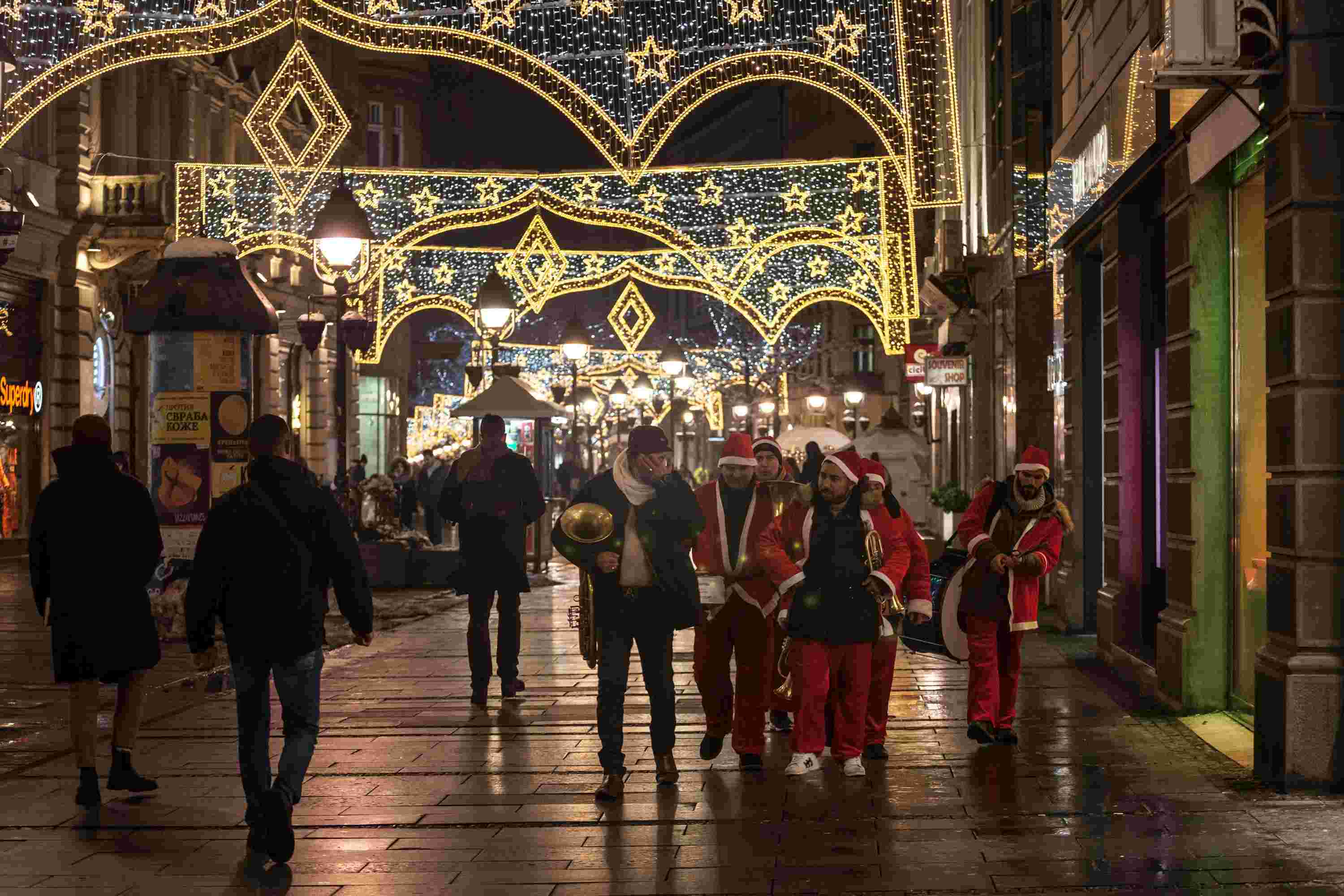 EVERY INDIAN'S FACT FILE FOR SERBIA 
Serbia allows visa-free entry to Indians for 30 days

The currency of Serbia is the dinar (RSD) - 1 Serbian Dinar equals 0.72 Indian Rupee

The country calling code of Serbia is +381

In Serbia, you will see road signs and menus in both Latin and Cyrillic script

While Serbian cuisine is meat-heavy, there are some fantastic vegetarian restaurants too.

In Serbia, English is widely spoken in the cities but less so in the villages.
SERBIAN WORDS YOU MUST KNOW
Zdravo (ZDRAH-voh) - Hello
Dobro Jutro (DOH-broh YOO-troh) - Good Morning
Kako Ste? (KAH-ko steh?) - How are you?
Hvala (HVAH-lah) - Thank You
Ziveli (ZHEE-vay-lee) - Cheers
Laku Noč (LAH-kuh noch)- Good Night 
Izvini (EEZ-vee-nee) - Excuse Me 
Muškarci (MOOHSH-kahr-tsee) — Men
Žene (ZHEH-neh) - Women
Pomoć (POH-mohch) — Help
Photo: Shikha D and Shutterstock