I can never forget my first sighting of La Digue from the ferry, en route the island. It was surreal—soaring granite cliffs rising from sapphire seas and white sandy beaches devoid of crowds. 
Even though La Digue is the fourth largest island in Seychelles, it is spread across only about 10 square kilometres, with a population of just 3000 people. So, when compared to the boisterous Mahe and Praslin islands of Seychelles, this little island is laid-back and sleepier. The relaxed, flip-flop-friendly vibe is accentuated by the wooden pirogues, locally made dugout canoes made from a single piece of log, which dot the coastline and oxcarts that dominate the streets. As I set foot on the island, I am convinced that La Digue is the ultimate wind-down destination.
Life's a beach at Anse Source d'Argent
Once you reach La Digue, the first thing to do is to hire a bicycle. Cycling is the most convenient way to explore the island; you can also opt for cycles with baskets in the front, so you can pack a picnic, snorkel masks and fins. Pedal your way through palm-lined roads and French colonial homes to Anse Source d'Argent.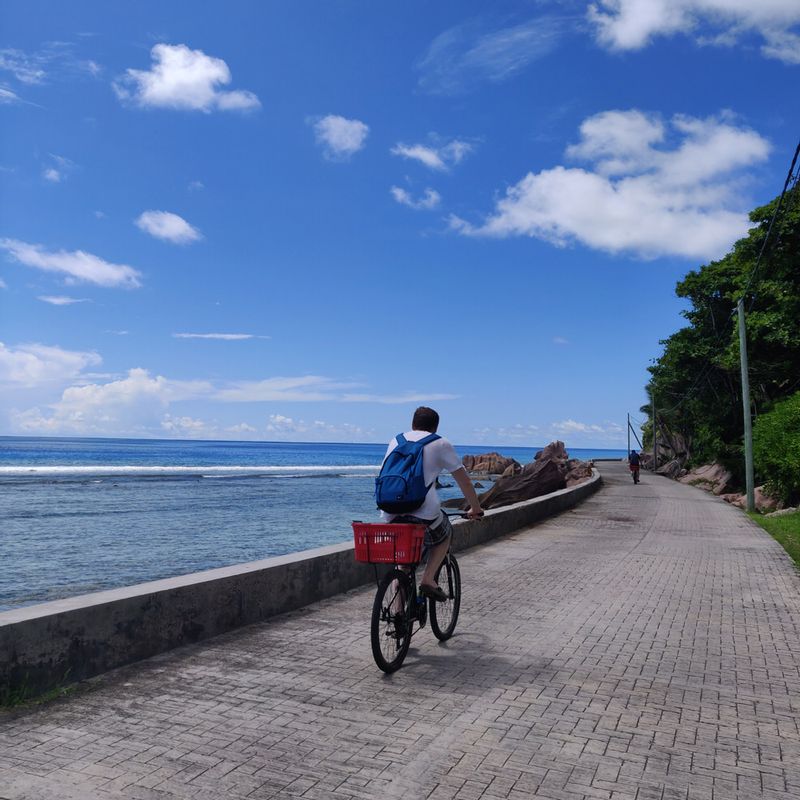 If the huge boulders, perfectly positioned palms and crystal clear waters seem familiar it is for a reason. Apart from being one the most photographed beaches in the world, Anse Source d'Argent has been the location for many film and fashion shoots—this includes Tom Hanks' film, Cast Away. I immediately find a perfectly scooped out granite boulder at the water's edge to perch myself and enjoy the sea breeze rustling through my hair and saltwater rushing over my toes.
No matter how many beaches you may have been to, the pristine seascape of Anse Source d'Argent is sure to take your breath away. The ocean at high tide seems brash, but just as calm when the waves recede and reveal the exposed reef and a kaleidoscope of marine life. I am not a swimmer, so I splash around the shallow waters and spot many schools of fish even without a mask or snorkel. 
There are no hotels or restaurants on the beach, only a small wooden shack selling fresh coconuts and fruits.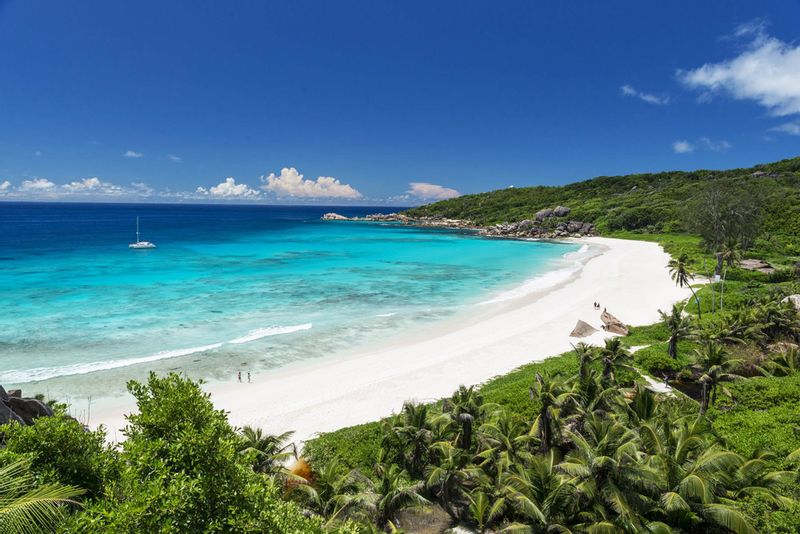 Apart from Anse Source d'Argent beach, La Digue is blessed with showstoppers such as the Grande Anse. The breathtaking and spectacular stretch of silver sand (the sand is so fine; it feels like flour) is framed by granite rocks and watched over by waving palm trees that make it a lovely beach to be stranded at for an afternoon. 
Giant tortoises and emerald forests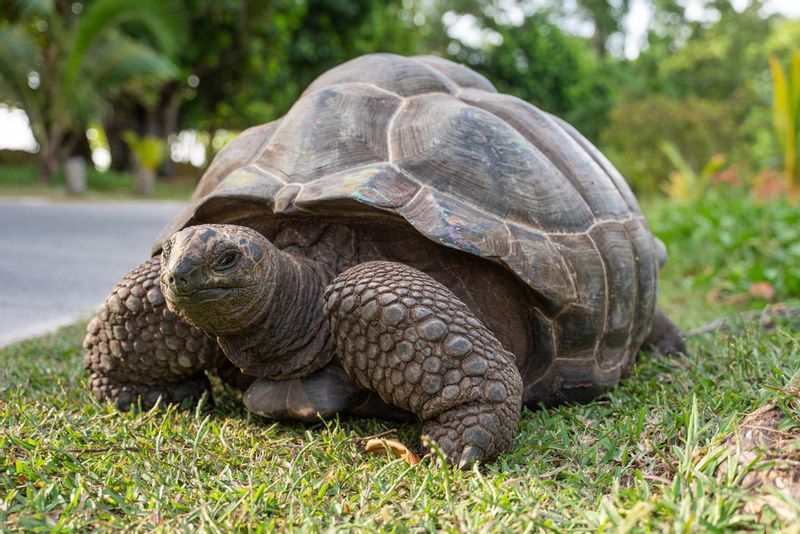 If you do manage to tear yourself away from the beach, there is more to explore in La Digue. Watching the giant Aldabra giant tortoise nibbling on leaves and posing patiently for photographs is endearing beyond compare. Some of these gentle giants are said to be over 150 years old.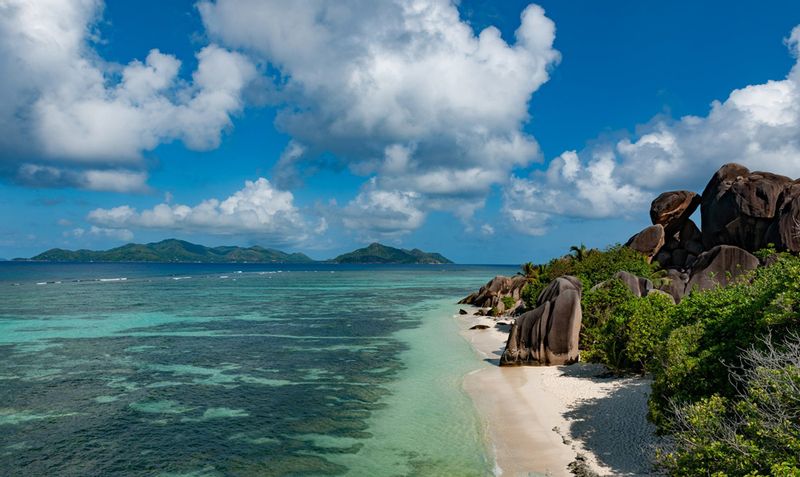 For nature lovers, a hike to Eagle's Nest, the tallest peak on La Digue island, is a must. It is a steep climb, but made pleasurable due to exciting encounters with the rare endemic paradise flycatchers, an enormous fruit-bat colony and even a few tortoises, along the way. After an hour when you reach the top of Eagle's Nest, you are rewarded with the most awe-inspiring views of the sea and the neighbouring Seychellois islands. If you are not inclined to walk up the cliff, you can rent a bicycle and ride it as far as you can, and walk the rest of the way. On the way down, stop at Belle Vue café for a chilled mixed fruit smoothie or a plate of freshly cut fruits.  
Creole food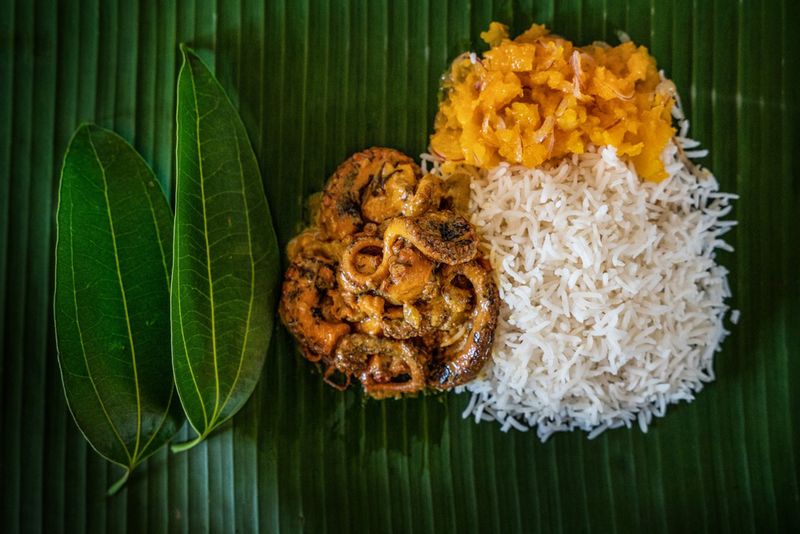 Although exquisite beaches are the main reason to come to Seychelles you can't help but fall in love with the traditional Creole food. A blend of French and Indian cuisines, Creole food in Seychelles is dominated by coconut and mild spices. If you like extra spice (like me), ask for the awesome homemade chili sauce. Fish Trap, a popular restaurant in La Digue, situated a few hundred feet from the jetty, is the best place to savour both Creole and international dishes. Being on the water's edge, the restaurant offers great views but it is the food that will keep you occupied. I was hooked on the octopus salad but I believe the octopus curry and seafood tacos are compelling options. Try the local dessert Ladob, a dish made of ripe bananas boiled with coconut milk, sugar and a pinch of vanilla. Everything is accompanied by a huge pile of French fries. Rey & Josh Café is where the locals come to eat and takeaway parcels of rice and fish curry.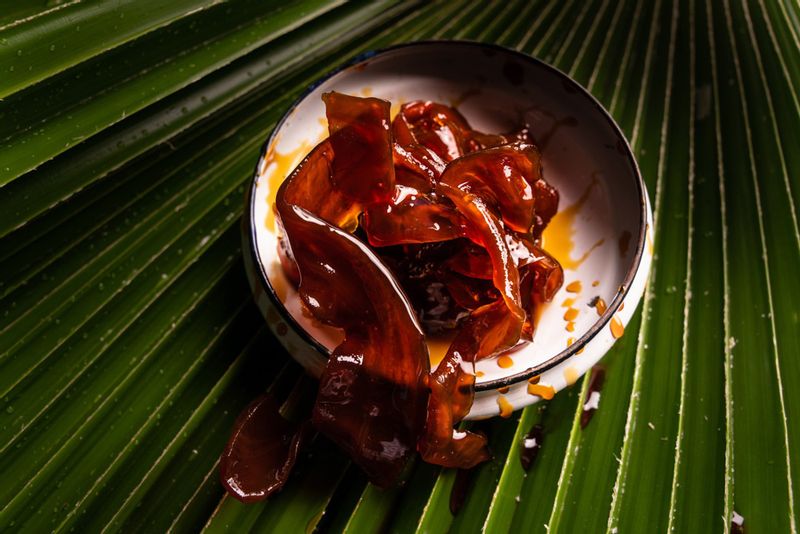 Travel essentials for Seychelles
Air Seychelles operates three weekly flights from Mumbai to Mahe. There's no airport on La Digue, only a helipad. However, there are regular ferry and catamaran services from Mahé which takes about 90 minutes.
The best time to visit is from May to October.
Pack swimsuits, comfortable shoes, cotton garments, natural insect repellent, sunscreen with a good SPF, waterproof cell phone pouch, snorkel gear, camera and a strong sense of gratitude
Euros are widely accepted, though most prices are displayed in Seychelles' Rupees (SCR)
COVID-19 rules for travellers to Seychelles
Entry to Seychelles is allowed only to vaccinated travellers who have completed two weeks after their second dose. You have to carry proof of COVID-19 vaccination  (vaccination certificate) along with a negative RT-PCR test 72 hours before departure. These documents have to be submitted at the time of application for Health Travel Authorization. 
Travellers below 18 years do not have to be vaccinated and will be permitted to enter with a negative RT-PCR test.
There are no visa requirements to enter Seychelles.
All tourists are required to fill the mandatory health authorisation on the government website and get valid travel health insurance covering COVID-19 clinical care in Seychelles.
---
Photo: Paul Turcotte