Landour, a British cantonment just six kilometres from the quaint hill station of Mussoorie, was named after Llanddowror—a Welsh village in Great Britain. Hidden amidst the misty Himalayas is this crown jewel of the queen of hills. Encompassed by the Deodar Forest, time comes to a standstill in this British colonial sanatorium as you leave behind jibber jabber tourists. Despite being surprisingly close, your short journey from Mussoorie to Landour will transport you into a world of calm and untouched natural beauty.
Where is Landour?
Located in the picturesque hill station of Mussoorie, Uttarakhand, Landour—an exclusive British preserve—is perched at an altitude of 7500 feet that is 1000 feet above the hills of Mussoorie.
How to reach Landour, Mussoorie? 
To witness the surreal beauty of Landour, you will have to first reach Mussoorie, Uttarakhand.
By Air
The nearest airport to reach Landour hill station is the Jolly Grant Airport in Dehradun. The distance from Dehradun to Landour is around 67 km by road, with Mussorie falling in between at 60 km.
By Rail
Dehradun railway station (DDN) is the closest stop to reach Mussoorie and Landour, Uttarakhand. From there onwards, Mussoorie to Landour is just 30 minutes by road.
By Road
There are plenty of rental cabs and private and government buses that run from Delhi to Mussoorie daily. Reaching Landour is not difficult once you reach Mussoorie. Mussoorie to Landour distance is just 3.5 km from Mall Road, you can even enjoy a pleasant walk up the hill.
Best time to visit Landour 
Landour is beautiful all year long, but the best time to visit the hill station would be between April to October. Winter is a wonderland and drapes the town in an all-white silhouette. Road blockage due to the snow is a common hindrance for travellers though.
Things to do in Landour, Mussoorie Uttarakhand
1. Kellogg's Memorial Church and Landour Language School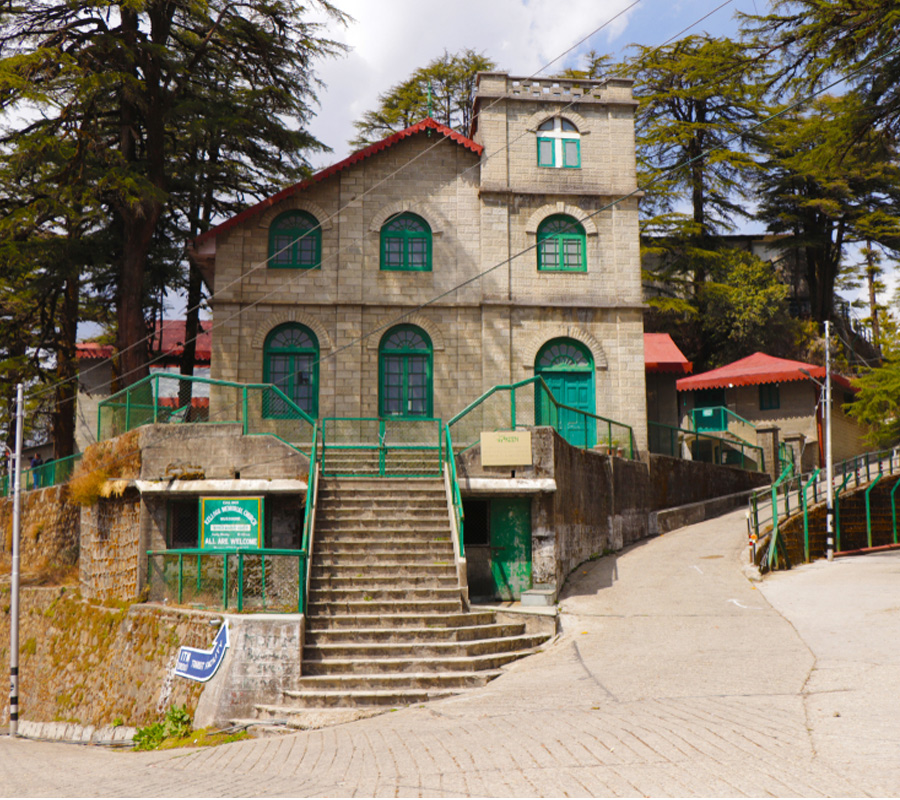 Located in 'Lal Tibba' in the Landour cantonment area, Kellogg's Memorial Church showcases old-school gothic architecture with elegant stained glass windows that were built in 1903. A must-visit spot when in the area, the language school was originally set up for the British army to learn Hindi. The school still teaches regional languages like Hindi, Sanskrit, Punjabi, and Urdu to local students.
2. Sisters Bazaar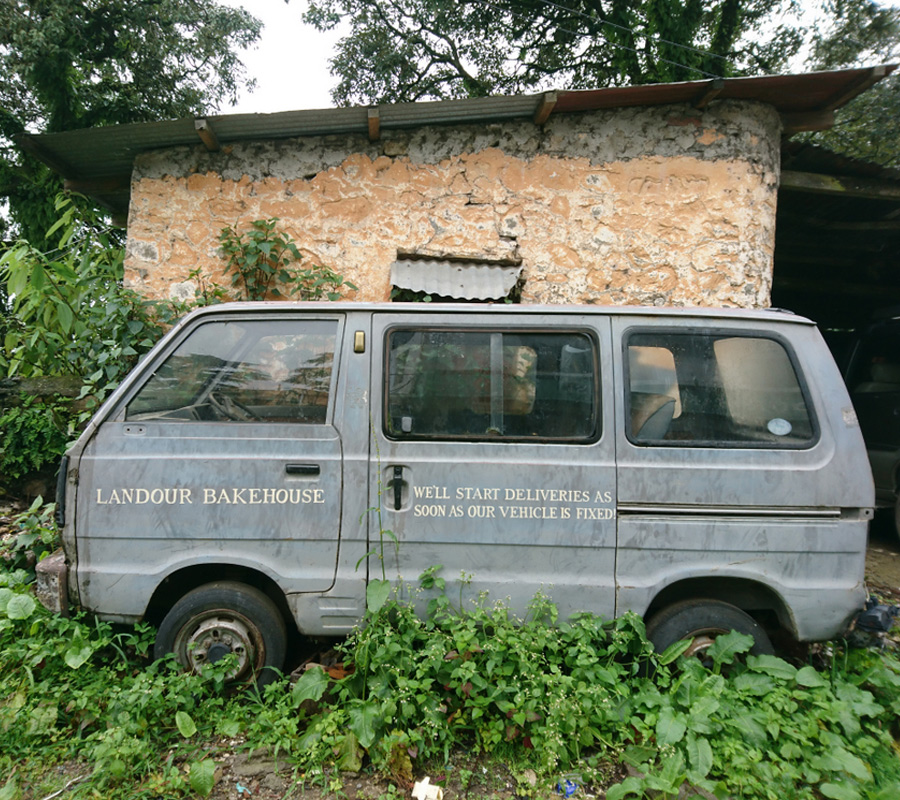 A small market in Landour, Sisters Bazaar is run by locals selling everything from tea to handicrafts. Some of the places to visit in Landour's little market are:
Landour Bakehouse: A bakery and cafe that sells mouthwatering desserts, croissants, scones, buns, cookies, and crepes… the list can go on and on.
Anil Prakash Store: A small family-run business that sells delicious homemade jams, cheese, and peanut butter—this is one of the best places to take souvenirs to take back home.
3. Rokeby Manor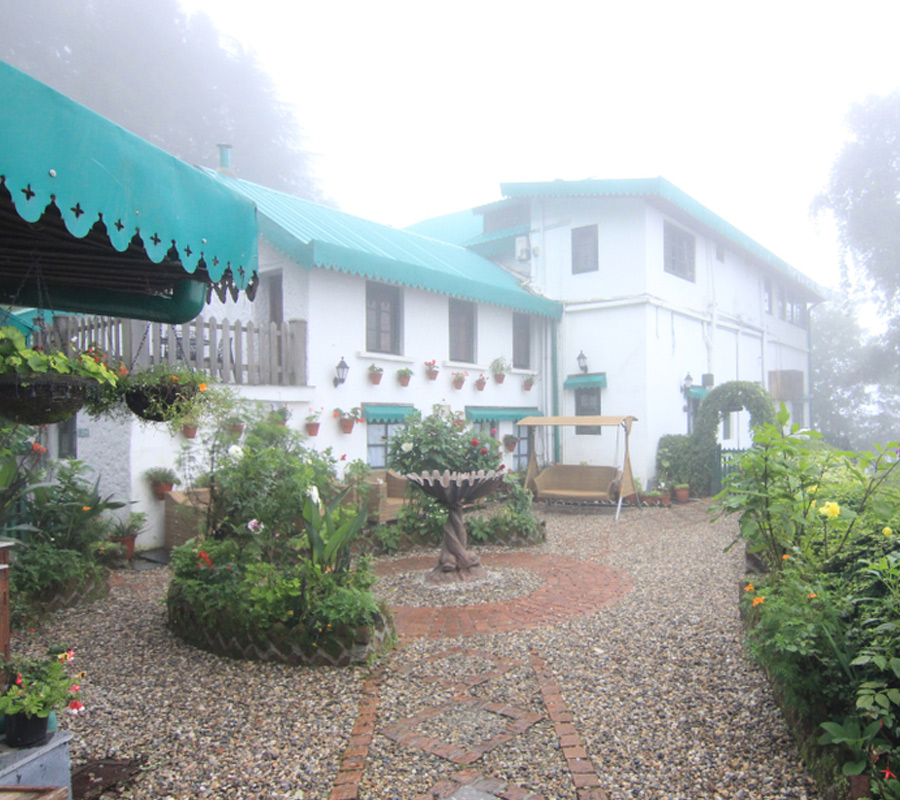 A high-end hotel in Landour, Emily's by Rokeby Manor is a gourmet restaurant known for its fine Indian and Continental cuisine. Oozing of old-worldly charm, pick a cozy corner next to the fireplace and devour their famous Sticky Toffee Pudding as you watch the Mighty Himalayas run along the misty Shivalik range.
4. Char Dukaan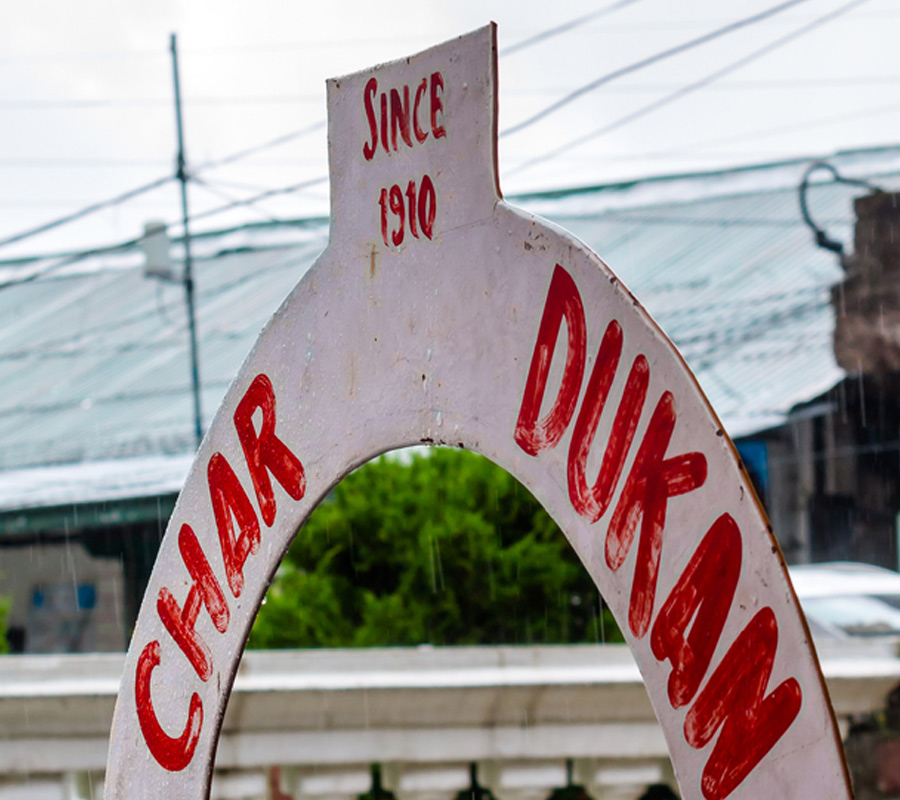 Char Dukaan is a stretch of four shops on the street near Sisters Bazaar. Anil's Cafe and Tip Top Tea Shop are over 50 years old and are known for their delicious tea and snacks among tourists. You will also find exotic delicacies and groceries at Char Dukaan that are stocked for foreigners in the town.
5. St. Paul's Church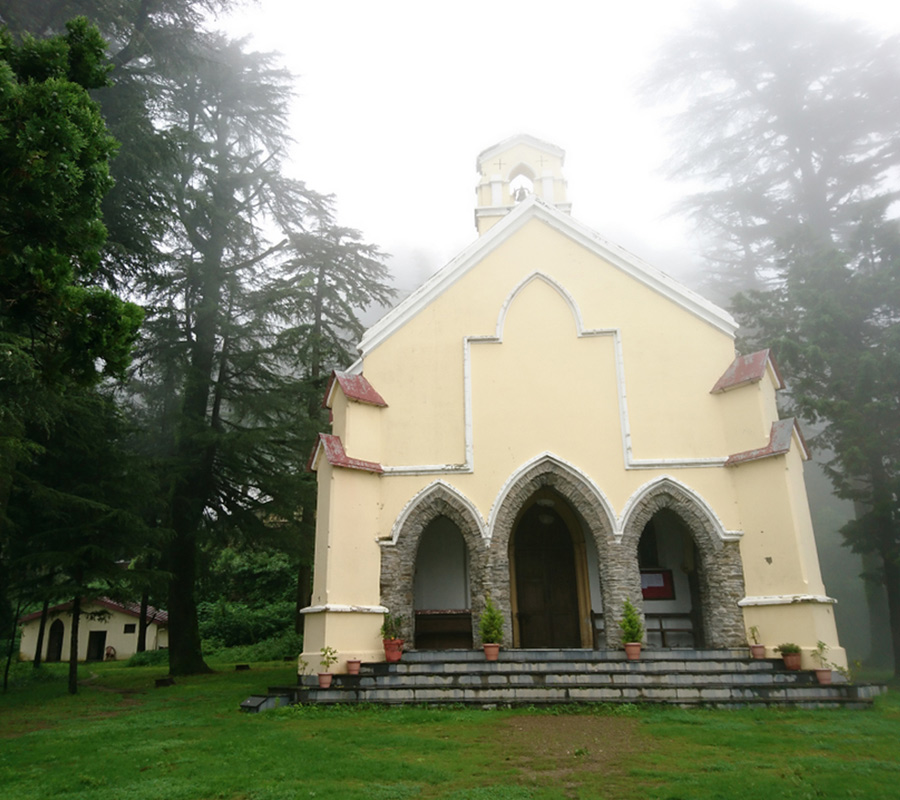 A historical marvel, St. Paul's Church located next to Char Dukaan features elegant British colonial-era architecture. Built in 1839 and consecrated in 1840 by Bishop Daniel Wilson, the church is set amidst towering Deodar trees that fill the air with a refreshingly calm vibe.
6. Lal Tibba view point
Of all the things to do in Landour, squeeze in a trip to the Lal Tibba viewpoint. Known after the hill's reddish-brown soil, Lal Tibba is Landour's highest point. Enjoy a bird's eye view of the magnificent snow-capped Himalayas ahead as the sun sets painting the sky a brilliant orange-red.
7. Ruskin Bond's home
A renowned Indian author with British roots, Ruskin Bond's strong contribution to children's literature in India has earned him a spot in history books. Settled in the quaint town of Landour, you can spot him in and out of his home next to Doma's Inn. On a good day, you may even to bump into the author at Ivy Cottage, where he wrote the intriguing stories that we all grew up reading.
Landour, Mussoorie is packed with the simple joys of life. Untouched by commercialism and crowd, plan a serene holiday to Landour hill station and immerse yourself in the tranquility of nature. 
Photo: Shutterstock