With the spellbinding beauty of the mountains and ice-cold winds blowing, this riveting hill station of Mussoorie is one of the most desired tourist destinations to visit around the year. You can witness some really spectacular waterfalls, enjoy going on long treks, experience the serenity of nature and plan some adventurous activities in Mussoorie. 
However, to add icing on this already gorgeous cake, the only thing you'd need to make your trip to Mussoorie a perfect vacation are suggestions for some lip-smacking authentic food to devour while breathing in the unparalleled beauty of this hill station. An array of food options that Mussoorie has to offer, ranging from trendy cafes to restaurants serving Chinese, Indian and European cuisines to street food where the local cuisine is heaven for all food lovers. 
Food in Mussoorie that you just cannot miss:
1. Phannu
Originating in Uttarakhand, this Garhwal dish is one of the famous Mussoorie foods consumed by locals and also enjoyed by tourists. Made by using a variety of lentils such as gahat, arhar or green moong, phannu is a simple yet delicious dish savoured by people of all ages. It has loads of nutrients that'll keep you fit in the chilly weather of Mussoorie. Best enjoyed with rice but can be had with rotis too.
2. Kapaa/Kafuli
A speciality of Mussoorie is prepared using leafy greens like spinach(palak) or some people use fenugreek(methi), also called dhapdi in Garhwal. This flavourful dish is best cooked using an iron kadai over a wooden fire.
Traditionally the dish pairs most with plain steamed rice or mandue ki roti aur baati (halwa made of mandua flour). This is a highly nutritious food, famous in Mussoorie, that one must try.
3. Chainsoo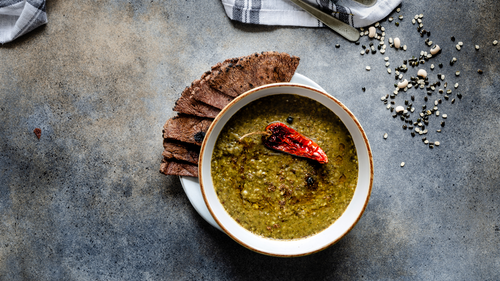 Another dish having its origin in the Garhwal region of Uttarakhand is chainsoo. It is a high protein dish prepared using a variety of lentils (mainly urad or kali dal), simply by roasting and later grinding them with local masalas and other ingredients, like onion, tomatoes and garam masala powder. A speciality of Mussoorie, you can have chainsoo with steamed rice and spicy baby potatoes for your weekday lunch.
4. Bhang ki chutney
Nothing to be surprised about, bhang ki chutney is actually a famous food in Mussoorie. Popular among the locals, the delicacy is prepared using roasted hemp seeds (which do not carry psychoactive properties like its leaves), jeera (cumin seed) and lemon. Served as a side dish, this tangy chutney is available everywhere, even in the best restaurants in Mussoorie. Bhang ki chutney is one such local Mussoorie food you should not miss.  
5. Aloo ke gutke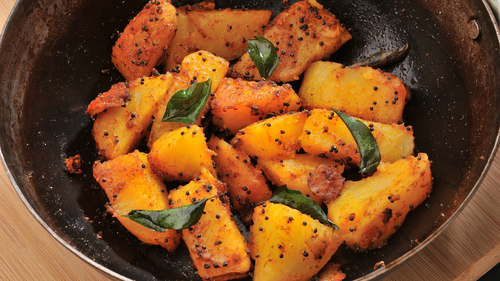 Aaloo ke gutke, as the name suggests, is a dish made from boiled potatoes cooked with some basic masalas in mustard oil. This easy-to-make dish is popular among the locals, especially vegetarians and is also suitable for consumption by vegans. A famous Mussoorie food, best enjoyed with poori and kheere ka raita.
6. Sisunak Saag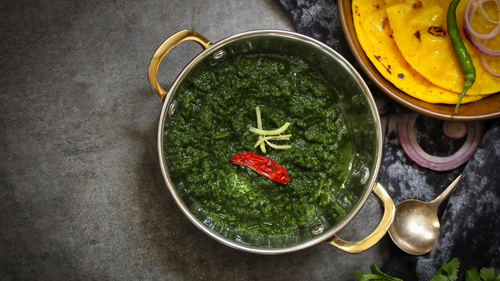 Have you heard of the plant sisun, if touched once can give you an itch and rashes for a couple of hours, well a very famous food in Mussoorie is prepared from the same plant, the sisunak saag! The plant is popularly known as 'bichhu ghaas'. Its leaves are first boiled and then converted into a fine pulp, which is then cooked at low flame and combined with tomatoes and butter to result in a finger-licking meal. Interesting, right? You can find the best restaurants in Mussoorie's Mall Road that serve this delicacy.
7. Sani Hui Mooli
One of the most irresistible foods in Mussoorie is the sani hui mooli. It is a mixture of radish and curd wrapped in a paste of bhang seeds with a dash of lemon in it. Usually consumed during winter, this mouth-watering dish is a must-try if you are in Mussoorie.
8. Maggi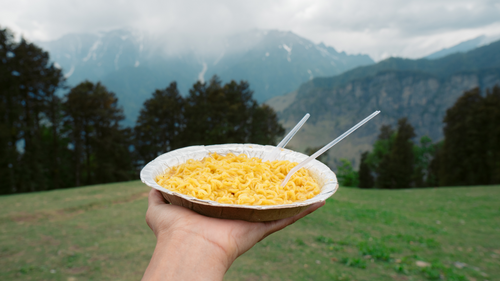 An honourable mention must go to Maggi, a two-minute snack loved by all age groups. Somehow, it has become a culture to enjoy Maggi in the cold weather -while sipping hot tea or coffee on the side. Maggi has placed itself among the best foods in Mussoorie. With locals adding that extra touch with their own recipes, it makes your Maggi experience more appetising.
9. Cakes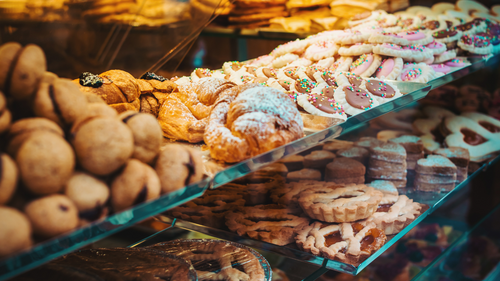 If you are a fan of bakery items, then the best place to eat in Mussoorie is the Landour Bakehouse. Carrying British flavour in the ambience and food, you can try the desserts and puddings from original recipes, like rind cakes, cookies, croissants and lovely sandwiches, while sipping on a traditional pot of tea. 
Pro tip: Emily's Bakery has an excellent variety of cakes and pastries. They also have jams and biscuits. Walk to the cafe to catch the beautiful scenery on your way, it's an added experience.
For the non-vegetarians:
10. Kebabs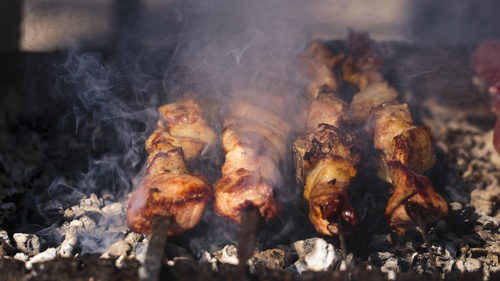 Like the scenic beauty of Mussoorie, the street food scene is lovely here, especially on Mall Road. Some of the best places to eat in Mussoorie are found here, including kebabs, mostly cherished by non-vegetarians. Served with naan and chutney, a freshly grilled, hot kebab will definitely make your mouth water.
11. Chicken and pork momos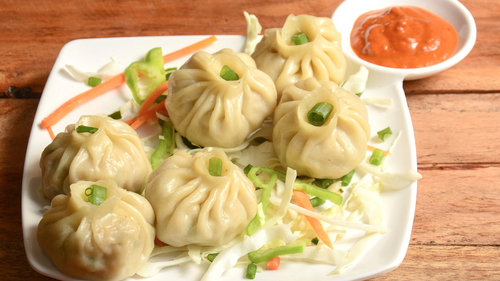 A holiday at any hill station is incomplete without eating a plate of hot steaming momos in the middle of the street. The foodie in you would want to wander around the streets of Mussoorie in the delight of the steamy momos they offer. One of the most famous foods in Mussoorie is chicken and pork filled momos savoured with red-spicy chutney. The best place to eat in Mussoorie is near the Tibetan Market, where you will get vegetarian options also.
12. Chilli chicken
This is a  popular Chinese dish that you can find in almost all the places to eat in Mussoorie. From roadside stalls to the best restaurants in Mussoorie, available everywhere, it is thoroughly enjoyed by all chicken lovers. Chilli chicken is a popular dish among tourists and is served best with plain rice or fried rice.
13. Omelettes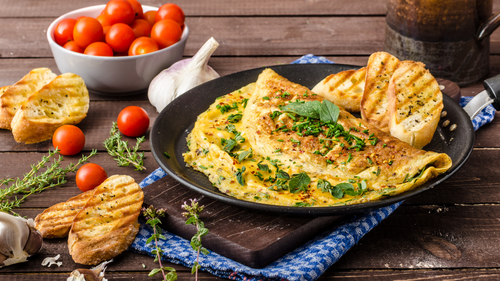 A simple but cult favourite option when it comes to great things to eat in Mussoorie is the humble omelette. This makes for the perfect breakfast item for non-vegetarians. The best restaurant in Mussoorie to have omelettes is Char Dukan near Lal Tibba, where you can enjoy your hot tea or coffee with a picturesque view and have a filling breakfast.
Pro tip: Don't miss their cheese omelette.
There are a plethora of places to eat in Mussoorie. However, most of these restaurants and stalls can be found either on Mall Road or Sister's Bazaar Road. Apart from places to visit in Mussoorie and the beauty of Landour, the food speciality of Mussoorie is worth experiencing.
---
Photo: Shutterstock