Spread across the peaks and valleys of the Himalayas, nestled in the shadows of lush conifers, Uttarakhand is a treasure trove of lesser-known delicacies. It is home to the spectacular Pahari cuisine, known for its indigenous ingredients, robust flavours, and distinct cooking techniques.
We decided to go on an exploratory journey to sample the undeniably delicious desserts and mithai the mountain state has to offer. So, are you ready to know all about the famous sweets of Uttarakhand?
1. Bal Mithai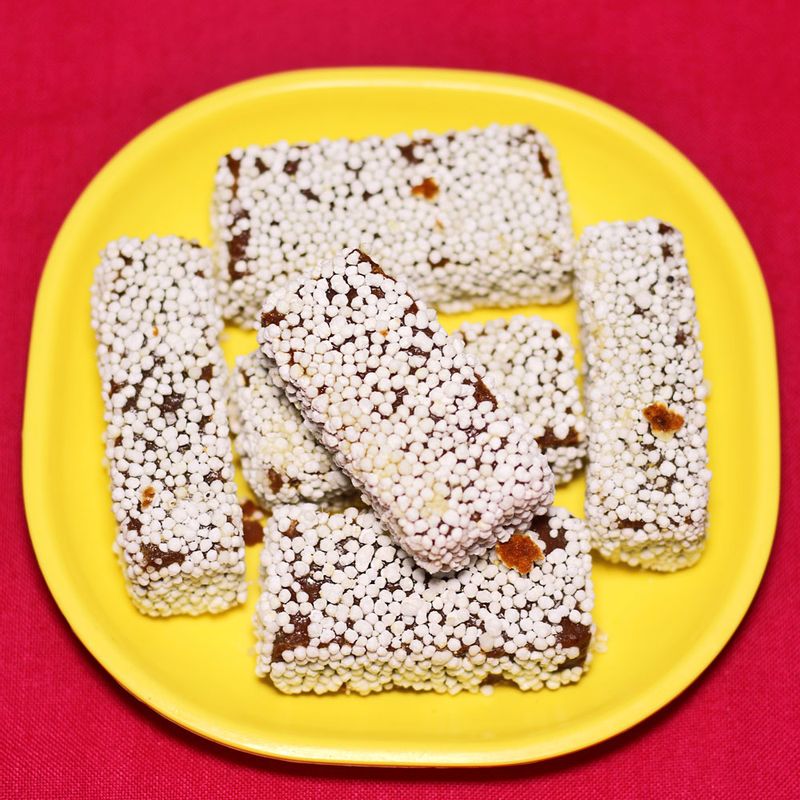 "Bal mithai, a speciality of Almora district, Uttarakhand, is a fudge-like sweet that is made with khoya. It is coated with white sugar balls that gives it crunch," explains chef Sidharth Bhardwaj, executive chef, JW Marriott Mussoorie Walnut Grove Resort.
If you wish to make it at home, all you need to do is roast khoya until its brown. Once done, add sugar and stir continuously until the mixture turns chocolate brown in colour. Spread the bal mithai mix on a flat surface, cut it into pieces, and coat it with small sugar balls. Simple, eh?
2. Arsa
A fried snack or dessert—made using rice flour, jaggery, dry fruits, and cardamom powder—arsa is popular across India and not just Uttarakhand. In Bihar and Maharashtra, it is anarsa, Uttar Pradesh's version is called pua, and as for Tamil Nadu, these are their much-loved adhirasam, prepared during Diwali and other festive occasions.
While the basic arsa recipe remains the same, each region and state puts its unique twist to arsa. In Uttarakhand, arsa is fried in mustard oil giving it a rustic earthy and smokey profile.
3. Singori
A Kumaoni-favourite, singori or singodi is a khoya and coconut-based dessert that is moulded in an indigenous leaf named 'molu', which grows on the slopes of the mountains. While the coconut lends singori fresh sweetness to the khoya, the molu leaf adds a peppery fragrance to it.
Since these leaves are not commonly available outside Uttarakhand, chef Ranveer Brar suggests substituting them with betel leaves if you're making this easy dessert at home. He prefers garnishing it with desiccated coconut and chopped pistachios.
4. Gulgule
Gulgule are similar to arsa but it uses wheat flour and semolina (optional) instead of rice. Also popular in Rajashtan, Uttar Pradesh, Punjab and Bihar, this Garhwali sweet snack is fried in oil or ghee and flavoured with fennel seeds.
You can prepare several variations of gulgule by swapping the fennel seeds with different fragrant spices and fruits of your choice. Banana is the most commonly used flavour for gulgule. Chef Ajay Chopra says that Kumaoni weddings are incomplete without gulgule aka puas and khajur (not to be confused with dates).
5. Singals
Semolina, banana, hung curd, milk, sugar, and cardamom powder are combined to form a thick batter and fried in oil or ghee to make this soft, spongy and flavourful singal. Similar to sel roti, traditionally, this sweet spiral snack is served with tea or aloo ke gutke, a Pahari-style potato sabzi. Just like other desserts from Uttarakhand, singals are a part of feasts during weddings and festivals.
6. Jhangore ki kheer
Chef Chopra describes jhangore ki kheer as a gluten-free, nutritious kheer, which is an indispensable part of Garhwali cuisine. Jhangora, also known as barnyard millet, is widely grown in Uttarakhand and the kheer is made during special occasions and festivals.
For this dessert, the millet is cooked with milk, cardamom powder, and sugar, and garnished with cashew nuts, raisins, and charoli seeds tossed in desi ghee.
---
Photo: Shutterstock