Train journeys evoke a sense of nostalgia and fond memories of childhood in everyone. And if you want to rekindle those warm memories, the best way is to hop on to one of these mountain railways that will have you chugging down memory lane. 
1. Nilgiri Mountain Railway, Tamil Nadu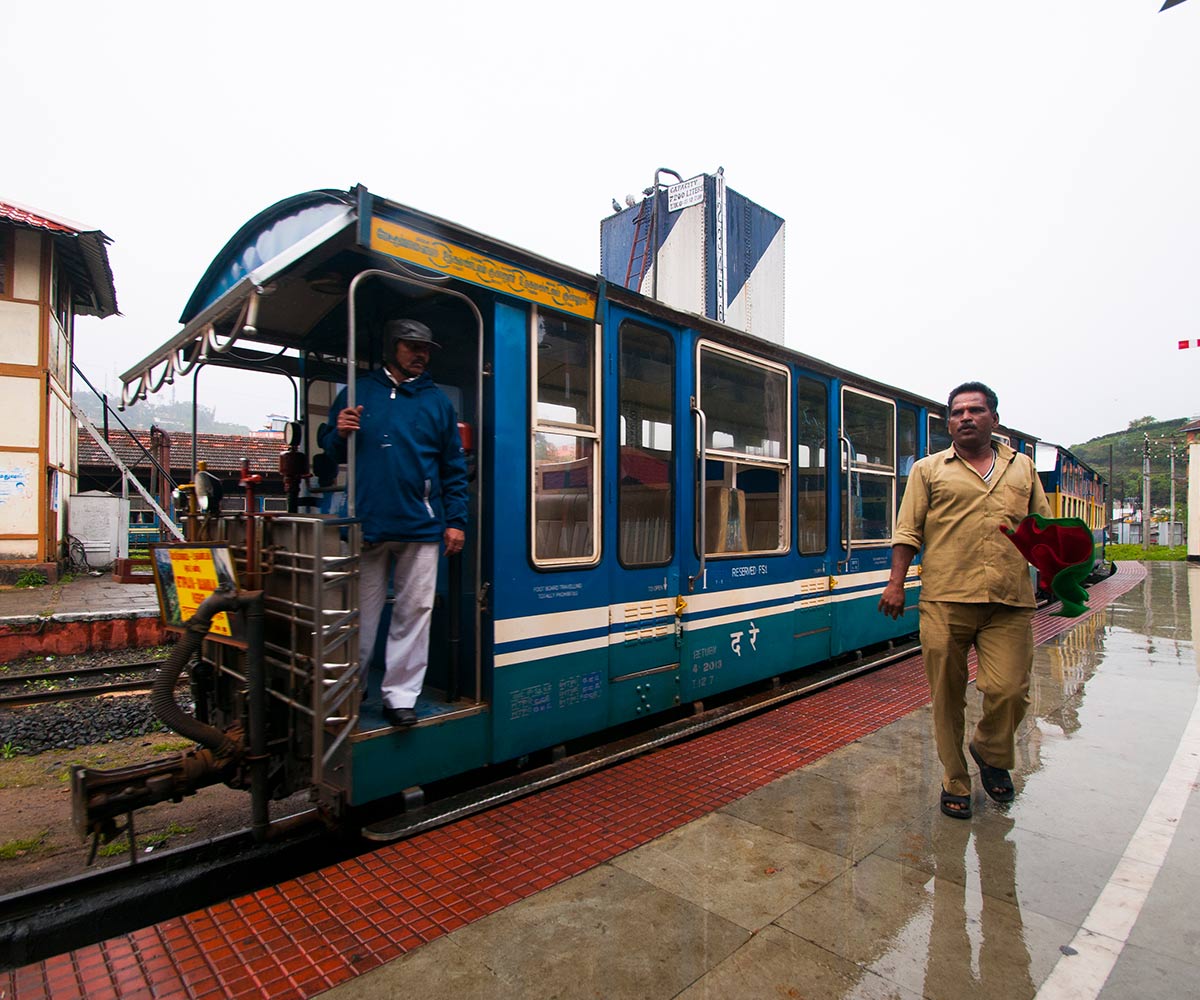 The only meter gauge rack railway in India, the 46-kilometre-long Nilgiri Mountain Railway traverses the steepest tracks in Asia as it heads from 1,069 feet to 7,228 feet above sea level. The line that started in 1899 extends from Mettupalayam to Udhagamandalam (Ooty) and passes through 16 tunnels and several bridges that are nestled amidst some of the most verdant vistas. 
The slow-moving train, with a maximum speed of 13 kmph, passes through Kallar, Adderly, Hillgrove, Runnymede, Kateri Road, Coonoor, and Lovedale between Mettupalayam and Ooty. Each of these railway stations is painted in a distinct shade of blue and is probably one of the best ways to enjoy the scenic beauty of the Western Ghats. If you are looking for slow travel where you can soak in the beauty of nature, make sure you hop on to this one. Little wonder then that this was inscribed as a UNESCO World Heritage Site in 2005.
Book the train here: 56136 / Mettupalayam-Ooty MG Passenger and 56137 / Ooty-Mettupalayam MG Passenger
2. Kalka-Shimla Railway, Himachal Pradesh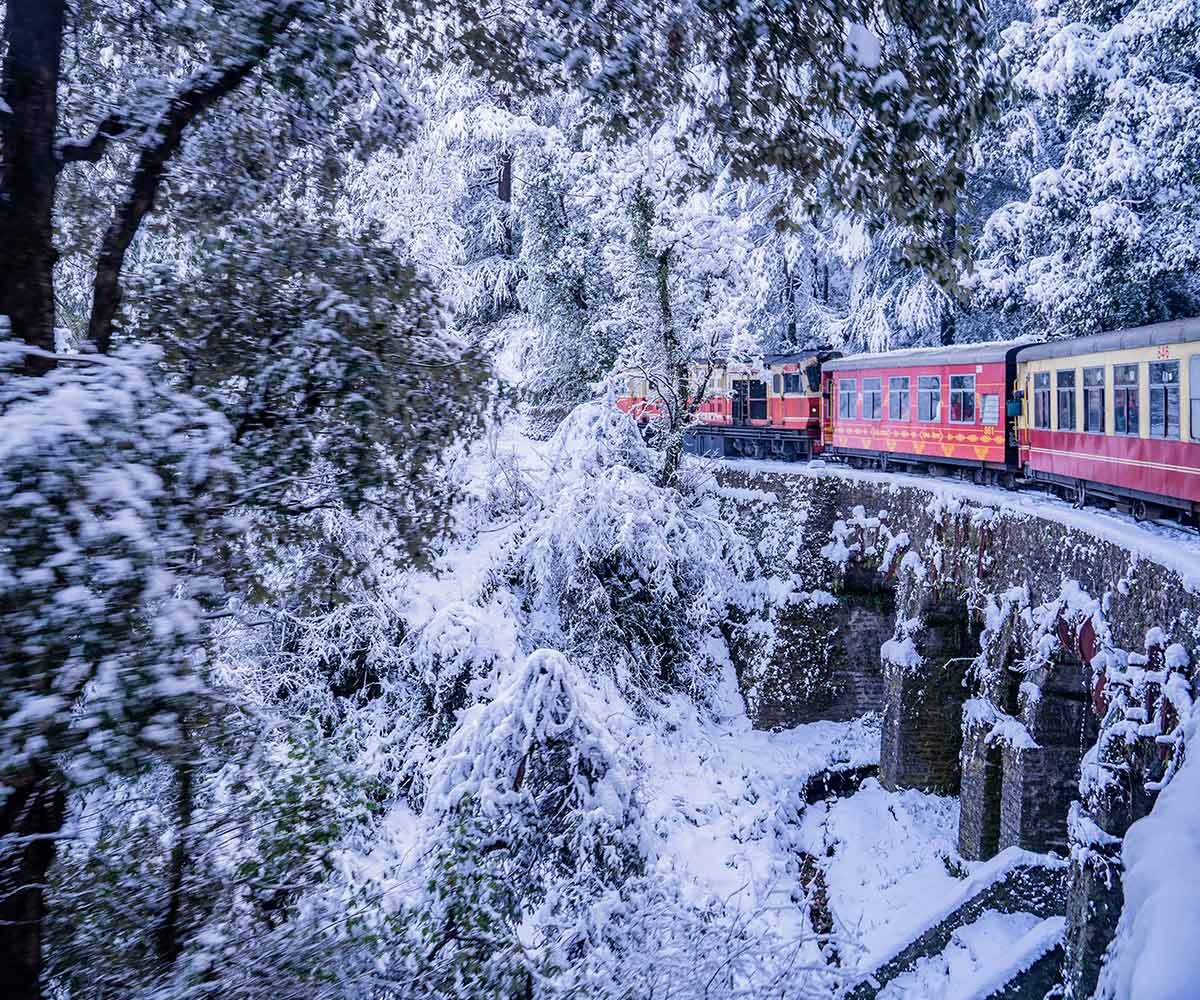 A UNESCO World Heritage Site, the Kalka Shimla Railway was built in 1903 and covers 96 kilometres at altitudes ranging from 2,150 feet to 6,811 feet above sea level. The world's highest multi-arch gallery bridge at Kanoh and the world's longest tunnel at Barog are some key places on this trip. The scenic route will get you up close with the local vegetation of deodar, pine, ficus, oak, and maple trees as it travels at a speed of 22 km per hour. Apart from the pristine beauty of nature, this route will take you through pretty railway stations and Gothic-style bridges. In fact, there are a whopping 102 tunnels, 864 bridges, and 919 curves on this stretch that takes roughly 5.5 hours to cover. The train stops at Kumarhatti, Barog, Solan, Salogra, Kandaghat, Kanoh Kathleegat, Taksal, Gumman, Koti, Sonwara, Dharampur, Shoghi, Taradevi, Jutoh, Summer Hill, and Shimla.
Book the trains 72451 and 72452 here.
3. Darjeeling Himalayan Railway, West Bengal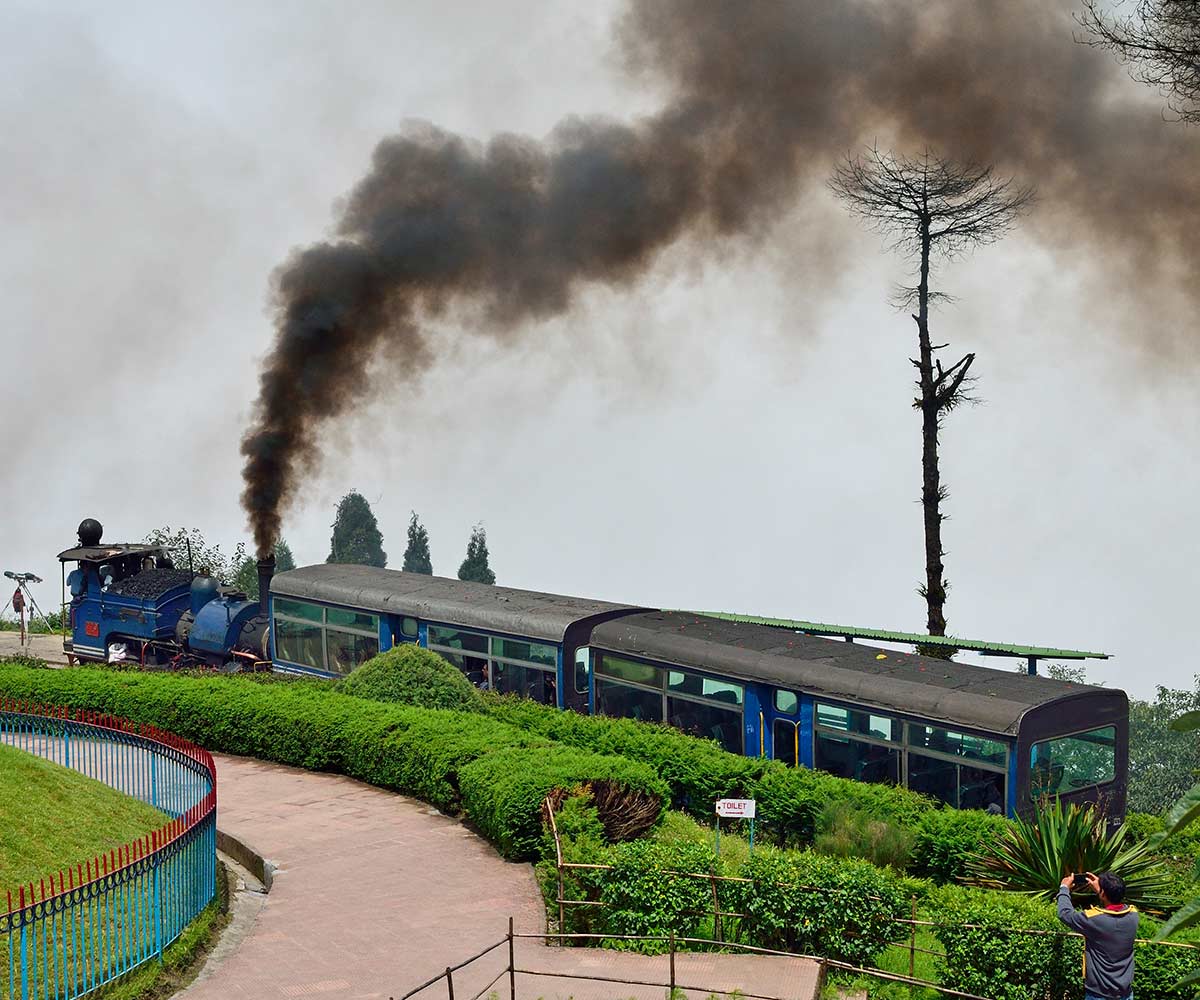 The Darjeeling Himalayan Railway (DHR) runs between New Jalpaiguri and Darjeeling over 88 kilometres. Built in 1881, the train traverses altitudes from 328 feet to 7,218 feet above sea level and uses six zig zags and five loops to make the climb. When you take this train, you will also be at India's highest railway station in Ghum. Another key highlight on this route is the Red Panda steam-hauled service from Darjeeling to Kurseong. In 1999, UNESCO declared this train as a World Heritage Site. This narrow-gauge train runs on steam-powered locomotives and stops at New Jalpaiguri, Siliguri, Sukna, Rangtong, Tindharia, Gayabari, Mahanadi, Kurseong, Tung, Sonada, Rongbull, Jorebunglow, Ghum, Batasia Loop, and Darjeeling. The best part of the journey is the endless sights of lush tea gardens, woodlands, and the majestic Eastern Himalayan valley. This has also been the site of several popular Bollywood movies as well.
Book the train here.
4. Matheran Hill Railway, Maharashtra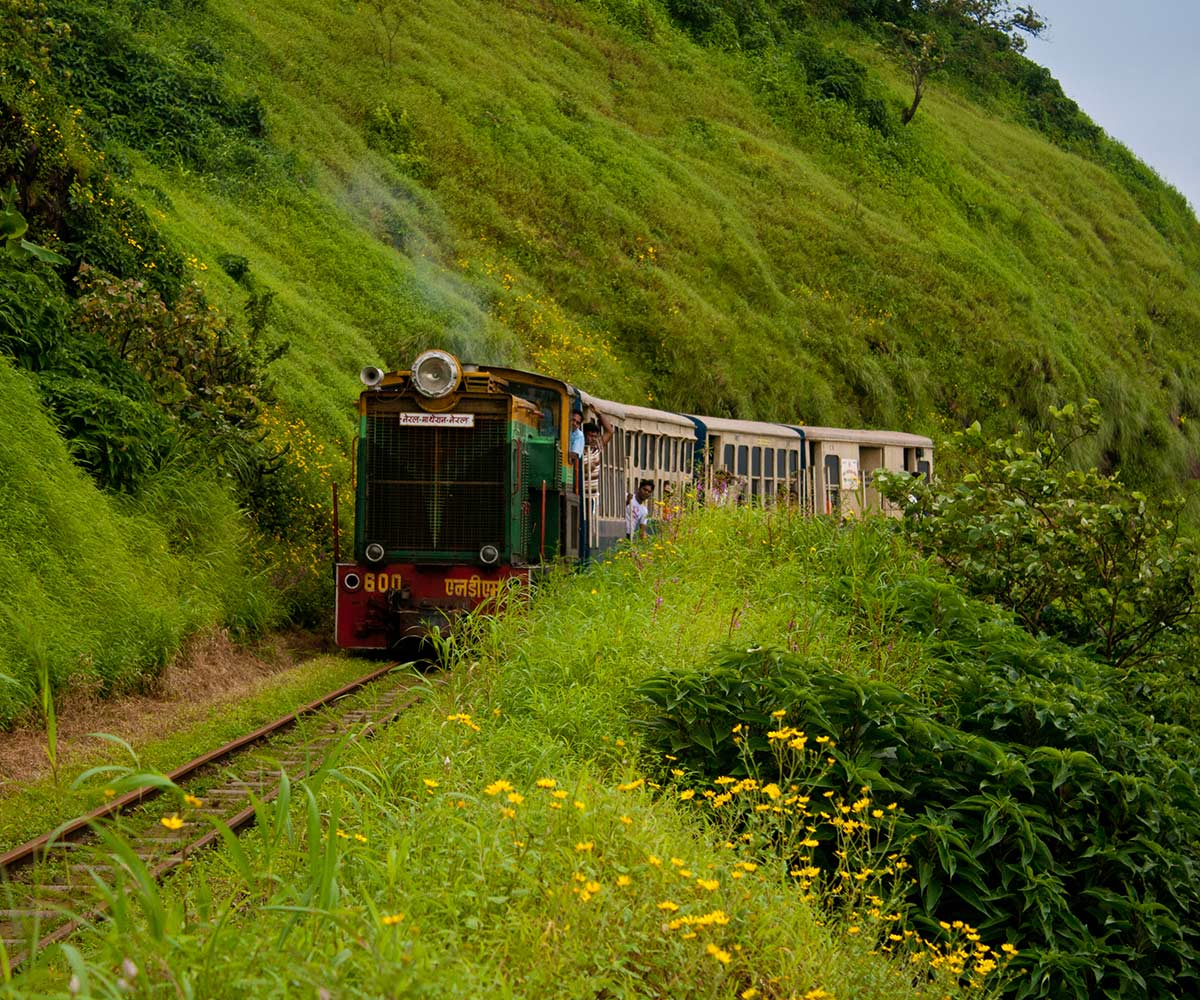 This narrow-gauge heritage railway covers 21 kilometres between Neral and Matheran in the Western Ghats, taking two hours in its ascent amidst grasslands and forests as it travels at an altitude of 2,625 feet above sea level. Built in 1907 by Abdul Hussein AdamjeePeerbhoy, the train stations include Neral, Jumapatti, Water Pipe, Aman Lodge, and Matheran. The best part is that all the stations have solar power. The small train can carry about 100 passengers and offers some stunning vistas of the Sahyadri Hills range of the Western Ghats. This train also passes through a uniquely-named tunnel called 'One Kiss Tunnel'. Matheran is a small hill station and is home to some scenic viewpoints such as Rambagh Point, One Tree Hill Point, The Louisa Point, Monkey Point, and Porcupine Point.
Book the train here.
5. Kangra Valley Railway, Himachal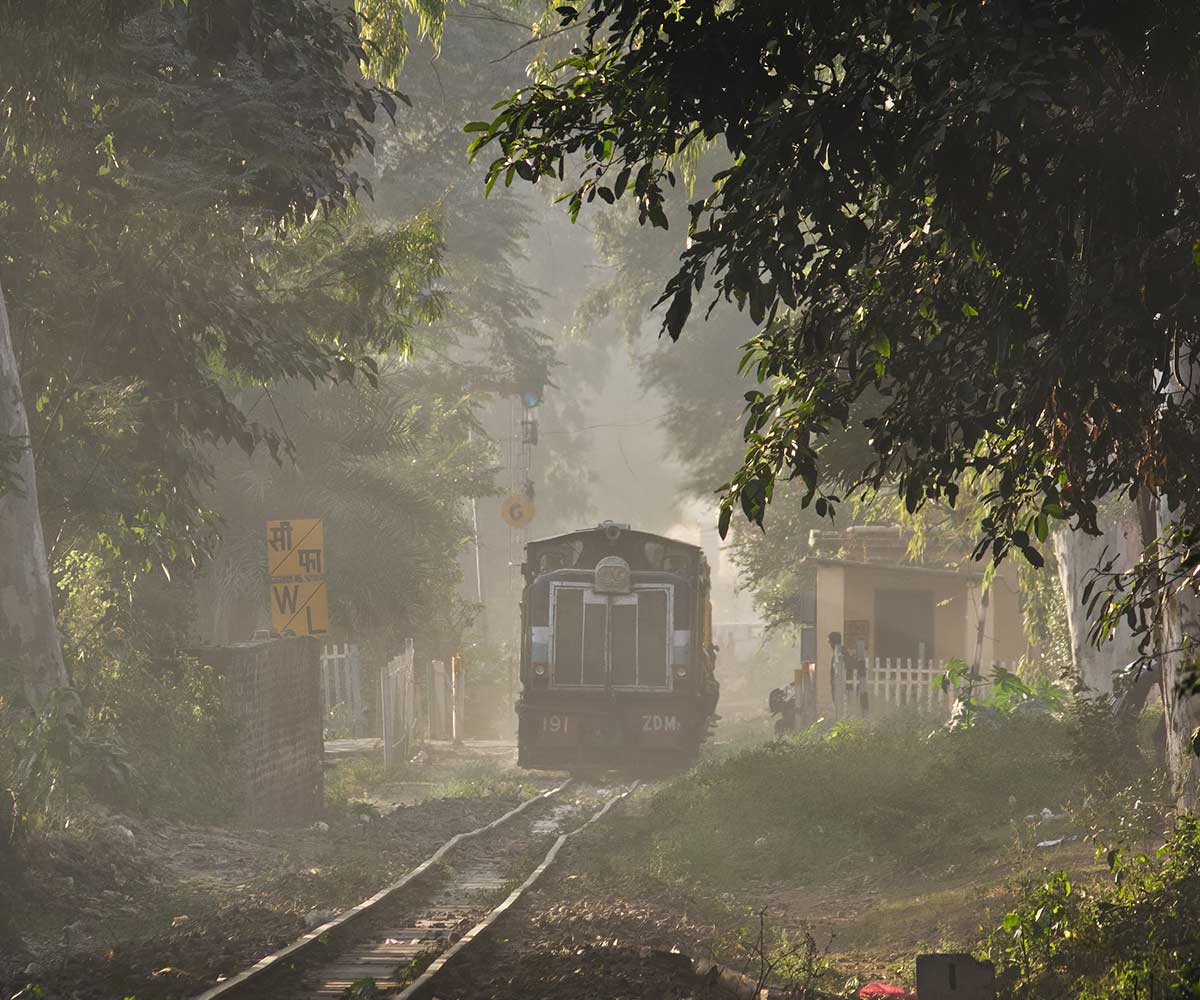 One of the lesser-known toy trains of India, this one offers some picturesque views of the Dhauladhar range. The train covers 164 kilometres from Pathankot to Jogindernagar over 10 hours and stops at Jawalamukhi Road, Kangra, Nagrota, Palampur, and Baijnath Paprola among 33 stops it makes. The highest elevation that it reaches is 4,230 feet above sea level as it crosses 950 bridges on the way. This train is a must-try especially if you want to see the undulating views of the picturesque Kangra valley that is part of the lower Himalayas. The train is also a great way to check out spiritual spots at Jwalamukhi, Kangra, Chamunda, Chintpurni and Baijnath.
Book the train here.
Photo: Shutterstock