How many shades of blue are there in the world? Standing on the edge of the Arabian Sea on Kadmat Island in Lakshadweep, I contemplated this question as I looked out at the many shimmering hues in front of me. I was on a shore excursion to the picturesque coral island as part of a five-day itinerary on board The Empress by Cordelia Cruises. Leaving behind my footprints on the soft clean sand, I walked towards the inviting waters and waded neck-deep to take in the serene beauty around me. The past one-and-a-half days on the ship had sped by in a blur of fun activities and this was a moment to be still.  
Riding the waves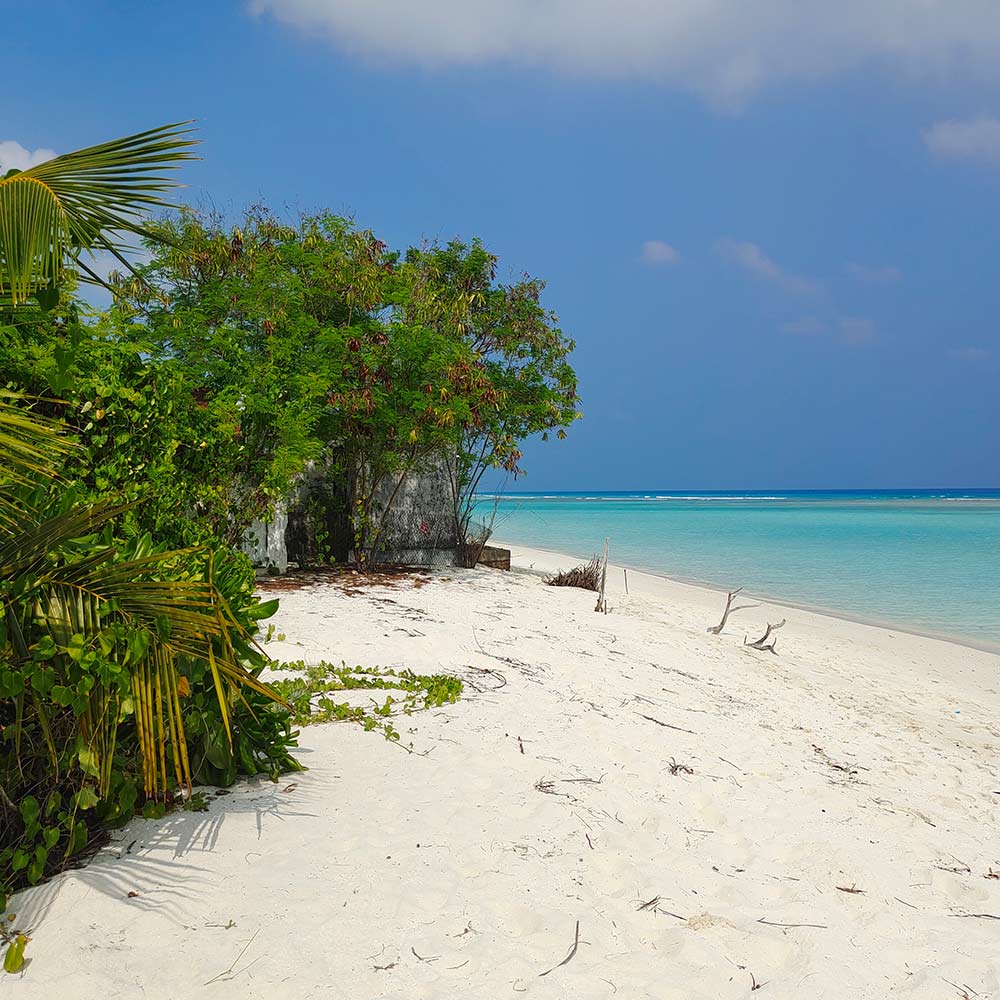 Earlier that day, I enjoyed a hearty breakfast on the ship before excitedly stepping inside a smaller boat or tender, which would take me to Kadmat Island—also known as Cardamom Island. Surrounded on the eastern and western sides by large lagoons, this enchanting piece of land belongs to the Amindivi subgroup of the Lakshadweep islands. 
Lakshadweep looked like a long, slim strip of green from the cabin window of my ship, which had docked a couple of miles away, and I couldn't wait to see it in all its glimmering natural beauty. As our boat sped by, I could slowly see the water changing its colour, and by the time we reached the shore, it had gone from deep indigo to every possible shade of blue.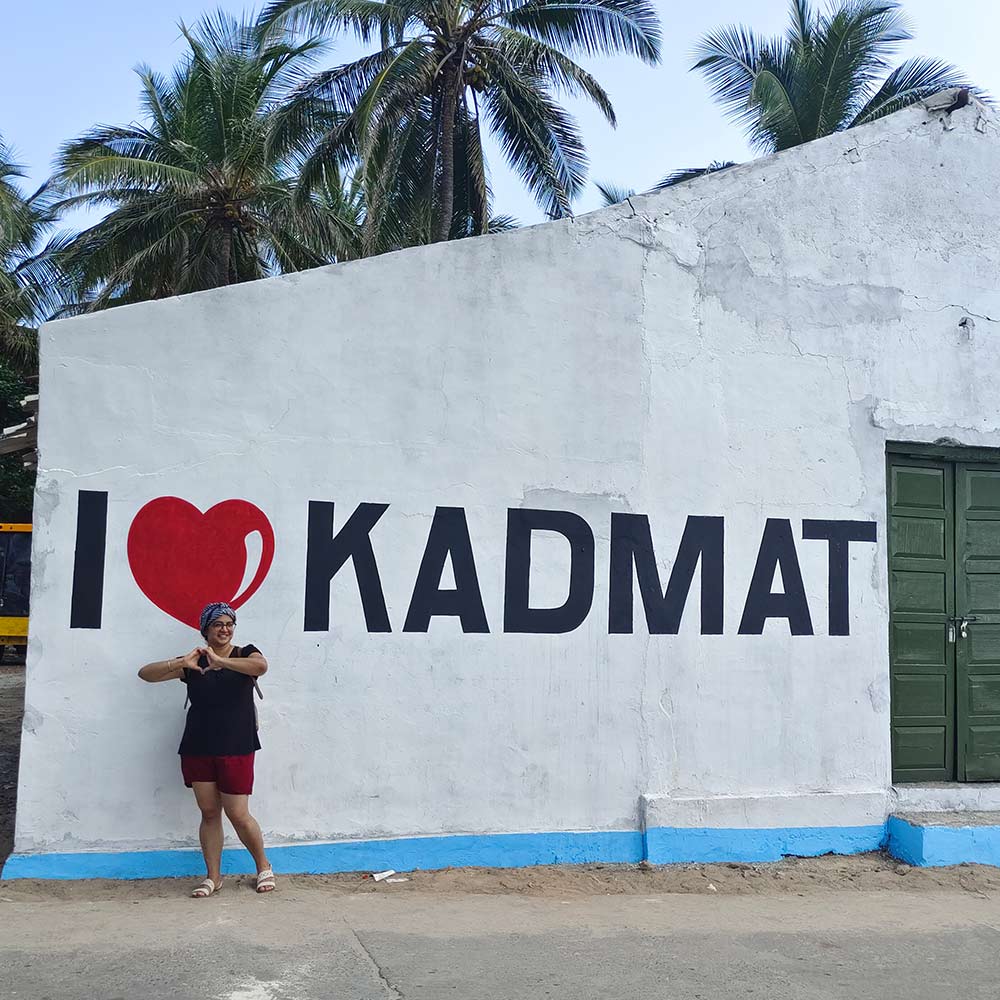 A 20-minute drive on narrow winding roads lined with coconut trees and passing quaint houses on the way, I finally feasted my eyes on the spectacular beach in front of me. Scenic beauty has a way of creeping up on us and when it's revealed in all its glory, it leaves one breathless with awe. Something similar happened to me but before long, my sandals were off and I was splashing about in the sparkling clear waters with my friends. At times, shells—both slightly large and small—would come under our soles, and one of us would pull them up with our feet or plunge underwater to bring them up to admire their shapes or colours. While others indulged in adventure sports such as snorkelling, kayaking, banana boat rides, and scuba diving—my little group was happy splashing about in the water.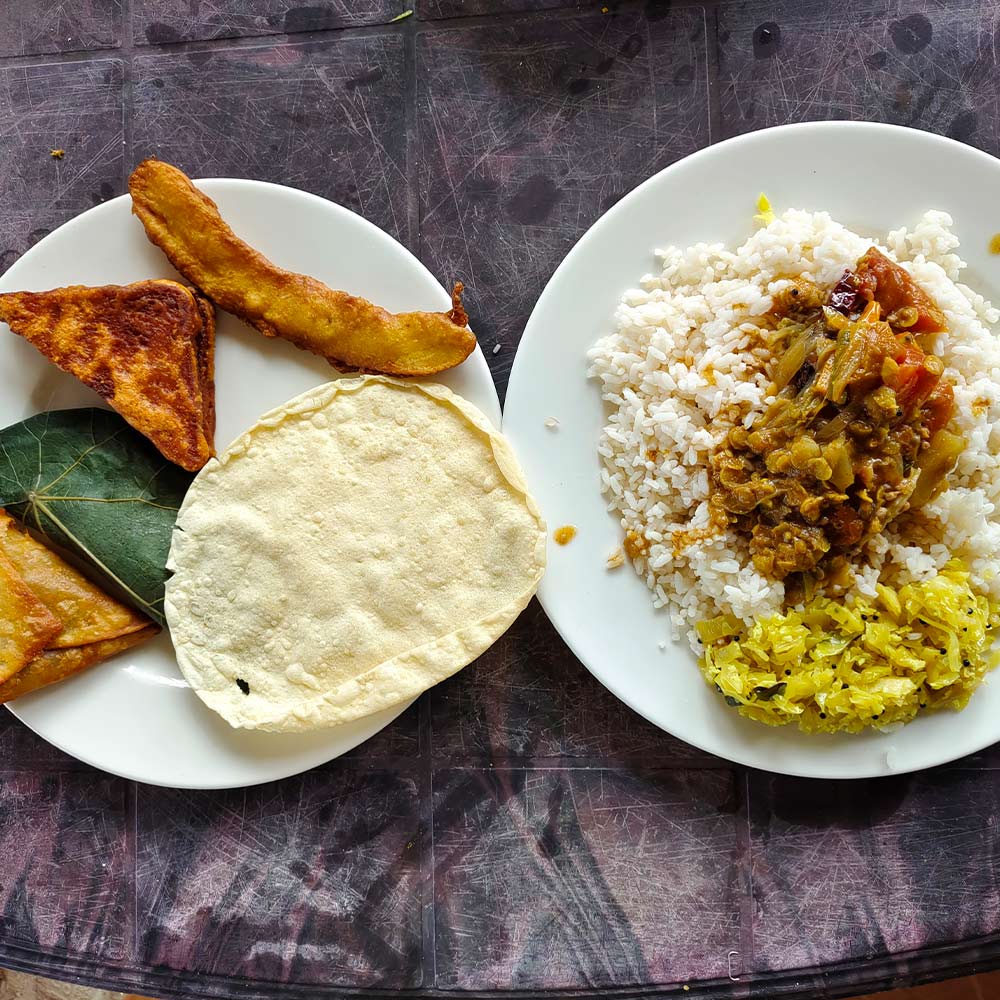 All that frolicking in the water in the hot sun had to lead to hunger pangs. Lunch was a delicious affair with local delicacies such as fish samosa, neyyappam, fish biryani, kilaanji, and fish chattipathiri among others. The vegetarians in the group were not disappointed either. Payam pori, parippvada, veg curuma, elayada, sambhar rice, and veg biryani were just some of the dishes they were happy to tuck into. A hearty meal and dozens of selfies and group pictures later, I took a good last look at the breathtaking view in front of me and got back inside the jeep that would take us back to our tenders. Before leaving, I dropped in at Zam Zam restaurant near the jetty to pick up a few bottles of locally-made tuna pickle for my friends back home and posed for pictures at the 'I Love Kadmat' selfie point.  
Cruise control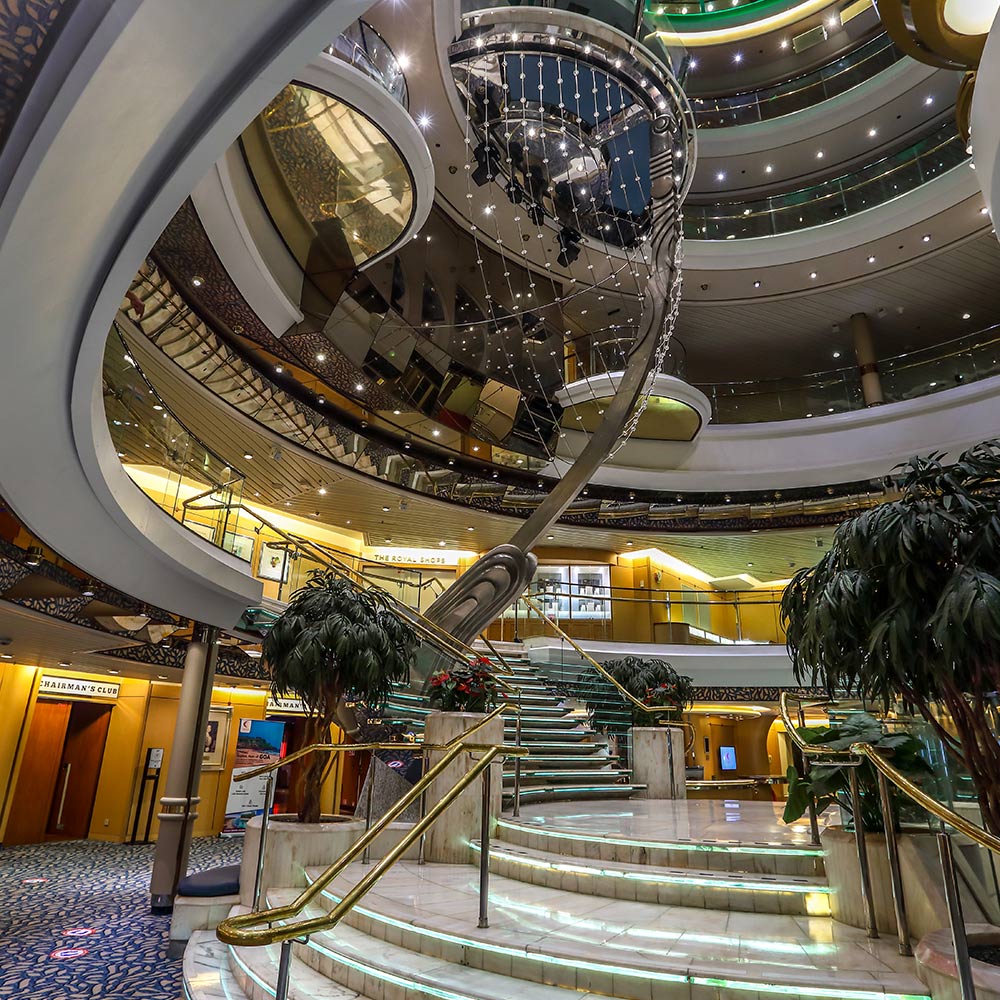 Being back in Mumbai immediately after that magical destination would have certainly made me wistful if not for another day and a half of cruising left to do. This span of time after being in Lakshadweep was pretty eventful. From playing a game of dumb charades with the ship's crew and other guests to attending a sassy burlesque show and singing along with the cruise's talented musicians—I did it all. There were enough activities including cocktail-making workshops, jackpot housie, musical theatre performances such as Balle Balle, and rock wall climbing among many others to keep us entertained and engaged through the day. One could also visit a spa for a relaxing session or head to the casino to try their luck in the games.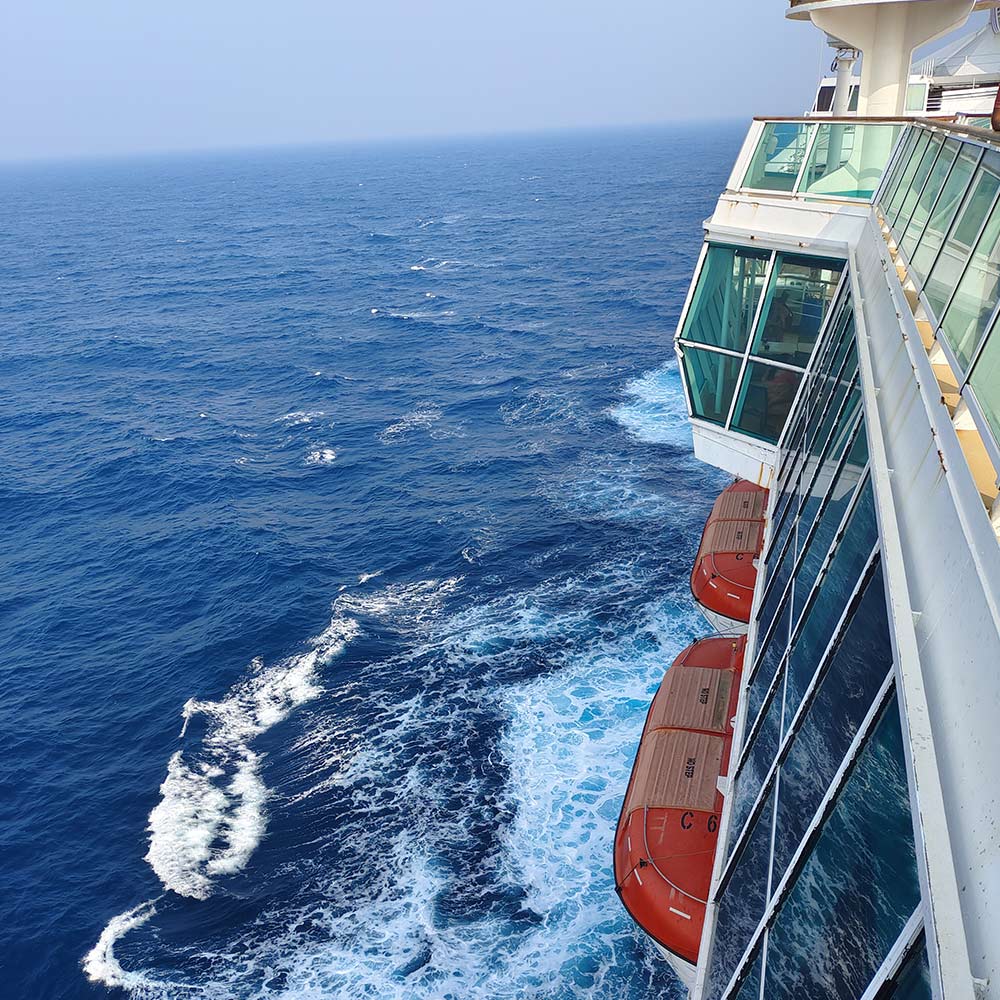 The tastefully done-up circular lobby was every bit as grand as the one I remembered from Titanic. The upper deck with the food court was where we spent most of our time, sprawled on comfortable lounge chairs and sipping on cold beers in the daytime and enjoying the view of the moonlit sea at nights—while sipping on black coffee so we could dance away till late to the DJ's beats. With 796 cabins, 11 decks, food pavilion, a fine dining restaurant, speciality restaurants, bars, lounges, business centres, spa, salon, dive-in theatre, casino, marquee theatre, non-stop entertainment, musical performances, 'live' bands, adventure activities, shopping, and Indian and International cuisines—there was much to see and participate in.
When I wasn't attending an activity on-board or indulging in the delicious food at one of the ship's many restaurants, I could be found looking out towards the open sea from the upper deck and daydreaming about lands that lay beyond. 
About the cruise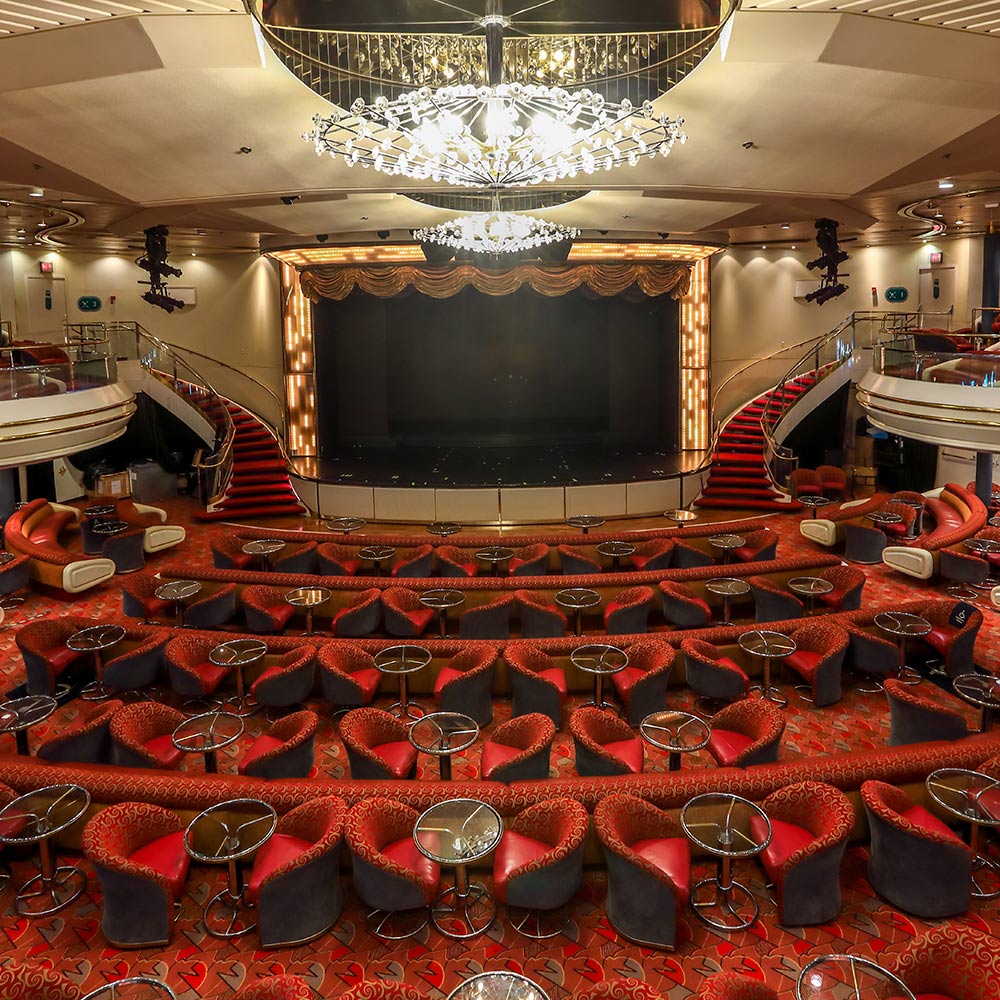 Cordelia Cruises offers different itineraries of different durations. Different categories of rooms are priced differently. The Lakshadweep cruises start from Rs 49,324. The different itineraries offered are Goa-Kadmat-Mumbai and Cochin-Kadmat-Mumbai for three nights. The 4 nights itinerary includes Cochin-Kadmat-Mumbai-Goa. The 5 nights itinerary includes Mumbai-Cochin-Kadmat-Mumbai and Mumbai-Goa-Kadmat-Mumbai. The cruise sails twice a week from Mumbai. You can get more information on www.cordeliacruises.com
TIPS FOR THOSE CRUISING FOR THE FIRST TIME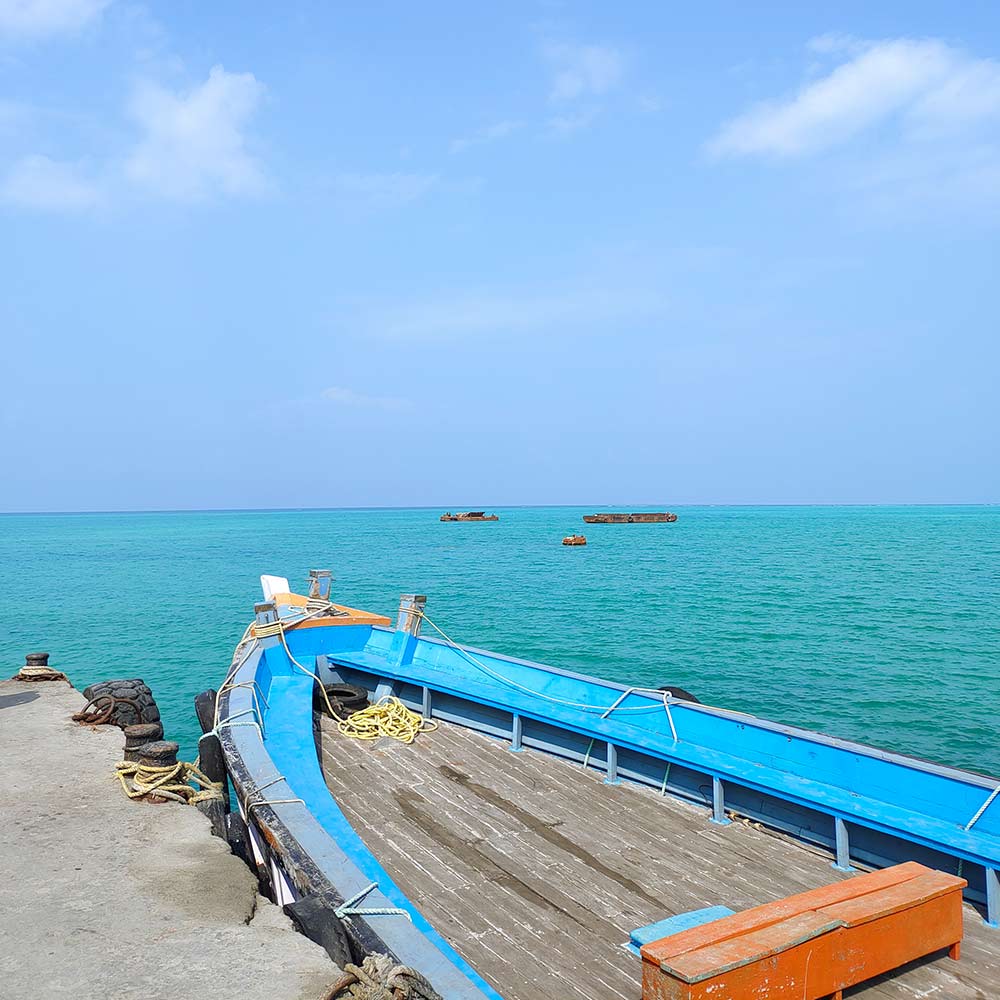 If you think you are likely to feel sea-sick while on board, you can opt for some over-the-counter medicines for motion sickness from the chemist. Drink plenty of water and lie down if you feel queasy.

The newsletter for the activities and workshops reaches your rooms a day in advance. Don't feel overwhelmed or feel the need to do everything. Remember, you are on holiday.

If you think you would be able to pose for pictures and post them on your social media right away, think again. Prepare to be disconnected from the world as there is no mobile network on cruise. You can buy WiFi for a fixed number of hours but it is expensive as well as unreliable.

Alcohol is not included in the price of the ticket. Carry some extra dough on you if you wish to drink on board.

Pack beachwear, sunglasses, and sunscreen for the shore excursions.

Corals and shells collected from the shores cannot be brought on board as they are not sanitized. So have fun collecting them, click pictures but be prepared to leave them behind.
Photo: Cordelia Cruises and Deepali Singh