When we think of travelling in luxury, we rarely go beyond first-class air travel. But what if you could travel like maharajas and maharanis, slowly moving towards your destination—with the best of amenities made available at a moment's notice, thanks to butlers and valets at your service? Aboard India's luxury trains, that's the luxury you can expect. 
1. Maharajas' Express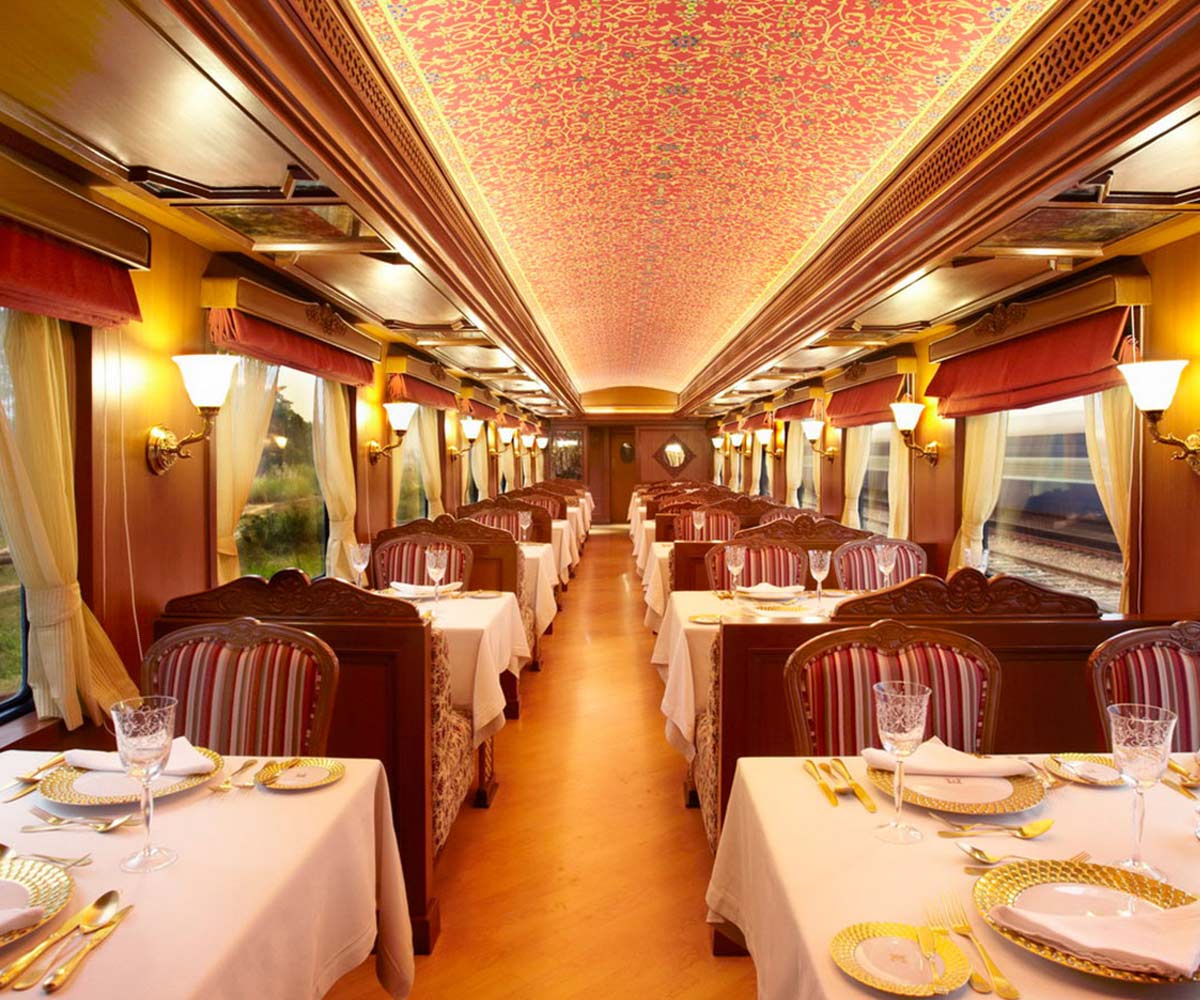 Seven-time winner of the World's Leading Luxury Train award, IRCTC's Maharajas' Express is nothing less than royalty on wheels. The Indian Splendour, The Heritage of India, The Indian Panorama, and Treasures of India are the four different kinds of journeys it takes you on. It mostly covers parts of Uttar Pradesh, Rajasthan, and Madhya Pradesh.
There are four stay options to choose from—Deluxe Cabin, Junior Suite, Suite, and Presidential Suite. State-of-the-art facilities, LCD, Wi-Fi, washroom, twin and double beds, mini pantry, and valet service are some of the many features that the train offers. All its cabins are named after precious gems such as Firoza, Pukhraj, Neelam, and more. Mayur Mahal and Rang Mahal are two of its theme-based restaurants that offer a range of Indian and international cuisines. The train also has a lounge bar called Rajah Club and a thematic bar called Safari Bar, offering wine, alcohol, books, and board games. It is currently offering a 35%discount on all its itineraries for the 2021-22 and 2022-23 seasons. However, considering the ongoing pandemic it has cancelled the first 17 departures from October 3, 2021 to January 23, 2022. As per its official website, " Depending upon the chosen itinerary and cabin category, the fare of The Maharajas' Express starts from USD 3,850 to USD 23,700 on double occupancy per person, plus applicable taxes." Price: Approximately INR 2.9 lakh to 17.9 lakh. Click here to book. 
2. Deccan Odyssey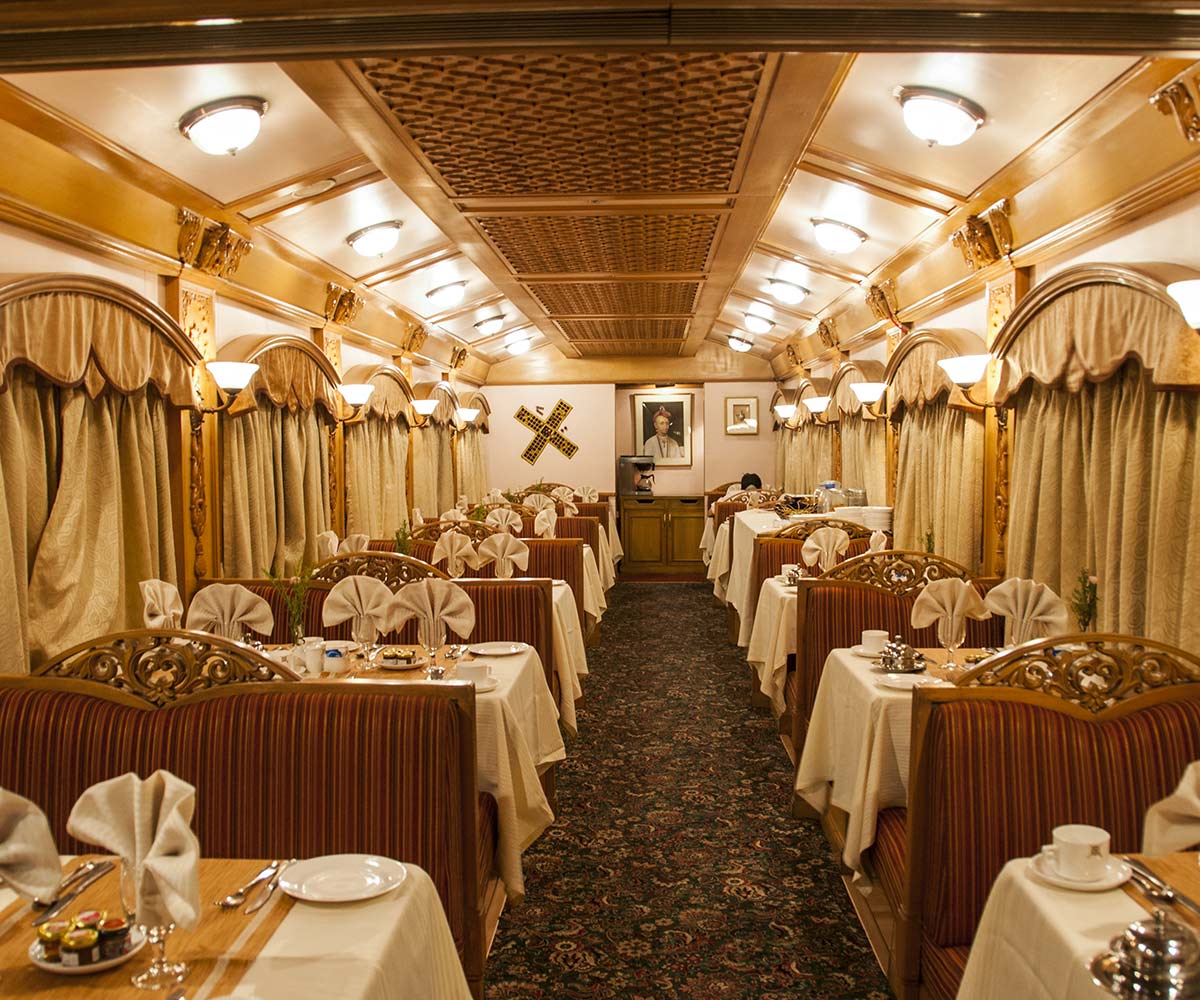 The Deccan Odyssey was inaugurated at Mumbai's Chhatrapati Shivaji Terminus on January 16, 2004. As you board the train, you witness a five-star hotel facility run by the Taj Group of Hotels. The train has 12 guest accommodations divided into Presidential Suite Dimensions and Deluxe Cabin Dimensions. Multi-cuisine restaurants, health spa, high-tech conference car, and sitting lounge are some of the facilities it offers. Its two restaurants are called Peshwa 1 and Peshwa 2. Here stewards dressed in traditional Maharashtrian outfits serve gourmet dishes, and a bunch of Indian, continental, and oriental delicacies. For a curated selection of spirits, you can check out its Mumbai Hi bar that serves wine and other alcoholic and non-alcoholic beverages.
Onboard the Deccan Odyssey you can embark upon as many as six different types of journeys – Maharashtra Splendour, Indian Odyssey, Jewels of the Deccan, Maharashtra Wild Trail, Hidden Treasures of Gujarat, and Indian Sojourn. These week-long journeys cover parts of Maharashtra, Rajasthan, Gujarat, and Southern India. Deccan Odyssey was declared the winner of Asia's Leading Luxury Train award at World Travel Awards from 2014 to 2017. Price: INR 5 lakh to INR 11 lakh. Click here to book. 
3. Palace On Wheels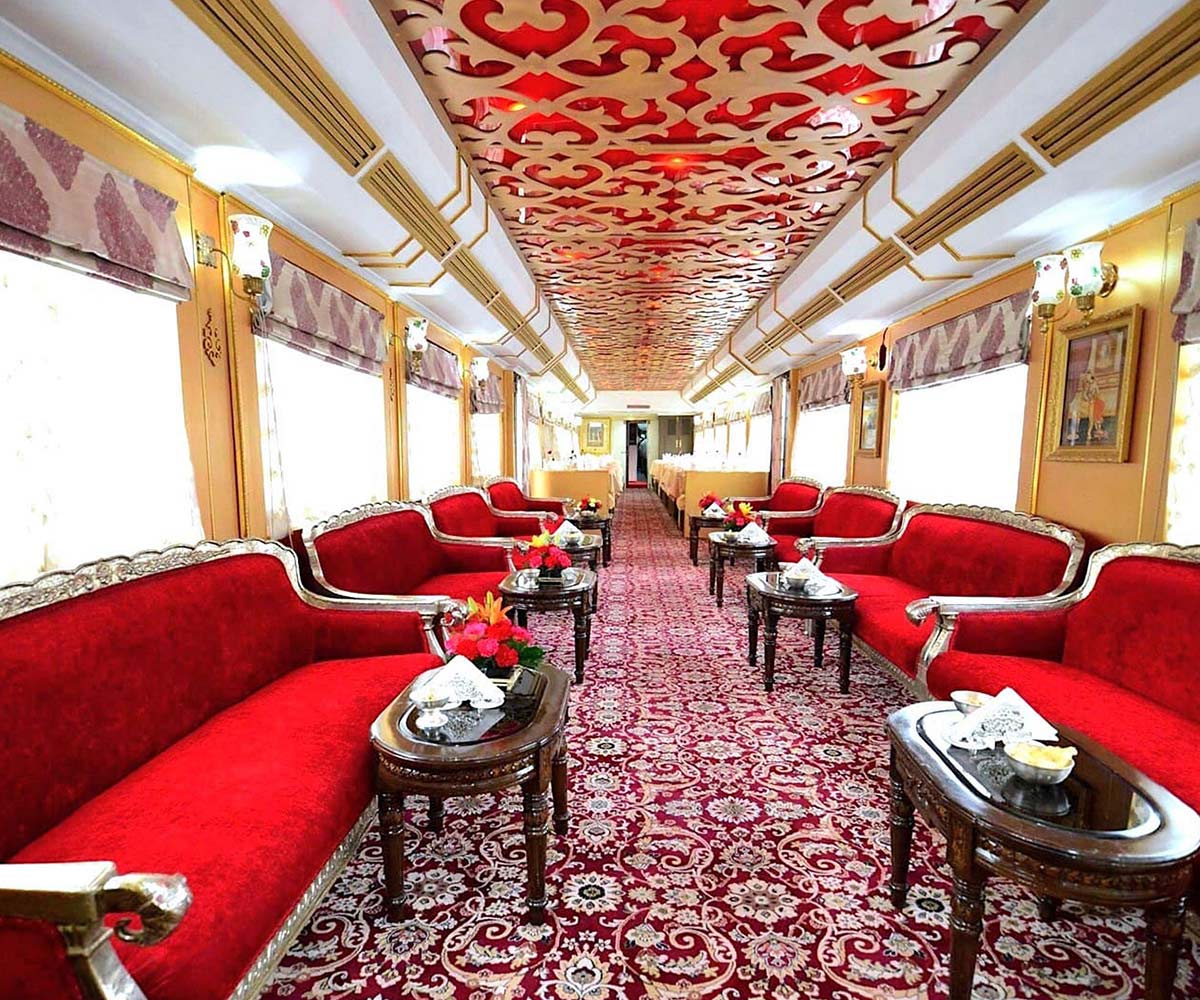 As many as 39 deluxe and two super deluxe cabins, restaurants and bar lounges, butler service, Wi-Fi, and an ayurvedic spa facility are some of the luxuries that you get to enjoy onboard the Palace on Wheels. All its carriages are named after the famous forts and palaces of the state of Rajasthan. It also has two dining cars called the Maharaja and the Maharani, and an attached Kitchen Saloon that serves a range of international cuisines. In its seven nights/eight days itinerary starting from Delhi, you get to cover Jaipur, Ranthambore Tiger Reserve, Chittorgarh Hill Fort, Udaipur, Jaisalmer, Jodhpur, Bharatpur Bird Sanctuary, Agra, and then back to the capital city. Running since 1982, the train operated by Rajasthan Tourism Development Corporation and Indian Railways has won several prestigious awards till date. Apart from the services, it also offers world-class interiors including painting mirror work and fine zardozi work. Another luxury train inspired by the Palace on Wheels is the Royal Rajasthan on Wheels. Price: INR 4,28,400 to INR 10,62,880. Click here to book. 
4. The Golden Chariot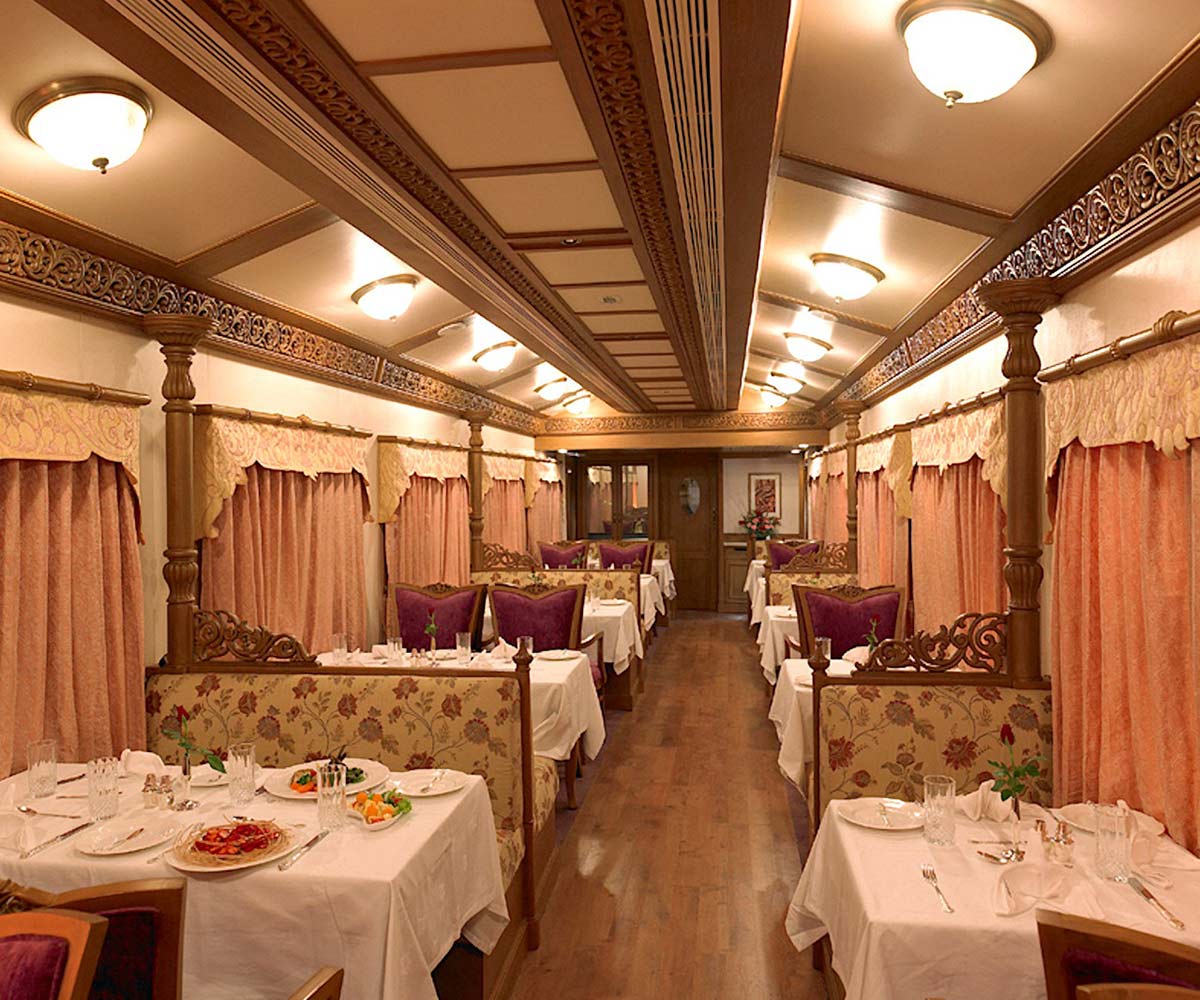 This luxury train takes you on a journey to South India, covering areas such as Mysuru, Hampi, Goa, Bengaluru, Mahabalipuram, Kochi, Kumarakom, and more. Its guest carriages are named after dynasties that once ruled South India for centuries. Thirteen double bed cabins, 30 twin bed cabins and one especially abled cabin are some of the features that the train offers. It also has two restaurants onboard called Ruchi and Nalapaka, and a bar named Madira that serves wine, beer, and several other types of alcoholic beverages. You can even take some traditional ayurvedic therapies or burn some calories with the help of modern workout machines in its spa cum fitness centre called Arogya. Pride of Karnataka, Jewels of South and Glimpses of Karnataka are the three different journeys that you can take on board the Golden Chariot. Price: INR 1,37,200- INR 3,20,130. Click here to book.
5. Mahaparinirvan Express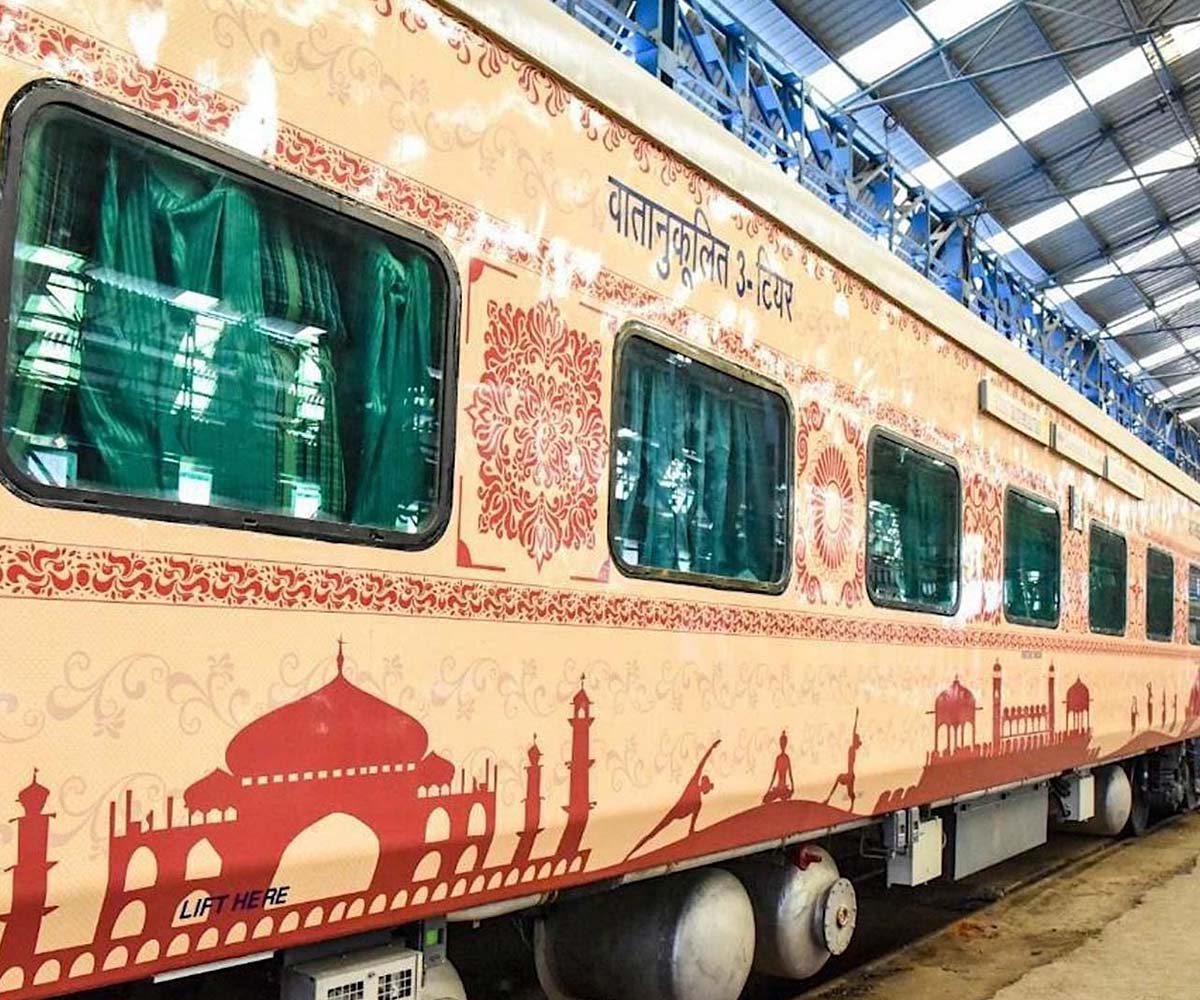 This IRCTC Buddhist tourist train is named after the Mahaparinirvana Sutra, the final explanation of Buddha's teachings. Starting from the Safdarjung Railway Station in New Delhi, the train first arrives at Gaya where you can pay a visit to the famous Mahabodhi temple and various monasteries and stupas. This includes a night stay at a hotel and dinner. The train then heads to Nalanda and Rajgir where you explore the history behind Gridhakuta Hill, Bimbisara Jail, Venuvan, Nalanda University and Nalanda ruins. After spending the night here, the next morning the train takes you to Kushinagar—the place where Buddha preached his first sermon—and then to Lumbini, the birthplace of Buddha. After exploring all the major temples, stupas, and pillars the Mahaparinirvana Express takes you to the nearby town of Sravasti that houses Sehat Maher Thai Temple, Pakki Kuti stupa, and Jetvan Vihar monastery. Post this you head to Agra to see the Taj Mahal, while also enjoying dinner onboard, and then back to the national capital. Price: INR 72,030 to INR 88,060. Click here to book. 
6. Royal Orient Train 
This joint venture between Indian Railways and the Tourism Cooperation of Gujarat allows you to explore the rich cultural heritage of Gujarat and Rajasthan. Clean and comfortable cabins, running hot and cold water, multi-cuisine restaurants, a bar and a library, are some of the facilities that you get on board the Royal Orient Train. Starting from Delhi, it covers areas including Chittorgarh, Udaipur, Junagarh, Veraval, Sasangir, Dilwara, Palitana, Sarkhej, Ahmedabad, and Jaipur. The train has been running since the early 90s. For more details click here. 
Photo: Wikimedia Commons