It is a bright day, and the pink facade of the large semi-circular plaza glimmers in the afternoon sun. Two minarets tower above low corridors even as grand columns cast long shadows inside them. Outside, exquisite hand-painted tiles, azulejos, adorn 48 small pavilions—each dedicated to a Spanish province. A navigable canal, with four foot-bridges, runs along the periphery and a huge fountain stands as the centrepiece of the grand plaza. It is hard to believe that this is not a film set—that we are gazing at a 90-year-old building, Plaza de Espana. We have only just arrived in Seville but have already fallen in love with it.  
A history lover's paradise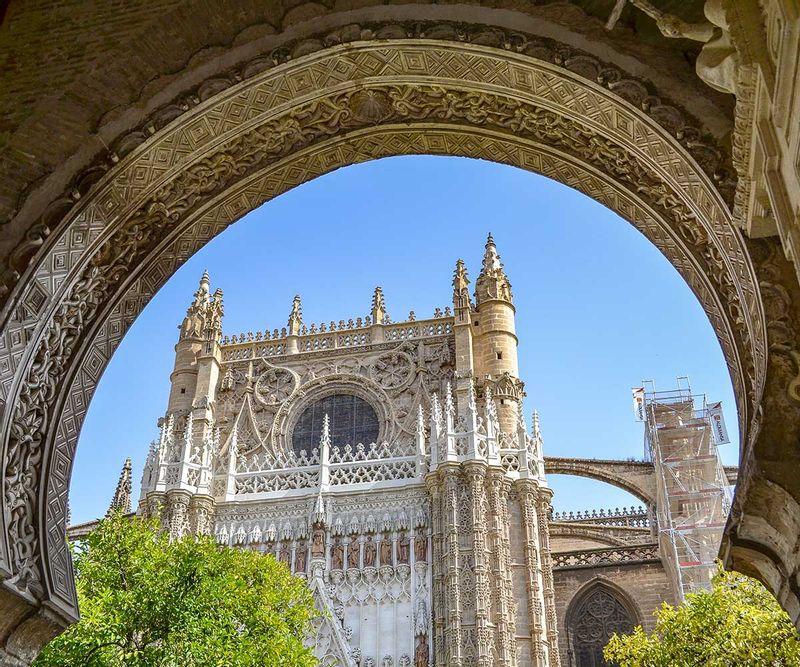 Seville has been home to great kingdoms. Romans, Visigoths, Moors, and Catholics had ruled the city in succession from ancient ages. By the 16th century, Seville had launched explorers like Christopher Columbus and Ferdinand Magellan from its harbour—which had become the gateway to the New World. The riches they brought back turned Seville into Spain's most ornate city, which it remains to date. We decide to begin our Sevillian sojourn with the Royal Palace. Constructed around large patios, punctuated by lush gardens and lined with orange trees—the palace was built over many centuries and still acts as a royal residence. The ground level of the palace borrows strongly from the Moorish and African styles of architecture, while the higher storeys are inspired by Romanesque, Gothic, and Renaissance styles. Lined with corridors and adorned with exquisite murals, the palace looks straight out of fantasy land. I later learn that the hugely popular Game of Thrones series was shot here, as were many other films and shows. 
The centrepiece of historic Seville, however, is its Cathedral. The largest Gothic cathedral in the world, it is known for its awe-inspiring detail and workmanship apart from its size. This is also where Christopher Columbus rests. The cathedral was built over an ancient mosque and still retains its elements like the bell tower, latticed windows, and patios. We walk past the gigantic organ, the intricate altar, and 80 small chapels listening to stories of its construction and tales of its glory to finally arrive at Columbus' tomb. Held up by four allegorical figures representing the four kingdoms of Spain during his life (Castille, Aragon, Navara, and Leon) the tomb is one of the most popular attractions of the Cathedral and draws thousands of tourists every single day. Looking at the intricate detailing and Columbus' importance in this part of the world, it is easy to understand why it is so popular. 
The cultural capital of Spain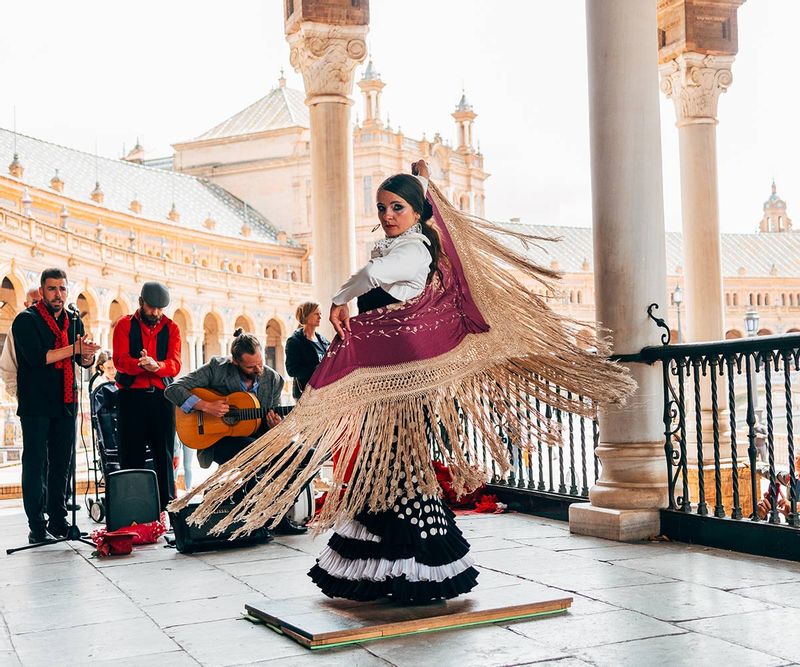 The cultural heritage in Seville is as strong as its architectural prowess. Art peeps from inside homes, shops, and streets while music pulsates through the vibrant streets of the city. Weekly markets—with stalls of terracotta art, ceramic tiles, handmade fabrics, and intricately-embroidered garments,—showcase the traditional crafts. Impromptu flamenco sessions break out at monumental squares and songs of street singers echo in the quiet alleys. Being the birthplace of flamenco, a robust and energetic dance form that came with the gypsies, Seville has since become the cultural identity of Spain—and is considered the best place in the world to witness a performance. We comply with tradition and book ourselves a show. 
Flamenco performances rely on just a few things, of which the skill of the performers is the most important. The men, mostly in the background, sing, clap and play guitar and castanets. The women, dressed in bright figure-hugging dresses, tasselled shawls and elegant shoes, sway to the rhythm with lightning swiftness. Even though I cannot follow the lyrics, I can feel every emotion in the two-hour-long show. There is joy, anger, ecstasy, agony, romance, longing, and everything in between. The shows prohibit photographing the performances, but you carry these images all your life. 
Tapas crawl and bar hopping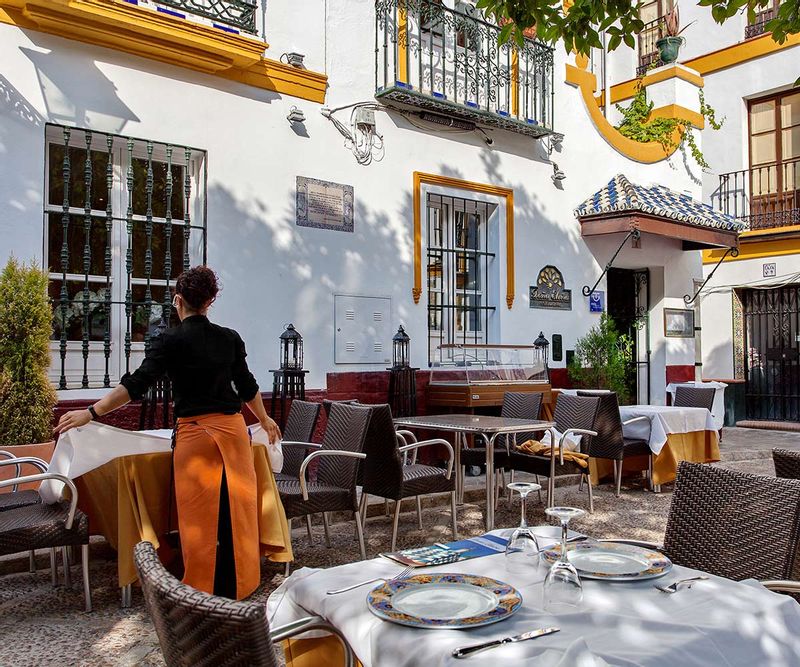 Seville lives on its streets and eats in its bars. Whether they have returned from work, after a flamenco performance, or an easy day at the park—Sevillanos must spend their evenings in their favourite squares and local bars with families and friends. After the intense flamenco performance and a short walk in Barrio Santa Cruz (the Jewish Quarters behind the Royal Palace), we find ourselves inside one of the oldest tapas bars in the city, Bodega Santa Cruz. 
Like all popular bars, the place is overflowing with people: some crowd outside, some hang at the bar counter, some cling to the corners, some occupy small round tables, and some, like us, are trying to figure out what next? "Go, sit there," a portly man, possibly a staff member points us to two empty chairs in broken English. The other two chairs at the table are already taken, but by now we know that sharing is a way of life in Seville. We join the party.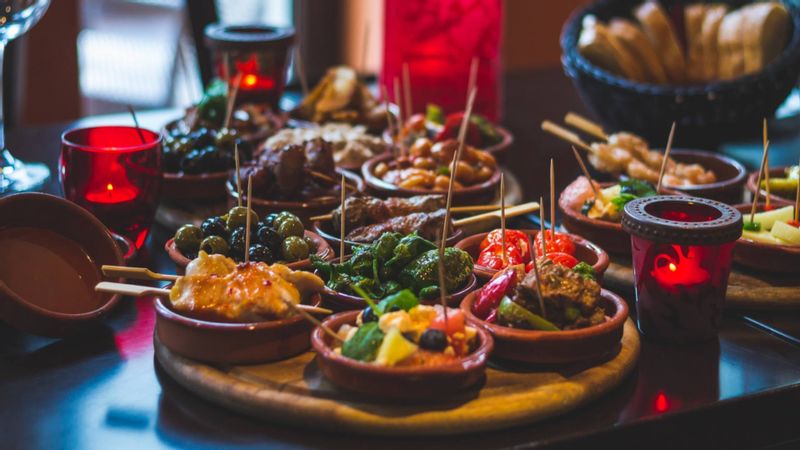 Everything on the menu is written in Spanish and no one has the time to read it to us. We rely on pointing at others' glasses and plates to place our order and hope to get something we can eat; our order arrives in a jiffy. There are calamari rings, potato chips, fried prawns, pickled peppers, shrimps in mayonnaise, and some breadsticks. Two overflowing glasses of sangria arrive soon after; we finish it in no time. "Do you like Seville?" Our neighbour at the table, a tall young man, asks us. We nod excitedly before joining him for another round of sangria and tapas—where else, after all, can we experience the joys Seville has bestowed upon us?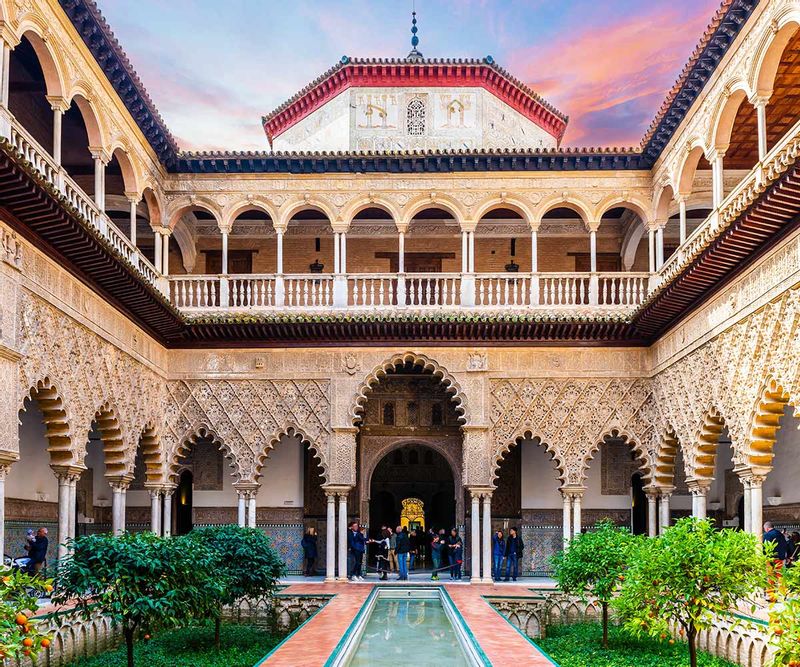 When to visit Seville
October - March is a great time to visit Seville. The city experiences mild winters with sunny days and pleasant evenings that are perfect for sightseeing. In the winter months, the city sees lower tourist footfall and so the hotels and tickets are not only cheap but also easily available.
Getting there
Seville is 529 kilometres from the Spanish capital, Madrid. High-speed trains running daily from Madrid's Atocha Railway Station (2hrs 21 mins) are a great way to get there. Seville airport is connected to Madrid by multiple flights (1 hr 10 mins). 
COVID-19 protocol 
Fully-vaccinated Indian travellers can travel to Spain provided they have taken Covishield at least 14 days before travel. Children under the age of 18 are not required to be vaccinated. Indian travellers must have a Schengen or a Spanish visa to get into Spain.
---
Photo: Shutterstock