Outtakes from a recent trip to Singapore include a quick breakfast at Toast Box having Kaya toast and coffee followed by a spicy lunch at Noodle Man in Chinatown devouring hand pulled Lanzhou Beef Noodles, Chinese rice and lots more. Evenings were spent downing copious craft cocktails at The Elephant Room in Keong Saik and an indulgent dinner at celebrity chef Mauro Colagreco's Italian restaurant in Sentosa. But beyond the gastronomic delights, what struck me about Sinapore was its unique blend of local and expat communities that call this city-state their home. With Chinese, Malay, Indian, and other ethnicities harmoniously coexisting, Singapore wears its diversity on its sleeve. A gastronomic haven for foodies like me, if you are in this city on a bleisure trip, a much-needed vacation, or a work trip that involves discovering its vibrant bar and gastronomic culture, be sure to spend some time away from the hustle and bustle and enjoy some downtime too. While there's no dearth of options to stay and things to keep yourself on your toes from shopping to bar crawling and everything in between, if you are looking to move away and take a pause, head to the nearby island of Sentosa. Sentosa means "tranquility" in Malay.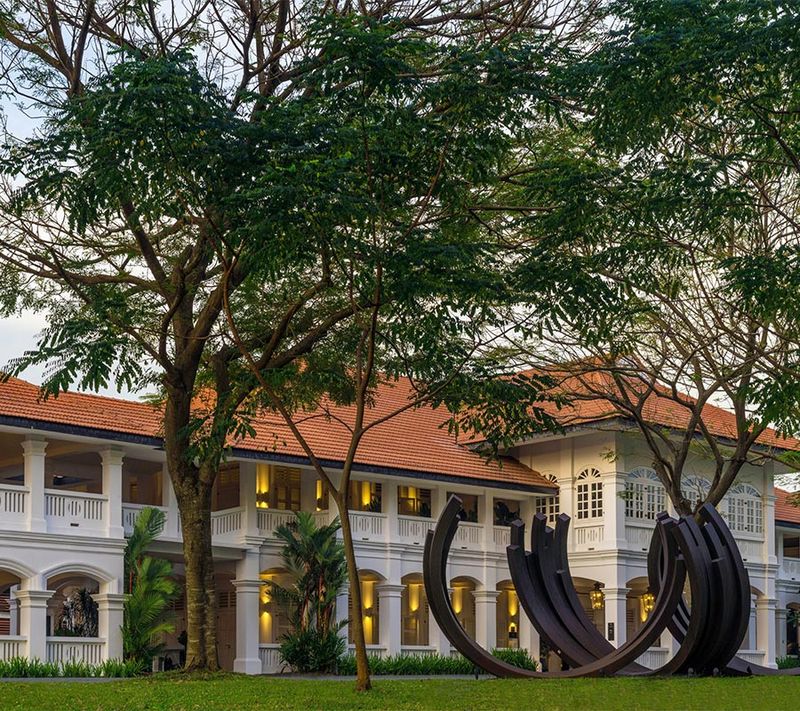 A stay at one such resort on the island that lives up to the definition of "quiet luxury" way before it became cult in 2023 is Capella Singapore where luxury and nature intertwine organically. A tranquil resort island in the middle of amusement parks might not be an obvious choice but the historic and luxurious resort has a lot to please the senses. Nestled on a knoll with panoramic views of the South China Sea, you are instantly surrounded by breathtaking vistas and lush tropical greenery. Minutes away from the clean and secluded Palawan Beach, its elegant, white-washed architecture captures your attention, seamlessly blending with serene atmosphere.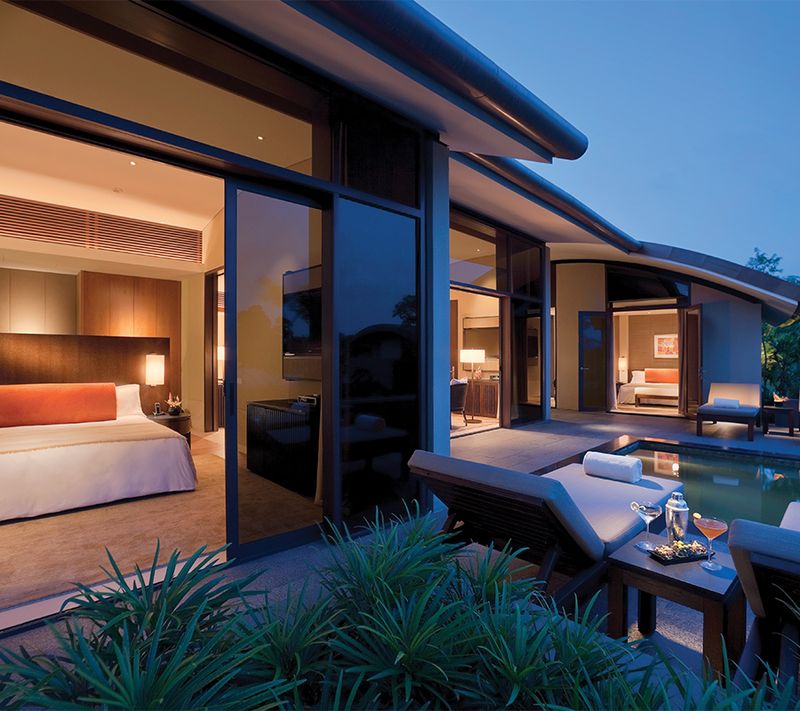 Each room at Capella Singapore guarantees a view and an open outdoor setting, providing weary city travellers like us the perfect escape a much-needed dose of local culture, history, and the arts that often get overlooked in the urban jungle. Despite its peaceful location, the resort remains conveniently connected to the city, with a 20-minute Grab taxi ride to the heart of Singapore. Additionally, complimentary luxurious Limousine transfers ensure a hassle-free 30-minute journey from Changi Airport. At Capella Singapore, you can choose from 112 refined guest rooms, including suites and villas, with private plunge pools and spacious gardens to walk barefoot on. The resort also features a luxury spa, a business centre, two restaurants, a bar, a reading room, meeting facilities, three outdoor pools, and a sculpture garden. 
Decor and character
The resort's decor effortlessly marries old-world charm with modern flair and reflects the Lion city's blend of old and new. The historic colonial-style buildings house rooms that feature contemporary amenities, artwork, and bespoke experiences. Capella hotels worldwide seek out locations steeped in history, restoring places with a cultural connection and captivating stories. Capella Singapore comprises two colonial bungalows from the late 19th century, once home to British officers. These buildings have been transformed into contemporary curved structures, extending into beautifully landscaped gardens framed by the sea. Inspired by Tanah Merah's red earth, renowned architects Foster + Partners designed this resort to complement the traditional architecture and the surrounding natural beauty. 
Inside the Premier Garden, Seaview and Constellation Rooms, guests are enveloped in luxury. You can enjoy the luxury of space with private outdoor rain showers, plunge pools, spacious verandas, and balconies offering an intimate connection with nature. For your morning ritual, you can treat yourself to flavoured Nespresso coffee, and enjoy the breathtaking South China Sea views from the daybed next to the window. A morning coffee overlooking the clam sea is the only postcard view you might treat your eyes to in Singapore, so make the most of it. If you opt for one of their villas, you can even swim in a private plunge pool. 
The resort pampers guests with exclusive amenities, including bedside touch panels with automated blind functionalities, spacious walk-in wardrobe areas, and three cascading swimming pools for a refreshing dip. If being amidst lush rainforest and surrounded by balmy sea views is not enough, take a trip to the award-winning 12,000 square foot Auriga Spa that offers signature treatments incorporating traditional techniques and organic, natural ingredients. The well-trained staff here recommend wellness and beauty treatments based on the cycles of the moon as the names stands for. With nine treatment suites, a relaxing lounge, vitality pool, herbal steam room, ice fountain, a spa session here is highly recommended as the therapists knead you with a relaxing massage that will energise you for some more shopping sprees.
The Capella touch
One of Capella's special touches is the dedicated Personal Assistant or in-house "culturist" who reaches out even before your arrival, creating a personalized itinerary to enhance your Singapore experience. Under the "Capella Curates" program, the resort offers curated experiences that immerse you in the local community and highlight the city-state's heritage and culture. Whether it's feng shui tours on a Vespa, tea blending workshops, or exploring local markets and hawker haunts, the culturist tailors recommendations based on your interests. My personal recommendation is to stroll through east Singapore's colourful Pernakan neighbourhood at Straits Enclave in the heritage district of Joo Chiat to discover the colourful life of the Peranakans. A perfect Instragrammable landscape of quaint pastel-hued buildings, you can't stop clicking ornate Chinese motifs of dragons, cute lace-trimmed windows, and eat local Peranakan grub. Step into the past and spend some time admiring Peranakan family heirlooms and ornaments at the Koon Seng Peranakan House that include charming crafts— porcelain, jewelry, silver, clothing, tea sets, clothing and lots more. If you fancy, you can also book an introductory session to mahjong game lessons made popular in Crazy Rich Asians. If want to skip going outdoors, there are enough activities to keep you amused within the hotel itself. You might also land yourself sweet surprises such as a mandala colouring set or a bundle of complimentary in-room treats to call it a day. 
Cuisines at Capella 
Capella continues the obsession that Singapore thrives on with gastronomy at its multicuisine restaurants: Cassia, Fiamma, and Bob's Bar. They set the bar high with a pairing of oysters and champagne at the Chef's Table that can just be the perfect start if you are planning a special celebration such as an anniversary or a sweet proposal. Keeping the distance to the city bars in mind, find your favourite concoctions at Bob's Bar that lives up to the cocktail frenzy in Singapore best enjoyed with sunset views. Soak in the tropical outdoorsy vibe over a heady Peacock Punch or Palawan Fizz as you laze on a plush daybed or couch under the stars. 
Capella Singapore takes gastronomy seriously, with its multicuisine restaurants: Cassia, Fiamma, and Bob's Bar. For a seafood lover like me, fresh oysters chucked with champagne at the Chef's Table is a winner. However, the real highlight is—Fiamma—an Italian restaurant built upon the inspiration of Chef Mauro Colagreco of the three-star Mirazur restaurant in the French Riviera. Italian for flame, Fiamma lights up with an open kitchen, wood-fired ovens and cosy seating nooks overlooking the pool and garden. From homemade rosemary focaccia and infused olive oil sourced from chef's garden to wood-fired pizzas and tantalizing meat dishes such as Fiamma's Bistecca alla Fiorentina, a tender hunk of beef cooked to perfection on woodfire smoke, and lamp chops, Fiamma's offerings are a celebration of Italian flavours.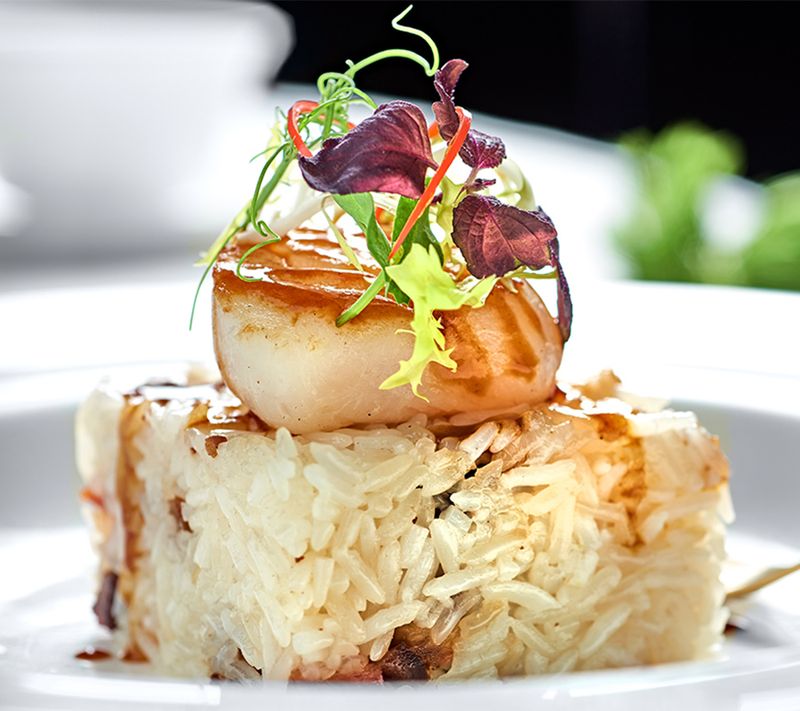 The subdued elegance of the resort extends well beyond the rooms and reflects in its contemporary Chinese restaurant Cassia designed by star Hong Kong designer Andre Fu and brings out chef Alan Chan's flair for creativity and innovation. Take my advice; opt for the leisurely set menu lunch, and let chef Alan Chan's specialities satiate you till dinner. Delight in fresh South African abalone, deep-fried prawns, succulent Iberico Pork Char Siew, Wagyu Beef, Spinach with truffle oil and egg white ( a simple stirfry that's made to perfection), Stewed Australian lobster Inaniwa udon served with a golden superior broth, and a comforting Double-boiled chicken soup with fish maw and conpoy that the chef has perfected over the years. With warm comforting double-boiled broth as the base, this soup is a sheer delight with clean yet distinct flavours that lingers long after you are finished. While it's hard to pick favourites at Cassia—I loved the play of textures that the chilled fresh South African abalone with kombu sauce deep-fried prawn coated with kumquat sauce and the charcoal barbecued honey-glazed Iberico pork char siew offered in one dish. He reserves the best surprise for the finale as he serves Chilled Almond Jelly with Superior Bird's Nest—a novel idea of serving the Chinese dessert with cold noodles and crushed almonds for a unique texture.
Truth be told, Capella Singapore is for the deep pocketed and cut apart from the teeming metropolis of Singapore, but its stunning surroundings, personalised experiences, and exquisite cuisines ensure a memorable stay. 
 
---
Photo: Capella Singapore