If you are a real foodie, the FOMO on the best meals in Singapore is a real one! Add to that if you are in the Lion City for a mere 48 hours to strike off your foodie bucket list and the list of recommendations from a local is a never-ending one!
From hawker centres to busy street foods to fine dining and Michelin-starred restaurants, and a whiff of world cuisine whipped up by raucous locals – all that needs to be tried out in the brevity of your stay. 
Just like the island city is a juxtaposition of the classic and the contemporary, Singapore's food scene too goes well beyond the Singaporean noodles and Singapore Sling if you know what I mean! So, if you have ticked off the Orchard Street, Sentosa, Clark Quay, the malls' circuit in your earlier visits, dip your toes into the Lion City's gastronomical pot from my recommendations as you transit through the city or spend just a couple of days on a long weekend break.
1. Chinatown's local flavours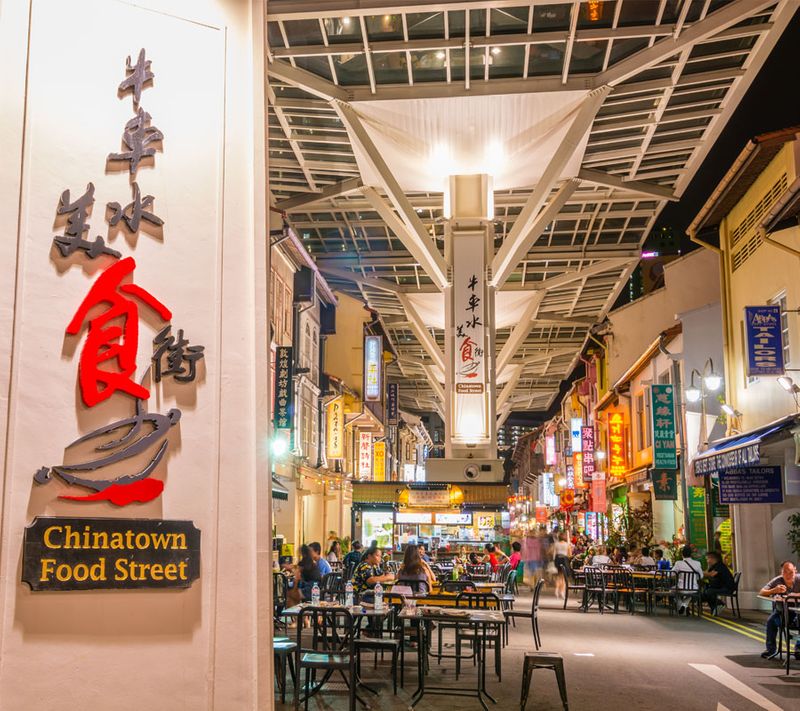 Singapore is a melting pot of cultures with influences from around the world and there's no better way to sample this potpourri of flavours than its street food.
The ethnic enclave of Chinatown is the perfect destination that offers a good mix of hawker fare and swish eateries. Plan an evening out to this bustling locale that houses several eateries. Don't hesitate to try out some of the authentic delights—the popular roti-parata, Indonesian nasi-goreng, Malay satays or the local Chinese seafood delicacies.
2. Authentic hand-pulled noodles at Noodle Man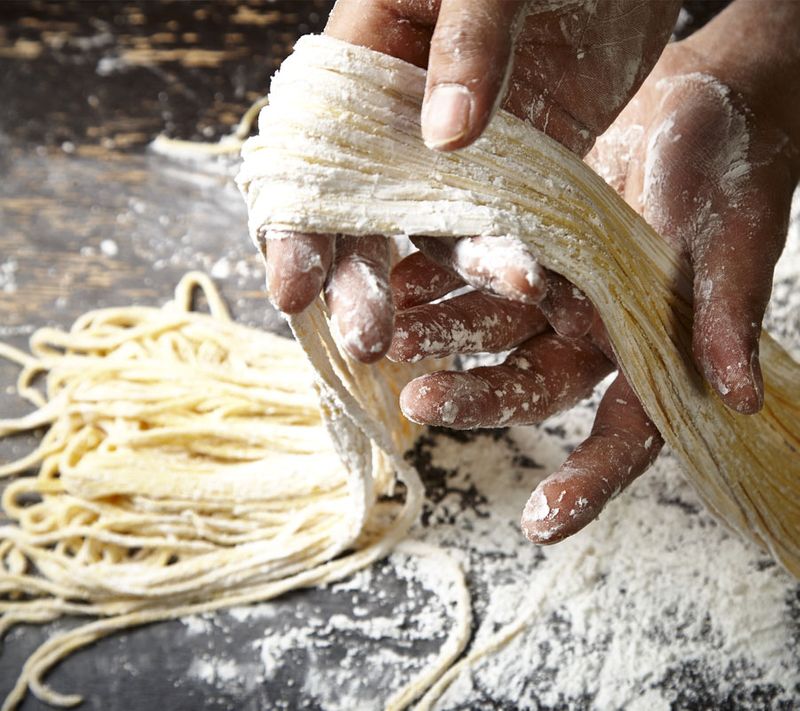 Overwhelming with crowds and aromas, I highly recommend two restaurants— the first one is Noodle Man, a modest eatery on 19th Smith Street, run by the noodle master and his wife. Steer clear of the rice and dumplings and dig straight into hot bowls of perfectly hand-pulled noodles aka La Mian made the traditional way with smoked duck in oyster shaped pancakes and meaty soup dumplings also known as Xiao Long Bao.
3. Taste the thrill of a fiery feast at Old Chengdu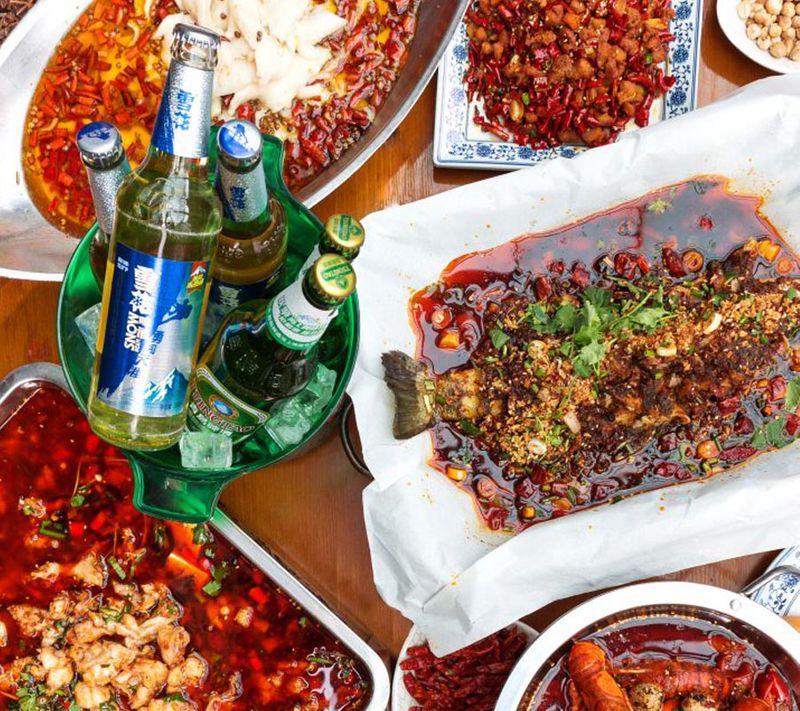 A walk down Pagoda Street will take you to Old Chengdu that serves authentic spicy Sichuan food. A rich culinary tradition, that dates back to the 17th century, the fresh and fiery flavours of this cuisine come from the Sichuan chilli peppers. If you are the adventurous type, ask for their iconic Spicy Frog or the Cold Pot Fish, however, the Cumin Beef, Cheng Du Mao beef and the really spicy Chong Ching Chilli Chicken served on a wicker plate are recommended. A bottle of Kalamansi juice is perfect to douse the fire inside.
4. Posh dining at Keong Saik Road
Once you are done with the traditional fare, move to Keong Saik Road, which houses some of the most up-market bars and restaurants in Singapore. From gourmet to trendy to laid-back, you will be spoilt for choice with the indulgent array of culinary gems on this street. From The Guild, Afflogato, Butcher Boy, and the iconic Potato Head bar, just choose the cuisine and the vibe to lounge around.
5. Peranakan delights at Joo Chiat Road
Navigating through Singapore's street food maze would be incomplete without a trip down the Joo Chiat Road on the East Coast Road to explore the Peranakan culture brought alive by the vibrant well-preserved Peranakan shophouses and eateries.
One of Singapore's best foodie secrets, Peranakan, is a delightful cuisine that combines Chinese ingredients with Indonesian and Malay cooking techniques and spices. Peranakan cuisine has its roots in the 15th century when the Chinese traders settled down in the then Malay archipelago and married Malay and Indonesian women. To date, the Peranakan legacy is being carried forward by a few dynamic families. There are many in the Joo Chiat area like the Old Bibik's (known for their spicy fish stews) or Baba Chews (famous for Penang fried noodles or crepes stuffed with durian puree).
6. Check out Singapore's version of samosas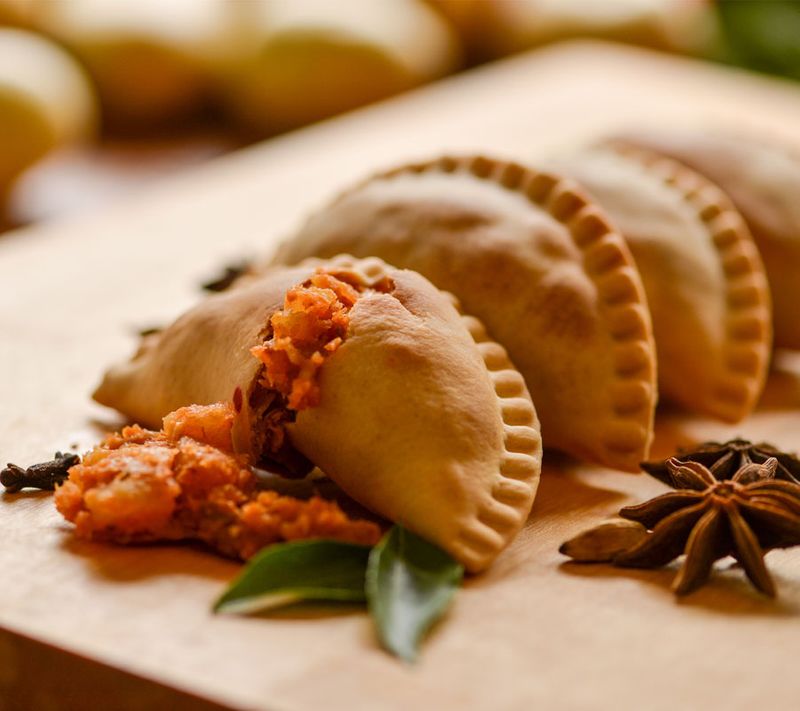 An absolute must-visit on Joo Chiat Road is a tiny in-house bake and cookshop called Rumah Bebe, run by the beautiful "nyonya" Bebe Seet. While the Beef Rendang and Ayam Buah Keluak (chicken) are the house specialities, don't forget to sample their baked curry puffs, a variation of our samosas.
7. Stop for a soul-soothing bowl of laksa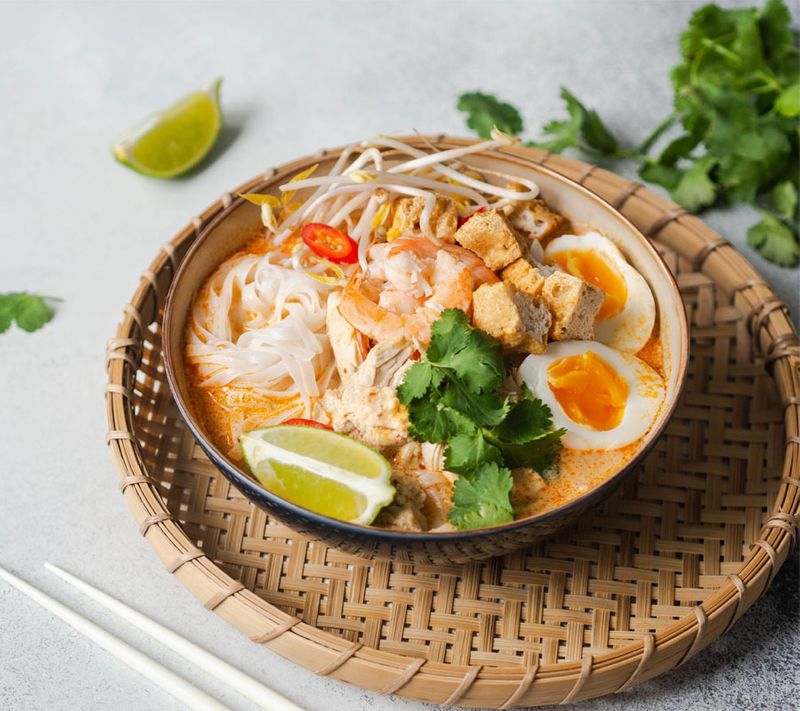 While strolling along Joo Chiat Road, don't leave without having a hearty bowl of flavourful and fragrant laksa at the 328 Katong Laksa that serves the best laksa (thin rice noodles in light curry broth) in town.
8. Breakfast done right at Toast Box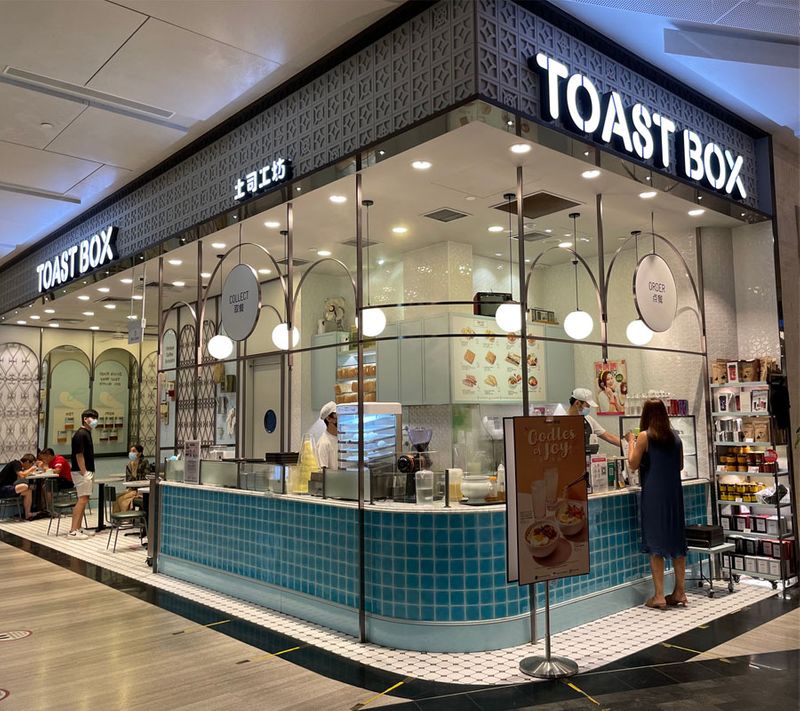 When in Singapore, a trip to Toast Box is a must to try out their sinful and butter-dripping kaya toasts and milkmaid-made coffee. A quintessential Singaporean experience, if you may!
9. Coffee with breakfast at Common Man Coffee Roasters 
For those who need to wake up and smell the coffee, the Common Man Coffee Roasters on Martin Road is a great option. It's worth a visit for its wide-ranging coffee options and excellent breakfast and all-day menu highlighted by sauteed kale and egg white scramble, Organic Eggs Benedict on tender braised ox cheeks or the vegetarian Quinoa Salad with Grilled and Crispy Kumara.
10. Wake up to the baked goodness of Tiong Bahru Bakery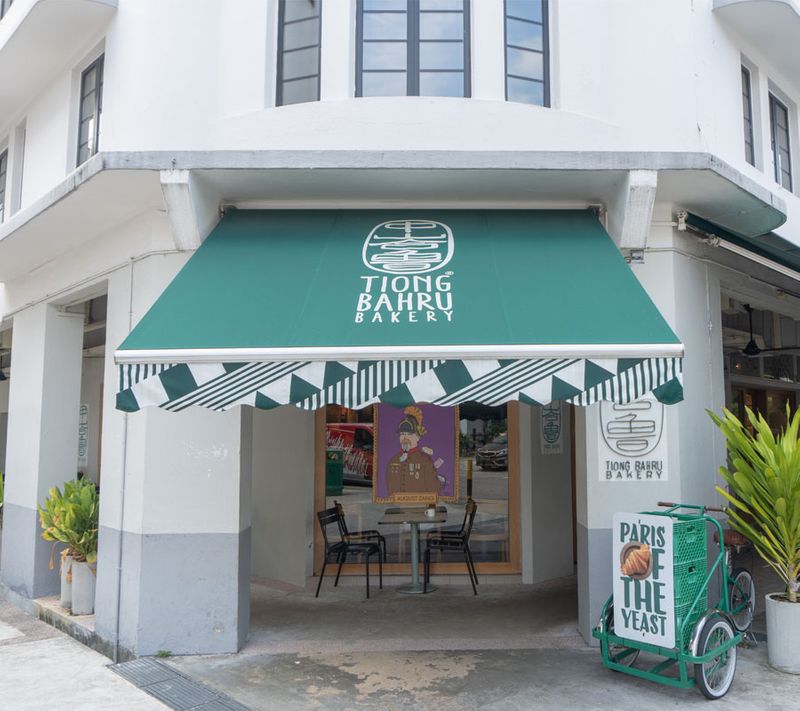 Another breakfast and all-day diner that's perfect to kickstart the day with a sumptuous platter of warm croissants and open sandwiches is the Tiong Bahru Bakery. You must try their brioche and the puffy pastry, Kouign-amann apart from their buttery plain and almond croissants and artisanal coffees.
11. Authentic Sichuan fine dining at Qi - House of Sichuan
Singapore aka the food capital of Asia is a hotbed for gastronomical feats ranging from local to fine dining. Boasting of some of the finest restaurants that have won Asia's Best Restaurants awards and Michelin stars, there are several noteworthy names who are raising the bar with innovation and great food. Let me take you on a unique experience. Now that you have tried the Sichuan cuisine at Old Chengdu, how about trying the same in a Michelin-starred restaurant located in the heart of the CBD area – Qi - House of Sichuan.
The restaurant serves authentic Sichuan, modelled after the seven flavours of the province—spicy, aromatic, sweet, bitter, sour, peppery and salty. You can start with some Chilli Oil Wantons—a dish of juicy meat wrapped in tender wonton skin and then soaked in chilli, garlic, oil and vinegar. For the mains, try the popular Sugar Glazed Ginger and Scallion Beef, Sweet and sour Prawns or Double Cooked Pork Belly and end the fiery Sichuan experience with some Golden Custard Buns for dessert.
12. Steak it out in Singapore at CUT
If you are a fine steak lover, there's no better place than CUT by Wolfgang Puck. Known to serve the finest range of beef grilled over charcoal and hardwood, CUT complements the produce and ingredients sourced from Southern California. The Australian Angus, American Wagyu and the Japanese A5 Kobe Beef—the choice here is endless. With an exhaustive wine list and cocktails are mixed to perfection, a dinner here will get you as close to celebrity stardom as you ever will.
13. Odette serves up a French-Singaporean medley
There's also Odette that clinched the No.1 spot on Asia's 50 Best Restaurants 2019 list. The restaurant is helmed by chef Julien Royer and serves French food with Asian influences from within the National Gallery Singapore.
14. Dinner with a view at Lavo
For a breathtaking view of Singapore, there's nothing compared to Lavo at the Marina Bay Sands. Located on the 57th floor of the hotel, this rooftop bar makes the cut due to the spectacular views of the sunset and a 200-degree view of Singapore's happening skyline that it offers. The food is purely incidental.
15. Take in Singapore's nightlife at Malts
If there is one city that can compete with New York, London or Tokyo in terms of quality bars, it has to be Singapore. Home to several of Asia's 50 Best Bars — Manhattan Bar, Atlas, Gibson or The Old Man Hong Kong, which just nabbed the top spot at Asia's 50 Best Bars awards for 2019, Singapore's nightlife is as rocking as its food scene.
But the one I was impressed with is Malts, owned by a young Indian, Saurabh Kale. A banker by profession, he now runs various successful F&B outlets like Bushido and Malts. Stocking many vintage masterpieces like 51-year-old Glenglassaugh or 45-year-old Bunnahabhain to private labels by The Whisky Society or Cadenhead, Malts is trying to encourage the average wine-loving Singaporean to try and experiment with the new tastes and flavours of the unknown single malts.
With so much on offer, if you haven't yet planned a visit to Singapore, plan one now.
---
Photo: Shutterstock