When it comes to South India, travellers gravitate more often than not toward Karnataka and Kerala for its lush hills, tea and coffee plantations, backwaters, coconut-tree lined beaches, and more. However, on the eastern edge lies one of India's largest states and smallest union territories. Pondicherry, a French colony until 1954, packs a punch, especially for those who truly wish to go beneath the surface of a destination. An explorer's town, it boasts golden beaches, neighbourhoods that showcase gorgeous French colonial architecture and bougainvillaea-draped townhouses, quaint cafes and restaurants, heritage trails, delish Franco-Tamil cuisine, a surf scene to die for, and plenty of yoga and meditation. While many tourists from nearby towns and cities head to this historic union territory for the weekend, only to revel in cheap alcohol and breath-taking seaside views, there's a lot of off-beat things to do and secret places to visit if you can slow down and appreciate the simple pleasures of life.  
1. Explore the atmospheric French quarter
Almost two hundred years of French occupation have given Pondicherry a distinct personality. The architecture, food, and language have all been preserved. Shades of yellow infuse joy into the architecture of the French Quarter, also known as the White Town. This is also where you're likely to spend most of your time in Pondy. Many structures in the French Quarter are colonial buildings and were built by the French during their rule. Don't miss the French Consulate, a heritage site at the corner of Rue de la Marine and Goubert Avenue. Le Foyer Du Soldat is another old colonial building that served as a legion hall for local retired soldiers who fought for France in several wars abroad. Institut Français De Pondichéry (French Institute of Pondicherry), Palais de Mahe hotel, and Alliance Francaise de Pondicherry are other significant buildings in this atmospheric neighbourhood.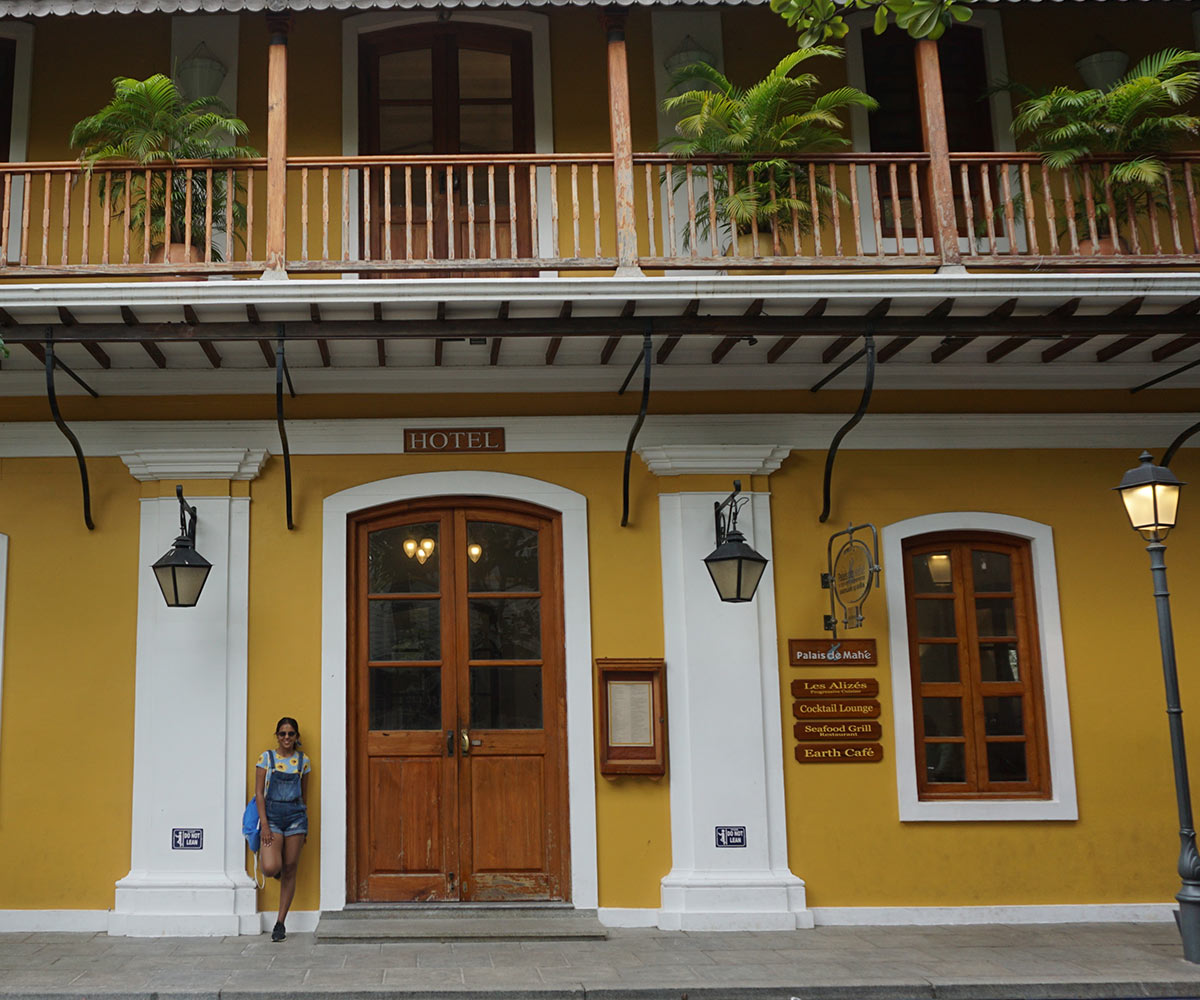 Observe prayers in French at Notre Dame des Anges, the only church in Pondicherry to have mass in three languages (English and Tamil are the other two). Located at Rue Dumas, the façade of the church in pastel orange-pink speaks elegance. On the inside, a mosaic of patterns is formed as the light filters through the stained glass, creating an absorbing atmosphere.
However, what makes the streets Insta worthy are French-style villas with huge compounds, grand walls, and majestic doors. One couldn't be blamed for being transported to one of the pretty European towns. The best way to discover the languid mood of the French Quarter is to grab a map and keep walking. 
2. Walk down Goubert Avenue at dawn and dusk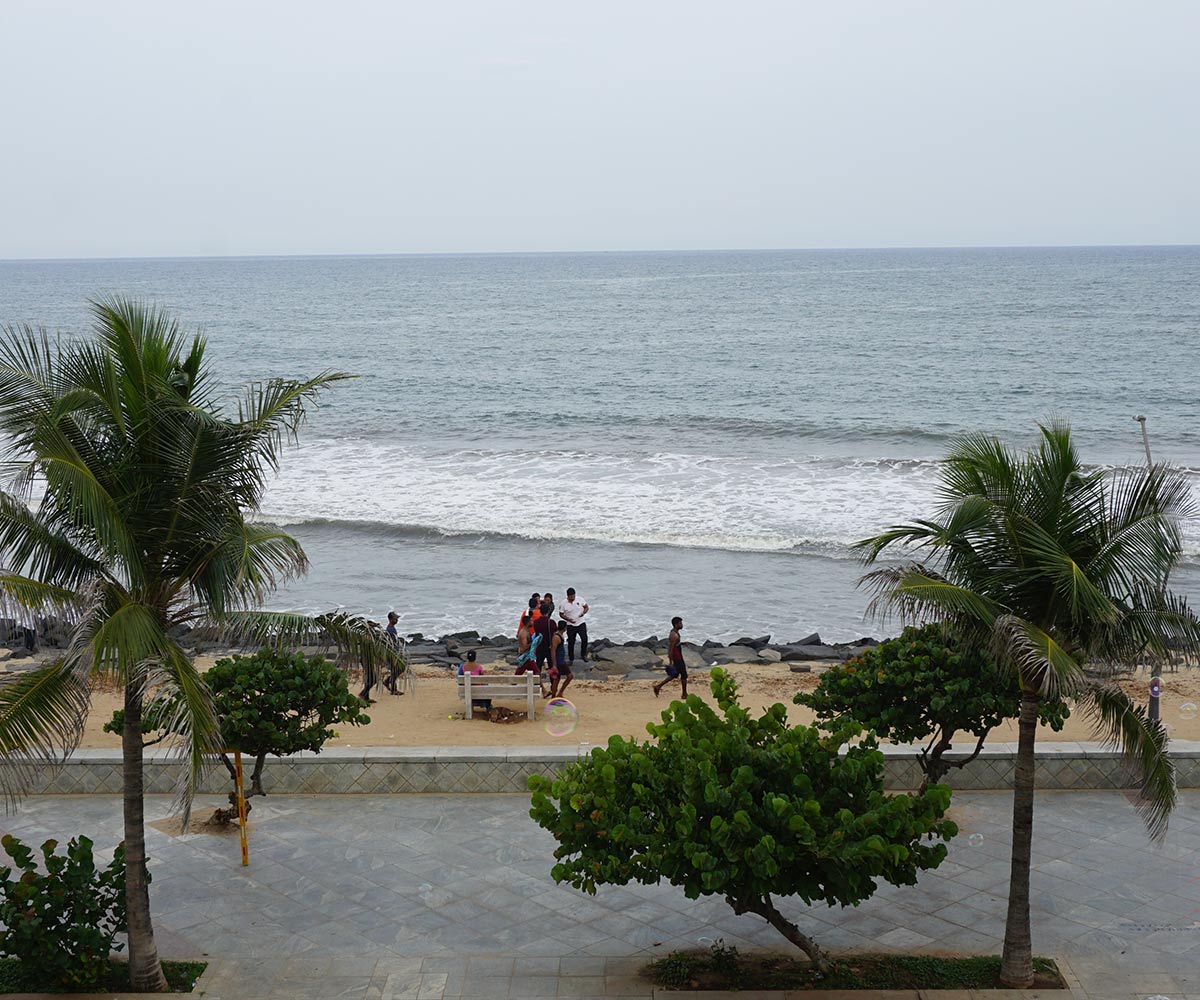 The French Quarter or the White Town is distinguished by Goubert Avenue which runs along the Promenade Beach. The manicured layout of the avenue is lined with heritage villas and buildings, many converted into hotels, a whitewashed 19th-century lighthouse as well as significant statues like the 4-metre Mahatma Gandhi figurine, the tallest in Asia. This statue is surrounded by eight magnificent granite pillars and looks beautiful at night when it is illuminated by colourful lights.
At first glance, the 1.5-kilometre stretch of the promenade may seem like a version of Mumbai's Marine Drive. However, in a stroke of genius, it is traffic-free and pedestrian-friendly. No wonder this is where the locals gather every morning to take in the sunrise and catch the sea breeze. Head here at dawn and you will find people running, walking briskly, and performing yoga asanas and other activities that help them find their zen. At dusk, it's buzzing with food vendors, couples in love, people on evening strolls, and friends chatting and loafing. For an other-worldly experience, grab a cup of filter coffee from one of the nearby joints and enjoy the changing colours of the sunset sky.  
3. Pedal your way through the culture and heritage of Pondy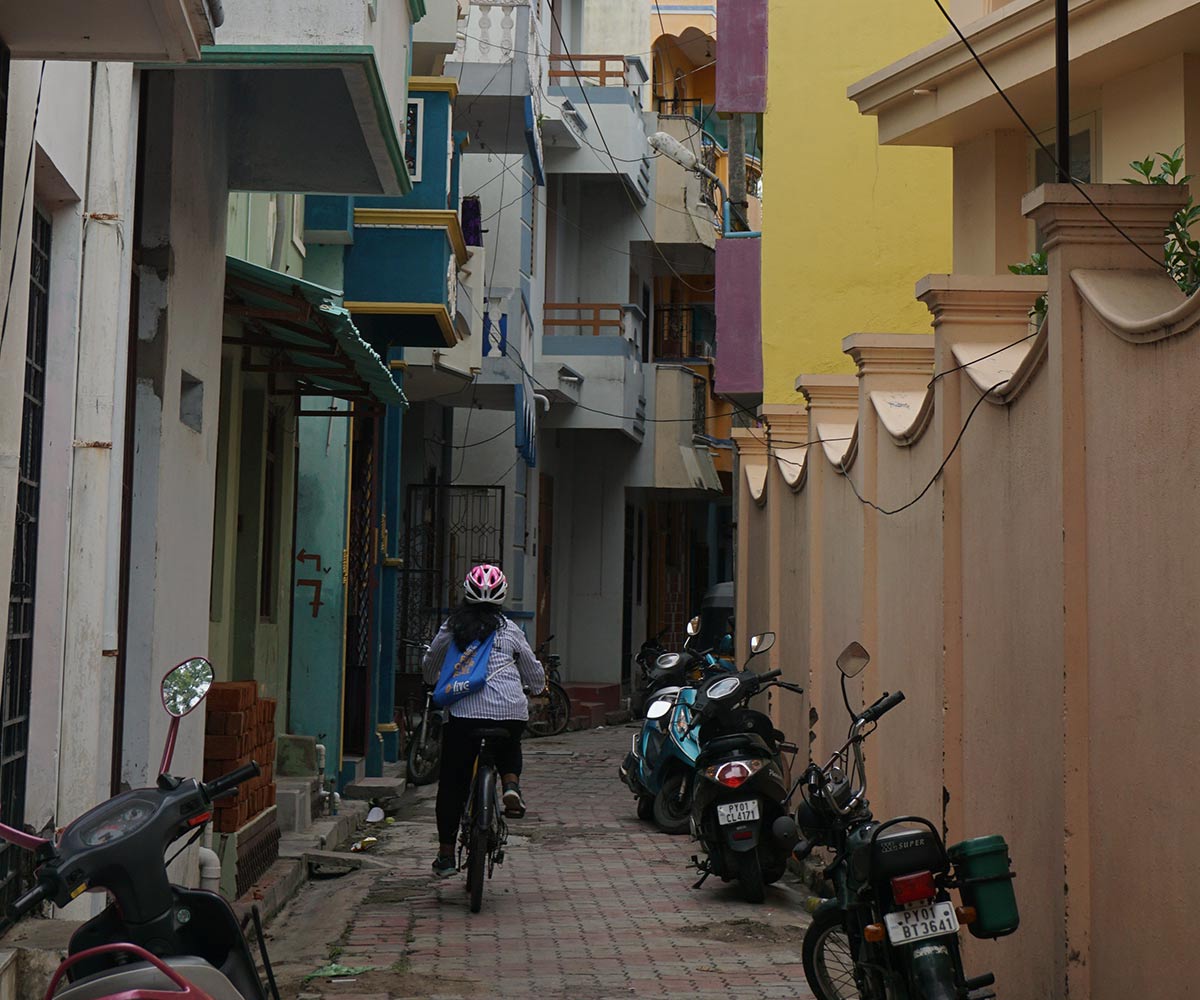 Pondicherry is a fine example of unity in diversity and multiculturalism. Uncover its secrets at your own pace with a bicycle tour around the French, Tamil, and Muslim quarters of the town.  
Guided e-bike tours by Blive take you past some quiet alleys and nooks of the town and are perfect for those who like a bit of fun and adventure on a trip. It is a great way to watch the locals going about their day-to-day life. Moreover, you get to hear insightful stories about the town that you won't find in travel guides! Know the reason behind the colour coding of the buildings – yellow for the French, white for the Indian government, and grey for the ashram, how several people living in Pondicherry are French citizens, or the architectural details of old mansions that breathe history. If you're hungry midway, you could also refuel with a French-inspired dessert or a local breakfast spread at an award-winning restaurant.  
Most importantly, e-bikes are suitable for people of all age groups. In case one doesn't want to physically pedal, one can switch to assist mode for effortless riding. These bike tours are quite relaxed, with plenty of stops on the way. The idea is to go slow.
A two-hour guided e-bike tour with Blive costs Rs 1,500 (approx.) and includes snacks, a bag to carry your belongings, and a water bottle. These tours start at 9 am and 3 pm.
4. Connect with your inner self at Aurobindo Ashram and its various departments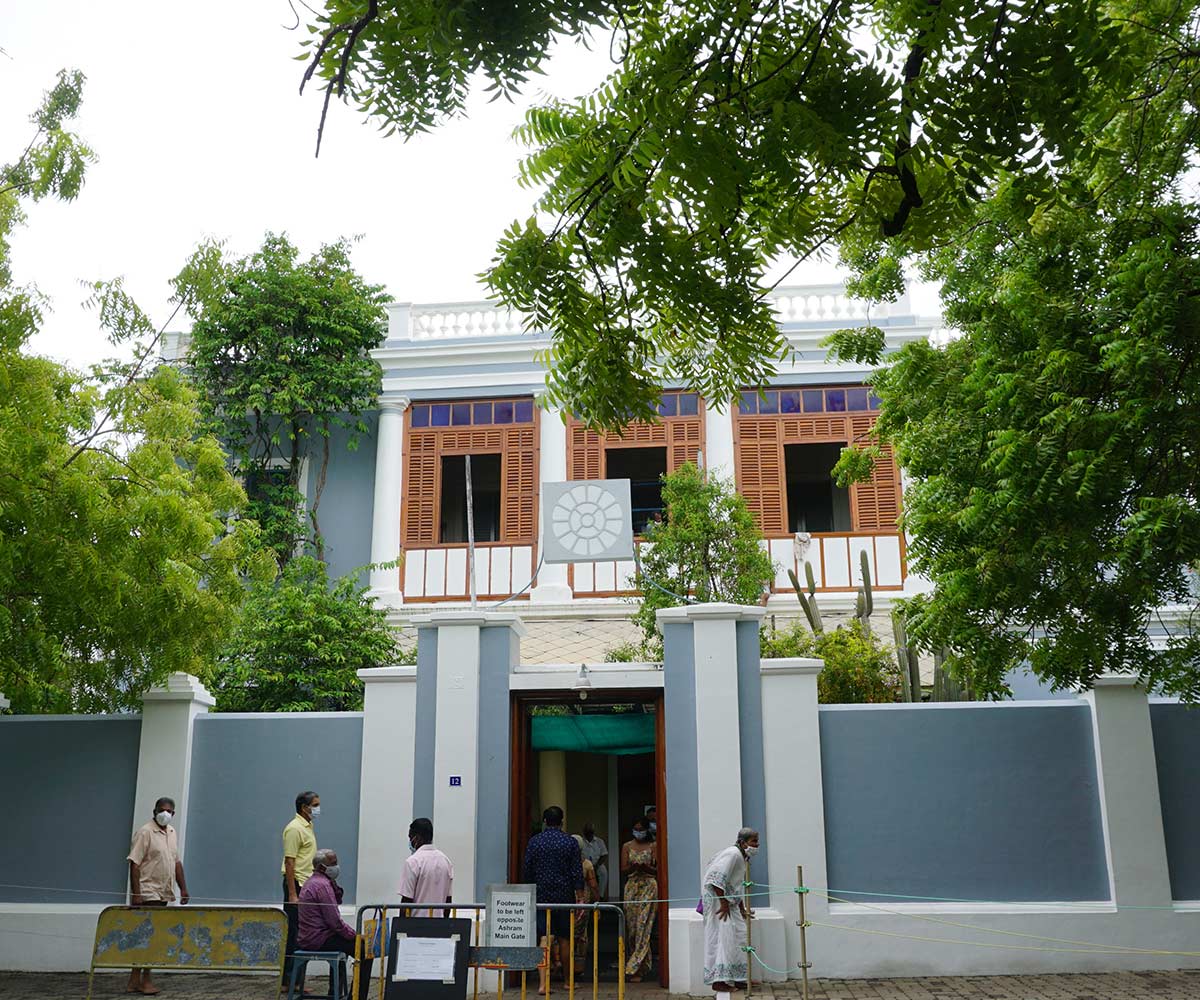 Founded in 1926 by Sri Aurobindo and a French-born woman, Mirra Alfassa, fondly called 'the Mother', the Aurobindo Ashram is a vibrant centre of life in an urban setting. It is a reminder of Aurobindo's teachings that focus on work as an offering to the Divine.
Start with a visit to the grey-walled ashram building where you see the flower-festooned samadhi of Aurobindo and the Mother, followed by the ashram office where you can get a map of the locale. The ashram consists of over 80 departments, ranging from small-scale industries and art and craft workshops to farms, gardens, healthcare, guesthouses, and engineering units among many others, and these departments are marked on the map.
If you're someone with a creative bent, make sure to stop at the various design departments to witness the devotees immersed in embroidery, batik work, hand-printing on saris, handloom weaving, etc. An absolute must-visit is the Sri Aurobindo Handmade Paper Factory. Over a half-a-century old, it makes and sells vibrant, eco-friendly handmade papers, along with stationery and gift boxes. Book a factory tour to see, first-hand, how the paper is produced from cotton rags and then processed with techniques like silk screen printing and marbling.
There are daily weekday ashram tours (₹50 per person), which begin at 8.30 am with a film about Sri Aurobindo and the Mother and include visits to various ashram workshops. Evening meditation around the samadhi is open to all. 
5. Get a head pat from the elephant at Sri Manakula Vinayagar Temple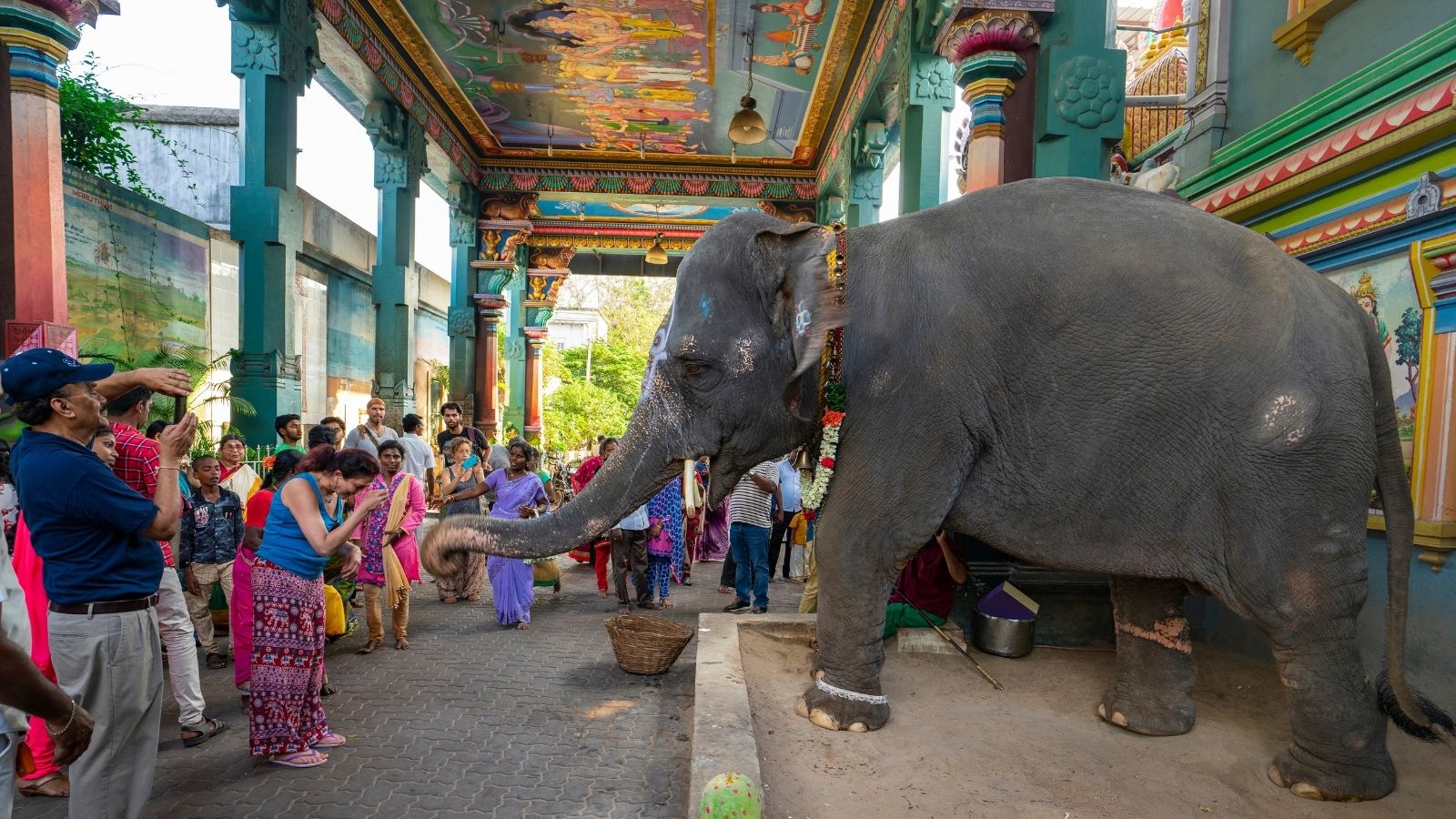 Pondy may have a strong French influence and more churches and cathedrals than most Indian towns, but the Hindu faith still reigns supreme. You will realise this when you visit the Manakula Vinayagar, a temple dedicated to Lord Ganesha.
Built before the French occupied Pondicherry in the 17th century, this temple has survived many attempts by French missionaries to demolish it and remains a popular pilgrimage destination for Hindus. However, it is most famous for its resident elephant Laxmi. She blesses visitors who donate a coin by tapping them on the head with her trunk. At this centuries-old temple, you will see vibrant paintings and numerous stone carvings of Lord Ganesha.
The temple is open from 5.45 am to 12.30 pm and 4 pm to 9.30 pm. Unfortunately, photography is only allowed in certain areas.
6. Learn more about Tamil culture by trying your hand at Kolam Art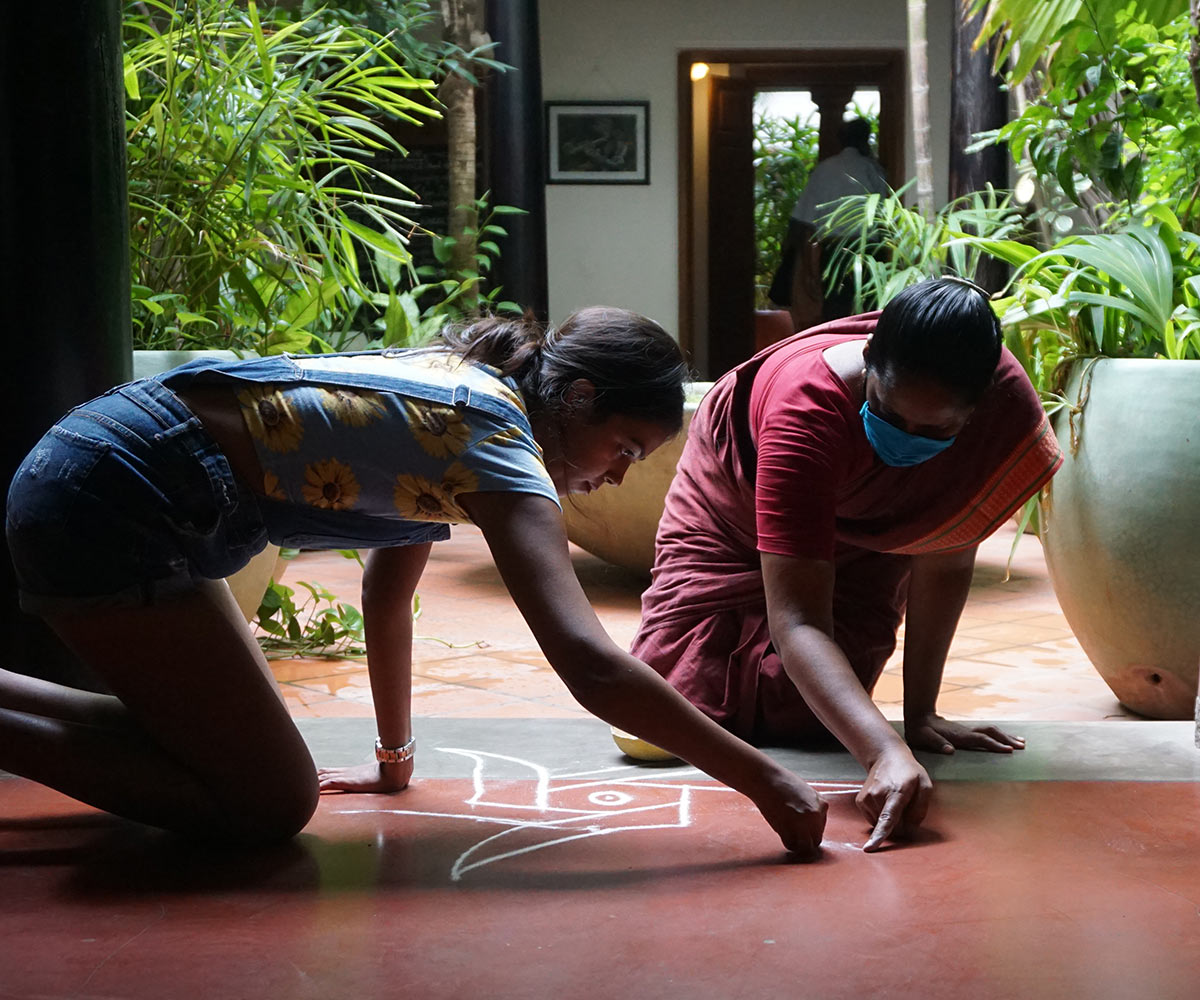 The old Tamil quarter or the Heritage Town is full of character. Saunter down its streets and you are likely to come across artistic, colourful patterns created on the threshold of houses. Known as kolam, these designs are drawn using rice flour and herbal colours and carry a deeper connotation. The geometrical line drawings composed of curved loops and illustrated with the help of a grid pattern of dots are a sign of prosperity and goodwill. It is also a way to welcome other beings into one's home and everyday life. Tamilian men and women draw these intricate patterns afresh daily and in varying designs. Kolam is an integral part of Tamilian households and the soul of Tamil cultural and social life.
You can try your hand at kolam at Maison Perumal which is a 130-year-old family mansion dating back to French colonial times in Pondicherry. This period bungalow, now turned into a distinguished boutique hotel, offers interesting cultural experiences for travellers who want to be introduced to Tamil culture in Pondy. Moreover, this mansion is where you may want to linger for a bit or find a shady spot and read a book. Featuring central courtyards, large windows, and nature-inspired elements, its minimalistic interiors reflect 'less-is-more' philosophy and exude a soothing aura.  
7. Go Boating at Chunnambar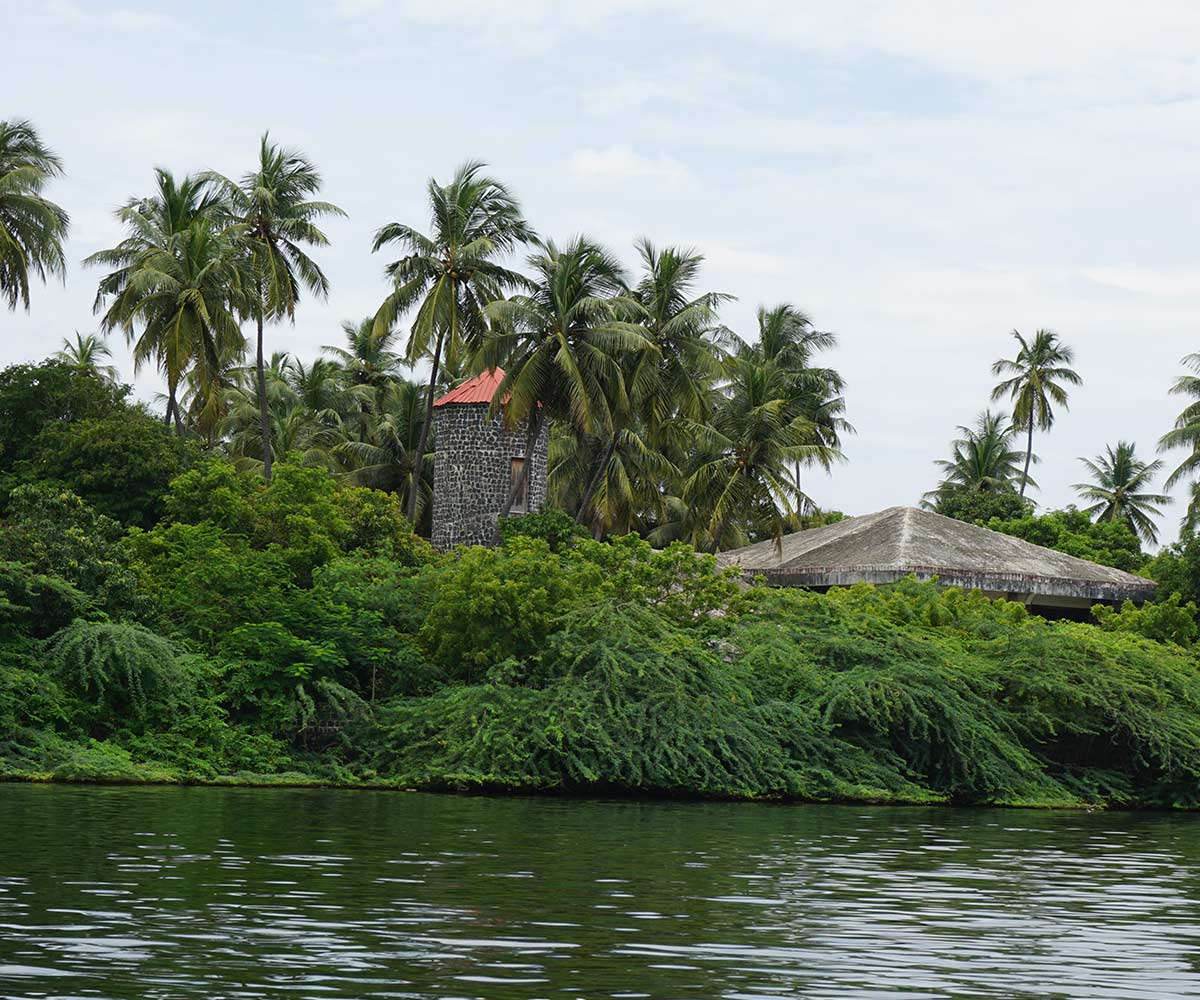 Located along Cuddalore Main Road, around 8 km from Pondicherry main town, Chunnambar is a small village with boathouses and a beach known as Paradise Beach, situated near the mouth of the backwaters.
In the mood for a boat ride? Head to Chunnambar Boat House which is ideal for boating and also a great picnic spot. Pick from a wide range of boating options like motorboats, speed boats, sailboats, rowing boats, jet skis, and paddle boats. If you're looking for a quick half-day tour on a budget, opt for one of those public boat rides that take you to Paradise Beach. The ride from Chunnambar to Paradise Beach itself is mesmerising. It has an unparalleled charm with its serene waters and thick mangrove forest cover making the landscape appear lush. If you're into birding, make sure to carry a pair of binoculars to spot some rare bird species. At Paradise Beach, enjoy the soft, golden sand, sip on fresh coconut water or find a resting spot in one of those Africa-esque eco-friendly shacks.
The timings for a ferry to Paradise Beach are 9 am to 4 pm.
8. Spend a day in tranquil Auroville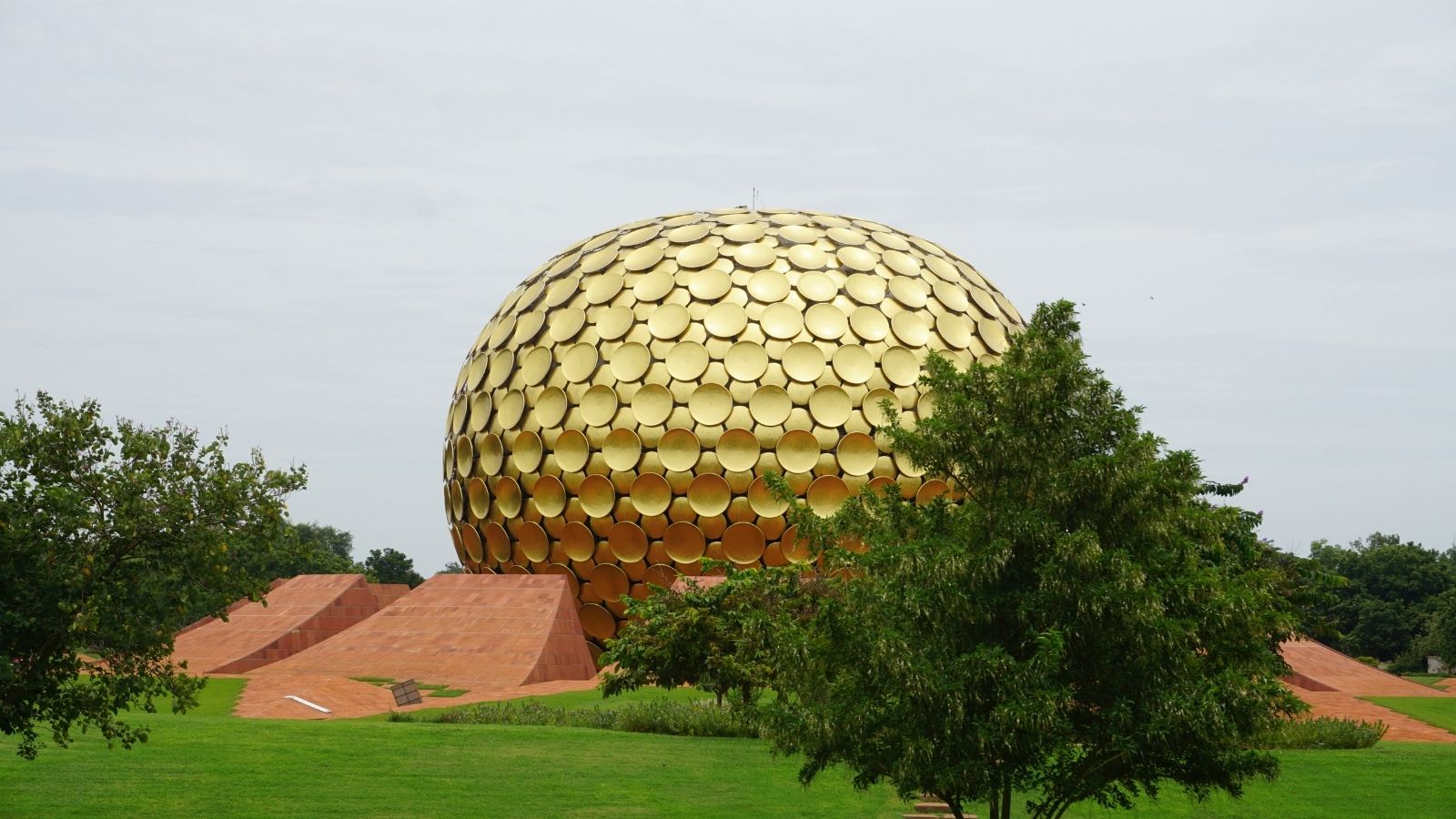 Founded in 1968, Auroville, the 'City of Dawn', was envisioned to be a city of the future that will realise harmony and collective growth by rising above race, creed, and religion. The purpose of Auroville is to realise human unity – in diversity. The township currently has more than 2,500 people, from all age groups, who have come from 59 nations, from all social classes, backgrounds, and cultures, representing humanity as a whole.
If you connect well with the idea, try spending a day in Auroville to learn more about the philosophy behind the project and how people live and work here in unity by sharing their skills and knowledge with each other.
Tucked away in the jungle, Auroville is home to more than 100 scattered settlements and some excellent restaurants, cafes, and places to go shopping. Start your tour at the Visitor's Centre, followed by a short walk towards the architecturally-unique Matrimandir.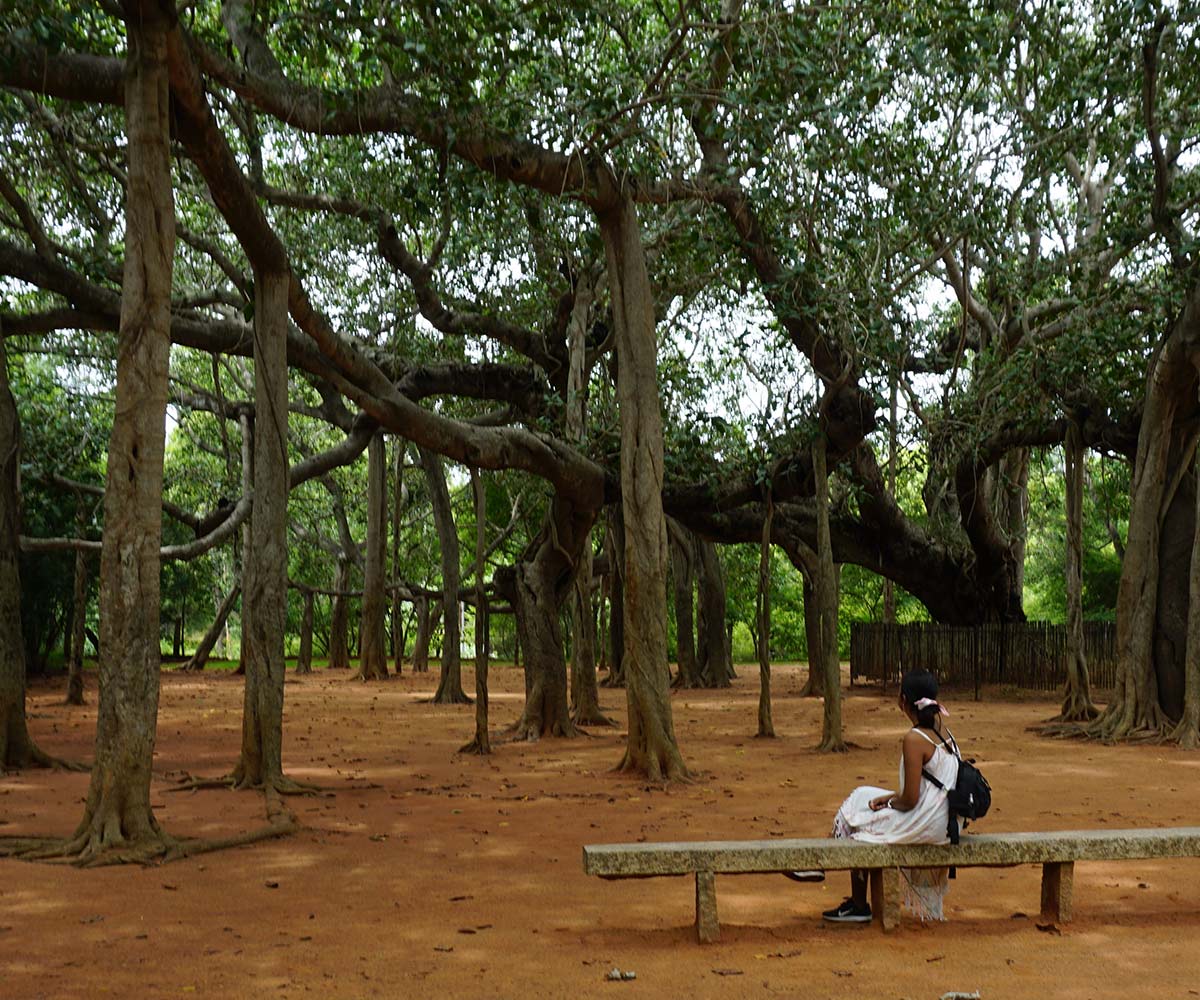 The township also boasts a collection of organic farms, unique cafes, bakeries, and restaurants that serve fresh, healthy, and soul-satisfying meals. While Dreamer's Cafe serves everything from smoothies, cakes, and muffins to refreshing lemonade, Bread & Chocolate is famous for its delicately-crafted sourdough sandwiches and hearty breakfast bowls. The Auroville Bakery is a good place for baguettes, pizzas, quiches, tarts, pies, and rolls. They also bake bread and cakes, but that's in the afternoon. For a slice of Japan in Auroville, grab a quick meal at Sakura Sushi. Neem Tree Eatery is a home-style outdoor café while the Right Path Café is where you could find the largest selection of thin-crust vegan pizzas. For a farm-to-table experience, look no further than Solitude Farm and Satchitananda Raw Food Restaurant. Lastly, there is a gelato place around every corner. You could try a pistachio, stracciatella, or Hazelnut gelato at Gelato Factory.  
A visit to Auroville is an experience in itself. The best way to get around this township and explore its interiors is to rent a scooter or a bicycle. 
In for some adventure
Acquire some surfboard skills  
As a tourism activity and a sport, surfing is developing very rapidly in Pondicherry. Pristine shoreline, blue-green waters of the Bay of Bengal rolling like liquid crystal, and the scenic view of the palms makes the secluded Serenity Beach a great spot for surfing as well as rejuvenating post a surf session.
Learning how to surf is a priceless experience, especially when you have an expert guide to take you through it. Hence, it's important to pick your surf school wisely. At Kallialay Surf School (KASS), one of the first surf schools on the South-East coast of India, you can pick a surf course according to your liking. You can either go for group sessions or private lessons, and you have a choice to pick a 5-day, 7-day, 10-day, or 15-day course.
If you're a beginner at surfing, you could also consider booking a session with Mother Ocean Surf School. This is where they get trained to master the board on knee-high and hip-high water levels. From surfing boards to leashes and even swimming trunks, they provide everything. Make sure to book your slot in advance.
The best months for surfing are March-May and October–November. Prices start from about Rs 1,500 per head
---
GO CAFE AND RESTAURANT HOPPING 
There's no doubt that sunny and slow-paced Pondy has a fantastic cafe culture. All along its charming streets, you'll spot cosy cafes that serve up all kinds of caffeine concoctions, freshest croissants, cakes, crepes, and more. When it comes to restaurants, they dish out everything from local and European to Asian and Middle Eastern cuisines.
Here's a quick list: 
Café des Arts, 10, Suffren Street, White Town for their sweet and savoury crepes, breakfast combos, and artistic vibe.
Café Xtasi, Mission Street for a range of wood-fired pizzas, pasta, and salads.
Le Dupleix, 5, Caserne Street for an interesting mix of European and Indian delicacies. Try their Goan Prawn Curry and Rock Lobster.
Coromandel Cafe, Romain Rolland St, White Town, for enjoying delish fare made with locally-sourced ingredients in a charming space with a garden patio.
Adyar Ananda Bhavan and Hotel Sri Kamatchi in White Town for a traditional South Indian meal served on a banana leaf.
Rendezvous Cafe Restaurant, Suffren St for distinctive coastal and European dishes, cheap beer, and rooftop setting.
Oceans7, Goubert Avenue for well-made idli, dosas, and filter coffee. Opens early for breakfast.
Tanto Pizzeria, 29, Diagou Mudaliar Street for wood-fired pizzas with farm-fresh vegetables and homemade iced teas.
Villa Shanti, Suffren St, White Town for Indian and European dishes and its soothing ambience. Their focus is on quality, freshness, and seasonal ingredients.
Baker Street, Bussy Street for French baked goods and desserts, sandwiches, meat dishes, pasta, and seafood. 
---
Where to stay
Run by the Sri Aurobindo Society, this guest house is simple, clean, and minimalistic. Try and book a sea-facing room on the third floor for spectacular views. This is where you can find the luxury of nature on a budget!
Situated away from the main town and amid 24 acres of green, this resort is a fantastic option if you're someone who can never get enough beach time. With private beach access, this resort is where you can enjoy candle-light meals as well as sunrise yoga sessions by the beach. Moreover, it's family-friendly and has ample fun activities for kids.
If colonial architecture is what you are drawn to, this heritage hotel with its majestic courtyard, deep verandahs, attractive pillars, and period furniture is likely to blow you away. The property which is a captivating blend of the old and the new also offers some lovely local experiences like cycle rikshaw rides, heritage walks, and more.
Photo: Shutterstock and Shikha D