Since the pandemic put a dent in my plans to visit France, I booked a ticket to Chennai, hoping I'd fulfill my European fantasies in the erstwhile French colony of Puducherry. Courtesy of the picturesque East Coast Road along the Bay of Bengal, Pondy (as many lovingly call it) is a blissful three-hour drive from Chennai. However, since I was landing in the capital city on a late evening, I decided to break the journey, and spend a night in Mahabalipuram or Mamallapuram that falls halfway (50 km south of Chennai). Little did I know that I'd discover a treasure trove of ancient archaeological wonders in this historic shore town. 
Once the major seaport of the ancient Pallava kingdom based at Kanchipuram, Mamallapuram boasts a collection of 7th and 8th-century monuments, believed to be built during the time of the Pallavas. History has it that Narasimhavarman I, the 7th-century ruler of the town was also one of the most skilled wrestlers. In Tamil, a great wrestler is often referred to as 'Mamallan'. Thus, the town was named Mamallapuram in honour of the king who also commissioned much of the architecture here. The name Mahabalipuram emerged much later.
While several monuments here remain unfinished, they certainly provide an insight into the sculptor's art, kindling your imagination. The majority of the sights are located in a compact area and can be easily explored on foot or by bicycle.
In addition to the rock reliefs and sculptures that are a remarkable amalgamation of natural elements, culture, and religion, 'Mahabs' (as the locals call it now) offers pristine beaches, salty air, and a buzzing surf scene. 
Eloquent monuments and sculptures
We often take our sculptures for granted but they have a whole lot of good stories to share if we're willing to listen:
1. Shore Temple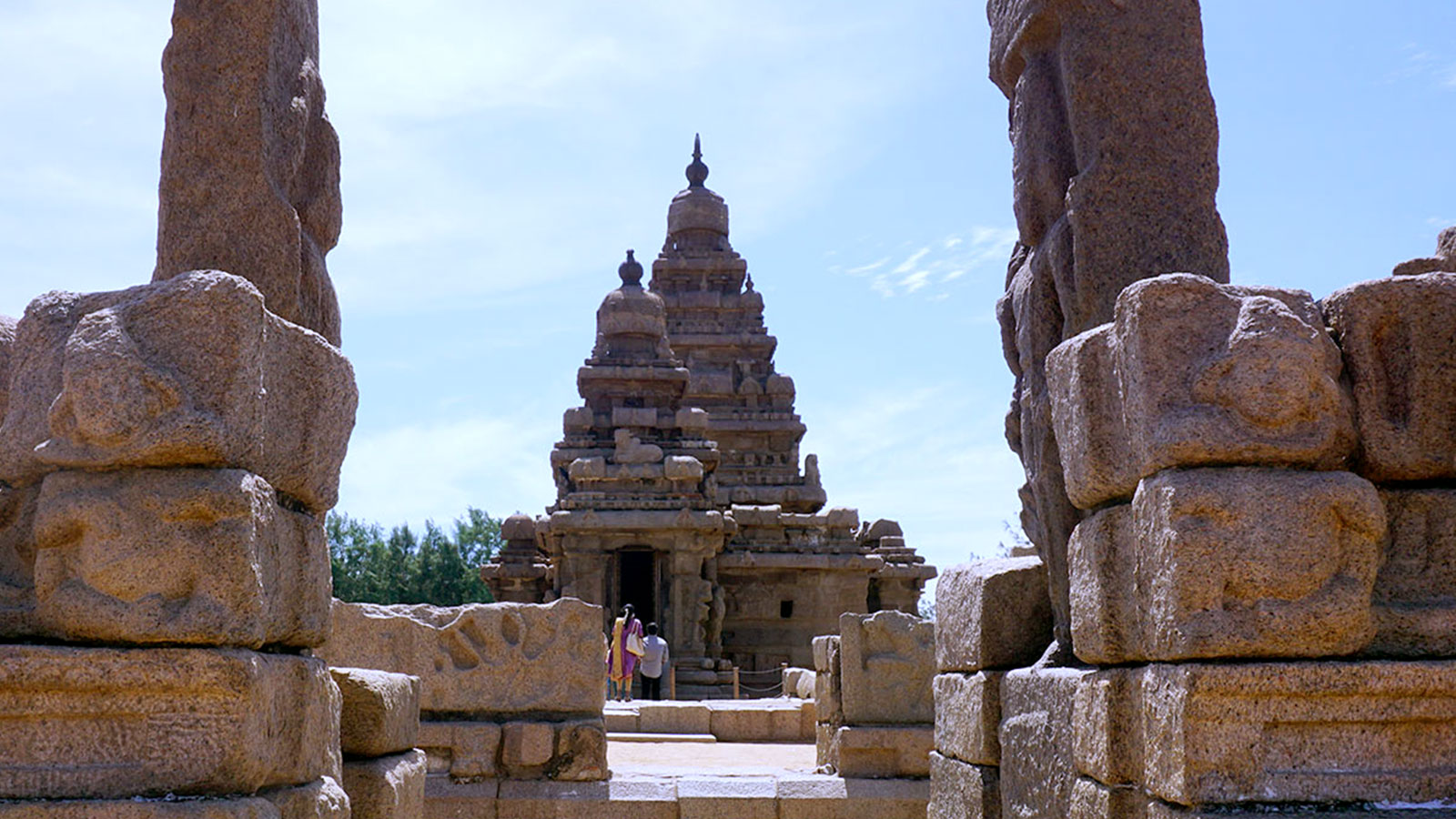 My Mahabalipuram tour kickstarted at this temple situated on the banks of the Bay of Bengal. Constructed by Narasimhavarman II, also known as Rajasimha Pallava (670-715 AD), in the Dravidian style, it is one of the oldest South Indian temples. My guide Riyaz mentioned that the temple is one among seven sister temples, six of which are believed to be submerged underwater or washed away by the sea. However, the 2004 Tsunami scrubbed away sand deposits from a section, uncovering some ancient temples and long-buried boulders carved in the shape of animals, all briefly exposed before the sea swallowed them up again. While the Shore Temple has two rock-cut shrines dedicated to Lord Shiva and Lord Vishnu respectively, what's not to miss is the row of Nandis sitting gracefully around the temple. From within the seaside temple complex, you can also enjoy a charming view of the neighbouring fishing village.
Tip: Among the many souvenir shops lined outside the temple complex, you are likely to find one selling chic leather sandals for not more than Rs 300.
2. The Panch Rathas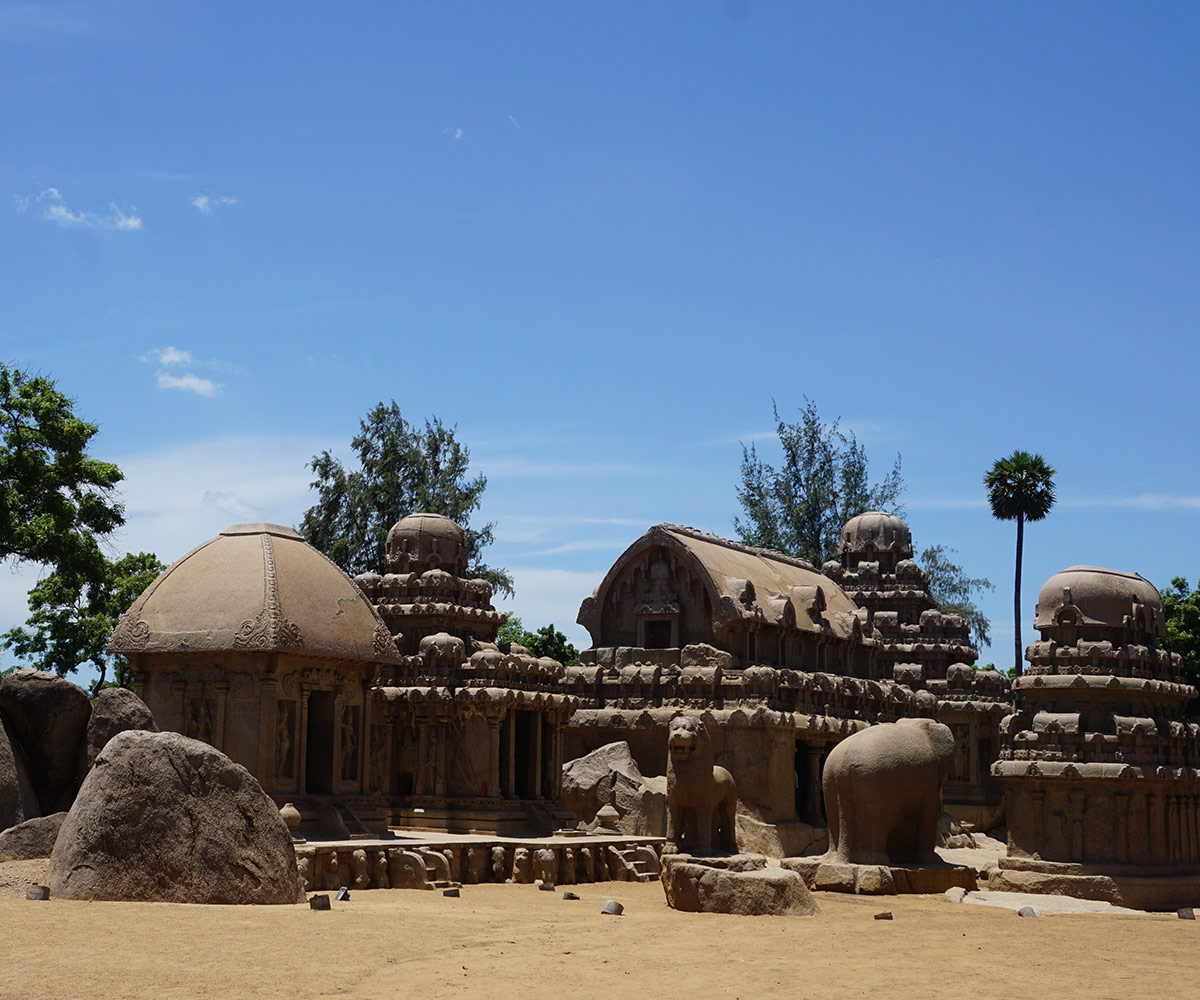 If I had to pick just one Mahabalipuram site that left me intrigued, it would be the Panch Rathas. Each of these rathas or chariots have a unique structure and roof which indicates that the artists of the bygone era were inspired by various architectural styles and embraced experimentation. While these rathas (that seem more like temples) are dedicated to each of the five Pandava brothers and their wife Draupadi, the records suggest that these structures had no relation with the epic. Riyaz points out that each ratha was carved out of a single gigantic rock with intricate sculptures etched on the outer walls. 
The first ratha on the left is the Draupadi Ratha which is the smallest of all and resembles a mud hut. It is dedicated to the demon-fighting goddess Durga. Arjuna Ratha stands on the same plinth as the Draupadi Ratha and has a two-tiered, pyramidal roof. Directly in front of this temple is a huge monolithic lion. Bhima Ratha is the largest structure here and has a barrel-like roof. While Dharmaraja Ratha standing at the southern end is the highest temple, the Nakula-Sahadeva Ratha has a south entrance with a monolithic, life-size elephant right beside it. Entering the complex from the gate to the north, you see the elephant's back end first, hence it is nicknamed Gajaprishthakara (elephant's backside). Sadly, the Panch Rathas remain unfinished, perhaps due to the death of King Narasimhavarman.
3. Krishna Mandapa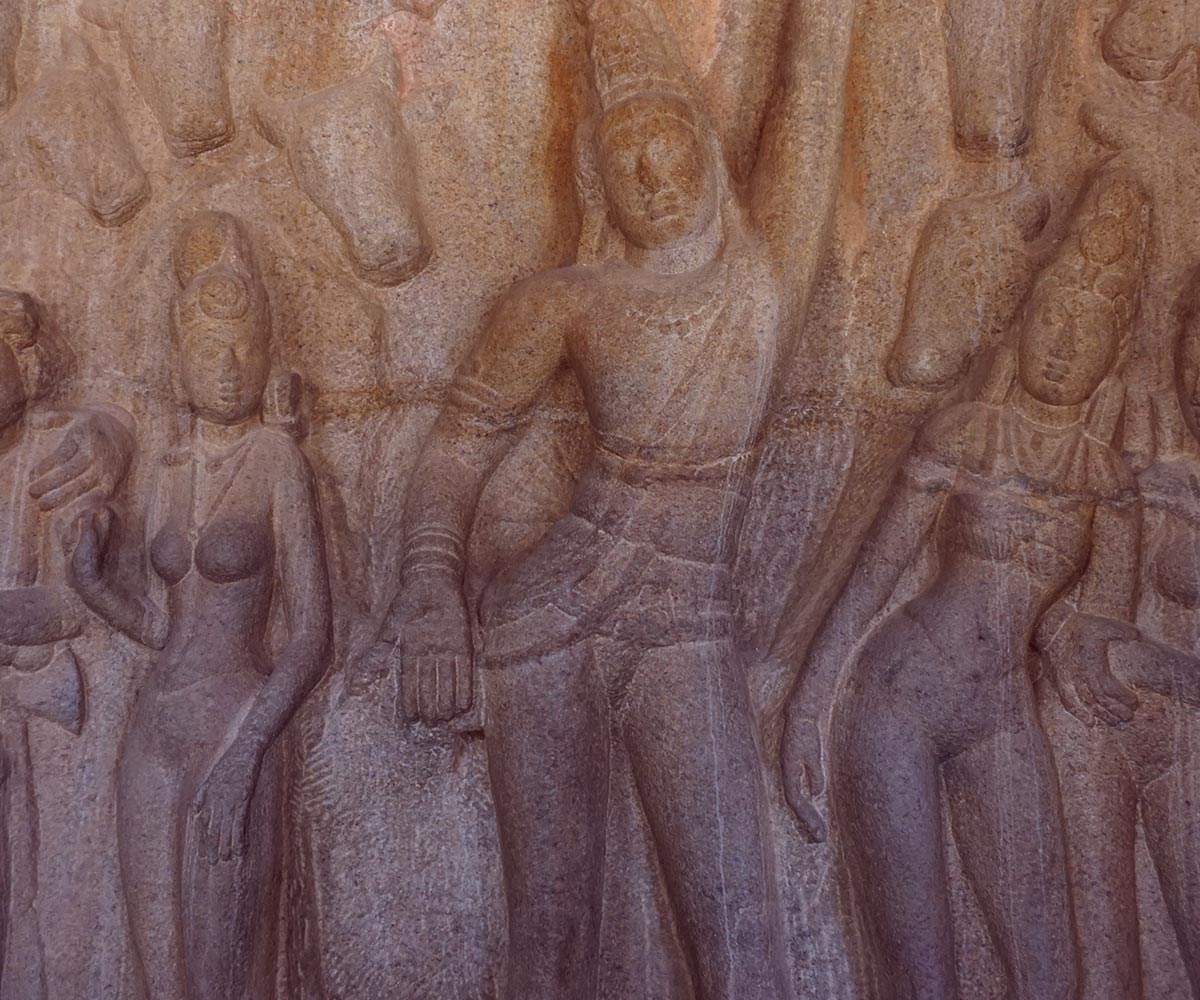 A UNESCO World Heritage Site, Krishna Mandapam is a cave temple dedicated to Lord Krishna. Inside this mandapam are bas-reliefs and carvings depicting scenes of pastoral life from Govardhan. I couldn't stop admiring the largest carving that narrates the tale of how Lord Krishna rescued Braj and its people from Lord Indra's wrath by lifting the entire Govardan Parvat on his little finger, like an umbrella. All the inhabitants of Braj, along with their cattle and other possessions, took shelter under it for seven days, unaffected by hunger and thirst. Among other carvings are a shepherd milking a cow, a farmer carrying his child on his shoulder, and scenes from Krishna Leela.
4. Arjuna's Penance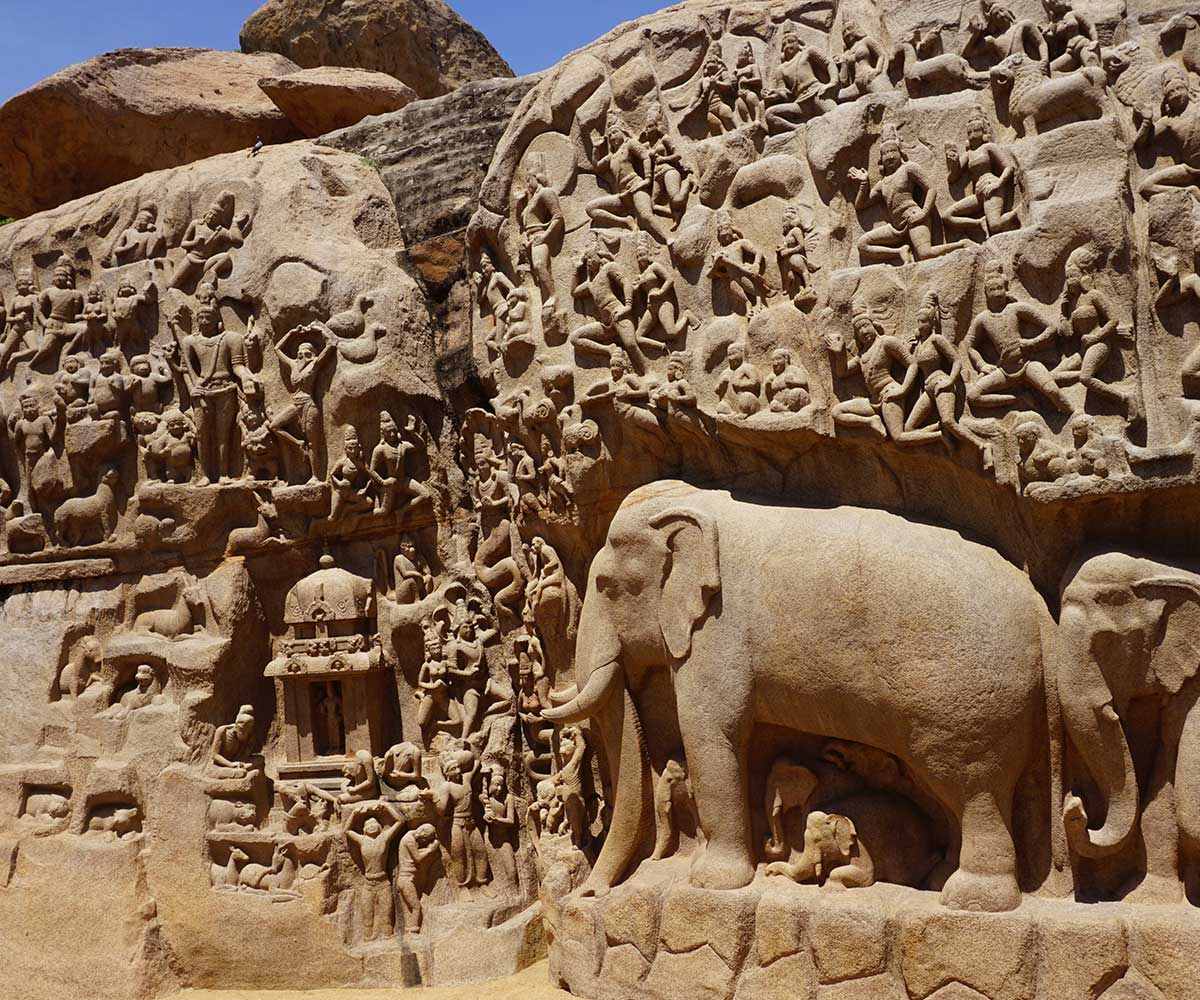 An enormous rock structure depicting mythological events, Arjuna's Penance can be easily termed as a showstopper among Mamallapuram's ancient stonework structures. With a size of 27m x 9m, it is the world's largest and bursts with more than 100 sculptures of Gods, birds, beasts, and saints. It is named after a story in Mahabharata where Arjun had to perform rigorous penance to attain a powerful and divine bow that belonged to Lord Shiva. Inscribed on two huge, adjacent boulders, Arjuna's Penance showcases scenes of both natural and celestial worlds. The boulders are separated by the nagas (snake-beings); they are seen descending a once water-filled crevice, representing the Ganges. To the left, Arjuna is seen performing self-mortification on one leg (in a yoga posture). Behind him appears Lord Shiva, holding a weapon. What you're likely to find most adorable are life-sized elephants protecting their young ones.
5. Krishna's Butter Ball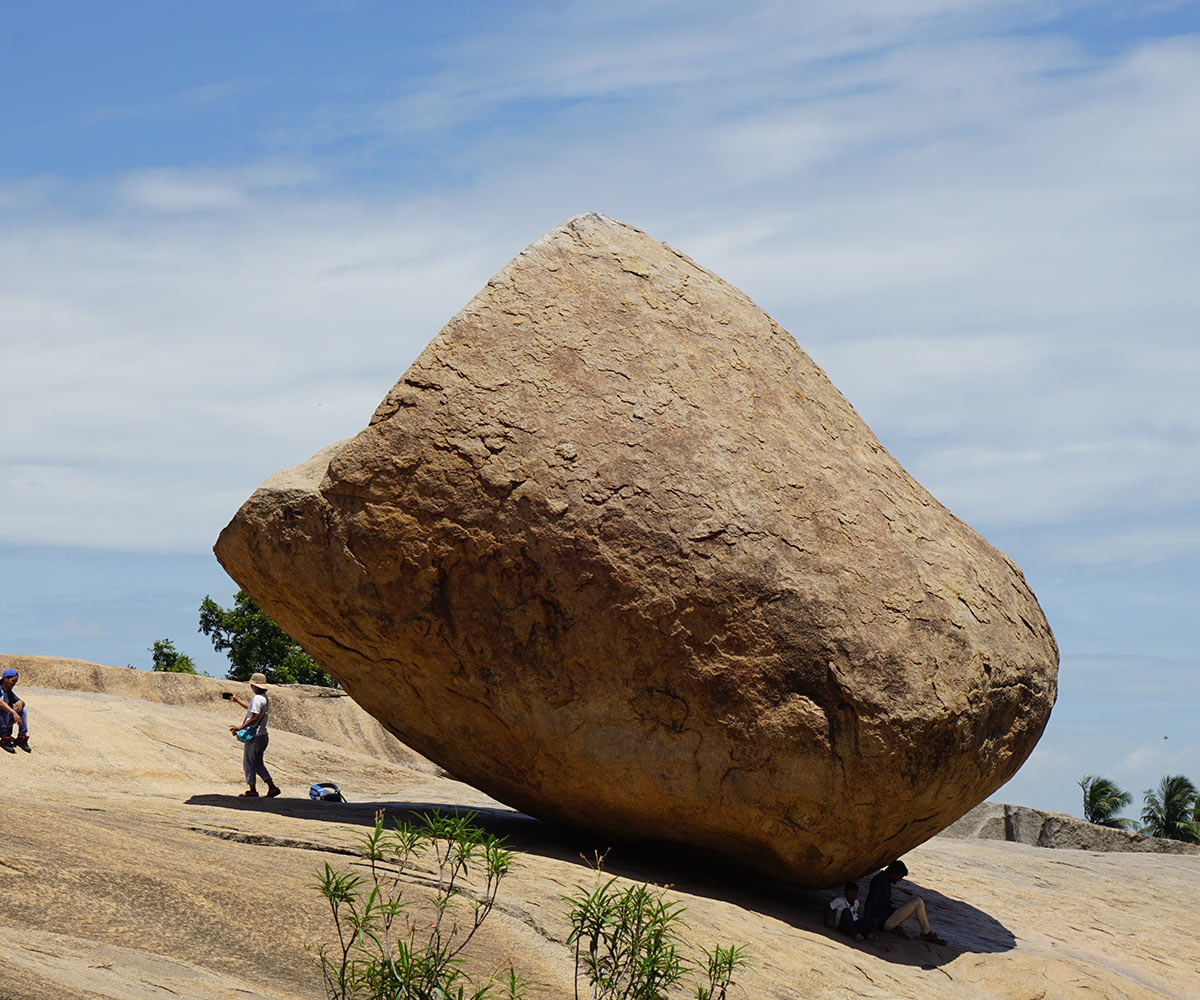 You can't miss this geographical wonder, a massive 250-ton rock boulder that's 20 feet high and 5 metres wide. It sits atop a slippery slope of a hill on a less than the 4-feet base. As I moved closer towards it to pose for a picture, I almost felt like it was ready to roll over. Except, it never does. It remains unmoved by tsunamis, earthquakes, or cyclones for over 1,200 years. In fact, in 1908, the Governor of Madras Arthur Lawley decided to remove the ball from its position. He was worried about the safety of the town at the base of the hill. For this very task, he had sent seven elephants and tried to move the rock but it didn't move an inch. Many people believe it is symbolic of Lord Krishna's love for butter. However, scientists are still busy understanding the mystery attached to the gravity-defying rock. In fact, it looks like a half-circle as a part of the rock is sheared off and the reason for its erosion is yet unknown. While geologists argue that natural corrosion is unlikely to have produced such an abnormal shape, scientists have theorised that the rock is simply a natural formation.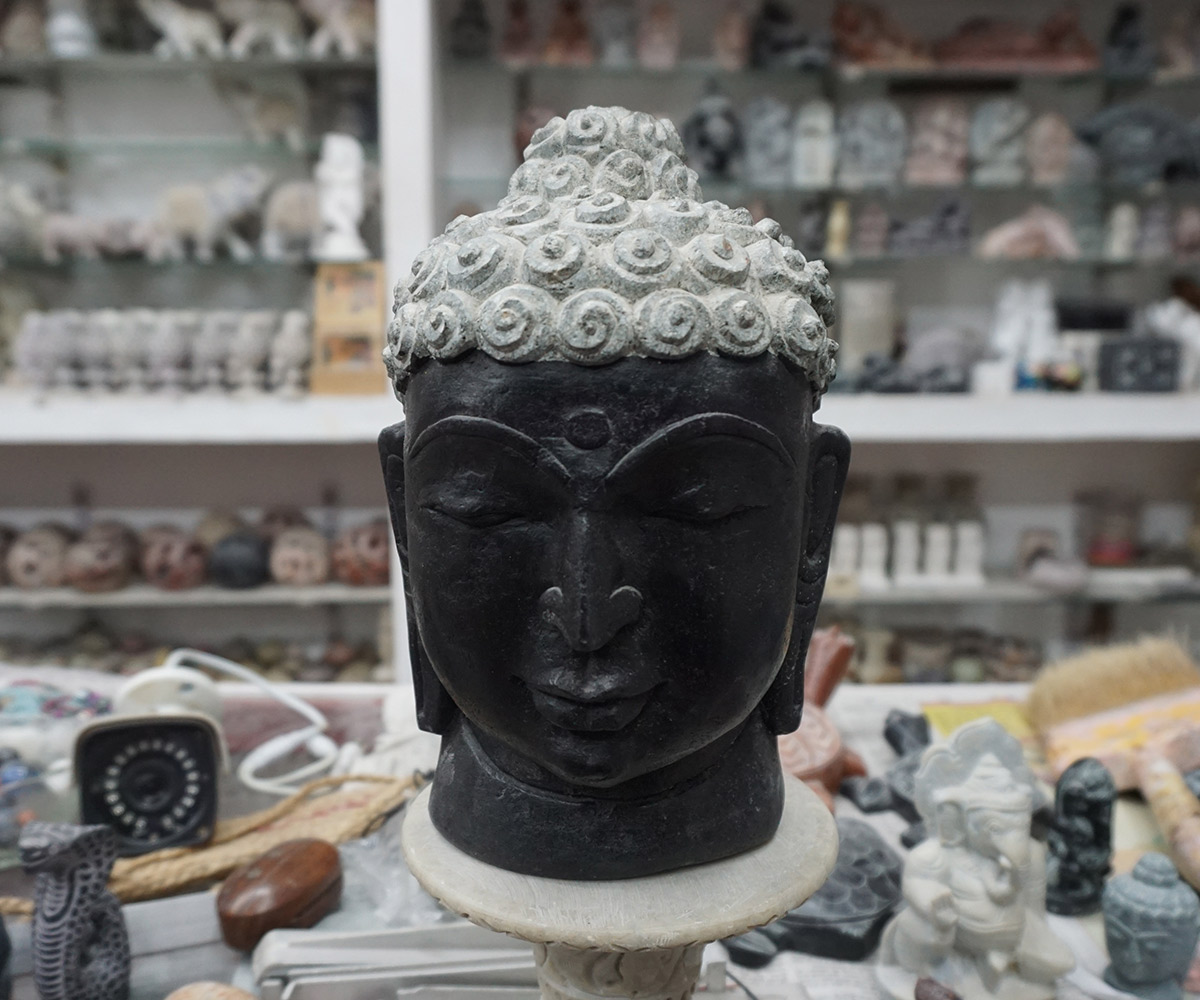 Where to learn the art of stone carving or buy a carved souvenir
You will see ample stone-carving workshops around the UNESCO sites. Most of these craftsmen belong to the Viswakarma community and they hand carve beautiful pieces in different varieties of stone as well as red, black and white granite varieties that are sourced locally. Photograph the talented yet humble artists at work, shop for stone pendants, incense holders, home decor pieces or spend some quality time learning the craft from the master sculptors.
Other must-visit sites in Mahabalipuram
1. Sea Shell Museum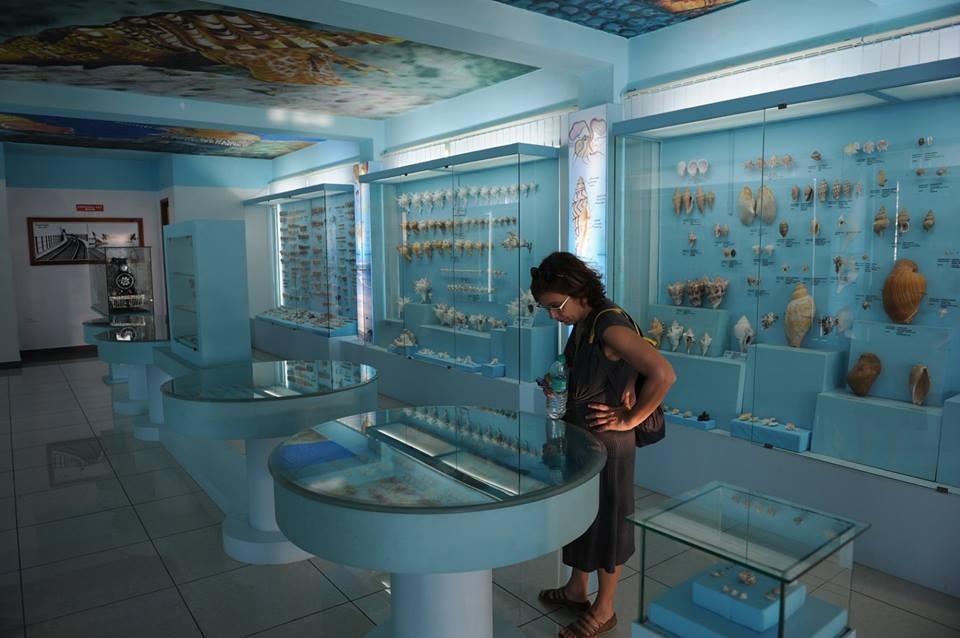 The India Sea Shell Museum in Mahabalipuram is home to a massive collection of around 40,000 seashells, all collected by its founder Raja Mohammad from different parts of the world. Mohammad started collecting shells since he was only a child. Located directly opposite the Panch Rathas, this neat, well-maintained museum has colourful, eye-catching shells from Japan, South America, Australia, Thailand, Vietnam, Indonesia, and several other countries. When here, don't forget to dig deeper into the fascinating story of how pearls are formed in oysters.
2. Madras Crocodile Bank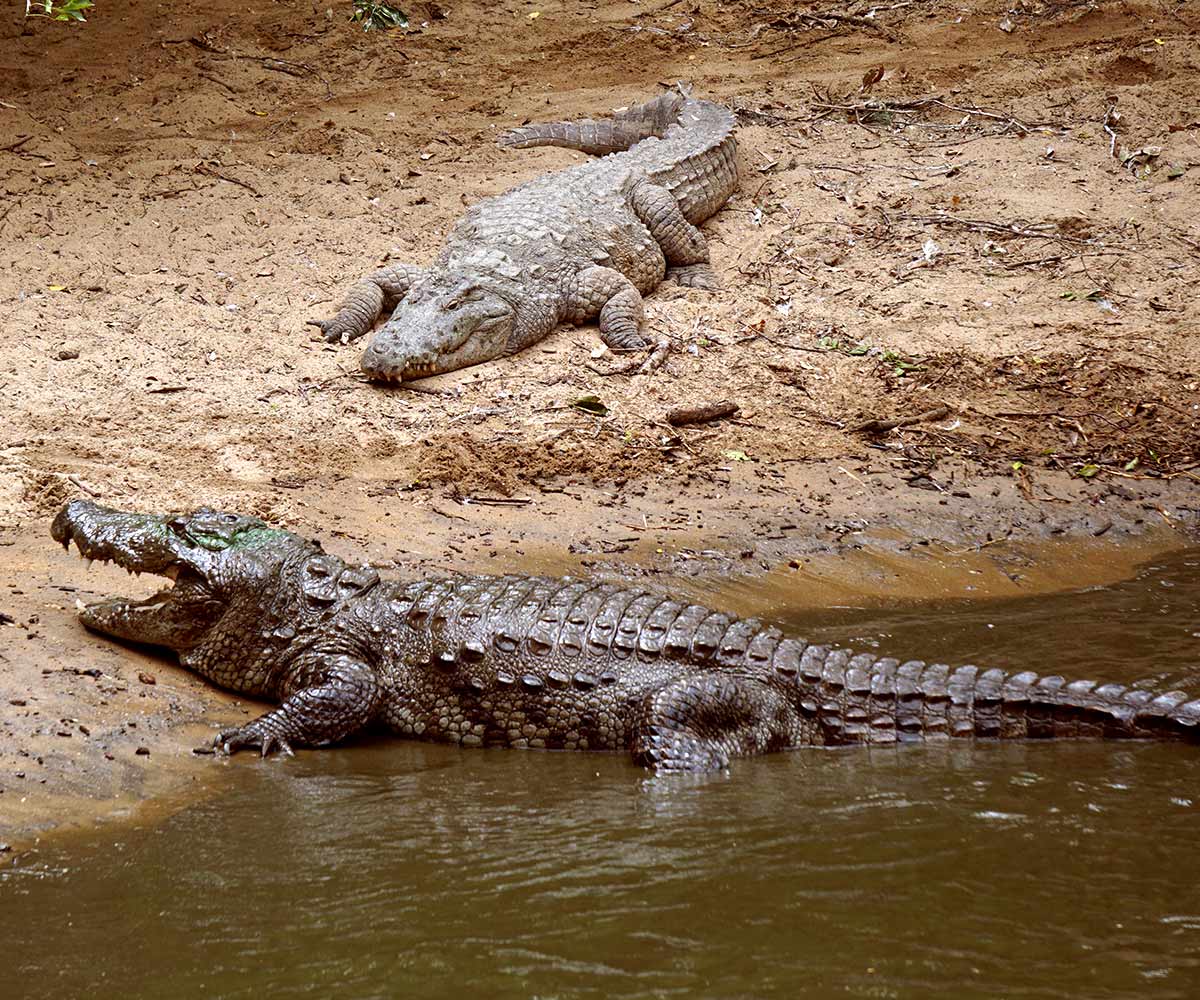 Only 6 km south of Kovalam, The Madras Crocodile Bank Trust and Centre for Herpetology, is a fascinating peek into the reptile world. This incredible conservation and research trust is spread over eight and a half acres of land and is home to over 2,500 reptiles. 
3. Cholamandal Artists' Village 
If you're an art lover, make sure to visit the Cholamandal Artists' Village. Funded by legendary artist and revolutionary thinker KCS Paniker in 1966, it houses museums, art galleries, an open-air theatre, a bookstore, a craft shop as well as a restaurant where you can spend your time enjoying the essence of everything handmade. The village is located 9 km from Adyar, Chennai, along the New Mahabalipuram road, and is one of the largest artist communities spread across 10 acres in a serene art setup. 
4. Dakshina Chitra Museum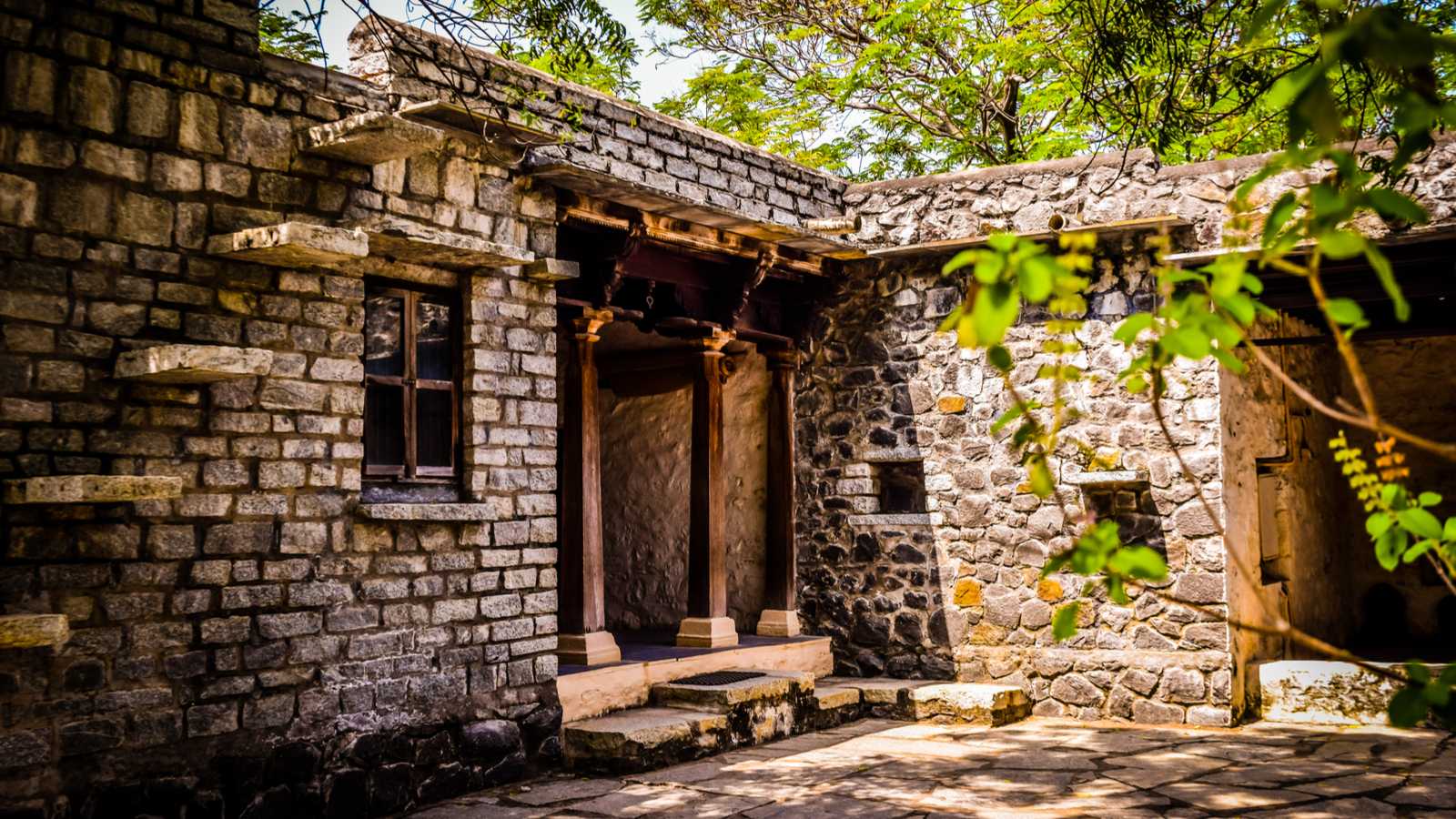 Located overlooking the Bay of Bengal, at Muttukadu, on the East Coast Road to Mahabalipuram, Dakshina Chitra is an exciting cross-cultural living museum of art, architecture, lifestyles, crafts and performing arts of South India. A project of Madras Craft Foundation, it preserves and exhibits South Indian heritage and culture in a very engaging way. It boasts a collection of 18 authentic historical houses in a regional vernacular style. Since the houses were given for demolition by the owners, Dakshina Chitra purchased the houses and reconstructed them with the help of local artisans. Each artist was picked from the region where the house came from.
Where to eat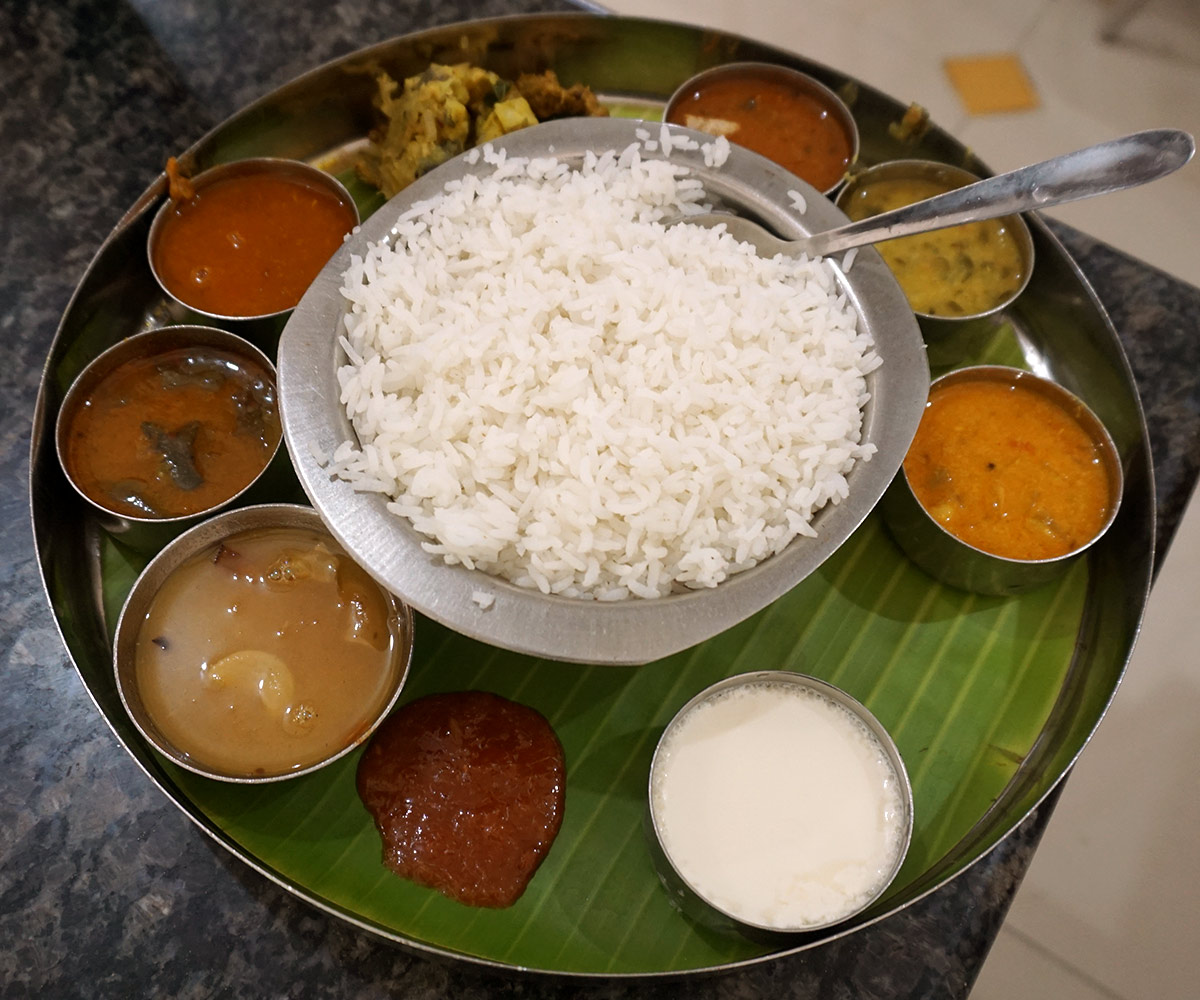 If you love a simple yet hearty South Indian thali consisting rice, sambar, rasam, kootu, poriyal, kaara kozhambu, chapati, kurma and appalam, head straight to Adyar Ananda Bhavan, a no-frills restaurant that specialises in South Indian cuisine. For pizza, pasta, pancakes, salads, there are several beach-facing restaurants and cafes at Othavadai and Othavadai Cross Streets.
Where to stay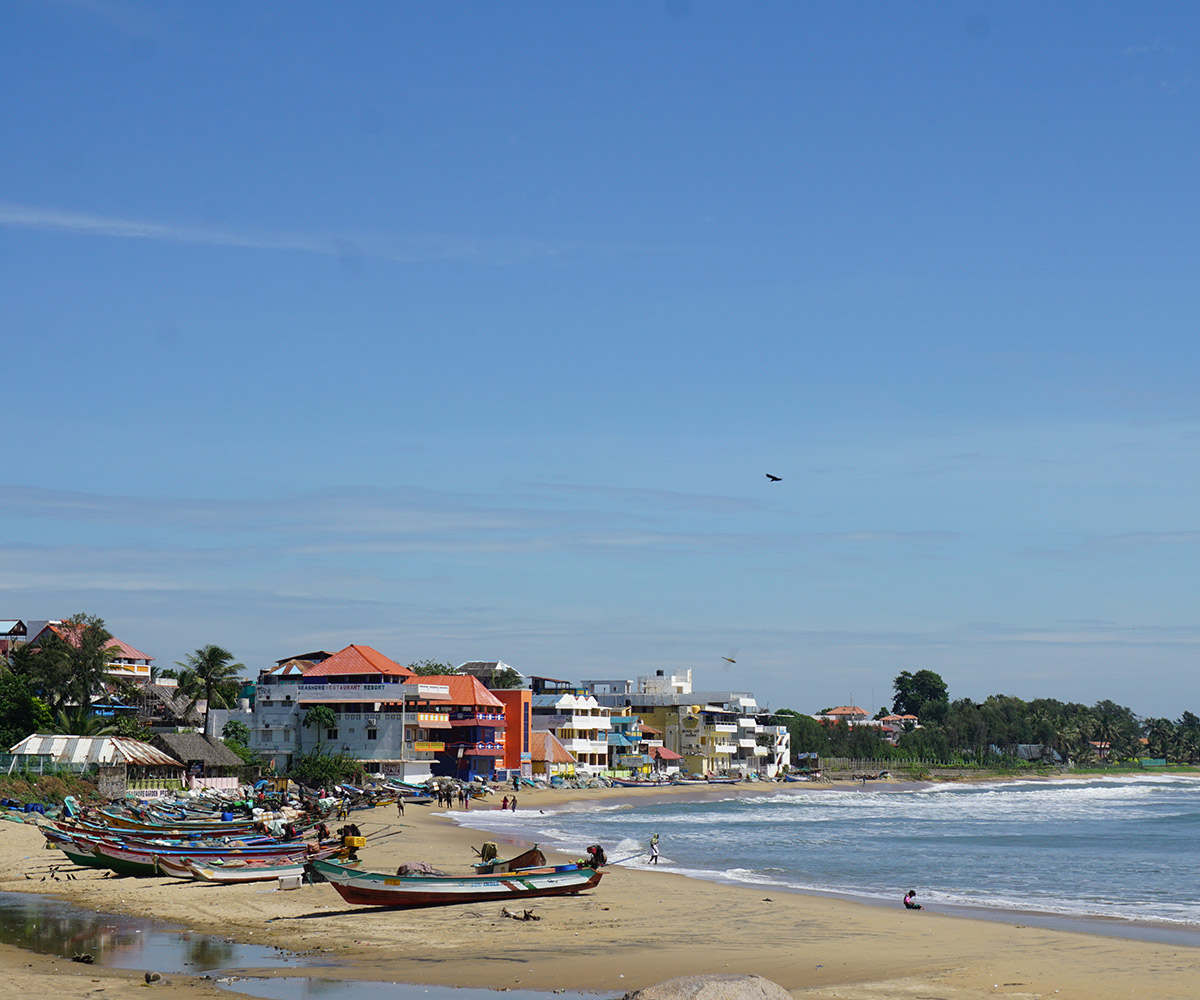 While you can explore the town in just a day, you must find yourself a fine accommodation if you're intending to go slow and truly savour the destination or stay back and learn a new skill like surfing or carving. Situated along the scenic coastal highway and in close proximity to all the UNESCO attractions, Intercontinental Mahabalipuram offers spacious rooms, a stunning private beach and a lavish buffet breakfast.  For a budget stay, there are several friendly guest houses with easy beach access.   
Best time to visit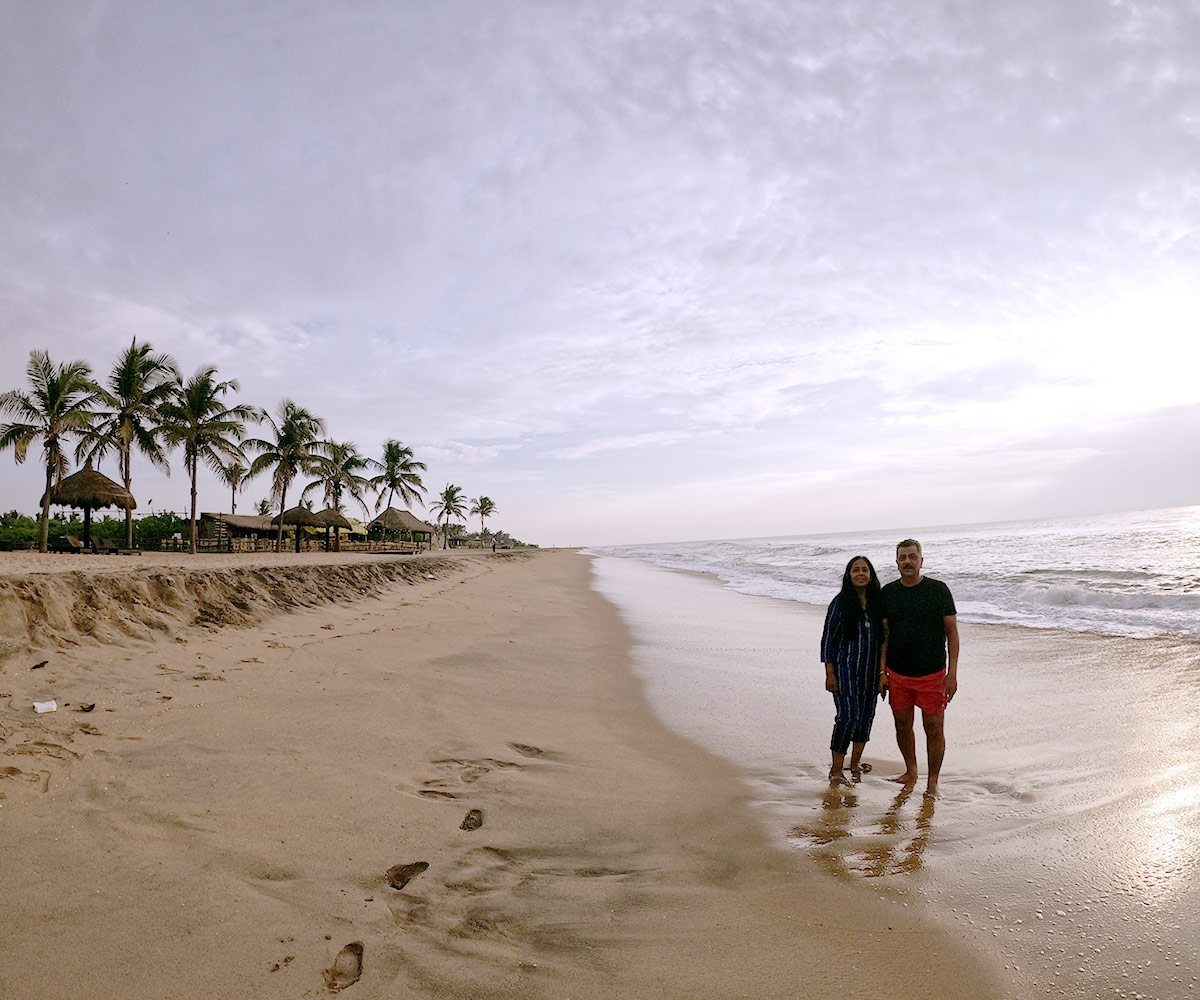 The monsoon and winter months are ideal for a visit to Mahabalipuram. This is when the town is blessed with pleasant weather, making it comfortable to explore its rich sites. 
Photo: Shikha D