Tamil Nadu loves its halwas. Of all the legends that surround the halwa in Tamil Nadu, nothing is more fascinating than the one about the zamindar of Chokkampati. Many locals will tell you that the Chokkampati zamindar hired cooks from Rajasthan in the 19th century to make the perfect halwa. This tiny village near Tirunelveli, in the southern half of Tamil Nadu, might have sparked the state's love for halwa and more specifically it's most popular halwa – the Tirunelveli halwa. 
There's more than just one halwa that rules the roost. Muscoth halwa that takes its name for the Sinhala word for coconut milk is believed to have originated in Sri Lanka. Another wheat based halwa is usually in the mix in most homes during festivals such as Deepavali but some of the halwas use an interesting array of ingredients including coconut milk and white pumpkin. 
We take you on a culinary tour through the state as we unravel some of its favourite halwas.
Favourite four halwas of Tamil Nadu:
1. Tirunelveli halwa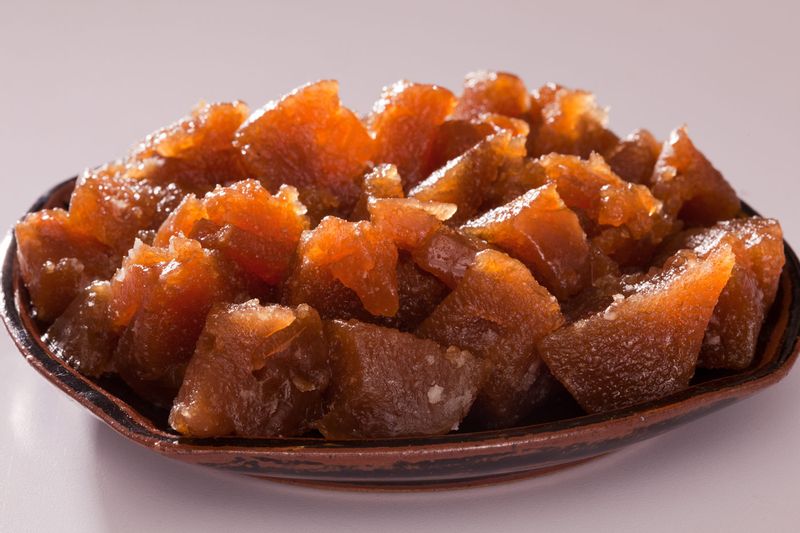 A power centre during the reign of the Pandya empire, Tirunelveli is home to the historic Nellaiappar temple that dates to 700 A.D. But it is the halwa from this town that is better known even though it didn't arrive here till the end of the 19th century. Many locals will tell you about a zamindar in neighbouring Chokkampati village who hired cooks from Rajasthan to make the perfect halwa. This zamindar might have unwittingly set the stage for a thriving sweet industry.
Lakshmi Vilas commenced operations in Tirunelveli the 1880s and considers themselves as the inventors. But it's at 'Iruttu kadai' (translates to dark shop) next to the temple where regulars and tourists start queuing up for halwa before sunset. In fact, Iruttu kadai halwa has become synonymous with Tirunelveli halwa. Even though the oil lamps in the dimly lit shop eventually made way for electric bulbs, the lighting is still dim and the 'Iruttu kadai' legend lives on. The shop functions for just a couple of hours in the evening and runs out its entire supply for the day within this time.  
The Tirunelveli halwa is essentially a wheat halwa with a slight twist. The halwa makers here don't drain out the excess ghee after the sweet is made. It tends to form an extra layer and increases the shelf life of the sweet. The longer cooking time on the pan also lends it a darker hue than traditional wheat halwa. 
2. Ashokam halwa
Ask anyone who has attended weddings in Chennai in the 1950s and 60s and you will hear about Ashokam halwa. Made with moong dal (paasi paruppu in Tamil), sugar and ghee it's a lot smoother than its north Indian counterpart. 
It's not as commonplace on wedding menus anymore but it is on its way to making a mini comeback of sorts. The Madras Music (in December-January) Season can take some of the credit where Carnatic music aficionados converge in sabhas or live performance venues in the city. Most of these sabhas have 'canteens' that are not just hubs for post-concert discussions but also an attraction for Chennai's gourmands. These canteens are where wedding caterers to showcase their true culinary credentials. The Ashokam halwa is one of the bestsellers at some of these canteens. 
3. Kasi Halwa
The Nattukottai Chettiars, an enterprising trading community from southern Tamil Nadu, established an unrivalled trading network across Southeast Asia as early as the 19th Century, yet Chettinad is still home. Sandwiched between Pudukottai and Ramanathapuram are 70 odd villages and towns that make up Chettinad. It's also where the Chettiar families host their weddings with extravagant meals that few communities can match. Chettinad cuisine is legendary and has been enriched by centuries of trading ties with flavours and spices like star aniseed that are almost exclusive to this regional cuisine. One of the sweets you are likely to be served at a Chettiar wedding is the Kasi Halwa. This simple recipe combines grated white pumpkin with ghee and sugar. It's not very different from the Kashi Halwa in Karnataka or the ash gourd halwas in the rest of India. 
4. Muscoth Halwa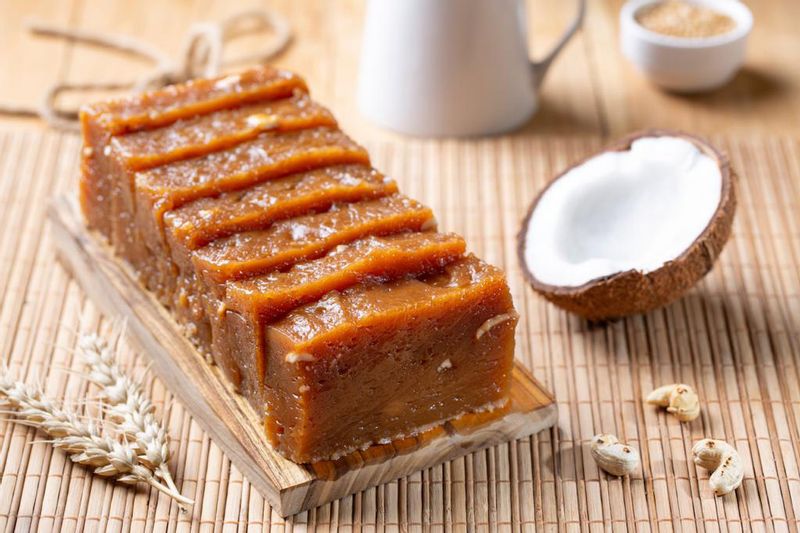 The legend of the Muscoth halwa begins in Sri Lanka. Muscoth is coconut milk in Sinhala. Joseph Abraham, who hailed from Mudalur, a small village near Tuticorin, first discovered this unique sweet during his travels to Sri Lanka in the 1950s. He managed to secure the recipe from some of these sweet shops and began to experiment with the halwa recipe in Mudalur. It's now a flourishing business that employs many locals and Mudalur's identity is firmly intertwined with Muscoth Halwa. Both the popular brands, SJ Sweets and AJJ Sweets, are run by Abraham's family members and have preserved the family recipe. 
The Tamil Muscoth halwa combines maida with cashew powder and coconut milk. There's also a hint of cardamom and raisins in the mix. The use of coconut milk differentiates it from the more popular Tirunelveli halwa. It's easy to eat large quantities (I'm often guilty of this sweet crime) because there's no ghee in the recipe.
Muscoth Halwa recipe 
Ingredients:
200 gm maida

3 cups coconut milk

1 cup sugar

25 gm cashew powder
Method:
Mix water with 200 gm of maida. Extract the milk and remove the gluten and let it settle for a few hours before you use the milk at the bottom.

Add about three cups of coconut milk to the maida milk and about 1 cup of sugar to this and stir. Also, add 25 gm cashew powder to this mix. Stir this on a low flame till it thickens.

Caramelise two tablespoons of sugar in a separate vessel and add this to the halwa and stir for about 40 minutes or till the oil from the coconut milk separates.

You could add whole cashews (instead of the cashew powder) at this stage and stir for a few more minutes

Transfer this to a pan and let it cool.
Recipe courtesy SJ Sweets
---
Photo: Shutterstock