There are many former French colonies across the world where the French legacy lives on. But there exist a few towns where the cultural interactions with France have continued, almost seamlessly. That's what sets Pondicherry apart. 
You've probably checked out Pondicherry's Instagram potential on your friends' feeds, but it's more than just a destination that looks good on the 'gram. Whether you're travelling with your family and buddies or flying solo, Pondicherry (now officially known as Puducherry) offers multiple sensory experiences. Ville Blanche, Pondicherry's original White Town, is the heartbeat of this town that many French still call the Riviera of the East. This erstwhile French quarter is a rare success in architectural preservation anywhere in India and is also the beginning of the best discoveries in Pondicherry. I live just two hours down the East Coast Road from Pondicherry and continue to fall for its intrinsic charm each time I drive down south.  
Our travel patterns have changed in the post-pandemic world. We seek destinations that allow us to make discoveries without too much internal travel in cabs and prefer boutique hotels or villas with a smaller inventory and fewer guests. This is one of the reasons Pondicherry has become a trending destination. Most of these wheels were set in motion long before the COVID-19 pandemic. Pondicherry offers a host of accommodation options that were once colonial-era bungalows. These bungalows have been reimagined as intimate boutique properties that resonate with the Riviera of the East moniker.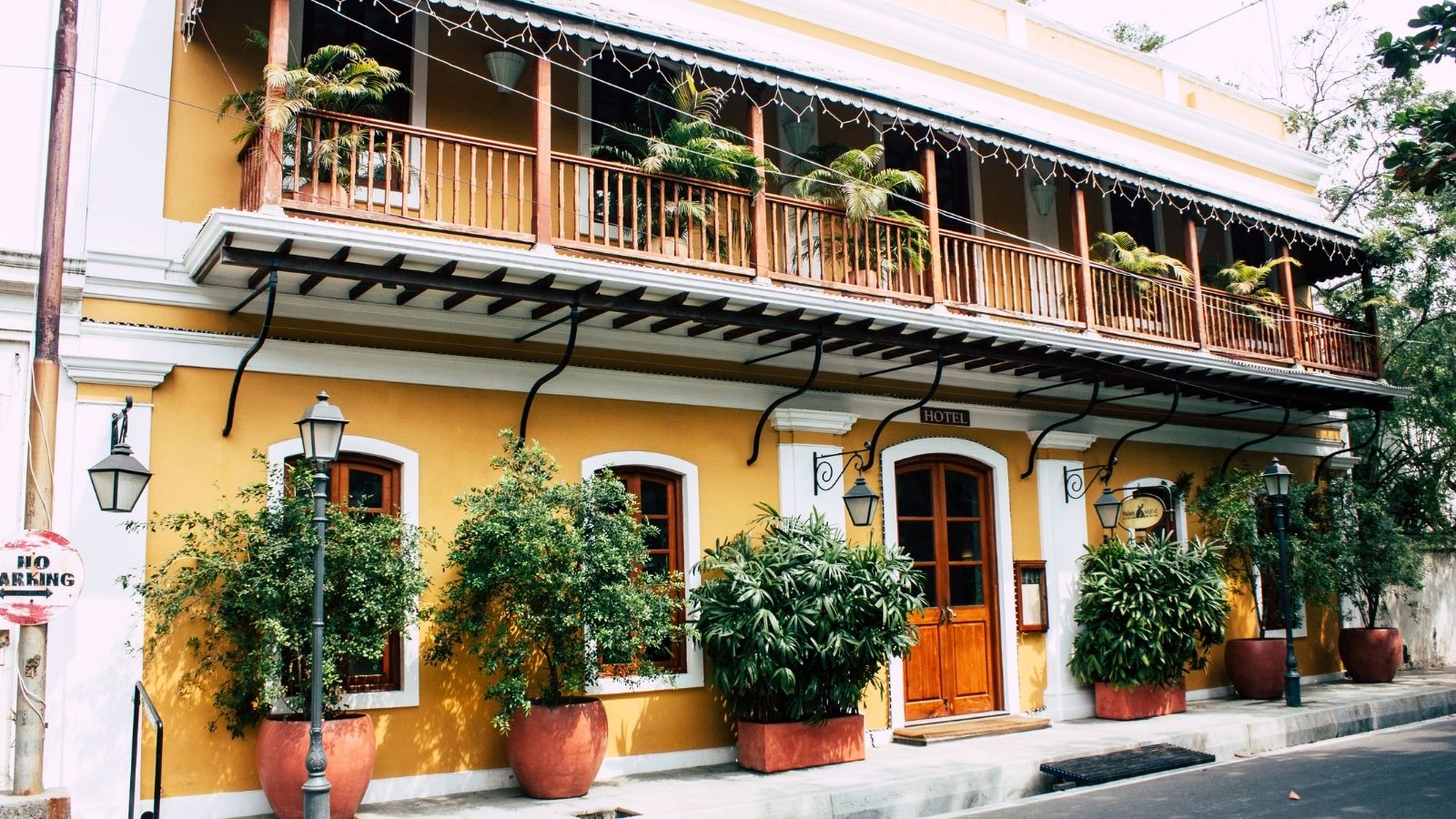 Pondicherry also offers a wide range of outdoor dining options, as many of us have shunned confined air-conditioned spaces post 2020. A large community of internationally-trained chefs and local talents have shaped the culinary landscape here. From colonial-inspired haute cuisine to progressive cuisine to Franco-Tamil cuisine and typical Tamil breakfast specialities—there's enough for the gourmand in you.
Not all the action is restricted to White Town. Auroville—Pondicherry's unique and 'forward-thinking' attempt at creating an international community—is a hipster magnet of sorts. All roads in Auroville lead to the golden orb of the Matri Mandir, a stunning architectural landmark and meditation centre that is open for visitors for limited hours each day. But it's not just spiritual goals that bring visitors to Auroville. The community is also home to some of the region's most eclectic cafes and boulangeries.
There's no better time to plan a visit to experience a slice of France along the Coromandel Coast. You might find our quick guide handy:
Where to Stay:
La Vi En Rose: A passion project of designer Agathe Lazaro, La Vi En Rose (translates to life in pink) lives up to its name. She transformed a 19thcentury French colonial era home and embellished it with architectural elements that are all conversation starters. An emerald green spiral staircase is probably our favourite design element here. This villa is perfect for a small group travelling in a bubble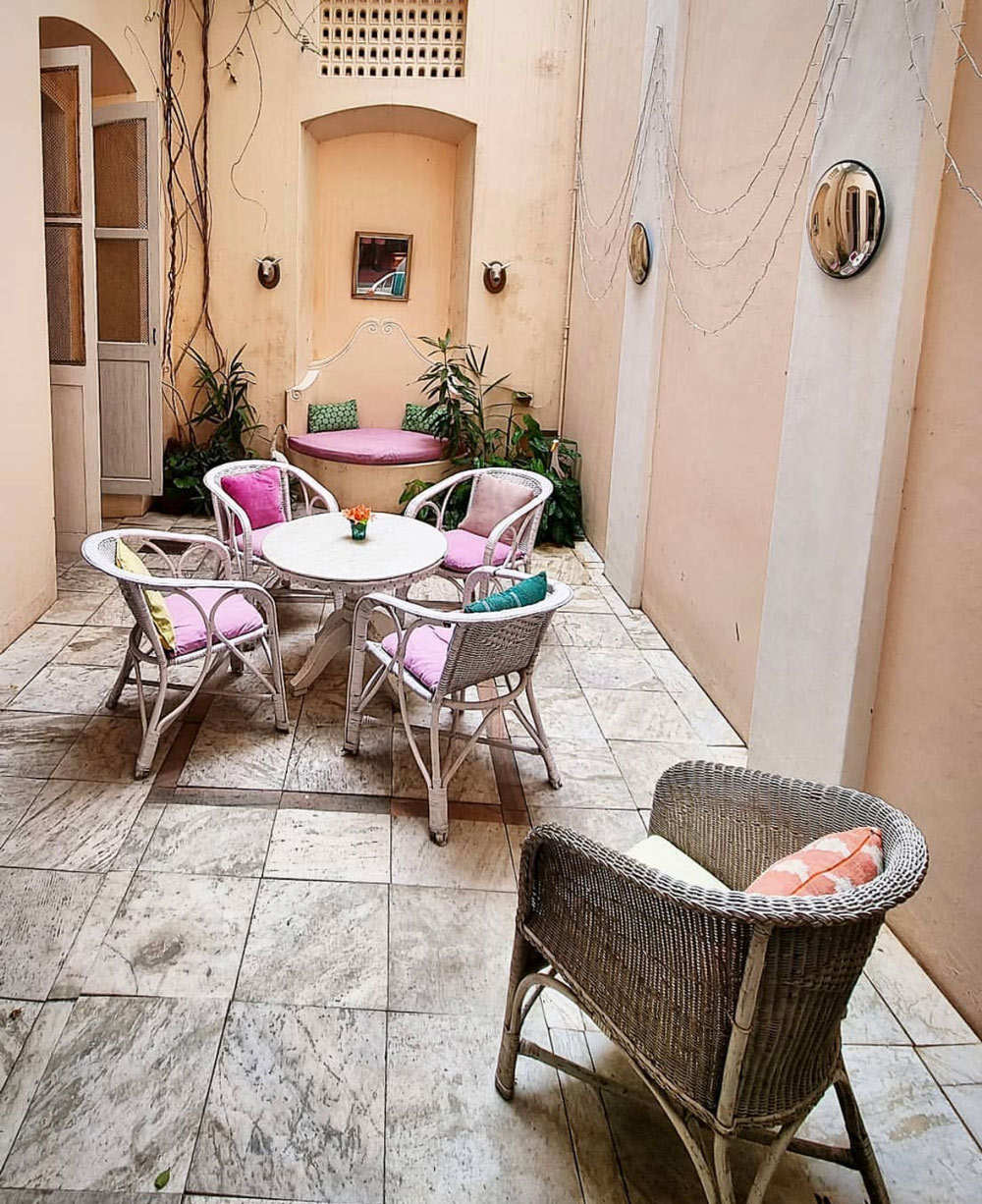 Palais De Mahe: This boutique offering from the CGH Earth group is just 50 metres away from the seaside promenade. The hotel features a brilliant blend of South Indian influences and French architecture with its majestic courtyard and period furniture. Les Alizes is the hotel's casual rooftop restaurant with panoramic views of the French Quarter.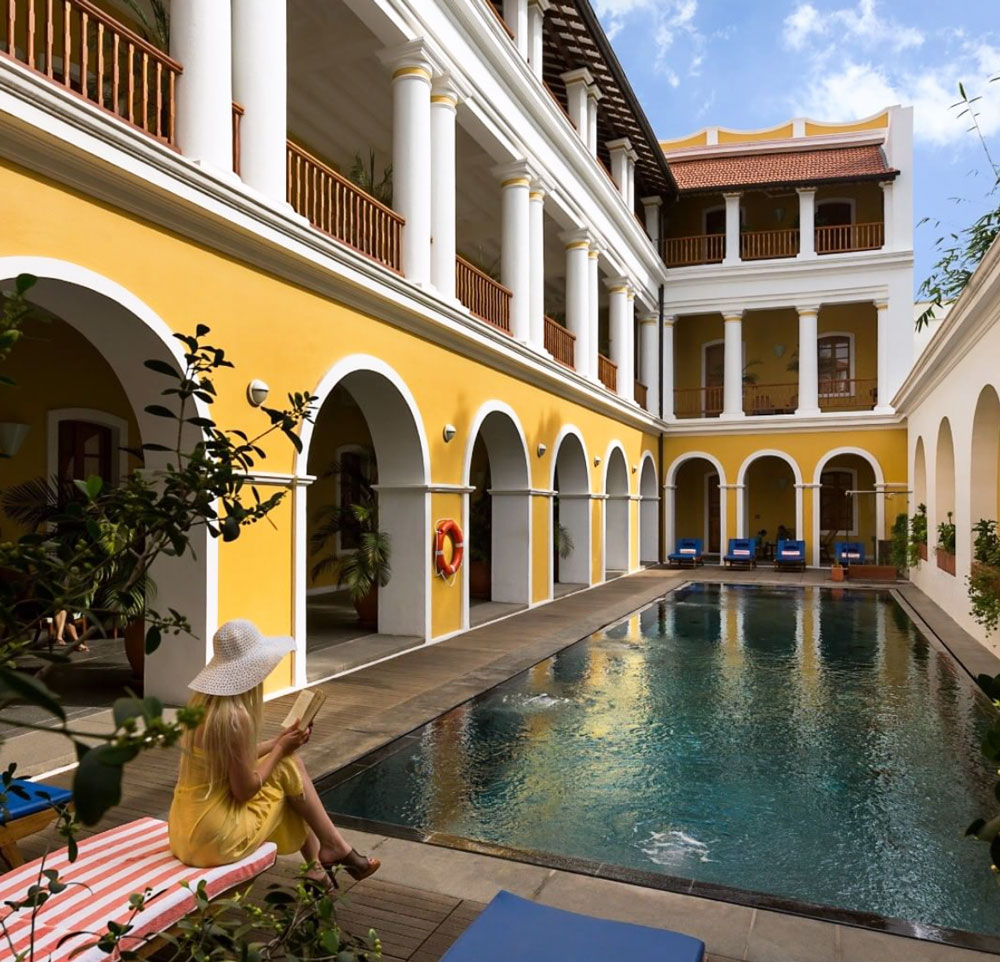 La Villa: This luxurious all-suite abode was once Notre Dame de la Garde (The holy mother of Marseille), a 19th Century bungalow. Architect duo Tina Trigala and Yves Lesprit are behind this transformation with adaptive reuse of heritage as an approach to conservation. You can choose to rent out the entire property or check into the suite of your choice. I'd recommend 'Bridge to Heaven' a penthouse suite experience spread over 70 sq m. with its own terrace. Their seven-course tasting menu (where else can you get candied duck leg in Pondicherry) is one of my favourite meal experiences in the town.  The kitchen is helmed by French Chef Michel Christmann who espouses the famous Auguste Escoffier's traditions of haute cuisine.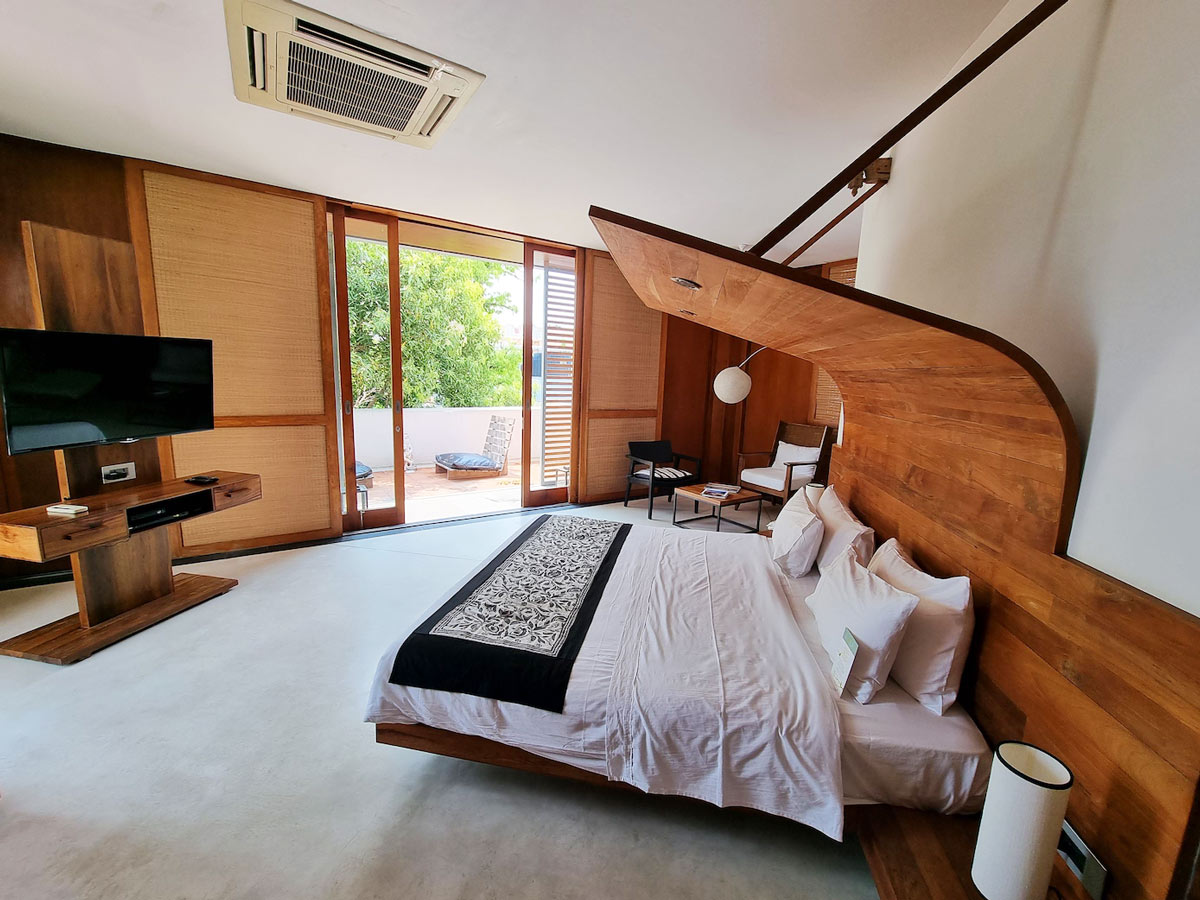 Maison Twenty-Six: Positioned as Pondicherry's first luxury private villa, this 120-year-old garden house has won the prestigious Viellies Maisons Francaises (VMF) award for French architectural heritage—a rare feat for houses outside France. This was once the private home of Xavier Condappa, a Franco-Tamil merchant who made his fortune in Vietnam. The Belgian tiles imported from Vietnam and the Indo-Chine Bedroom make this connection. But it's the Madras suite with a private lounge, balcony and an en-suite bathroom that is our pick. 
What to See:
Our Lady of Angels Church: Louis Guerre was the architect of this iconic church that faces the Bay of Bengal and was built in Greco Roman style back in 1855 by Napoleon III. It's one of the only churches in Puducherry that offers mass in three languages—Tamil, English and French.
Auroville: You could check into one of the resorts like Mango Hill here or take a day trip from your hotel in the French Quarter. Stop for breakfast at Bread and Chocolate that serves the best pain au chocolat (chocolate croissant) in India or make a pit-stop at the Auroville bakery. Time your visit to coincide with visiting hours at Matri Mandir or just unwind at one of Auroville's eclectic cafes.
Perumukkal: This off-the-road destination is about an hour away from town and home to a historic 12thcentury Chola temple. A trek up a stone hillock brings you to the only site of a petroglyph (that dates to 4000 BC) ever discovered in Tamil Nadu.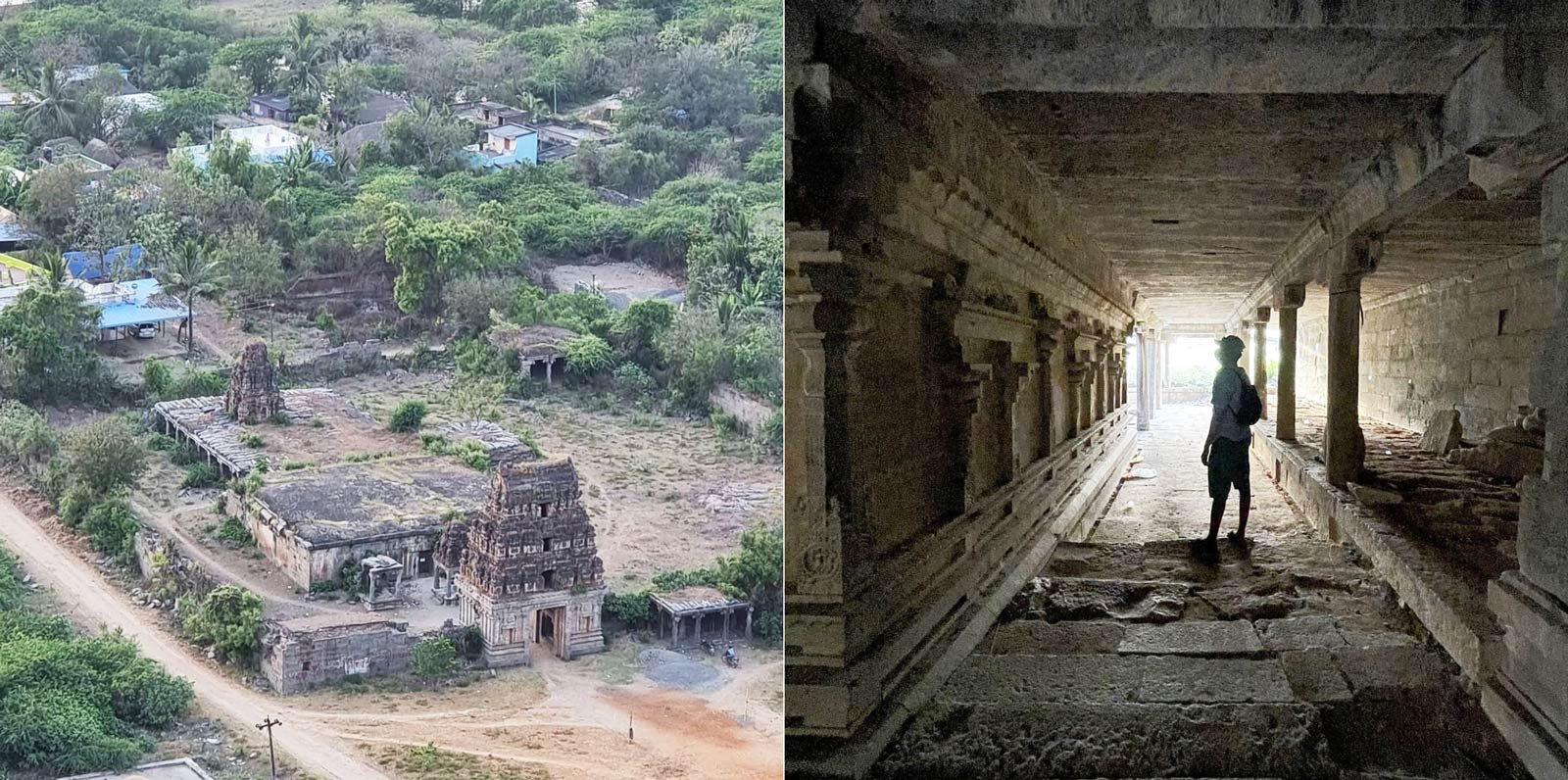 Heritage walk organised by INTACH: Walk the streets of the old French town with a seasoned guide from INTACH Pondicherry. These tours run for about two hours and cost about Rs 500/head if you're in a group of 5 to 10 people.  
Go scuba diving: India's east coast may not be as friendly for divers as the Arabian Sea but that hasn't stopped divers from exploring these waters. Wet your feet with the two-day PADI scuba diver course in one of the only diving centres along India's east coast.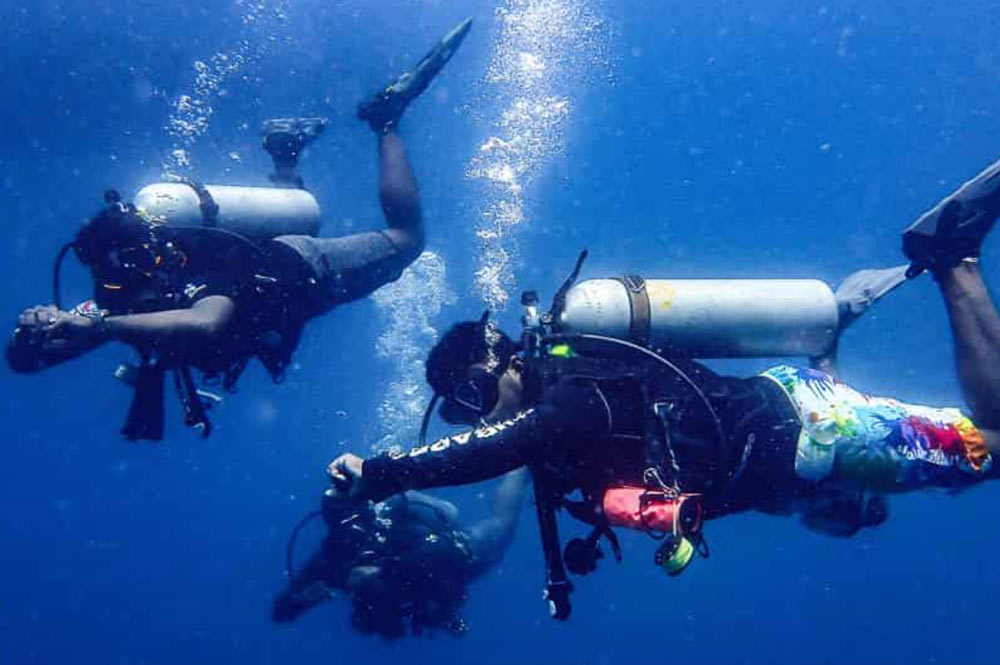 Where to Eat:
1. Coromandel Café: Whether you're looking for a late breakfast option or a sundowner, this popular café delivers. It's housed in a century-old French villa, Le Maison Rose, that takes its name from its pale pink exteriors. Their small plates offer both Indian and world cuisine options and are perfect when you're chilling with your buddies. Romain Rolland Street.
2. Bay of Buddha, The Promenade Pondicherry: Despite its charming beach promenade, there are very few rooftop dining spaces with sweeping ocean views in Puducherry. Bay of Buddha is a notable exception and scores with its Asian signatures like the Chicken Yakitori. 
Goubert Avenue .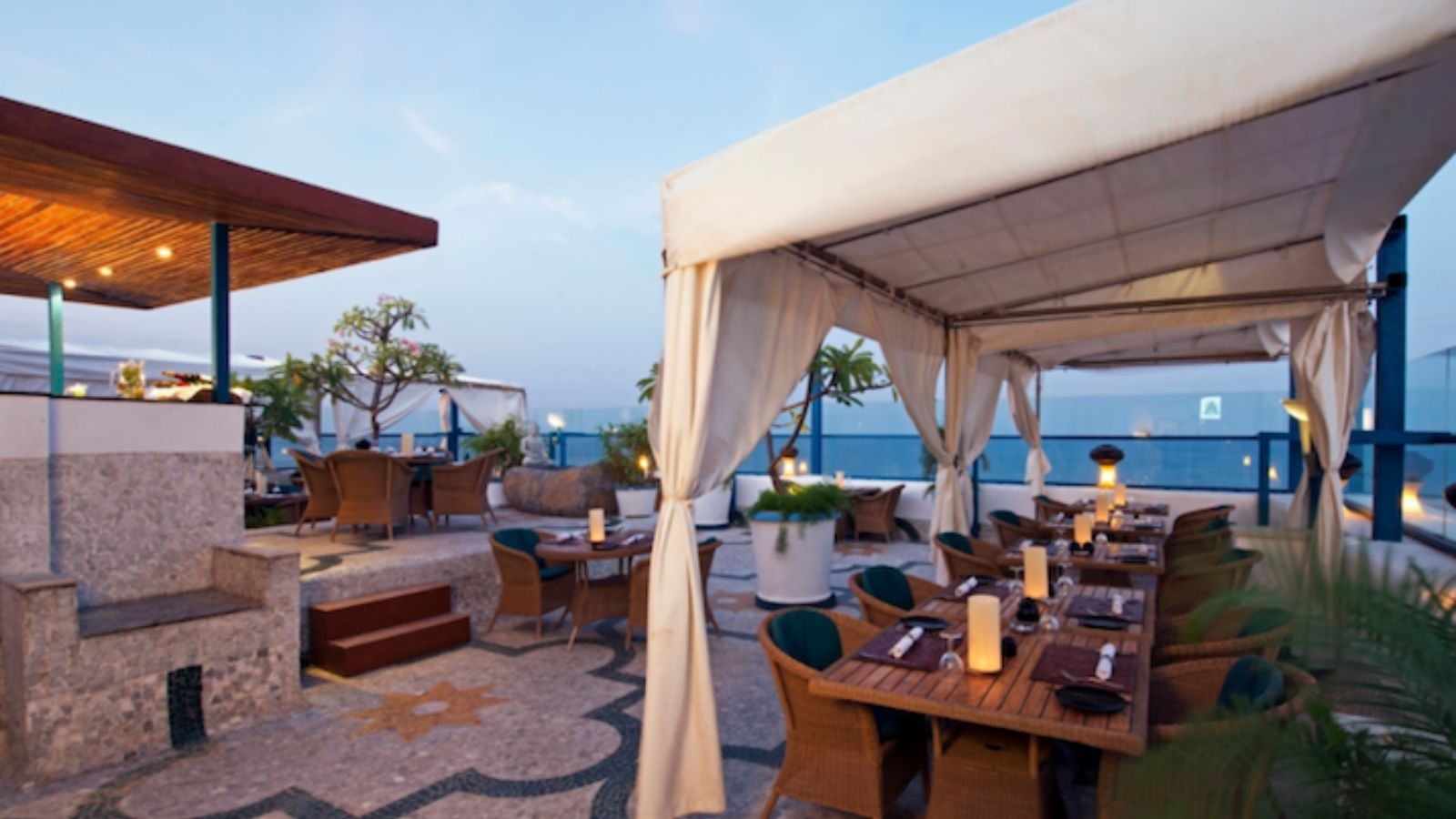 3. Le Duplex: It was once the residence of the Mayor of Pondicherry. Now it's a charming boutique hotel. It's the central courtyard that's our favourite dining space at La Duplex. The menu is diverse with everything from Creole fare (try their gumbo) to Asian plates and fusion cuisine in the mix. Caserne Street.
4. Chez Pushpa: Home host Pushpa is one of the last flag bearers of Franco-Tamil cuisine that is fast disappearing. She joins diners at the table (this experience requires prior reservations) as she talks them through the meal that she prepares from scratch. This banana leaf meal features unique dishes like a mutton sambar or a biryani that's served with a Creole salad. Ariankuppam..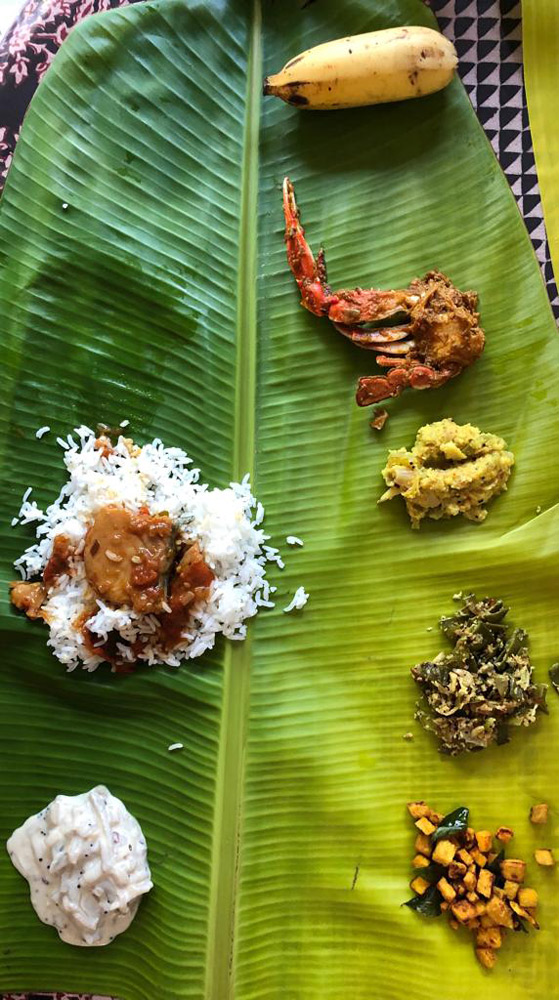 5. Tanto Trattoria Pizzeria: You will never run out of options here, which is not surprising considering "tanto" translates to abundance in Italian. Regulars keep coming back for their extensive vegan selection and fresh catch of the day. But we'll go back for their thin-crust pizzas. Kullapalayam, Auroville.
Photo: Shutterstock and Ashwin Rajagopalan