Lonar Lake, located in the state of Maharashtra amid the immense Deccan Plateau, is a tribute to the wonders and mysteries of nature. This amazing structure, which was created more than 50,000 years ago by a meteorite impact, holds the honour of becoming India's National Geo Monument. In addition to being a geological wonder, Lonar Lake is a location of enormous cultural and ecological importance. For seasoned travellers, nature lovers, and history buffs alike, it is a must-visit location because of its peaceful and otherworldly atmosphere as well as its rich past. This article will examine eight amazing features of Lonar Lake that set it apart as a travel destination.
1. Geological marvel
Lonar Lake was created by a meteorite impact that took place thousands of years ago in an ancient crater. An enormous crater left by the impact ultimately filled with water and developed into a distinctive saline and alkaline lake. This geological marvel offers a unique chance to see the effects of such a tremendous cosmic event.
2. Biodiversity hotspot
Lonar Lake is a biodiversity hotspot because of the diverse environment it supports. The alkaline lake waters produce a special ecosystem that supports a wide range of microorganisms and draws a variety of bird species. The chance to see numerous migratory and resident birds, such as flamingos, peafowl, and several species of waterfowl, will excite birdwatchers.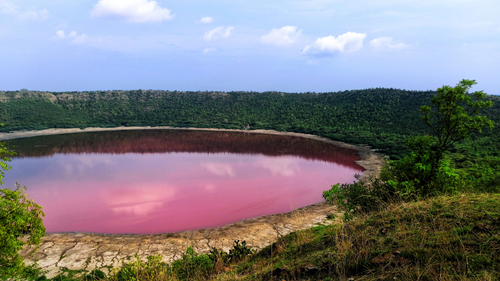 3. Ecological wonder
The ecosystem of Lonar Lake exhibits a remarkable equilibrium between the salinity of the waters and the local flora and animals. A variety of wildlife species, including gazelles, langurs, and mongooses, have a home around the lake thanks to the deep trees that surround it.
4. Geological diversity 
Old basalt rock cliffs and lush forests are just a couple of the varied geological structures that surround Lonar Lake. Visitors will be in awe of nature's artistic prowess as they take in the contrasting landscapes and the lake's beautiful blue-green waters.
5. Ancient temples
Between the sixth and the twelfth centuries, there were numerous temples built along the rim of the Lonar Crater. These temples, which were constructed in the Hemadpanti architectural style, include elaborate carvings and offer a window into the area's rich cultural and historical legacy.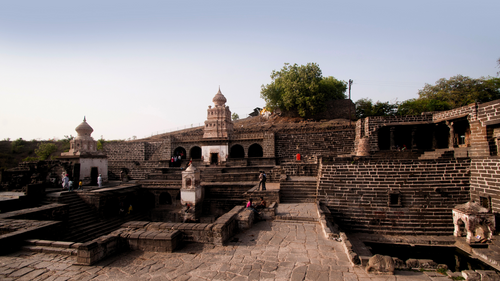 6. Lonar wildlife sanctuary
The lake and its surroundings are included in the Lonar Wildlife Sanctuary, which provides a retreat for those who enjoy wildlife and the outdoors. The sanctuary is a haven for wildlife photography and nature excursions since it allows visitors to see a wide variety of mammals, reptiles, and birds in their natural habitats while exploring.
7. Astrobiology study
Because of its resemblance to the circumstances on Mars, Lonar Lake has caught the interest of academics and researchers. It is the perfect location for astrobiological research because of its extremely saline and alkaline climate. The significance of Lonar Lake to the quest for life beyond Earth is covered in current research and findings that are available to visitors.
8. Spiritual significance
Lonar Lake has a great deal of spiritual significance for the inhabitants. Many people travel to the lake in search of comfort and spiritual renewal because they think the water has medicinal capabilities. The calm setting makes for a peaceful atmosphere conducive to thought and meditation, especially when combined with the historic temples.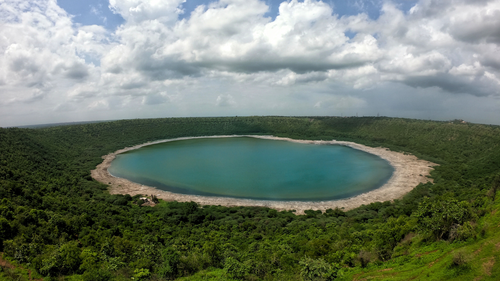 Lonar Lake is a stunning example of how nature's forces interact with geological marvels, biodiversity, and cultural history. It provides a singular experience that fuses intellectual curiosity, aesthetic beauty, and spiritual meaning. All who venture to view its beauty are guaranteed an incredible voyage that transcends time, inspiring awe, and leaving an imprint that will last a lifetime.
How to reach
The Buldhana district of Maharashtra, India, is home to Lonar Lake. Despite appearing far away, Lonar Lake is actually rather easy to get to because of how well-liked it is among tourists. Here are some methods for getting to this geological marvel:
By air: Dr Babasaheb Ambedkar International Airport in Nagpur, which is around 290 kilometres distant, is the closest airport to Lonar Lake. You can travel to Lonar from Nagpur by bus or taxi. It takes about 6-7 hours to complete the route.
By train: Malkapur Railway Station, about 90 km distant, is the closest rail hub to Lonar Lake. Malkapur is accessible by train from major cities like Mumbai and Pune. You may go to Lonar by local bus or hire a taxi from the train station.
By road: The city of Lonar has good access to public transport and has good roads that make getting to the lake simple. The distance is about 160 kilometres, and it takes about 4-5 hours to go there from Aurangabad. Regular services from adjacent towns and cities to Lonar are also provided by state transport buses.
Best time to visit
Consider the ideal time to appreciate Lonar Lake's beauty and explore its environs if you want to get the most out of your trip there. The best time to schedule your trip is now:
Winter season (November to February): The best time to visit Lonar Lake is during the winter. The temperature is between 10°C and 25°C (50°F and 77°F), which makes for cosy exploration conditions. It is perfect for outdoor sports and excursions around the lake because of the cool climate.
Monsoon season (June to September): During the monsoon season, Lonar Lake acquires a new allure. The lake is overflowing with water, while the surrounding landscapes grow lush and colourful. However, it's crucial to keep in mind that persistent rain may limit certain activities and make hiking trails treacherous.
Avoiding summers (March to May): Lonar's summers may be oppressively hot, with highs of around 40°C (104°F). Outdoor activities can be difficult and painful in the heat. If possible, stay away from going then unless you're ready for intense heat.
You may make sure you have a good time at Lonar Lake, appreciate its natural beauty, and learn about its fascinating history and cultural significance by scheduling your visit within the suggested times.
---
Photo: Shutterstock