The anticipation in the lobby of Hotel Dolphin was palpable, despite the muggy heat of Vizag's summer. Families of two, three, four, and even five were gathered around, minding their bags and children, and organising the necessary documents multiple times to ensure nothing was forgotten. A large queue formed outside the banquet hall behind the reception area, as people waited patiently to check in to The Cordelia. Everyone was going on a cruise. And the fact that for most it was probably the first time was evident in the general atmosphere. The excited chatter was not easy to tune out. And as and when people cleared check-in, they were transported to the ship, waiting patiently at the dock, where after another round of security clearance, they were in, finding their rooms and "waiting to set sail". 
Cordelia Cruises was setting sail from the port of Vizag aka Vishakhapatnam. It was not its inaugural trip but the first from this port, packing in at least 1,300 travellers onto Cordelia – The Empress, a ship that originally belonged to the Royal Caribbean. It has been around since the 90s and has seen enough water; look closely and you might find touches of age in different parts of the ship, but it's not something you'd care much about.      The ship is in good condition and with a capacity to accommodate at least 1,800 guests, this 692-feet long ship is a sight to behold. The ship would sail from Vizag, cross Chennai, touch Pondicherry where people could deboard and explore the little town (this did not happen due to various political complications) and sail back to Chennai for the passengers to end their trip.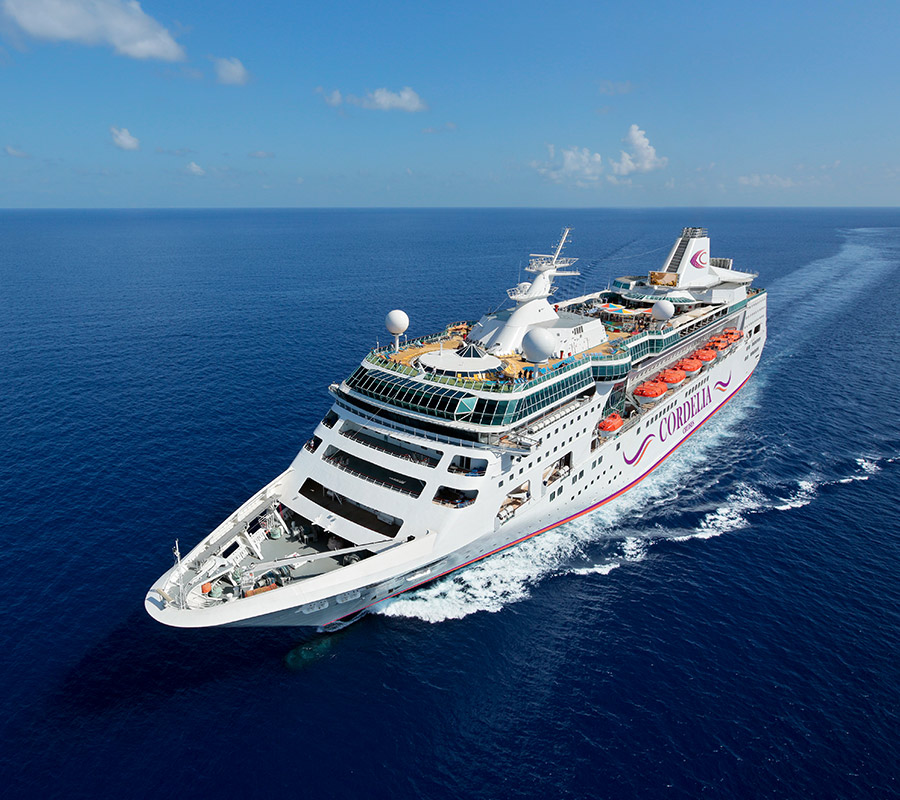 As Jurgen Bailom, CEO and President of Waterways Leisure Tourism Pvt Ltd, puts it, "Across the world, cruises are ideally meant for the rich. It is not cheap. What we had done is brought cruises to Indians so that Indians don't have to spend a lot of money to go to another country for a cruise." He's not too wrong, even though it's not really the same thing, but the fact that one can get on a flight and climb aboard a ship without having to even consider a visa is a blessing indeed. And best of all, it's affordable, enabling plenty of Indians to tick off "cruise" from their holiday lists. 
And the CEO was right, pretty much everything about this ship is focused on Indian families – the larger the better. Packed with activities on-board, one might actually have to look for a quiet spot if they crave solitude outside their cabins. 
The look and feel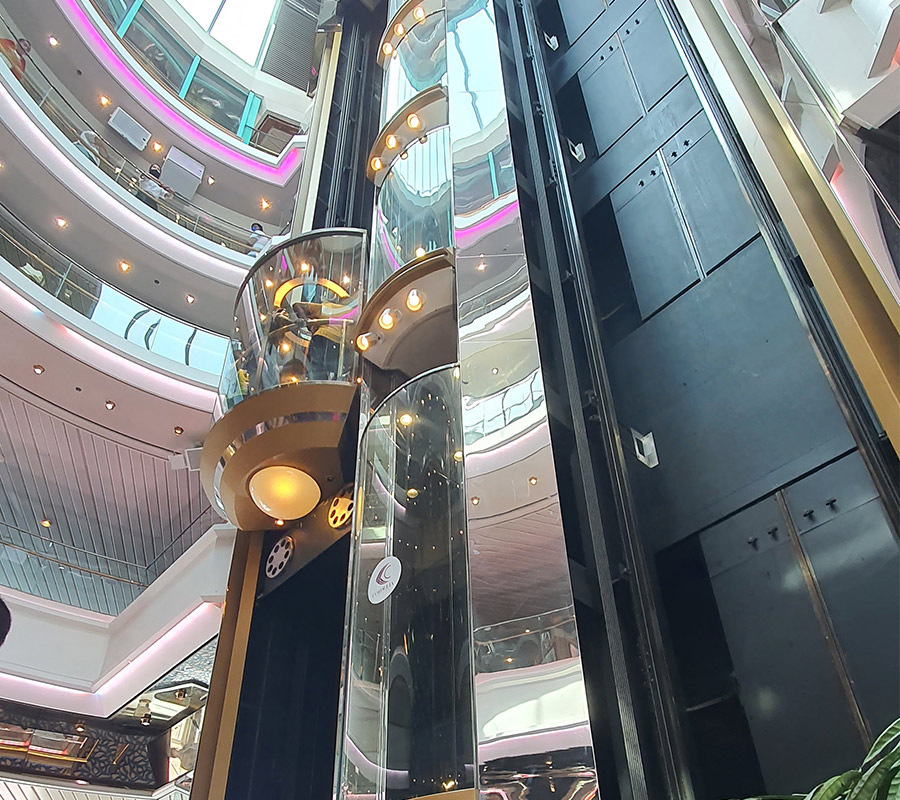 If you have been on any cruise outside of India, none of this will be a surprise to you. But for those who have never even stepped inside a yacht, leave alone a cruise ship, everything is like discovering Alice's Wonderland. Spread across 10 decks, the ship is rather grand on many levels and has tons of "selfie spots". Lifts ferry you up and down, and you can go to each floor and explore. From a massive food court on the top deck to the medical bay at level 2, a theatre for shows (some of these are an absolute delight, if I might add), four bars, nearly as many places to grab a meal — there is enough and more to indulge in here. There's a shop or two selling things you may have forgotten and need and even gifts you want to buy for yourself. It's not a lot, but it's something. And let's not forget the DJs who keep everyone's happy hormones activated.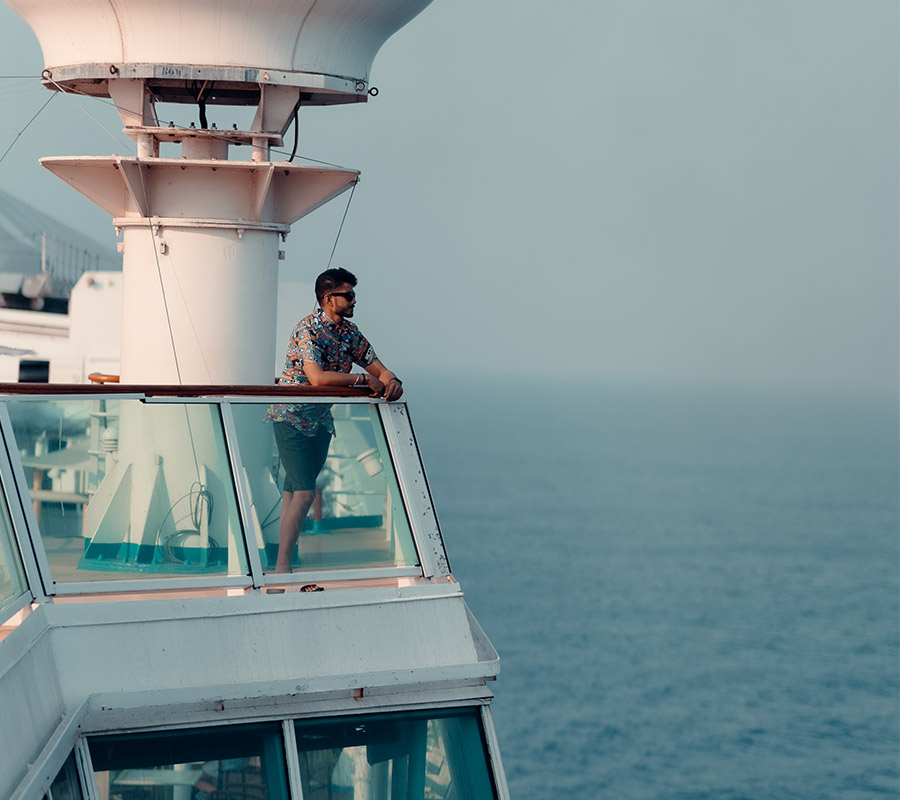 Bang in the middle of Deck 10 is a swimming pool. It's not the kind of pool you'd want to take your morning laps in, there's a gym for that— but more like dip your toes and splash around. If you've brought kids, you might want to let them loose there and go to the spa and zone out as experts fix your hair or your shoulder ache. 
Where you sleep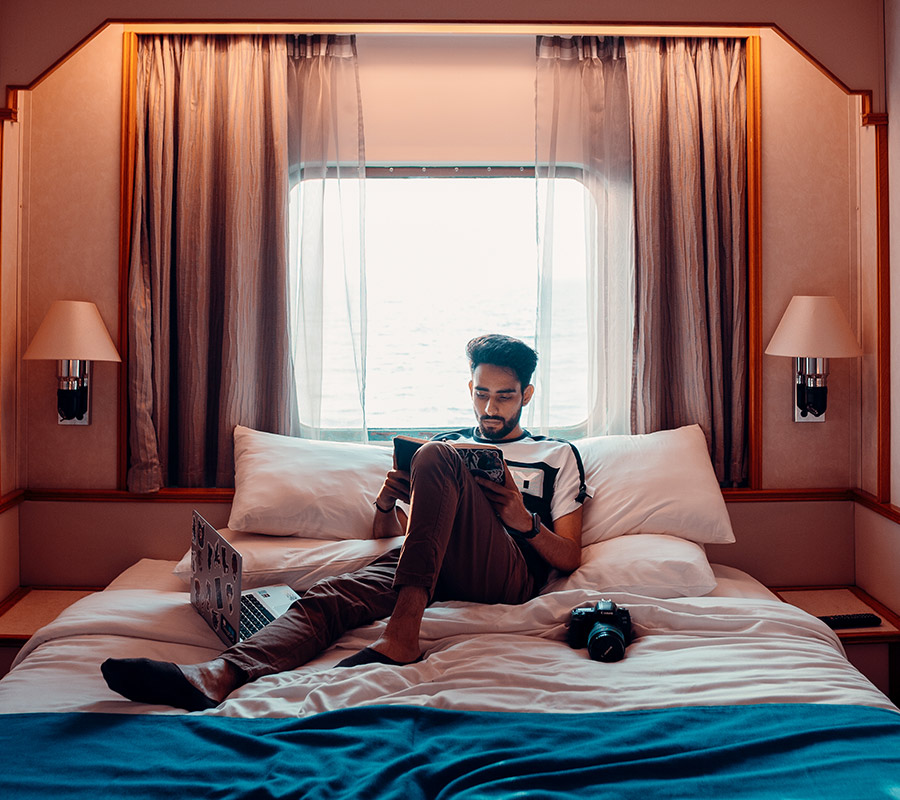 The accommodation is impressive. There are five categories of rooms, suited for different budgets. From the interior stateroom, mostly for the solo traveller, to the chairman's suite for the affluent — you can take your pick. The chairman's suite has its own bar as well. If you're travelling as a couple, the mini suite is nice. It comes with its own balcony where you can sit and watch the vast expanse of the sea at night and think about life. The rooms have televisions, but at the time of this cruise, none of them were working. Don't expect to have any connectivity on the ship either. They do have Wi-Fi, but it's expensive and choppy. Bring movies on a pen drive if you're carrying a laptop or just download from one of your favourite OTT channels. Or even better, bring a book. 
The distractions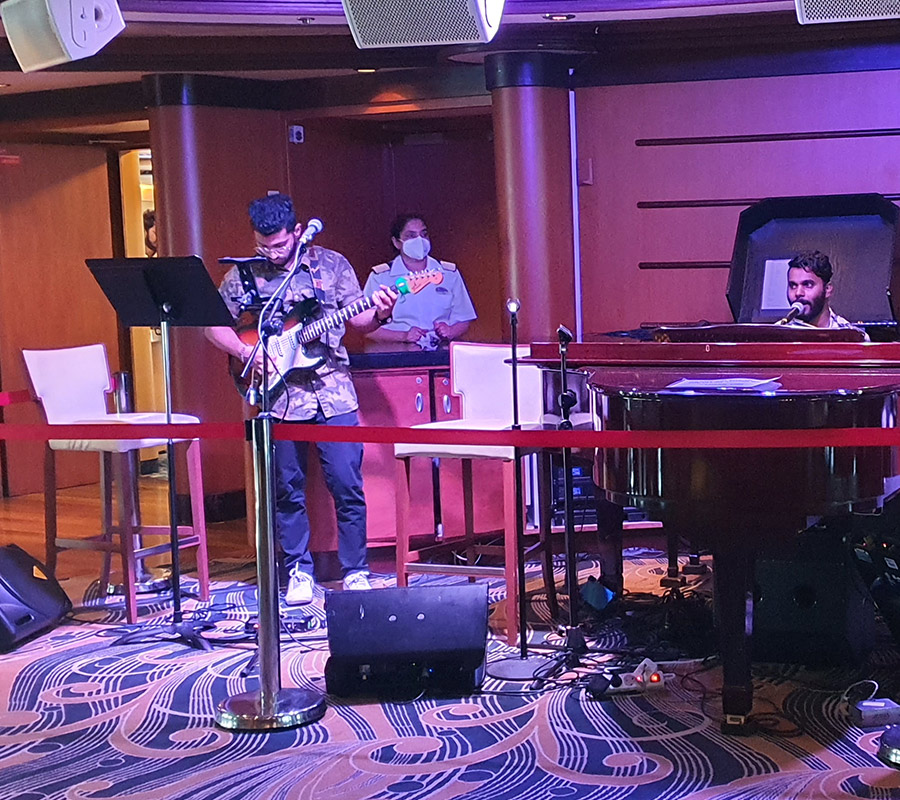 It's incredible how there's always something to do on this ship. For kids, there are games and gaming spots, shows and workshops. For adults, too, there are stage shows that will take you through a couple of hours of perfectly choreographed Bollywood dances to one that's Burlesque-ish (not all shows are included in your ticket) or even karaoke evenings. A vibrant entertainment manager will keep announcing the shows through the day. There's also a newsletter that you can pick up during breakfast to find your 'thing to do for the day'. Know this, you're on the water for at least two days, and in our case, we could not even dock at Pondicherry as originally scheduled, so it can get boring if you don't find something to do. Unless you're craving boring. 
Yes, the ship does have a casino, which is active on international waters. A good place to win some or lose some. 
All the merriment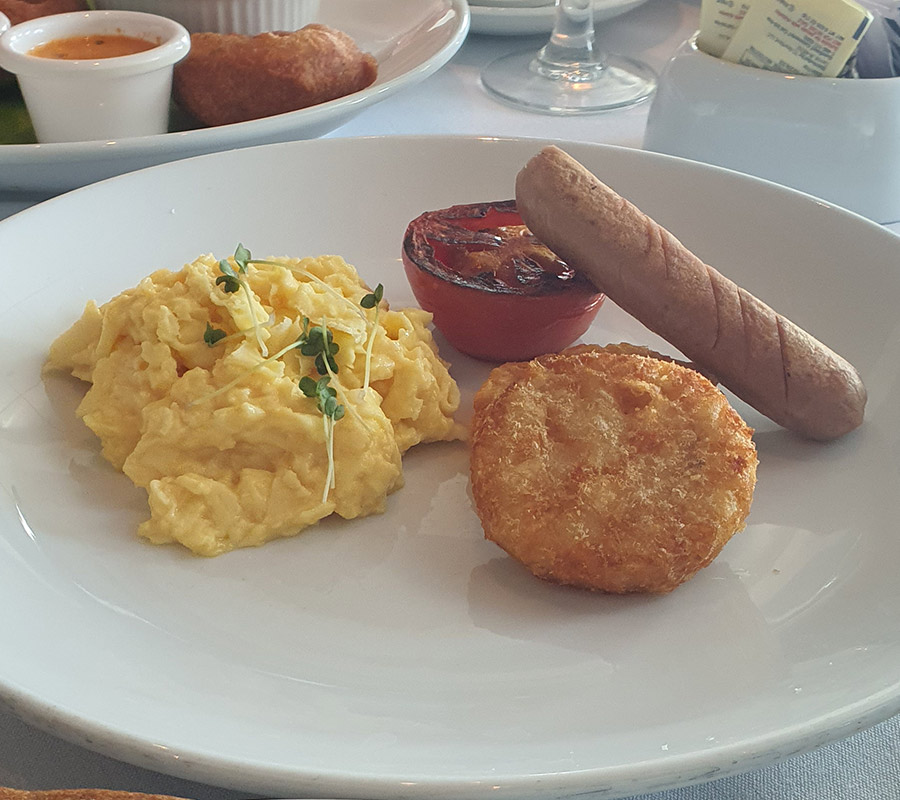 A cruise is never fun without its food. In the case of Cordelia, the food court is pretty much always open. During mealtimes, it's also packed. But they've got everyone covered. There are separate sections for vegetarians and even those who follow a Jain diet. There are separate food counters for those who want grills, street food, tandoori, stir-fries, and so on. The Starlight, a two-level restaurant, is not as big as the food court but it's big enough. Food is served as a buffet and is segregated carefully as well. If you don't want the chaos of the food court, you can get a table here. 
If you want a real quiet dinner, we'd recommend Chopstix. The menu here focuses mostly on Indo-Asian food and you'd need to reserve a table ahead. The service here is exemplary. Notwithstanding the fact that the bar at The Chairman's Club does not serve snacks, it's still nice to just sit here and grab a drink. You could sit by the window and wind down or by the bar and chat with the bartenders, who are always friendly. 
It is also here you can enjoy some live music in the evening. The band is quite decent and will make you smile and forget about any truant kids running around and bumping into things and people. 
The Connexions Bar is another watering hole on the ship. It's also where they host events such as karaoke and quizzes, all of which can be quite fun.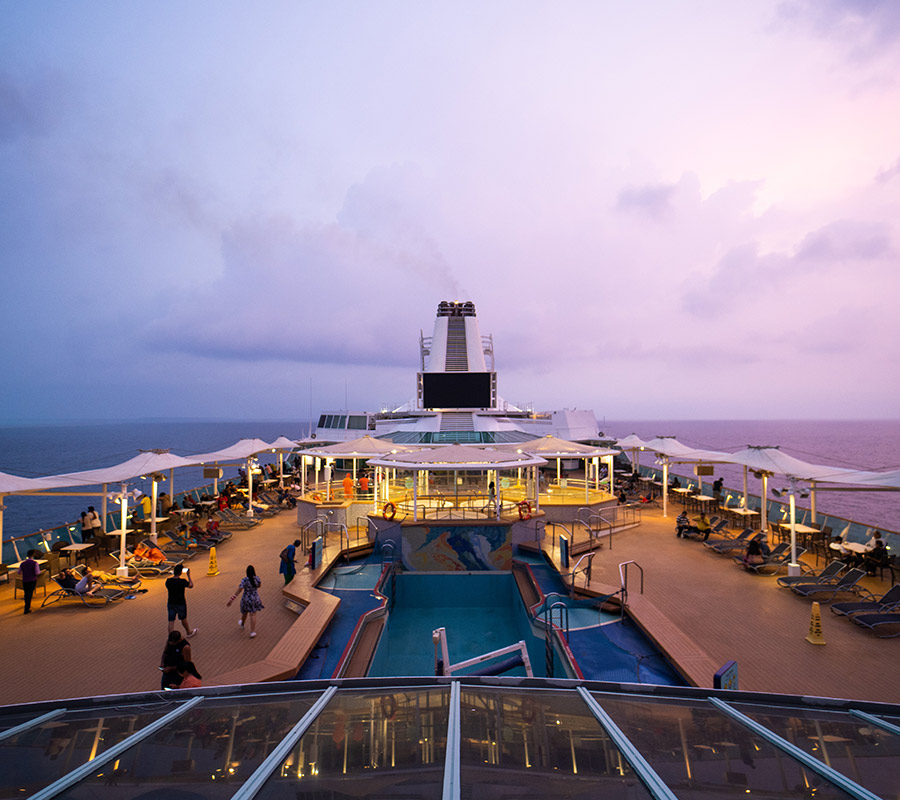 A walk along the deck is recommended. If you don't want to go all the way up to Deck 10 and meander through the crowd, try the one behind Connexions Bar. Or just walk along the deck at Level 5. It's particularly lovely to be there at night when things are relatively quiet. 
Cordelia covers the high seas too, which means it will sail into deep waters and come back after a night. If you don't want to do a two or a three-night trip, you might actually enjoy this quick trip. They sail from Chennai and now Vizag on the east coast and cover Mumbai, Goa, Kochi, Diu on the west. It also has cruises to Lakhshadweep Islands. 
Packages start at Rs 15,000 (per person on twin sharing) for two nights and go up to Rs 27,000 for five nights. Packages for the The Chairman's Suite begin at Rs 1,56,842. More details on www.cordeliacruises.com.
Photo: Cordelia Cruises