There's a Gothic doorway belonging to the stone ruins of an old church, somewhere close to the centre of Ireland. The church, Clonmacnoise Cathedral, dates back to 909 AD—but its most fascinating aspect is that doorway, called the Whisper Arch. Once upon a time, people whispered their sins into this arch and these confessions were heard only by the monk standing at the other end. This ingenious system kept the confessions private, and the monks safe from any infectious diseases. 
That's the beauty of Ireland! There are stories and legends to be found in every corner (or archway). 
Ireland's cities are buzzing centres of culture, food, and whiskey. Step beyond the city limits and the country opens up, offering undulating meadows, clear skies, and fields abloom. The central part of the country—they call it Ireland's hidden heart—has tiny unspoiled villages and towns located by a water body, replete with history and ruins, scenic walking trails, stone houses, and a pub or two. 
These four places in Ireland may look the same, but dig a little deeper and they will reveal their distinctive secrets. Here, we uncover some of them. 
1. Athlone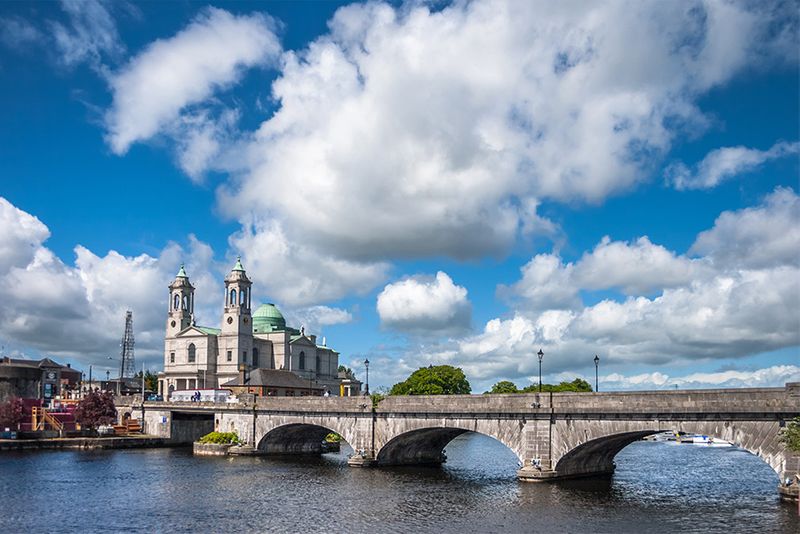 Visiting Athlone gives you two kinds of bragging rights: you can step foot inside the oldest bar in Ireland, and you are close to the geographical centre of the country. 
Athlone has been an important garrison town throughout history, which is why its geographical and historical centre is the Athlone Castle. In 1210, when built, Athlone Castle was just a polygonal tower. Today, this tower is the heart of the now expanded Athlone Castle's collection of artefacts, including man-traps and banana bottle feeders. The rest of the castle has interactive exhibits that tell the story of the town.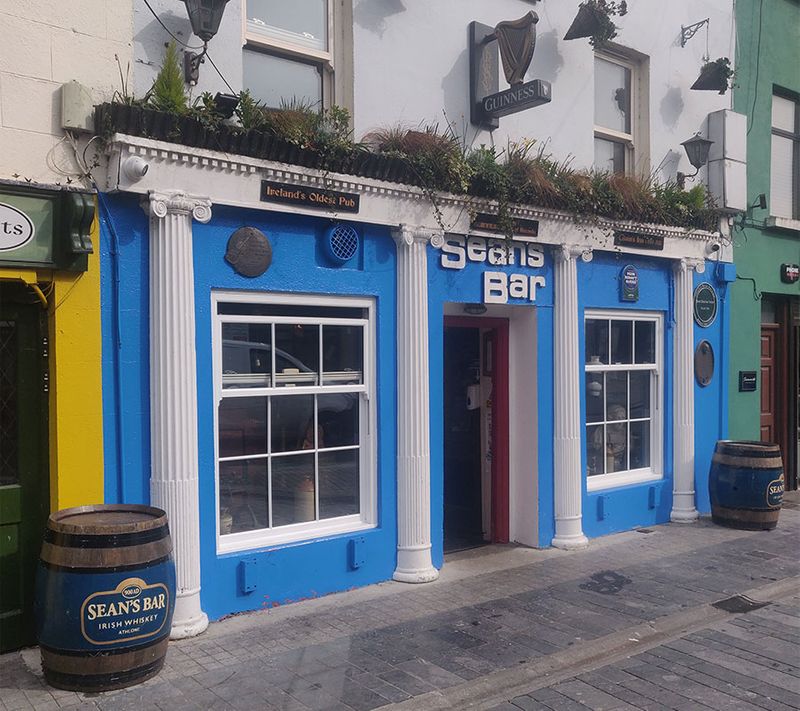 Easily the most recognisable feature of Athlone is Sean's Bar, the oldest pub in Ireland. The low-ceilinged bar has a roaring fireplace, floors covered with sawdust, and walls chock-full of old framed photos, miscellaneous items like badges, and records of everyone who owned the bar (including singer Boy George). 
Athlone lies by the River Shannon, which makes it the focus of many water activities. Here, you can hop on to a Viking cruise and traverse the peaceful river while learning about its usefulness, the fauna, and of course, interesting bits of the town's history
Where to stay: Sheraton Hotel
Killaloe and Ballina 
A river runs through it (them). The twin towns of Killaloe and Ballina, often named in the same breath, are heritage wonderlands. These two towns lie across each other on Lough Derg (Ireland's third largest lake), connected by a historic 13-arch bridge. They were once important stopping points for barges along the river. Today, the same waterways are used for other activities: angling for pike, swimming, kayaking, or a cruise with Killaloe River Cruise. The cruise offers you the luxury of getting to know both towns at the same time while enjoying the breeze on the upper deck, and sipping on local Irish gin. For instance, you will learn that Killaloe was the capital of Ireland for 12 years.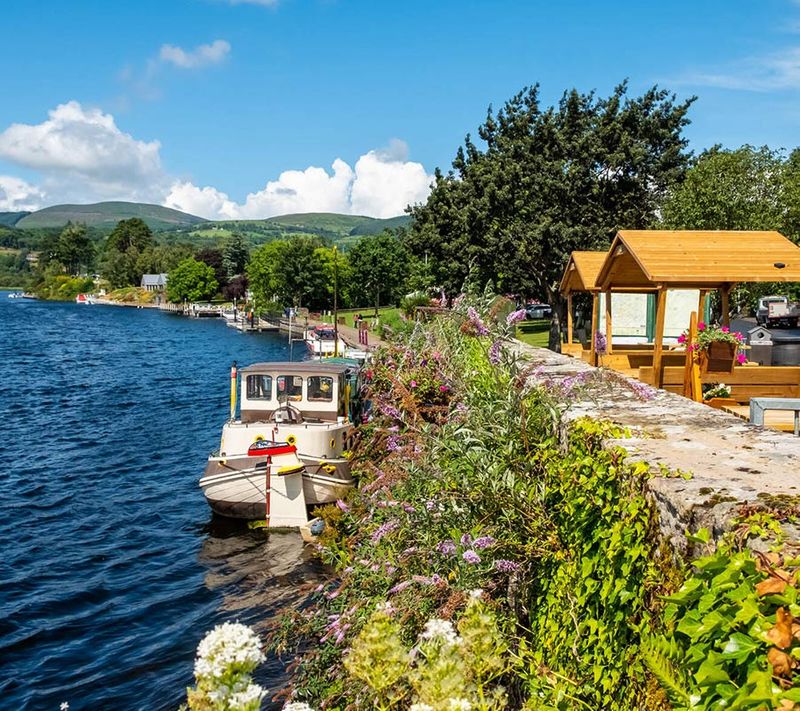 Made up of cobbled streets, old stone houses and ruins, and sweeping vistas of green fields with sheep grazing—both towns are ideal for leisurely strolls. Look out for the 13th Century St Flannan's Cathedral with its rune inscriptions and eight bells; the ruins of two oratories, or the site of the famous Irish High King, Brian Ború's palace.  
In Killaloe, an unusual landmark is the Washerwoman's Bridge. In 1862, the women of Ballina protested the disruption of their way to the river by railway lines, by lying across the tracks. The bridge was built to restore their access. You can raise a pint to these courageous women at The Washer Woman pub, which is decorated with furniture and items sourced from churches.
Where to stay: Lakeside Hotel and Leisure Centre
Tullamore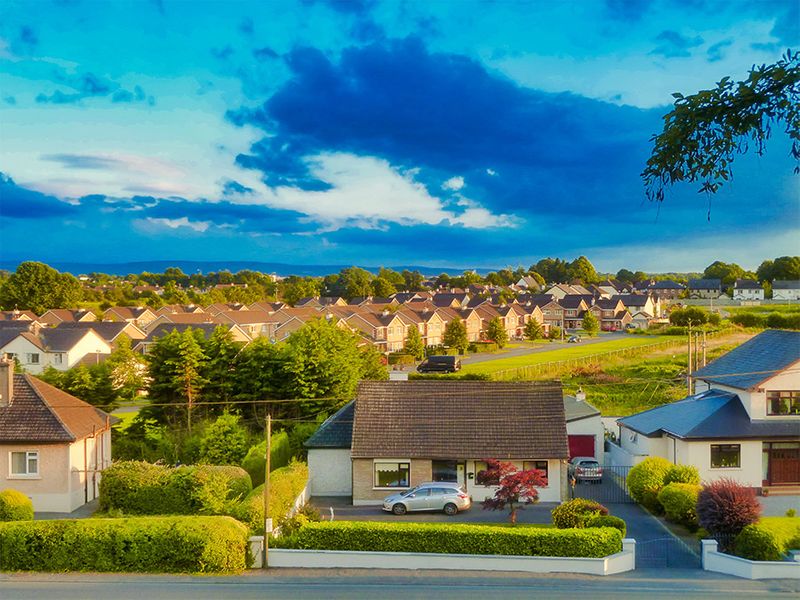 The capital of the County Offaly, Tullamore, is situated on the River Tullamore and divided by the Grand Canal. Tullamore or Tulach Mhór (Irish for Big Hill) is a town that's replete with history. 
Walk about and admire the city's fine buildings, from the Gothic Revival church of St Catherine's, built in 1818, to the remnants of Tudor tower houses.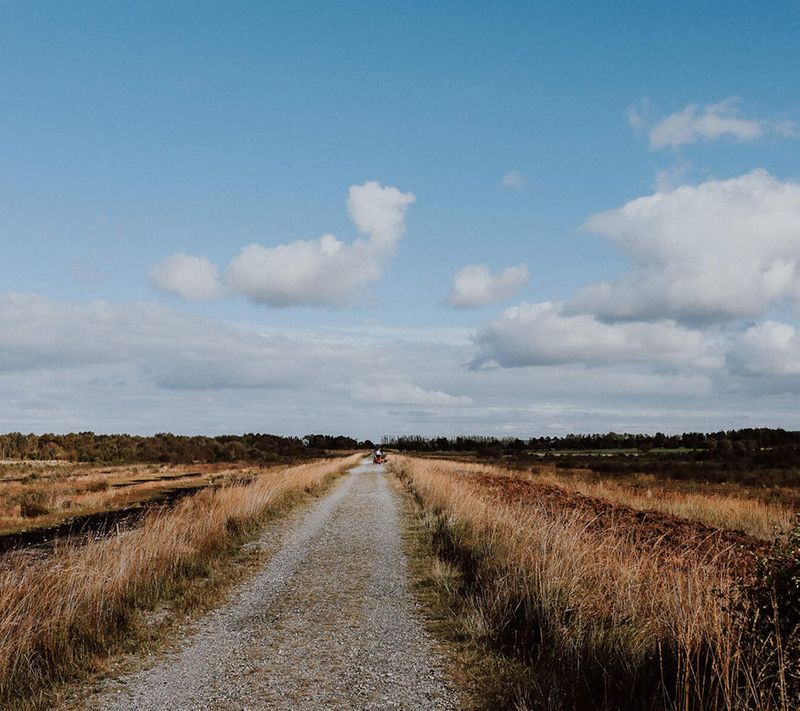 Hire a bicycle and pedal along wildflower meadows and a sculpture park in Lough Boora, a commercial bog converted into an outdoor attraction; there's even a fairy trail for children. Spend some time exploring the oak trees (look out for the over 800-year-old King Oak) in the woodlands that are home to the other Gothic Revival building, the splendid 55-room Charleville Castle.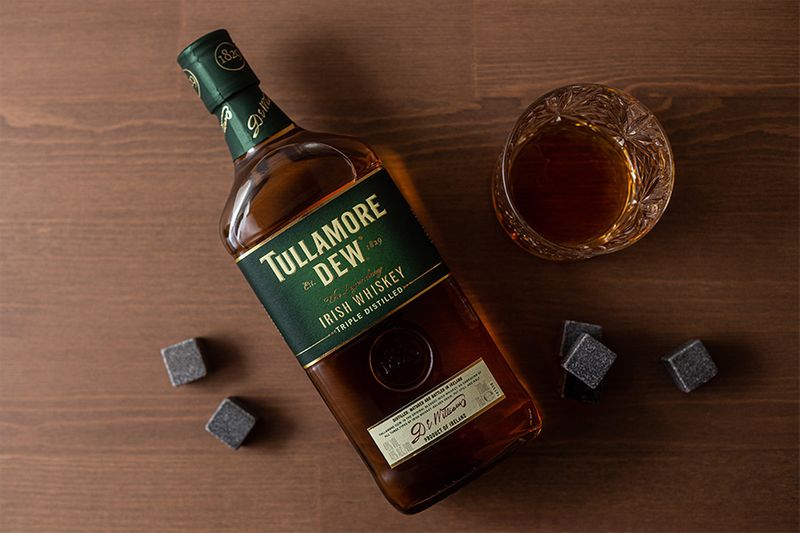 Tullamore is also famous for once being the home of the popular Tullamore Dew whiskey—today, the distillery warehouse is a visitor centre, but they do have whiskey tastings. 
Where to stay:  Tullamore Court Hotel
Tuamgraney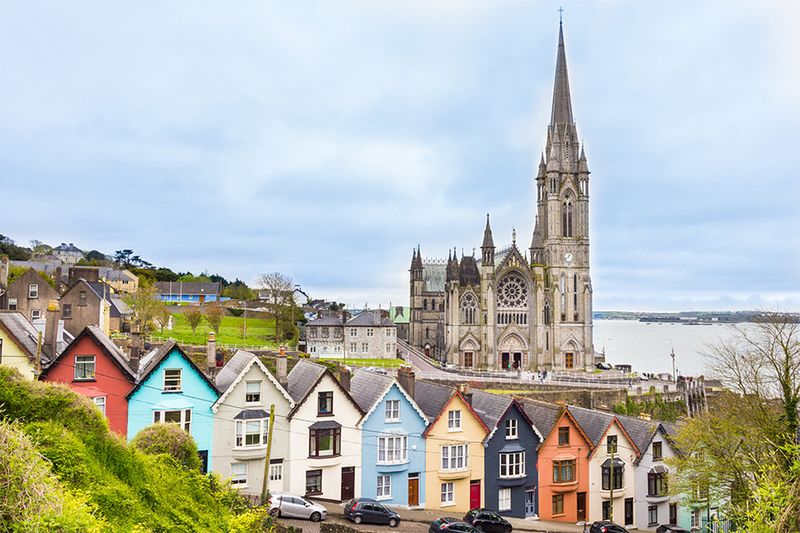 This small village is home to what's believed to be the oldest church in use in Ireland, St Cronán's Church. Its most fascinating aspect, however, is the legend that gives the village its name. A depressed princess drowned herself in a lake and the spot where her body was buried was called Tuam Greine (or tomb of Grian). The mound still exists, just outside the village. 
Besides this suicide, Tuamgraney is a lovely village with much to do. Go angling in the East Clare Lakelands or Reddan's Quay, find the plaque dedicated to renowned author Edna O'Brien, wander about East Clare Memorial Park, or search for the oldest oak tree in Ireland at Raheen Woods. 
If looking to pick up souvenirs, there are two local, women-run businesses. Mc Kernan Woollen Mill is where you can find soft and luxurious handwoven scarves and take a tour of their workshop/studio. A little away is Wilde Irish Chocolates, a chocolate factory where you can get a taste of some of their 50 different flavours and signature creations, and even make your own. It's a sweet way to end your visit in a town named after a woman's suicide. 
Where to stay: Clareville House
---
Turkish Airlines has flights to Dublin with layovers in Istanbul. 
There are no COVID restrictions, but you have to present vaccination certificates when applying for an Irish visa. 
The Republic of Ireland uses the Euro.
---
Photo: Shutterstock