Anytime is a good time to visit Jammu & Kashmir. While the winters are dreamy with powdery snow and white-washed mountains, the summers are particularly fascinating. This is when the region's raw beauty emerges. Think rolling meadows, meandering rivers, rows of colourful tulips and mountains blanketed in lush greenery. If you are planning to visit this paradise – here are some properties that offer the best of experiences and sights.
Whether you are seeking comfort, luxury, adventure or peace – these stunning properties have them all. There are also houseboats for those looking to simply float. Now all you have to do is book that ticket and get going.
1. The Khyber Himalayan Resort & Spa, Gulmarg
Located in the Pir Panjal range of the Himalayas, The Khyber Himalayan Resort & Spa is a charming property spread over a pine valley. All the 85 rooms come studded with breathtaking views of snow-capped Affarwat peaks. There's also a sheesha lounge and a heated swimming pool to while away the hours. The piece de resistance here is the spa by L'OCCITANE with stunning vistas from all its treatment rooms. The resort is an easy walk from the Gulmarg Gondola which leads you to Kongdoori Mountain, the highest ski point in the Himalayas. In the summer you could trek and picnic through unspoilt forests and flower-bedecked meadows or tee off on the world's highest golf course.
Tariff: Rs 49,000 onwards for a night
To book, call: 01954 350 666
2. Skyview by Empyrean, Jammu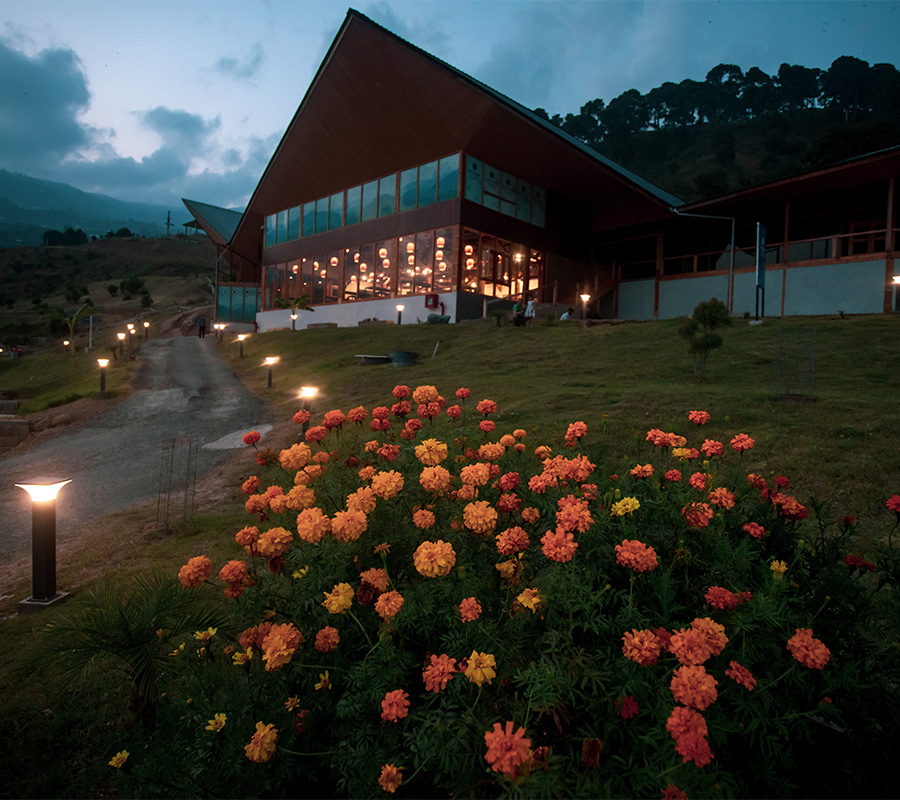 Those looking to mix luxury with a dose of adventure on their vacation should bookmark this retreat in Patnitop. Skyview by Empyrean is located within the 22 acres of Skyview World with adventure activities such as ziplining, gondola rides and tube sledging. The rooms themselves are gorgeous with magnificent views of the Himalayas over lush green forests. There are cute dome-shaped wooden cottages too with views of the passing gondolas. Meals are meticulously presented under the starlit sky. There's also a clubhouse with foosball, snooker and air hockey and a boutique to pick local produce. But the best thing to do here is take a scenic gondola ride from Sanget Valley to Patnitop. Trekking to hills like Nathatop and Madhatop is equally recommended.
Tariff: Rs 8,500 onwards
To book, call: 1800 103 9747
3. Welcomhotel by ITC Hotels, Pine N Peak Pahalgam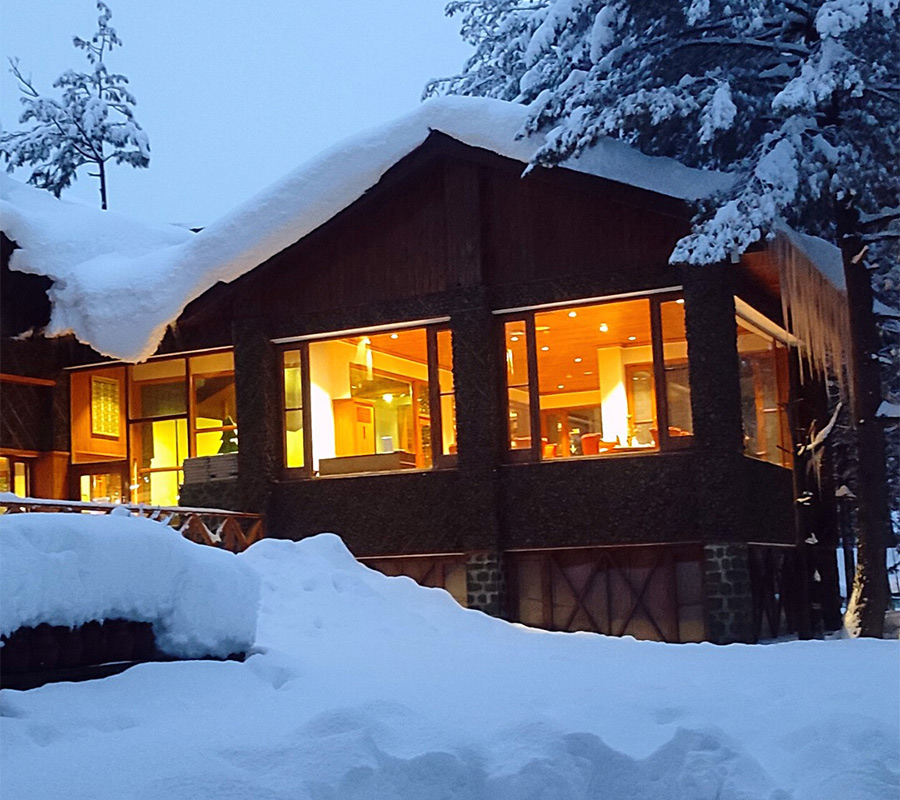 It's easy to feel a sense of peace and tranquillity when staying at this gorgeous property which is surrounded by pine trees and hugged by the meandering Lidder River. Each room at the Welcomhotel Pine N Peak opens out to picturesque views of snow-capped mountains and the Valley of Shepherds. Lolaab, the in-house restaurant, serves up sumptuous Kashmiri dishes and barbeques under the sky while the tea lounge treats you to steaming hot kahwa all day long. Yearning for more? Request for a picnic lunch by the Lidder or at Betaab Valley. You can even take a pony ride with a local guide to nearby places like Tulyan Lake, Pahalgam Valley and Sheshnag.
Tariff: Rs 32,000 onwards
To book, Call: 01936 243 210
4. The LaLiT Grand Palace, Srinagar
How about a heritage property designed and built by Maharaja Pratap Singh in 1910? The LaLiT Grand Palace in Srinagar feels both intimate and magical. Rooms are amped up with antique furniture and fittings, rich upholstery, hand-woven carpets and handicrafts. The Maharaja suite comes with exclusive access to the hotel's library, which was used during the time of the maharaja's residence in the palace. Meals are offered under magnificent Chinar trees with serene views of the Dal Lake and Srinagar Valley. If you can steer yourself away from your room, there are scenic nature hikes, mountaintop picnics and private dinners to look forward to.
Tariff: Rs 5,500 onwards
To book, call: 0194 250 1001
5. Sukoon, Dal Lake
Nothing beats staying on a houseboat and drifting your way to the misty Pir Panjal mountains, forts and temples in Kashmir. If this sounds like a dream vacation then book Sukoon, a floating home amidst a lotus garden in a secluded corner of Dal Lake. The rooms are old-world (glimmering chandeliers, creaky pine floors, colonial-style furniture, colourful silks) but kitted out with modern comforts, including WiFi! Savour Kashmiri and Continental delicacies in the walnut-carved dining room. But it's the sun deck where you will be spending most of your time – gazing at the mountains, haggling with local vendors at the floating market and watching an entire village built on stilts. Sukoon is the first houseboat in Kashmir to be fitted with a bio-tank, which means that no waste is discharged into the lake. Plastic is banned on board too.
Tariff: Rs 16,000 onwards for a night
To book, call: 0194 250 0450
6. The Cottage Nigeen
Run by a Kashmiri couple, this homestay on the banks of the famous Nigeen Lake in Srinagar is everything you'd want from a vacation – plush rooms, quaint neighbourhood, excellent service and great homestyle food. The lush lawns here are studded with rose bushes, tulips, hyacinth beds, lilies and other flowering shrubs. Meals are carved from freshly plucked vegetables and desserts are often the fruits from the orchard - apples, pears, cherries, plums and figs. Popular tourist spots like Dal Lake and Mughal Gardens are close by.
Tariff: Rs 6,500 onwards for a night
To book, call: 096979 85515
7. The Vintage, Gulmarg
This rustic, mansion-style hotel with Victorian interiors comes with spectacular views of the Apharwat mountain range and Gulmarg golf course. The property is decked up with loads of  contemporary art and has three in-house restaurants and a spa. Get on the Gulmarg Gondola for a thrilling ride from the Gulmarg Meadow through pine-clad slopes to Apharwat. Other activities include skiing, horse riding and fishing. Advanced skiers are ferried by helicopter to otherwise inaccessible Himalayan peaks for the ultimate skiing experience.
Tariff: Rs 14,000 onwards
To book, call: 097961 00700
8. Rah Bagh, Srinagar
This boutique resort on the outskirts of Srinagar has 33 chalet-style rooms set within an apple orchard and framed by towering poplars. The picturesque Dal and Nigeen lakes and the Zabarwan mountains make for the perfect backdrop to this ideal getaway. Each room offers a sit-out or balcony. Indulge in delectable Indian or global cuisine or just savour the Wazwan, the traditional feast served up at Kashmiri weddings, at Wan Posh, the in-house restaurant. There's also a terrace deck for open-air barbeques and grills. Just a short walk away from Rah Bagh is the Dachigam National Park which is famous for Hangul – the stag native to Kashmir. The hotel even arranges for a horseback safari with a sumptuous picnic lunch on the outskirts of the Park.
Tariff: Rs 15,000 onwards for a night
To book, call: +91 194 4023098
9. Ronak Homestay, Srinagar
Those on a budget will love this beautiful homestay with views of the Zabarwan hills from every room. The lush garden and the friendly staff add to the charm. The in-house restaurant dishes up lip-smacking local delicacies and the rooms are centrally heated. The property is also close to places of interest such as Dal Lake (1.4 km), Nishat Bagh (3.2 km), Shalimar Bagh (4.9 km) and Shankaracharya Temple (11.8 km).
Tariff: Rs 2,300 onwards for a night
To book, call: 098108 33662
10. Naaz Kashmir, Nigeen Lake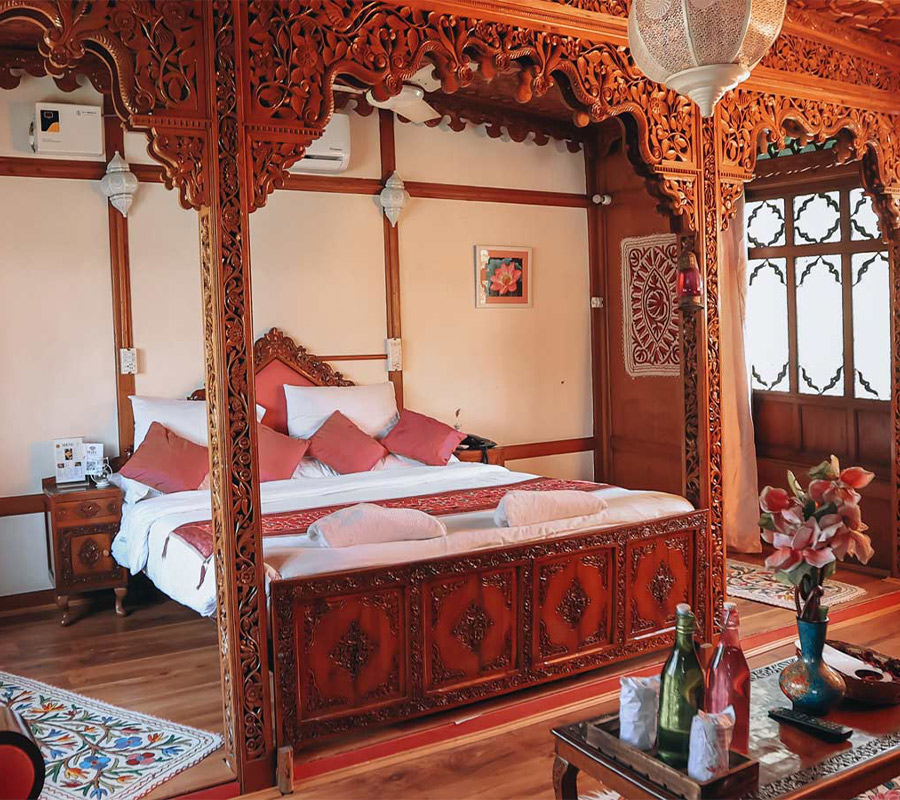 This houseboat has been serenading Nigeen Lake for almost 40 years. There are five beautiful bedrooms — all named after flowers like saffron, daffodil, lavender, tulip and lotus — and decked up with carved walnut wood and plush carpets. The central heating and air-conditioning make for an extremely comfortable stay in all seasons and the high-speed WiFi is convenient if you want to stay connected. Don't forget to relish the unending refills of kahwa while onboard the stunning deck. Bollywood fans will love the movie collection of evergreen classics to watch in the lounge. Meals are a mix of local delicacies and international favourites. 
Tariff: Rs 21,000 onwards 
To Book, call: +91-9810102517, +91-9541002517
Photo: Shutterstock; Featured brands