An impromptu trip to Kashmir, booked spontaneously as there was news of fresh snowfall in the state, made us fall in love with this winter wonderland all over again.
Kashmir is indeed heaven on earth. But it is picture-perfect in winter! The valleys are covered with a thick carpet of soft powdery snow, the beautiful rivers flow unabashedly amidst banks of snow-covered rocks, and chalets and trees complete the scene with their white freckled magic. Almost every picture clicked in this landscape is postcard-perfect. But pictures and videos don't do full justice to the actual expanse of this gorgeousness. So, you must visit to experience the magic for yourself! As you travel through Srinagar-Pahalgam-Gulmarg, here are a few sweet and simple experiences that you simply cannot miss.
1. Night-time shikara ride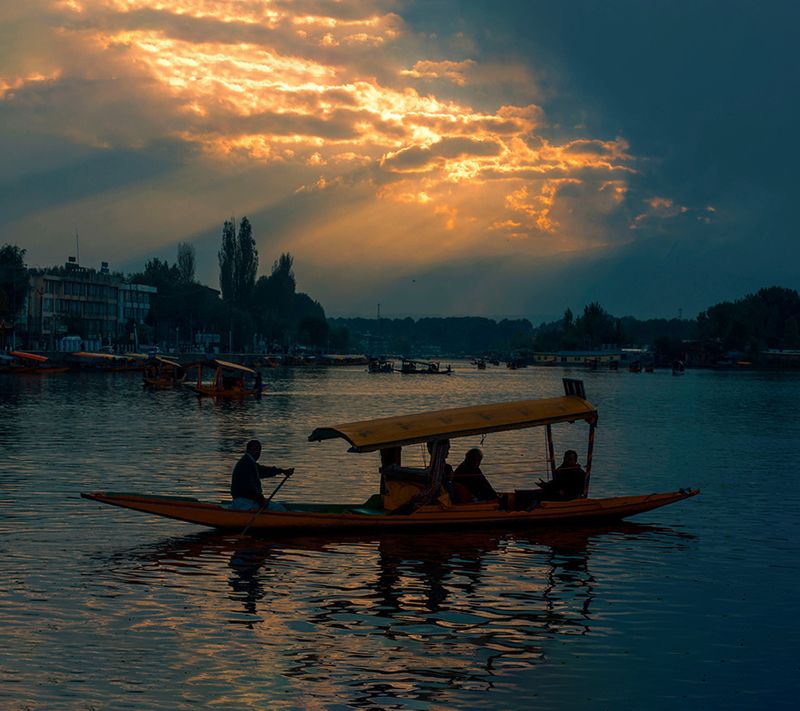 A shikara ride in the Dal Lake is an absolute must when in Srinagar. But the magic of the same after dusk is inimitable. We suggest starting the ride at around 7 pm. The bustle at this tourist hotspot starts slowing down by this time.
As we glided away in our shikara from the central lake towards the floating market, all we could hear were the distant sounds of the Valley. As we lay back quietly, the picturesque sight of lit-up houseboats, their reflection shimmering in the quiet waters, coupled with the sound of the evening azan from a nearby mosque and the rhythmic splash of the oars was serene and surreal.
Before we realised, a vendor had caught up with us on his shikara stocked with souvenirs. Speaking excellent English, he charmed us into buying some magnets and trinkets. We bought a few simply to remember this beautiful moment. And the perfect way to round up this lovely evening is having piping hot Maggi from one of the floating refreshments stalls. They have pakodas, French fries, tea, coffee and kahwa too, but this was a memorable #MeriMaggi moment for us. 
2. Spend the day at Betaab Valley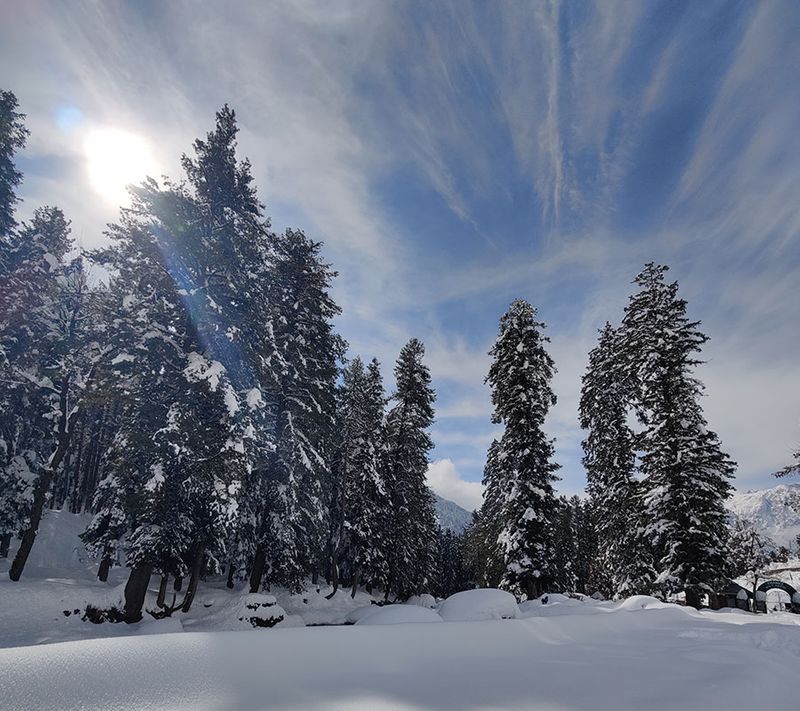 Betaab Valley, originally named Hajan Valley or Hagan Valley, is a gorgeous expanse of meadows surrounded by snow-clad mountains located around 15 km from Pahalgam. The valley got its current name from the Sunny Deol-Amrita Singh starrer film Betaab which was shot here.
While it is a very popular summer destination for its lush green meadows flanked with dense foliage, the winter vistas with fresh, powdery snow are something else. We were lucky to spend a sunny day in this valley just the day after it had snowed. The towering firs against a clear blue sky contrasted with an unending stretch of pristine white have left an indelible postcard in our memories. And the sheer joy of sinking into the softest, cleanest snow turned out to be the highlight of our entire trip. 
3. Eat the freshest river trout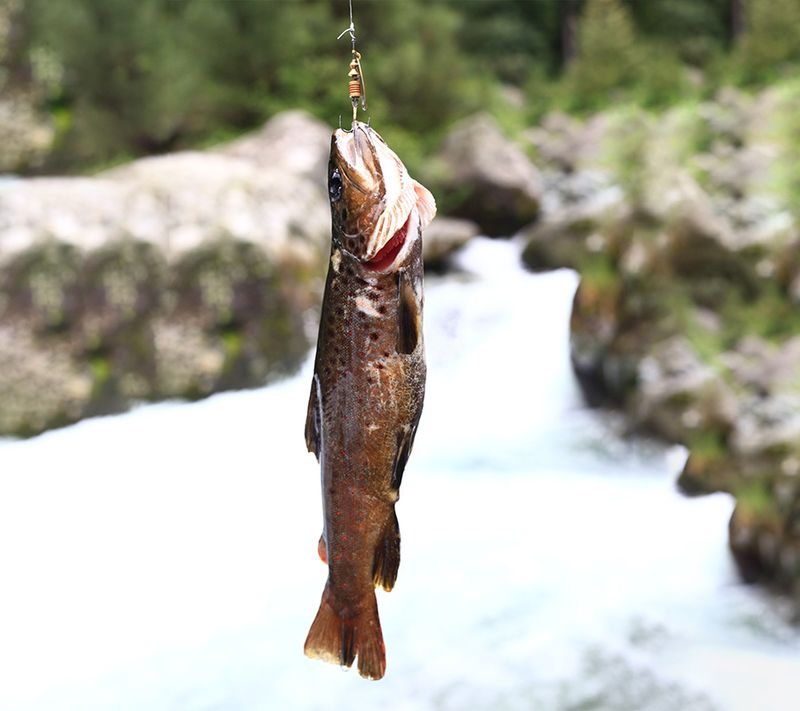 Perched alongside the cascading River Lidder, Hotel Heevan is an ideal destination to soak in the beauty of Pahalgam. From a beautiful sunrise to picturesque evenings, the gushing sound of the river is the only music you need to complete the scene.
But the river provides another bounty besides the refreshing sight and sound. It abounds in trout fish, making trout fishing a well-sought-out activity. The best part about fishing is eating your fresh catch. The hotel will serve this regional specialty for you as per your request — grilled, tandoori or masala trout.  
4. Indulge in a Kashmiri wazwan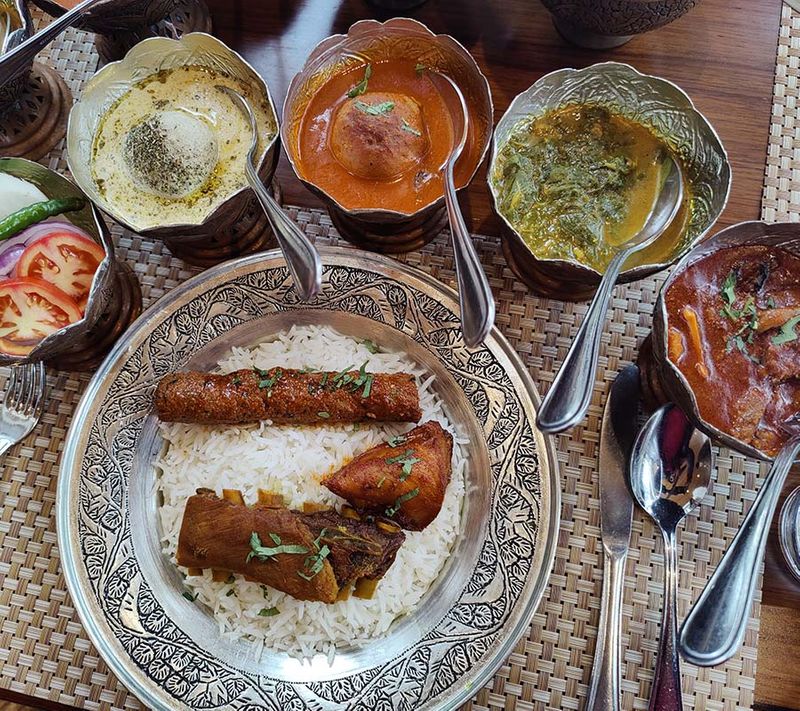 When in Kashmir, eat Kashmiri wazwan! While it is an absolute treat for meat lovers with dishes like rista, goshtaba, tabak maaz and seekh kanthi, there is enough choice for vegetarians too with haakh, nadru yakhni, rajma and akhrot tikki. We'd recommend you partake in this delicious meal in the luxe environs of Welcomhotel Pine and Peak.
Not only is the food absolutely delicious, the taste of the tarami is enhanced multifold by the beautiful view of snow-covered Pahalgam from huge picture windows of the cosy restaurant at the hotel. Round off the meal with their signature dessert — the walnut tart. Made with local walnuts and jaggery, it is baked to perfection. And of course, the grand finale comes as the warm kahwa served from an intricately designed samovar.
5. Visit an artisanal cheese factory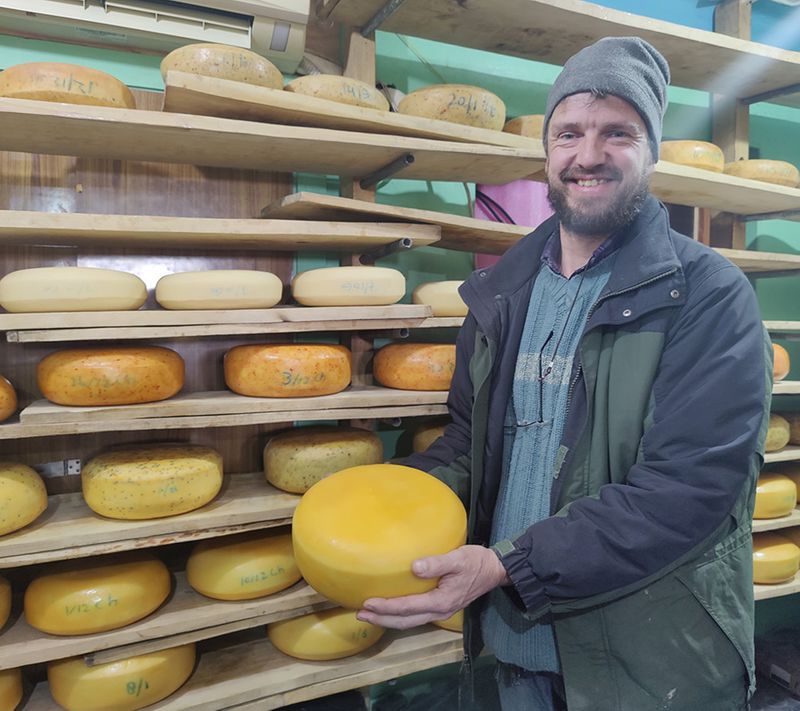 The Himalayan Cheese factory is located near Pahalgam, where world-class cheese is made by a Dutchman, as per Dutch and local traditions. Founder, Chris Zandee believes in incorporating fair trade values to promote social and economic development.
From flavoured gouda and cheddar to gruyere and local specialty, Kalari cheese, the products are fantastic and available across multiple outlets in Delhi, Mumbai, Ladakh, Pune, Kolkata, and so on. But visiting the factory gives you a chance to see local Kashmiri people making this high-quality cheese and an opportunity to savour a variety of products before purchasing them.
Besides cheese, there's raw honey, ghee and jams made with local ingredients like mulberries and loquats. If you miss a chance to visit the factory in Pahalgam, you can visit the store in Srinagar as well. While all the cheese is aged in Pahalgam, it is from this store in Srinagar that it is packed and dispatched all over the country.
6. Take ski lessons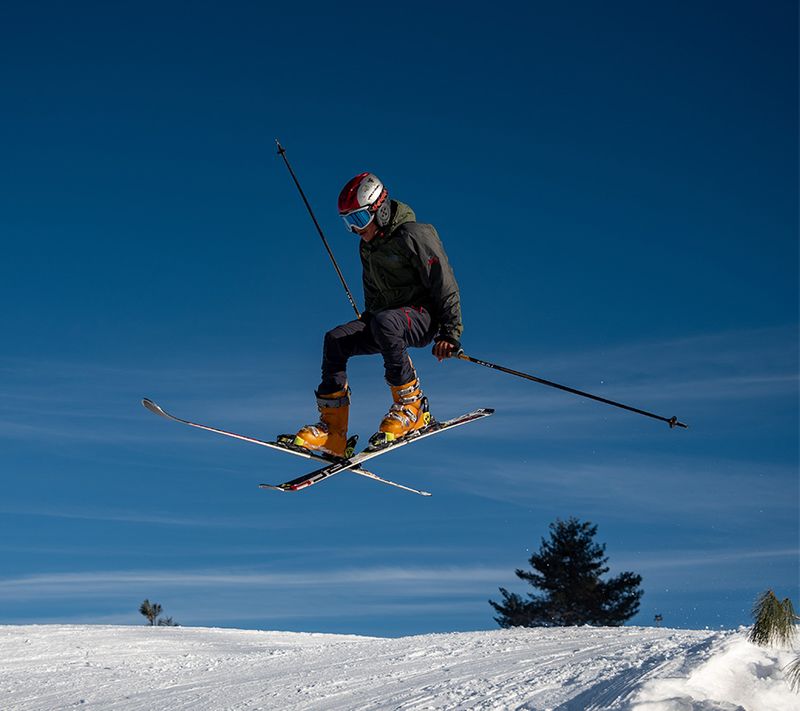 Gulmarg is one of the best places in India for skiing. From ski lessons for beginners to slopes designed for advanced skiers, this destination attracts snow adventurers from all over the world.
Besides the advanced level of skiing, there are plenty of other snow activities to choose from like sledging, snow scooters, ice skating and so on. While Gulmarg is draped in swathes of snow all through winter, it is worth taking the gondola further up to get beautiful views of the snow-covered ranges as well as for pure, simple fun in the fresh snow.
7. Get your fill of old-world continental fare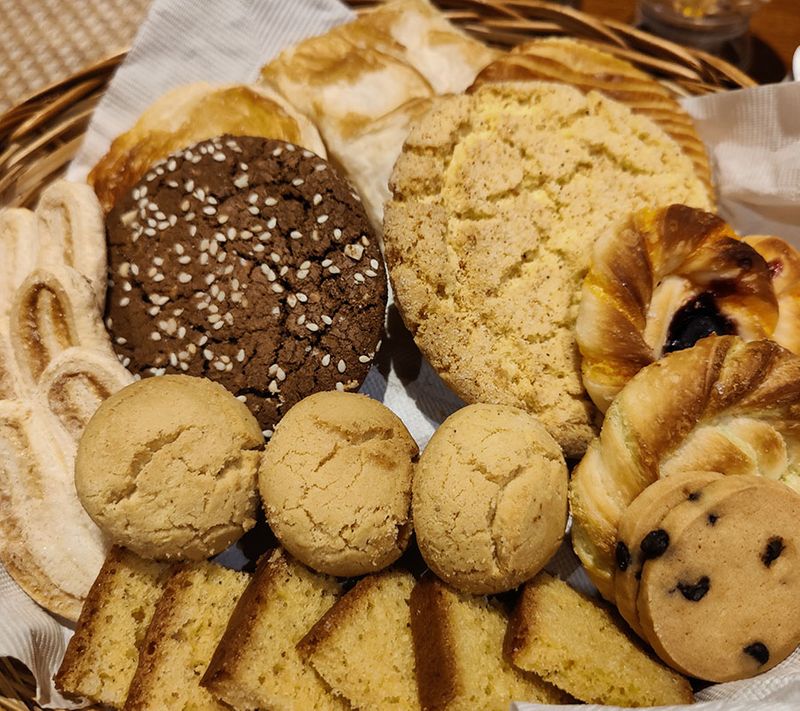 If boutique and heritage hotels are more your style, head to Highlands Park in Gulmarg. Having hosted royalty, heads of state and movie stars since 1962, this hotel is all about old-world charm. This is also where the hit film Bobby was shot, and it still has a cottage dedicated to it — the famous Bobby Cottage.
The accommodation in the cottages is cosy and comfortable, but even if you're not staying at the hotel, we'd urge you to go there for a memorable meal. While the local dishes are delicious too, the continental fare has a particular nostalgic appeal. When it is snowed out all around you, nothing hits the spot like some soul-satisfying soups. Follow this up with Russian salad, chicken chops, mutton cutlet, mac and cheese and baked vegetables. 
8. Bring back a variety of Kashmiri breads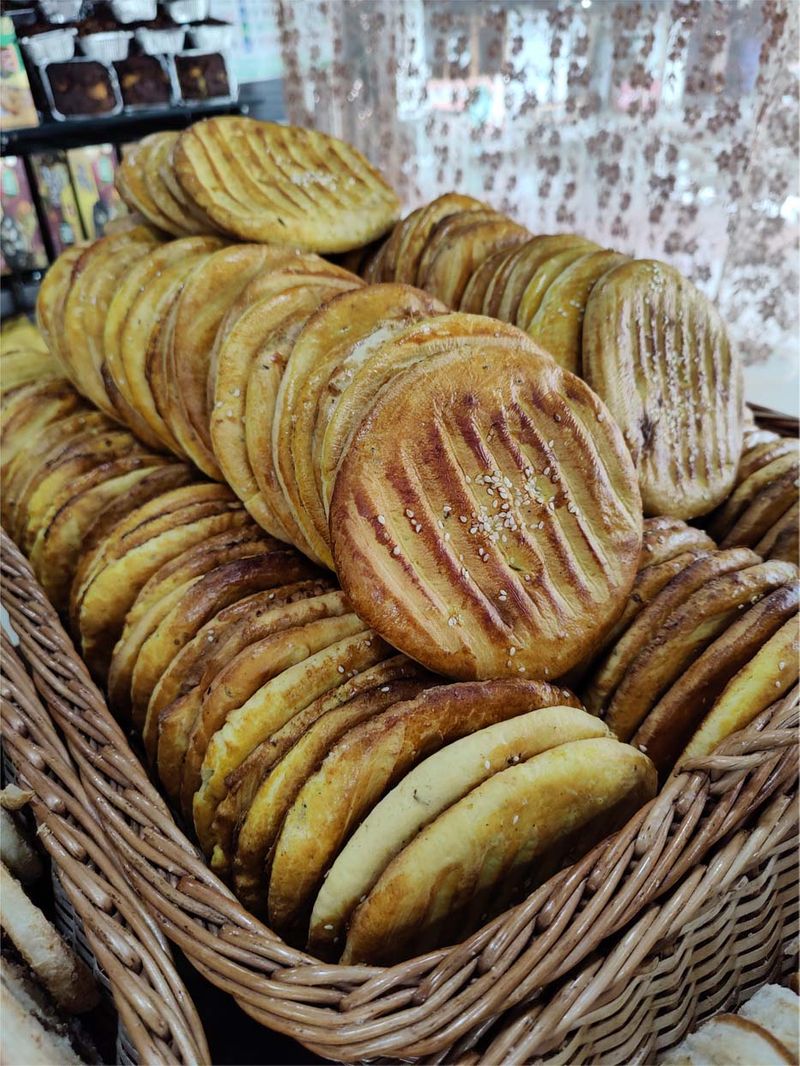 If, like us, you like to carry back 'food souvenirs' from a trip, look no further than Taj Bakery, near Hazratbal at Srinagar. Enough has been written about Kashmiri breads, with specific breads enjoyed with different types of teas throughout the day.
There are plenty of local bakeries, but we liked the choice and quality at Taj Bakery. While there, must-haves are their piping hot puffs or patties — the chicken and mutton fillings are wholesome and the puff is buttery and flaky. Among the breads, from sheermal and kulcha to bakarkhani and girda, they have it all. You can safely pick up a large variety as these breads last long. Every bite back home is guaranteed to remind you of your dreamy holiday in snow-covered Kashmir!
---
Photo: Shutterstock; Shibani Bawa