Why would one go to Sharjah? When you talk about the UAE, Dubai and Abu Dhabi come to mind. No one really plans a holiday to Sharjah unless they're obsessed with cricket. In fact, the moment I told some of my friends that I was going to see the Sharjah Light Festival (or SLF), their response, as expected, was: "They have more than cricket?"
The truth is, there are many reasons to visit Sharjah. True, that it might not have the vintage charm of an old European city, the glittering attractions of Southeast Asia or the tall buildings and opulent glamour of Dubai. But what Sharjah does have is impeccable hospitality.
"How are the people so nice all the time?!" is something I asked (to no one in particular) every single day that I was there. But that's Emirati culture for you. They keep their personal boundaries extremely well defined, so they won't throw their arms around you like you're their long-lost friend, but they sure know how to make you feel important.
A five-day trip to Sharjah is not enough. Despite being the third-largest emirate in the UAE, it's actually possible to explore the entire city in two days, that is if you didn't really stop anywhere. But even so, five days aren't enough. All you'll really do is scratch the surface. Of all the things we managed to pack into our trip, SLF was the key agenda.
A celebration of the city's heritage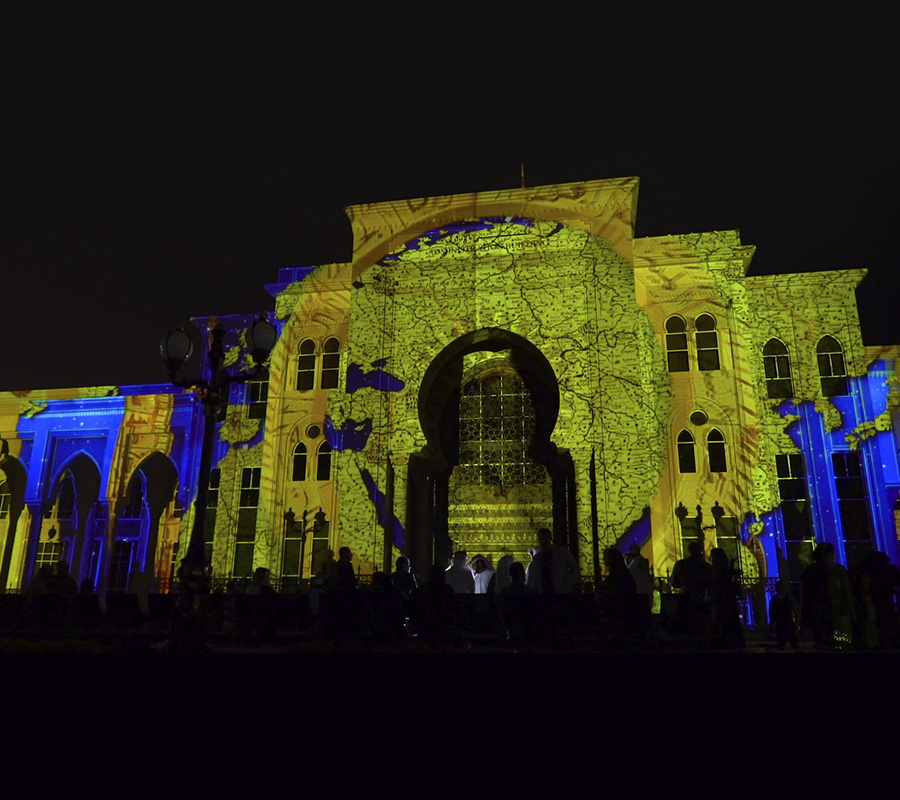 The Sharjah Light Festival, which is in its 12th year, and held in February, was founded in 2010, under the aegis and patronage of His Highness Sheikh Dr Sultan bin Muhammad Al Qasimi, member of the Supreme Council and ruler of Sharjah.
From what one understands, it was born from the need to not only showcase the delightful architectural and cultural heritage of the city but also to bring its citizens together to celebrate the one thread that keeps them together — Sharjah in itself. What's rather interesting is that it may have started out small but has grown to be a fabulous annual event that attracts visitors from all over the UAE and even other parts of the world. 
What happens at SLF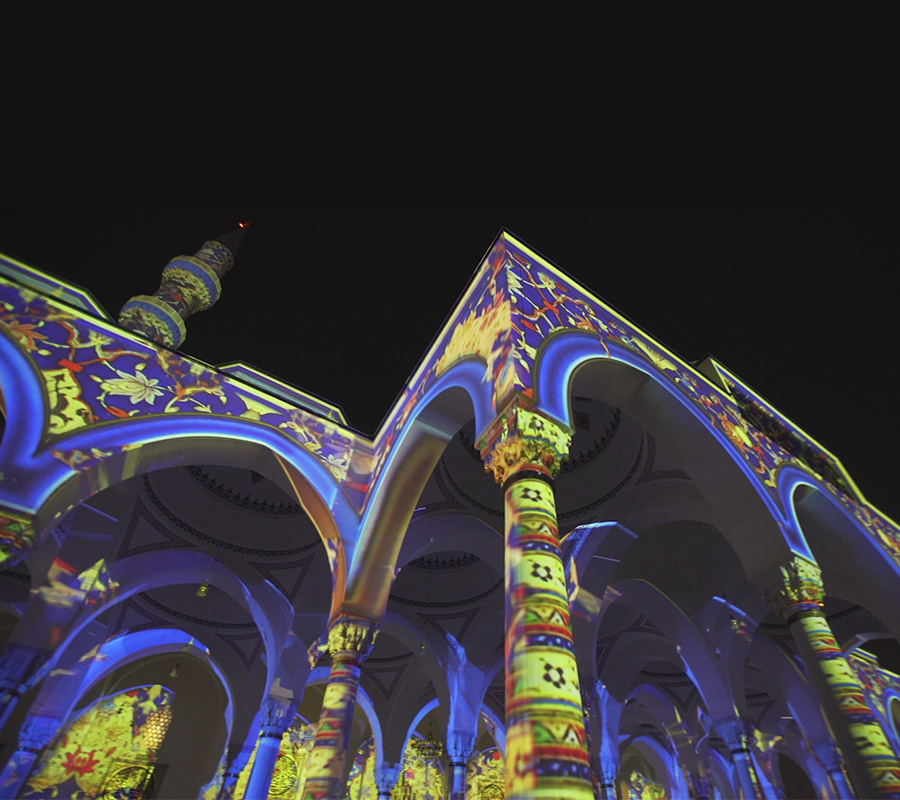 A lot of us are not entirely strangers to the concept of son et lumière or rather 'sound and light' shows at heritage buildings. India has plenty of those. Now take about a dozen or more of those and imagine them being held simultaneously across different parts of India. SLF is all that and much more. From mosques to lakesides to even a dam, during the days of the festival, select buildings and monuments in the city come to life in a brilliant display of light technology and curated music. And of course, along with them, nearby cafes and tourist hubs too come to life, with the laughter and chatter of people, the aroma of food, and a sense of belonging — even if you're a complete stranger to the city.
The spotlight is on…
The Al Majaz Waterfront, where one can literally spend hours (and hours) doing nothing but eating and drinking and watching the world pass you by. It is one of the hottest SLF spots in Sharjah, thanks to its central location. Here is where we went to see 'Echoes of Dawn', in which more than 150 panels of LED lights showcased the gorgeousness of Islamic patterns. The circular pathway takes one through an imaginary cosmos.
A little ahead of the waterfront is the Al NoorMosque, a stellar monument and place of worship. During SLF, as the sun goes down, the mosque begins to change colour. And then the patterns change to slow music. The sight is addictive and it's impossible to tear one's gaze away. 
Light and sound shows that narrate stories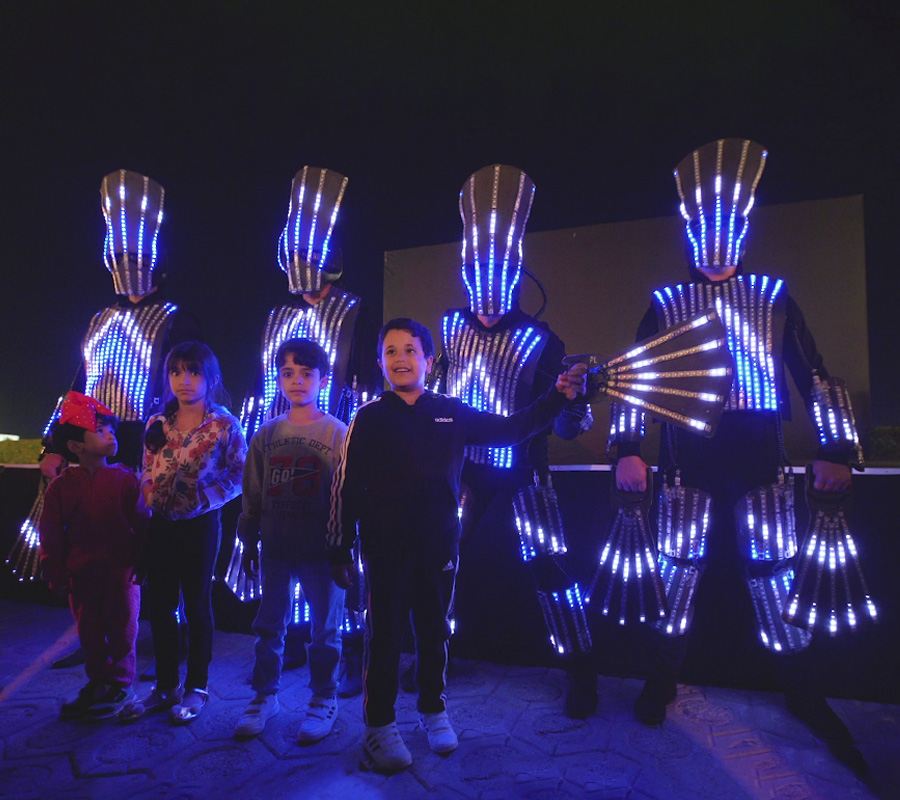 The experience is pretty much the same everywhere. The show at Al Rafisah Dam is unforgettable. The story that is told here, via sound and light, is about a lone traveller's journey into making a difference that both man and animal can enjoy.
"Chasing The Light" at University City Hall was about chasing one's dreams and hopes for a better future. This show was about finding hope and keeping one's interest in life alive, all demonstrated through the eyes of a young girl.
Then there was "The Blue Hour" at Kalba Clock Towers. A delightful show that celebrates the blue hour – the moment in twilight when the sun is at a fair depth below the horizon, a window that demarcates the line between day and night.
There are similar such moments, dotted along Sharjah and a couple of neighbouring cities, that all become the centre point of celebrations. And every show tells a story inspired by the local culture or traditions. Some also draw from nature or modern art. And while it might just appear to be nothing beyond a show of stunning lights and entrancing music, each show is meant to plant a thought in your mind, be that of hopes and aspirations or the benefits of one's struggles. 
Photo: Sharjah Tourism