Hill stations in the monsoons have a rejuvenating spirit that allows us to soak in the lush beauty and greenery that is witnessed only during this season. Maharashtra is one of the largest and most densely populated states in India. Home to the city of dreams: Mumbai, it has many opportunities for people but what it also features are excellent vacation spots!
Monsoons are a much-loved season after the scorching summers. Monsoons in Maharashtra blossom in the merriment of cloud-covered hills, tall green trees, free-flowing waterfalls and rivers. If you wish to experience natural bliss at the heart of the Western Ghats, then hill stations in Maharashtra are the right place for you. Check out the following hill stations in Maharashtra to plan your next weekend trip!
Top 8 hill stations in Maharashtra for a quick weekend trip
1. Lonavala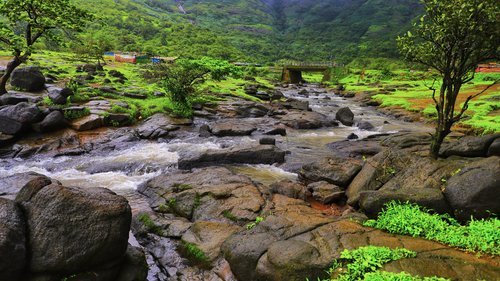 The first place in the list of Maharashtra hill stations to visit in the monsoons has to be Lonavala. Just 1.2 hours and 3 hours away from Pune and Mumbai respectively, Lonavala is an all-time favourite weekend getaway, and a natural retreat for the much-needed break. A popular monsoon getaway, Lonavala is best visited for fresh, crisp air, scenic beauty and mesmerising vegetation. Lonavala's charm increases manifold during the monsoons. You should visit it at least once to witness this natural marvel first-hand.
Things to do: Visit Pawna Lake, Canyon Valley, Duke's Nose, Lohagad Fort, Bhushi Dam, Visapur Fort, Lonavala Lake, Celebrity Wax Museum, Imagica Adlabs, and Rajmachi Fort.
How to reach: Khandala Hill station is the nearest railway station. Lohegaon Airport in Pune is the nearest airport. Lonavala being in the middle of Mumbai and Pune will also be accessible on this route - all trains plying between Mumbai and Pune will go through Lonavala, making trains a convenient option. However, the best way to enjoy Lonavala's beauty is by road.
2. Panchgani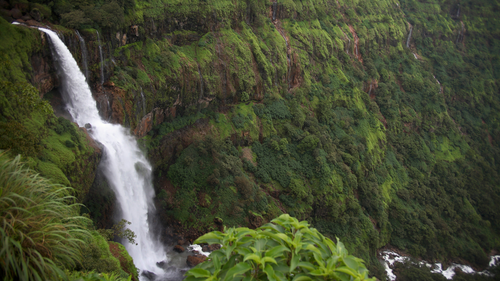 The onset of monsoon witnesses the land of five hills - Panchgani in a pristine glow. Located in Maharashtra's Satara district, Panchgani is another popular hill station in the region. With its many breathtaking views, lakes, and temples, Panchgani is an ideal hill station to get some respite from Mumbai's heat. Photography enthusiasts will find this place an earthly paradise because of its many attractions. Some of these include Wilson Point, Venna Lake, Lingmala Falls, Panchganga Mandir, Sydney Point etc. 
Things to do: Visit Sydney Point, Dhom Dam, Table Land, Elephant's Head Point, and Kate's Point
How to reach: Satara is the nearest railway station but there is better connectivity from Pune station. If you choose air travel, then both Mumbai and Pune airports could be ideal. The scenic road trip from the airport to Panchgani will leave you amazed.
3. Khandala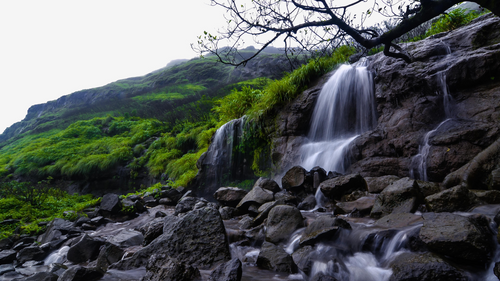 Khandala is a popular destination where Bollywood movies are shot. The place features various trekking trails and looks surreal in the monsoons. The main attractions here include Karla Dam, Bedsa Caves, and Duke's Nose, whereas the popular treks include Lohagad, Visapur, and Rajmachi. Kandala falls on the same route as Lonavala, so if you plan ahead, you can cover both places on the same trip and have yourself a peaceful retreat in the lap of hills!
Things to do: Visit the Lohagad Fort, Bhaja Caves, Pavana Lake, Tiger's Leap and Kune Waterfalls
How to reach: Lonavala and Khandala are close-by so you can cover both places in one trip. The Lohegaon airport is the nearest, and you can easily take a bus or cab ride from there.
4. Matheran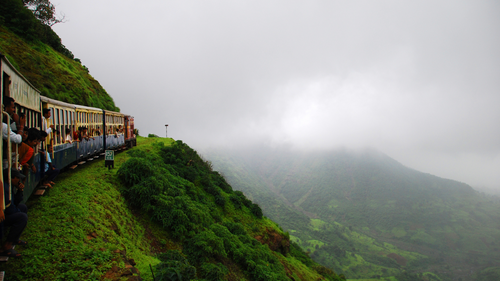 Located in the heart of Raigad, Matheran is yet another famous hill station in Maharashtra. Best known for its magnificent views and viewpoints, the panoramic scenes and well-maintained viewpoints make Matheran a delightful experience in the monsoon. Some of the top attractions here include Panorama Point, Louisa Point, Porcupine Point, Monkey Point, Echo Point and Prabal Fort. Make sure to click a lot of pictures here because the place is all about aesthetics!
Things to do: Visit Louisa Point, Neral-Matheran Toy Train, Charlotte Lake, Porcupine Point (Sunset Point), Panorama Point etc.
How to reach: The nearest railway station is Neral (21 kilometres). It's a 30-minute car ride from there to Matheran. 
5. Mahabaleshwar
Mahabaleshwar's name cannot be missed in the list of Maharashtra hill stations in monsoon. A popular tourist spot that welcomes visitors with captivating landscapes and natural splendour, you will instantly fall in love with Mahabaleshwar! The city has multiple ancient temples, excellent boarding schools, magnificent hills and valleys, even better viewpoints, and waterfalls that would make you never want to leave it. Mahabaleshwar is an ideal natural detox we all crave to escape the city chaos.
Things to do: Visit Mahabaleshwar Temple, Elephant's Head Point, Arthur's Seat, Venna Lake etc.
How to reach: Wathar is the nearest railway station from Mahabaleshwar (60 km away). However, the more convenient and accessible route would be from Pune railway station.
6. Karnala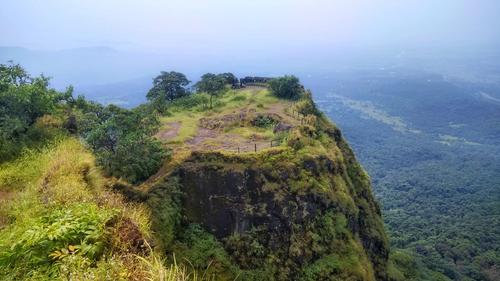 Just 50 km from Mumbai and 121 km from Pune, Karnala is another famous hill station in Maharashtra. Catch an enthralling view of the Sahyadri range and Mumbai coastline as you walk up the hill to the Karnala Fort. The Karnala Bird Sanctuary is another attraction here that photographers and bird watchers would enjoy. With over 150 exotic birds calling this sanctuary their home, the experience here is simply alluring! Reaching Karnala is convenient too - just take a private cab from Panvel (the nearest railway station) and let your explorations begin.
Things to do: Visit Karnala Fort, SMART Eco Park, Kalavantin Durg, Little Chowk Point etc.
How to reach: The nearest railway station is Panvel and you can easily take a bus ride or cab from there to Karnala. Finding a direct bus might be difficult, so try to look for buses that go to Alibag, Pen or Roha to reach Karnala.
7. Shrivardhan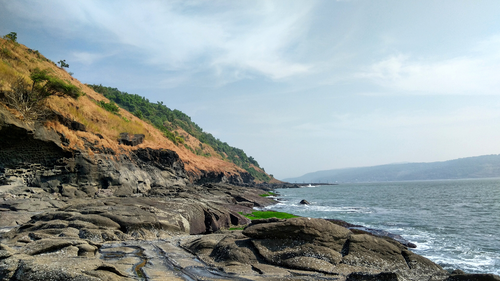 Maharashtra hill stations in monsoon must feature the gorgeous coast of Shrivardhan. Feel like you've been transported to a surreal land with exotic views and enchanting landscapes with a getaway to Shivardhan in the Raigad district. Some of the major attractions in this pristine location include Peshwa Memorial and the Laxminarayan Temple.
Things to do: Visit Harihareshwar Beach, Ganesh Gully, Kal Bhairav Temple, Diveagar Beach, Shrivardhan Beach, Bhagamandala, Somjai Devi Temple, Shankar Temple, Kondivali Beach, Kushmeshwar Temple, etc.
How to reach: Mangaon is the nearest railway station. From there you can take a bus ride or book a taxi to Shivardhan.
8. Amboli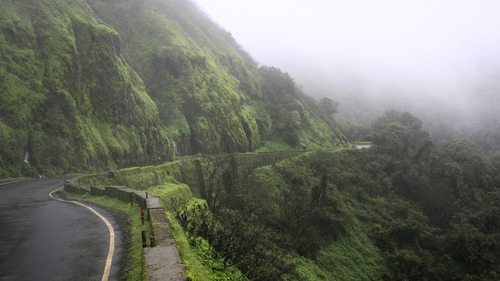 Last but not least, Amboli is an excellent monsoon retreat in Maharashtra. Close to Goa, this refreshing getaway with the essence of the Sahyadri hills is a place you'll love visiting. With the soothing combination of clear waterfalls and bright green forests, watching the sunrise here is a priceless experience. Some other attractions here include Terekhol Fort, Moti Talao, Sagareshwar Beach, and Sindhudurg Fort.
Things to do: Visit Amboli Falls, Madhavgad Fort, Hiranya Keshi Temple, Shirgaonkar Point, Nangarta Falls etc.
How to reach: Sawantwadi, the nearest railway station. But driving from Pune to Amboli is recommended to enjoy the natural beauty on your way. 
Frequently Asked Questions
1. What are some other hill stations to visit in monsoon in Maharashtra?
Maharashtra is home to multiple other beautiful recreational hubs. The other hill stations you can explore here include Lohagad, Kalsubai, Bhimashankar, Bhandardara, Durshet, Malshej Ghat, Harihareshwar, Lavasa, Randha Falls, Tapola etc.
2. Are hill stations in Maharashtra budget-friendly?
If you are travelling in your car from Maharashtra or neighbouring states, you can expect to cut the costs and travel cheaply. Accommodation and food choices are truly personal preferences - you may choose to spend little on these and focus more on travelling or vice versa, but a budget-friendly trip to the hills depends on what choices you make for three things - mode of travel, lodging and food.
---
Photo: Shutterstock