Matheran, located in the Sahyadri Mountain Range of Maharashtra, India, is a pleasant hill station that offers a wonderful retreat from the hustle and bustle of city life. Matheran has a 'no-vehicle' policy and is growing in name as one of the most peaceful spots for travellers to venture into. It is particularly known for its eco-friendly system and the much-spoken-about Matheran stay options. Visitors can explore the town on foot, on horseback, or by hiring a hand-pulled rickshaw, adding a nostalgic charm to the experience.
The hill station is home to around 38 designated viewpoints, offering stunning panoramas of the surrounding valleys, forests, and waterfalls. The most famous viewpoints include Panorama Point, Echo Point, and Louisa Point, each providing a unique perspective of the natural beauty that surrounds Matheran. Matheran also boasts several trekking trails, allowing adventurers to explore the verdant forests and rugged terrain.
One of the popular treks is the ascent to One Tree Hill Point, where hikers can witness an unforgettable sunrise or sunset. The town also boasts colonial-era architecture, with several heritage bungalows and buildings dating back to the British Raj era. The Matheran Toy Train, a UNESCO World Heritage site, is another major attraction. The railway takes visitors on a joyful ride through the landscape, offering a view of another time. Here's a list of Matheran places to visit and exotic Matheran points for those looking to explore it. If you are thinking of staying back, a good Matheran stay would be Alexander Heritage. Springwood is also a beautiful Matheran stay.  
Here are Matheran's best places to visit 
1. Louisa Point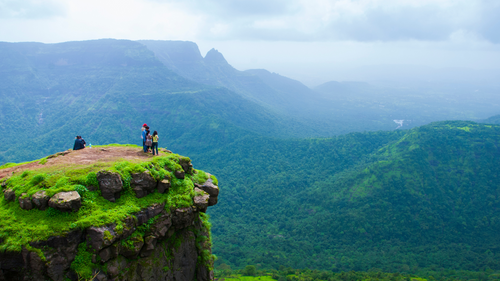 Among good Matheran points to visit is Louisa's point. Louisa Point in Matheran is a captivating viewpoint that offers breathtaking views of the surrounding landscape. Located at a higher altitude, it provides views of the Sahyadri Mountains, lush valleys, and cascading waterfalls. Louisa Point is a must-visit spot for nature enthusiasts and photographers seeking stunning photographs in Matheran.
2. Charlotte Lake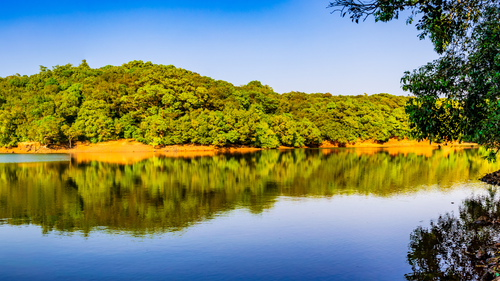 For an awesome Matheran weekend, don't forget to visit Charlotte Lake. It is one of the most iconic Matheran places to visit. Charlotte Lake, also known as Charlotte Lake, is a lovely and tranquil area located in the heart of Matheran. Surrounded by lush greenery and hills, this beautiful lake serves as a popular tourist attraction. It is the main source of drinking water for the town and is also known for its serenity.
Visitors can enjoy a stroll around the lake, take in the scenic views, and even take part in fun activities like boating. Charlotte Lake offers a peaceful escape from the bustling town and is a perfect spot for relaxation amidst nature's beauty.
3. Shivaji's Ladder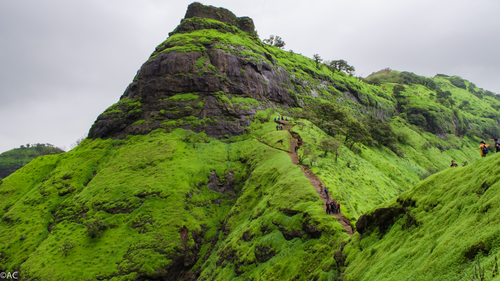 Among Matheran places to visit is Shivaji's Ladder. Matheran's Shivaji Ladder, also known as Shivaji's Steps, is a historic and awe-inspiring staircase that leads up to the popular viewpoint of One Tree Hill. This staircase is named after the great Maratha warrior king, Chhatrapati Shivaji Maharaj. The steps are carved out of stone and wind through the dense forests, offering a challenging yet rewarding trekking experience. As visitors ascend the Shivaji Ladder, they are surrounded by the serene beauty of nature, with lush greenery and panoramic views accompanying their journey. The climb up the steps provides a sense of adventure and a connection to the rich history and heritage of the region.
4. Neral-Matheran Toy Train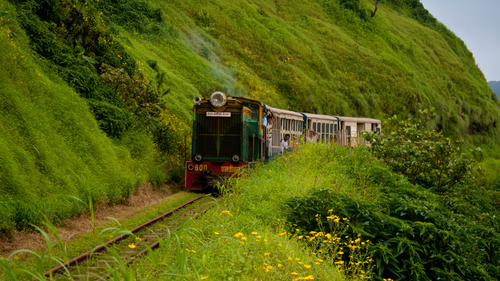 Make your Matheran Weekend special with the Neral-Matheran toy train. The Neral-Matheran Toy Train is a UNESCO World Heritage site and a popular attraction for visitors to Matheran. This narrow-gauge railway journey takes passengers on a delightful 21-kilometre ride through the picturesque Sahyadri Mountains.
The train chugs along slowly, passing through dense forests, quaint villages, and scenic landscapes. The journey is a throwback to a bygone era, with vintage-style coaches and an old-age charm. It offers a unique and relaxed way to reach Matheran, allowing travellers to savour the natural beauty and tranquillity of the region. The Neral-Matheran Toy Train experience is loved by both tourists and locals alike, adding a touch of old-world charm to the journey.
5. Irshalgad Fort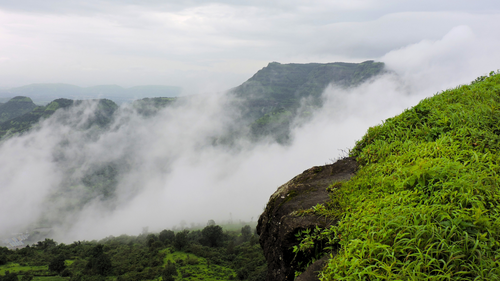 Without visiting the Irshalgad Fort, your Matheran weekend would be incomplete. Irshalgad Fort is a historic fort located near Matheran in Maharashtra, India. Situated at an elevation of approximately 3700 feet above sea level, the fort offers a mesmerising view of the surrounding landscapes. Irshalgad is known for its rugged terrain, making it a popular destination for adventure enthusiasts and trekkers.
The trek to Irshalgad is an exhilarating experience, with steep climbs, rocky trails, and panoramic vistas along the way. As trekkers ascend, they are rewarded with breathtaking views of the Western Ghats and the lush greenery that surrounds the fort. The fort itself holds historical significance, with remnants of its fortification and a small temple dedicated to Lord Shiva. Exploring the ruins and witnessing the architectural remnants adds an intriguing element to the trek.
One of the highlights of Irshalgad is the thrilling rappelling experience that awaits adventure seekers. The cliff faces of the fort provide an ideal setting for rappelling activities, adding an extra dose of excitement to the journey. Whether it's the challenging trek, the panoramic views, or the historical allure, Irshalgad Fort in Matheran attracts those seeking a blend of adventure, natural beauty, and a glimpse into the region's past.
---
Photo: Shutterstock