Hyderabad, the capital of Telangana, is one of India's most cosmopolitan and culturally diverse cities. The city is a well-liked tourist attraction because of its fascinating history, distinctive architecture, mouthwatering cuisine, and friendly people. Hyderabad is renowned for blending traditional beauty with cutting-edge infrastructure and technology. Every type of traveller may find something to do in Hyderabad thanks to the city's variety of attractions and events.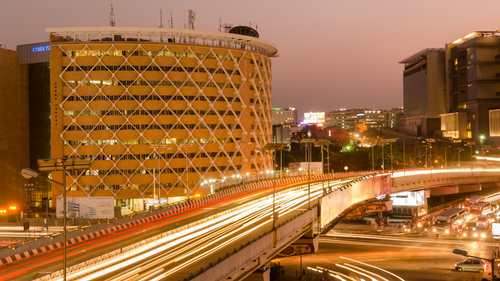 The history of Hyderabad extends back to the sixteenth century and is extensive and varied. The Qutub Shahi dynasty constructed the city in 1591, and it was their kingdom's capital for more than a century. 
The renowned Charminar, Golconda Fort, and the Qutub Shahi monarchs' tombs are just a few of the historical landmarks that bear witness to the Qutub Shahi rulers' tenure. The Nizams, who ruled Hyderabad in the 18th century, had a major influence on the development of the city's culture and history. Hyderabad today is a synthesis of its storied past and contemporary advancements.
Hyderabad's architecture, cuisine, music, and festivals all exhibit a unique cultural identity. The famous Hyderabadi pearls, Bidriware, and Kalamkari fabrics are among the city's many well-known arts and crafts products. Hyderabad is renowned for its mouthwatering cuisine, which is a delectable fusion of South Indian, Persian, and Mughlai spices. The city is renowned for its delicious biryani, a spicy rice dish mixed with savoury spices and meat – fairly distinct from its Awadhi counterpart.
Best time to visit Hyderabad
Between October and February, when the weather is beautiful and perfect for sightseeing, is the best time to visit Hyderabad. The humidity is relatively low and the temperature is between 15 and 29 degrees Celsius throughout this period. Hyderabad is also beautiful during the monsoon season, which lasts from June to September. The city turns lush and green during this time and receives sporadic showers. But the summers from March to May may be unbearably hot, with highs of up to 40 degrees Celsius.
Travelling to Hyderabad
By air: Rajiv Gandhi International Airport, Hyderabad's international airport, is situated in Shamshabad, about 25 kilometres outside of the city's centre. Numerous airlines offer convenient connections to the airport from major cities in India and other nations.
By train: Secunderabad, Hyderabad, and Kachiguda are the three main railway stations that connect Hyderabad to other significant Indian cities. These stations have excellent connections to numerous cities, including Delhi, Mumbai, Chennai, Bangalore, and Kolkata.
By road: A network of state and national highways connects Hyderabad to other regions of India. From surrounding cities like Bangalore, Mumbai, and Chennai, you can go to Hyderabad by bus or by taxi.
The price of a trip to Hyderabad
The cost of a trip to Hyderabad is influenced by a number of variables, including the time of year, the means of transportation, the lodging, and the food. An approximate cost breakdown for travel to Hyderabad is provided below:
Transportation: Your mode of travel will affect the cost of your trip. Depending on the airline and the time of year, a round-trip flight from Delhi to Hyderabad might cost anywhere from Rs 5,000 to Rs 15,000. Depending on the class and train, a rail ticket from Delhi to Hyderabad might cost anywhere from Rs 800 to Rs 4,000. Depending on the bus class, buses from nearby cities like Bangalore and Mumbai might cost anywhere from Rs 500 to Rs 1,500.
Accommodation: The location and type of hotel will affect the cost of lodging in Hyderabad. A mid-range hotel can run you between Rs 2,500 and Rs 5,000 per night, while a budget hotel can run you between Rs 1,000 and Rs 2,500. In Hyderabad, upscale hotels can range in price from Rs 5,000 to Rs 20,000 per night.
Food: The price of food varies depending on where you dine, however, Hyderabad is recognised for its delectable cuisine. The price of a dinner at a midrange restaurant can range from Rs 300 to Rs 1,000. The price of a meal at a local restaurant or on the street can range from Rs 50 to Rs 200. The price of a meal at a fine dining establishment might range from Rs 1,500 to Rs 5,000.
Attractions: Depending on the type of attraction you visit, different attractions in Hyderabad have different prices. Charminar, Golconda Fort, and Qutub Shahi Tombs' entrance fees can range from as low as Rs 20.
Every year, millions of tourists travel to Hyderabad, making it a well-known tourist attraction. The city is an intriguing and fascinating city to explore because of its distinctive fusion of history, culture, and modernisation. 
Here are 7 things to do in Hyderabad!
1. See the Charminar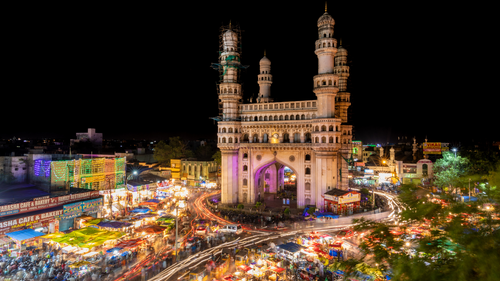 This renowned landmark in Hyderabad is definitely one of the top tourist-friendly places to visit in Hyderabad. It was constructed in 1591 and serves as a reminder of the city's vibrant past and present. The Charminar can be visited from 9:30 am to 5:30 pm. For a sweeping view of the city, visitors have the option to ascend to the top of the Charminar. This is definitely a must thing to do when you're in Hyderabad. 
2. Explore Golconda Fort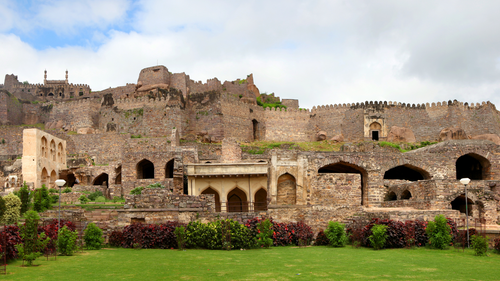 Constructed in the 16th century, Golconda Fort is sizable, making it one of the best places to visit in Hyderabad! It is a large building with a complex system of hallways, stairs, and gates. Golconda Fort is open daily from 9 am to 5:30 pm. Via guided tours, visitors can tour the fort and discover its history.  If you're a history buff, this should be on top of your list of things to do in Hyderabad.
3. Decide if Hyderabadi Biryani deserves the hype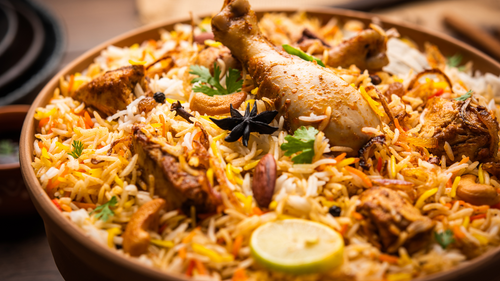 Hyderabadi biryani is a meal that every culinary enthusiast visiting Hyderabad must eat. It's a rice meal with meat, herbs, and spices that includes saffron. Hyderabad is home to numerous renowned biryani eateries, including Paradise and Bawarchi. For a foodie, this is the most exciting thing to do in Hyderabad. If biryani doesn't excite you, the Pista House Haleem is world-famous! We're not even exaggerating.
4. Shop at Laad Bazar
Laad Bazaar is a well-known shopping area in Hyderabad that is well-known for its ethnic jewellery and bangles. Visitors can find a large selection of affordable colourful necklaces, earrings, and bracelets. The shopaholic in you will definitely want to do this first! If you're a shopaholic, this will be one of the top things to do when you visit Hyderabad
5. Find time to visit the Salar Jung Museum
The Salar Jung Museum, one of India's biggest museums, to view its extensive collection of artwork, relics, and antiques. The museum's numerous exhibits can be explored by visitors who want to learn more about Indian history and culture. The Salar Jung Museum is open daily from 10 am to 5 pm.  This should definitely be on your list of things to do when you're in Hyderabad
6. Take it all in at Hussain Sagar Lake
This charming lake is located in the centre of Hyderabad. Tourists can enjoy the city views of the city skyline while enjoying a boat trip on the lake. If you're someone who likes to be in nature, this is definitely a must thing to do in Hyderabad.
7. Tour Ramoji Film City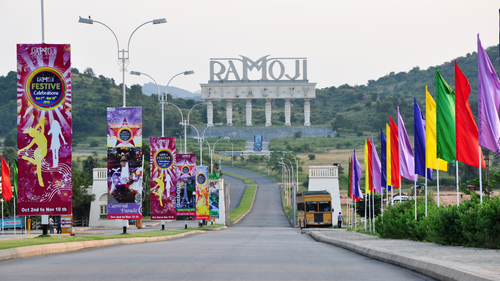 For fans of the movies, Ramoji Film City is a must-see location. It is the biggest film studio complex in the world and has served as the shooting venue for a number of well-known Bollywood and Tollywood films. The film city's different sets, studios, and attractions can all be explored through guided tours. One can take a taxi, auto-rickshaw, or bus to go to the Ramoji Film City. If you've been enchanted with Bollywood, this will be a must-do thing on your visit to Hyderabad and we guarantee an experience you will never forget.
Ramzan time is a feast, especially if you're in Hyderabad and we totally recommend visiting the city during this time to enjoy all the Ramzan food!
---
Photo: Shutterstock