The vibrant capital of India, Delhi, not only has a wealth of attractions inside its borders but also acts as a jumping-off point for a plethora of intriguing places that are only a short distance away. Day travels from Delhi have never been simpler because of the city's advantageous location and well-connected transit system. There are many options to suit any traveller's preferences, whether you're looking for a fast getaway from the city's bustle, a cultural experience, or a dose of nature's tranquilly.
Day trips from Delhi are a fantastic way to discover the many different landscapes, historical wonders, and undiscovered treasures that surround the city. You may arrange a last-minute holiday with family or friends thanks to the simplicity of these excursions, making priceless memories that will last a lifetime. The alternatives are unlimited, whether you want a calm retreat amidst nature's embrace, an adrenaline-pumping adventure, or a leisurely stroll through historic ruins.
The large transport system extending from Delhi makes it simple to reach a variety of locations, from gorgeous hills, wildlife sanctuaries, and tranquil lakes to historically significant towns and religious places. You may easily go on day trips without the stress of overnight stays thanks to well-maintained highways, effective train systems, and even domestic aircraft choices. Due to its adaptability, it is the perfect option for families, working individuals, and avid travellers who want to make the most of their limited time or weekends.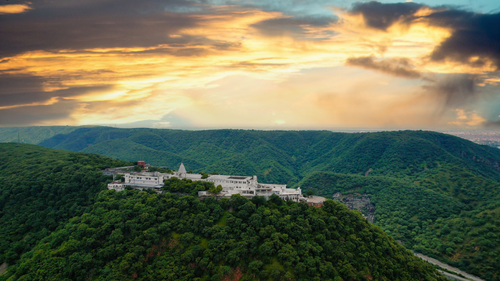 Furthermore, the close proximity of these locations makes it possible to experience the highlights of a different location, indulge in local cuisine, and immerse yourself in its own culture and traditions all in the course of a single day. The alternatives for day trips from Delhi cater to a variety of interests and tastes, whether you desire to discover historic architectural marvels, savour culinary pleasures, go on exciting wildlife safaris, or simply relax in nature.
In this article, we set out on a quest to identify the seven top-day trips from Delhi, revealing the exciting adventures and undiscovered gems that lie in wait. These day trips offer a refreshing getaway from the city's commotion, allowing you to unwind, explore, and make priceless memories with your loved ones. They range from the serenity of gorgeous landscapes to the grandeur of historical landmarks and the excitement of adventure.
Pack your bags, round up your loved ones, and embark on an extraordinary day trip from Delhi where every stop offers a joyous experience, a peek into the past, or a peaceful escape in the arms of nature. The voyage is waiting, and the possibilities are unlimited!
Seven places for a day visit from Delhi
1. Agra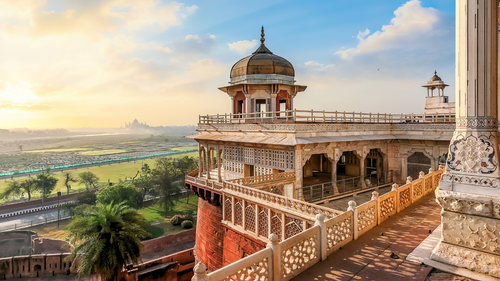 The city of Agra, which is home to the majestic Taj Mahal, is a veritable treasure trove of Mughal construction. The Taj Mahal, a UNESCO World Heritage Site, is a wonder of architectural beauty and stands as an enduring emblem of love. Along with the Taj Mahal, Agra Fort and Fatehpur Sikri, which include exquisite architectural and engrossing tales, serve as examples of the grandeur and splendour of the Mughal Empire.
Best time to visit: The winter months of October to March.
What's special:  Visitors can get a sense of India's rich history and architectural prowess by visiting Agra, which is most known for the Taj Mahal.
Distance from Delhi: 230 km
2. Jaipur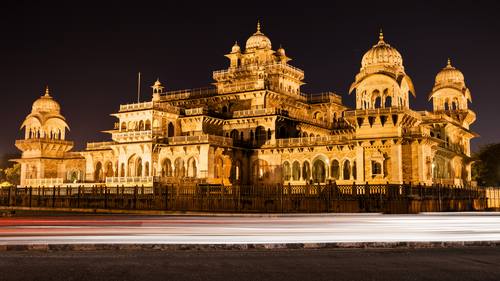 Known as the 'Pink City', is a colourful fusion of history, culture, and aristocracy. The city is adorned with exquisite forts, including as the Hawa Mahal, City Palace, and the well-known Amber Fort. The vibrant markets of Jaipur provide a treasure trove of handicrafts, clothing, and jewellery, allowing tourists to go on a shopping binge.
Best time to visit: The winter months of October to March
What's special: Jaipur is a must-visit location for history buffs and cultural explorers due to its regal charm, which is displayed through its magnificent forts, palaces, and vibrant culture.
Distance from Delhi: 280 km
3. Rishikesh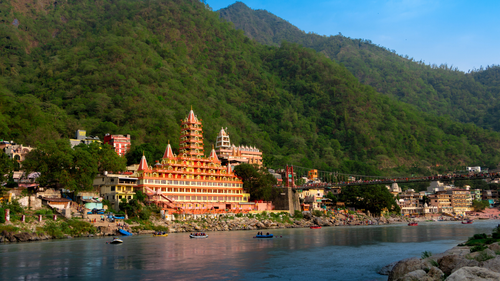 Rishikesh is a spiritual retreat and is tucked away in the Himalayan foothills along the banks of the revered Ganges River. The area is known as the 'Yoga Capital of the World' and provides a peaceful setting for those looking for enlightenment. Explore historic temples, partake in yoga and meditation classes, and witness the captivating Ganga Aarti ceremony beside the river.
Best time to visit: While Rishikesh may be visited year-round, the months of September through November and February through May are the best since they offer comfortable weather for outdoor activities.
What's special: For individuals looking to find inner peace and a closer relationship with spirituality, Rishikesh's serene atmosphere, spiritual significance, and natural beauty make it the perfect location.
Distance from Delhi: 240 km
4. Neemrana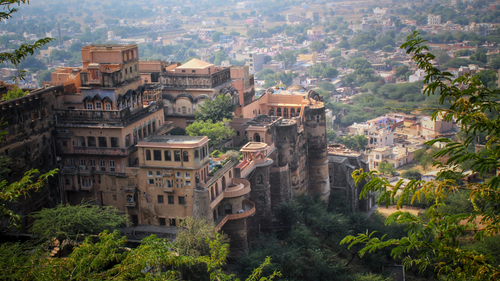 Neemrana is a historic town in the Aravalli Range famed for its majestic Neemrana Fort Palace. With its spectacular architecture, preserved rooms, and panoramic vistas, this heritage site provides a window into the royal past. Visitors can take part in zip-lining excursions, unwind by the pool, or indulge in mouthwatering Rajasthani fare.
Best time to visit: The winter months of October to March are the greatest times to visit Neemrana because the weather is ideal for outdoor activities.
What's special: Neemrana Fort Palace is a popular day excursion from Delhi due to its stunning architecture and distinctive fusion of history, adventure, and luxury.
Distance from Delhi: 120 km
5. The Sultanpur Bird Sanctuary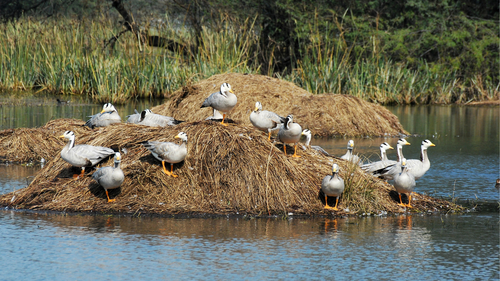 The Sultanpur Bird Sanctuary is a haven for birdwatchers and outdoor enthusiasts, and it is situated on the outskirts of Delhi. The sanctuary is home to several resident and migratory bird species that are dispersed among lush flora and marshes. Visitors can go on nature hikes, view colourful birds, and take tranquil breaks in the midst of nature.
Best time to visit: The winter months of November to February are the greatest time to visit the Sultanpur Bird Sanctuary since a large number of migrating birds come during this time.
What's special: The tranquil surroundings and diverse birdlife of Sultanpur Bird Sanctuary make it a special destination for nature lovers, photographers, and birdwatchers.
Distance from Delhi: 40 km
6. Mathura and Vrindavan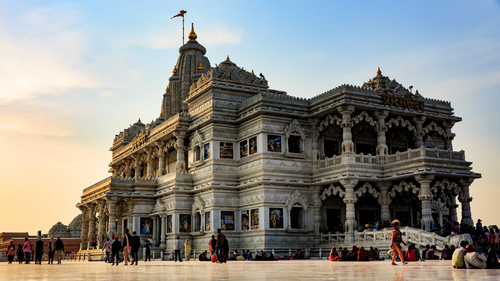 These cities which are famous for being the birthplace of Lord Krishna, are of great religious and cultural significance. The well-known Krishna Janmabhoomi Temple and the ISKCON Temple are only two of the many temples that beautify these twin cities. Visitors can take part in the exuberant celebrations, see the lively Holi festivals, and discover the magical allure of these sacred villages.
Best time to visit: From October to March, when the weather is pleasant for sightseeing and taking part in religious events, is the best time to visit Mathura and Vrindavan.
What's special: For those seeking a spiritual and cultural experience, Mathura and Vrindavan are the perfect locations thanks to their spiritual environment, extensive mythology, and devotion to Lord Krishna.
Distance from Delhi: 160 km
7. Damdama Lake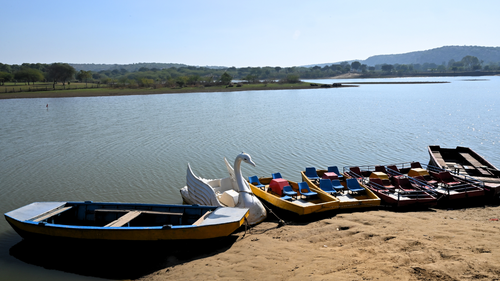 Damdama Lake is a calm oasis that provides a tranquil break from the city and is close to Gurgaon. The lake offers a magnificent location for boating, picnicking, and outdoor sports because it is surrounded by Aravalli hills. Nature walks, birdwatching, and daring activities like rock climbing and ziplining are available to visitors.
Best time to visit: Winter months are considered the best time to visit
What's special: Damdama Lake is the perfect day trip location for nature lovers and adventure seekers thanks to its serene atmosphere, breathtaking scenery, and variety of recreational opportunities.
Distance from Delhi: 60 km
---
Photo: Shutterstock